He was born James Chambers in 1944 and raised in Adelphi Lands, an impoverished hillside community in the district of Somerton, some twelve miles or so southeast of Montego Bay, where his father was a tailor who also farmed the land. Life began with much hardship, as during James's infancy, his mother left the household, leaving his father, a man universally respected in the district, to raise James and his brother Victor on his own. There were also periods when the young James went to live with his paternal aunt and her husband, both farmers, and while with them, he had to join in the farm work. Although life was invariably hard in a village with no running water or electricity, the youngster enjoyed the freedom of a rural existence that often entailed bathing in the local river and making excursions to the beach.
Jimmy was a bright child who did well at school but got into conflict with his teachers due to a mischievous streak. He was fond of teasing the other children, which often brought the teacher's cane, as did his perpetual singing during lessons, which the teacher saw as disruptive, but even she had to admit to his talent as he slowly matured. And when young Jimmy climbed the tall tree near his home to sing to his heart's content, complaints from the neighbors would be rebutted by his grandmother, who insisted that the young man would be known for his talents someday.
As his father was a strong adherent to the local Pentecostal church, young Jimmy enjoyed taking part in the singing there but was less enamored with the sermons, which bored him. Generally, music became an early fascination. He encountered local folk forms such as mento and raw rhythm provided by neighbors with an acoustic guitar and hand drums. More important was the big house next door that had a juke joint upstairs called the Money Rock Tavern, where a sound system called Pope Pius blared Latin-American music. But as his strict Christian father disapproved of such worldly sounds, Jimmy had to sneak out to the local bars to hear calypso, merengue, rumba, and, most importantly of all, the raw sounds of American rhythm and blues on the jukebox. He was especially thrilled by the New Orleans styling of Fats Domino, the excesses of Little Richard, as well as the gospel soul of Ray Charles and the ballads of Sam Cooke and Dee Clark. Young Jimmy started writing songs, thinking in his mind he could come up with something special if he blended the styles of his vocal heroes.
Aside from his presence in the church choir, a legendary tale concerning the public recognition of James Chambers's vocal talent came at the age of fourteen at an annual 4-H club competition at Denbigh, on the outskirts of the town of May Pen. In addition to the agricultural focus, in which young farmhands from all over the land vie for prizes for their produce, the event also features a music contest. Jimmy thus made his way with the family to the other side of the notorious Cockpit Country to enter a couple of chickens in the poultry category, then took the mic at the music contest to belt out an impressive rendition of Fats Domino's "Be My Guest," accompanied only by his own vocal imitations of instrumental backing. He ended up bagging the first prize in the show—both for the chickens and the singing. He had also been performing Fats Domino songs at the local Boy Scout camp, where he was toying with the name Jimmy Cliff, because the area he grew up in was mountainous, and, when on the cliffs, he could see the whole of Somerton.
Upon leaving school, with few work prospects in sight, his father decided that Jimmy should travel to the capital to attend Kingston Technical College to learn the trade of radio and television engineering. So young Jimmy traveled to Kingston with his father and checked with his father's countryside friends in town who might have somewhere for him to stay. Eventually, a cousin in East Kingston offered to share his tiny single room with the lad, but there was the problem of his food and clothing, which the man said he could not afford. Luckily, a female neighbor offered to meet these needs, so Jimmy's father left him there and returned to Somerton.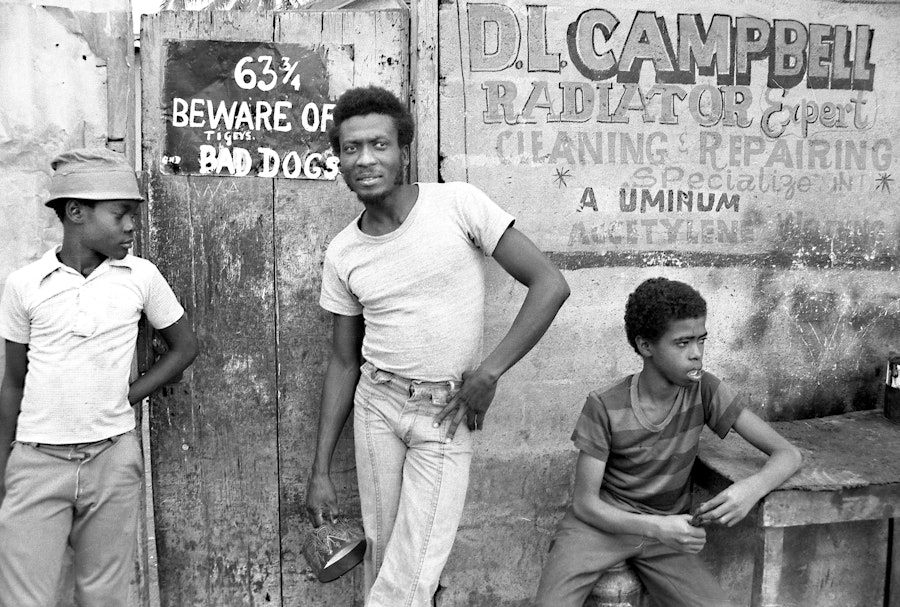 During his first year in Kingston, Jimmy attended night school and worked on a vegetable truck during the day, but music was always on his mind. He had actually reached Kingston at a very opportune moment: the Jamaican independence movement was gathering steam, and local entrepreneurs had begun to record local talent as the nascent Jamaican music industry was only just finding its feet. There were plenty of aspiring entrepreneurs who were taking chances on undiscovered singers, so Jimmy began inquiring of anyone he encountered as to just where he could go to get his songs recorded.
Some months down the line, his father returned to Kingston, because the cousin complained that the extra lodger was putting a strain on his relationship with his girlfriend. Dejected, the pair was on the verge of returning to Somerton when Jimmy's father remembered a woman from the countryside who lived with her husband in the slum of Back-o-Wall, in the heart of western Kingston. She duly offered to house the young man in a corner of her tenement on Spanish Town Road. The harsh area, also known as the Dungle, was a sprawling squatter camp of lawless dwellings squeezed between a large cemetery and the municipal garbage dump. Here, the distractions included the illicit lure of ganja and the ever-present threat of violence—though he had already gained streetwise skills growing up in Somerton.
A decisive moment that brought Jimmy closer to his musical goals came through Opportunity Hour, a series of weekly talent shows run by journalist Vere Johns (the highlights of which were broadcast on RJR under the title Opportunity Knocks). Presenting himself as Jimmy Cliff at the Palace Theatre, singing Fats Domino and Ray Charles, he had no supporters in the crowd, so he was booed, despite being significantly better than his competitors. But rather than take it personally, Cliff entered another Opportunity Hour held at the Majestic Theatre, closer to his home in western Kingston, where he sang a rendition of "Sinners Weep," an original number local singer Owen Grey had recently recorded for Clement "Sir Coxson" Dodd. This time, Cliff was the triumphant winner. 
Cliff had gone to audition for leading pioneers in the music field, such as Sir Coxson, Duke Reid, King Edward, and Simeon "Little Wonder" Smith, but was totally unsuccessful. However, within weeks of his success at the Majestic, he recorded his very first song, courtesy of Count Boysie the Monarch, a little-known sound system based at West Street in the heart of downtown Kingston. The song was an original he'd written in Somerton, titled "Daisy Got Me Crazy," and no doubt styled after American rhythm and blues. Unfortunately, the song was retained only as a sound-system acetate, and, to add insult to injury, Cliff was offered only a mere shilling to cover his bus fare, once his vocal had been committed to tape.
One day, Jimmy met another countryside transplant named Keith Smith (not the famous singer Slim Smith, whose given name was also Keith Smith) who was also seeking to begin recording. Thinking that two voices were better than one, they decided to join forces as the duo Cliff and Swift. They were rehearsing together regularly at the beach, but Swift was not so reliable, so Jimmy was often left alone to concentrate on his own artistic development.
About six months after his triumphant placing at Opportunity Hour, Cliff made a second recording, another original called "I'm Sorry," this time for Sir Cavaliers, a sound-system operator based in nearby Jones Town who had recently made an impact with a record called "Times Are Going" by the duo of Derrick and Martin, issued on Sir Cav's own Hi Tone label. Swift, who lived very near to Sir Cav's HQ, had told Cliff about the entrepreneur, but as Swift failed to turn up for the prearranged audition, Cliff was forced to voice the song on his own. The song was issued on Hi Tone and even found its way onto vinyl in England via a licensing deal with Blue Beat Records, but its popularity was slim in either territory. In truth, Cliff's voice sounds a little amateurish on the record, while the minimal backing of stand-up bass, mouth organ, and handclaps was not really mixed properly, recorded as it was with everyone crowded around one microphone.
Cliff was dejected but still determined to make it. And everything changed one evening, when, pounding the streets of Kingston as usual in search of a solution, he found himself a few streets away from home, at 135 Orange Street, the site of Beverley's, a combination ice-cream parlor and cosmetics shop that also sold records, with real-estate offices upstairs. The concern was run by the three Kong brothers, Chinese Jamaicans, though no one can recall exactly how the shop got its name.
As Cliff explains, "One night, I was just walking and frustrated, going back home in west Kingston, and I saw this place called Beverley's. I saw records in the shop, but it was also a ice-cream parlor and a cosmetics shop, so I thought, 'Maybe, if I write a song called "Beverley's," I could probably get my foot through the door.' I wrote the song that night, but they said they are closed, and I said, 'I have a song.' And they said, 'Well, we don't do recording,' but I forced my way in. There were three Chinese brothers, and they said no, they're not into recording, and I said, 'But I think you can get into recording.' And I sang the song, 'Dearest Beverley,' and the two other Chinese brothers, they laughed, but the other one said, 'Oh, I think he has the best voice I've heard in Jamaica.' "
Upon deciding to take the plunge into record production, Leslie Kong, the brother who recognized Cliff's prodigious talent, sent the young Cliff to fetch Derrick Morgan, an older, better-established singer who he knew was more experienced, and thus better able to assist with the recording session. If Kong was going to take the risk to start producing records, he wanted an established hitmaker as well. "One day," Morgan explains, "this little youth come to me, which was Jimmy Cliff, but he was James Chambers at the time. He said he meet a man named Leslie Kong that would like me to listen to his song—if it sound good, he should take me to Leslie. Beverley's was Leslie Kong's place, on the corner of Orange Street and North Street. You have one brother named Fats, he was the head of it, then Leslie and Cecil used to do real estate together. Leslie was inspired to go into the music by Jimmy Cliff, because Jimmy go to him with a song named 'Dearest Beverley.' The place was called Beverley's Restaurant, so he thought if he go in with that song, it would inspire them to do recording. When I listen to the song, it was a nice, slow ballad, but we was doing ska music. So him say him have another title, which was 'Hurricane Hattie,' and I have a friend in the yard, a poet, who wrote 'King of Kings'; we put a melody to it and go to Beverley's, and I told him about Drumbago and the All Star Band. Drumbago take me and Jimmy to Greenwich Farm to rehearse, and we go to Federal the following day and recorded those songs. There I met Owen Gray, he do 'Darling Patricia,' boasting on it, so I write a song named 'Be Still, I Am Your Superior'; I was throwing words at Owen. I record 'Be Still' and 'She's Gone,' Owen did 'Darling Patricia,' and Jimmy did 'Hurricane Hattie' and 'King of Kings.' And that was Leslie Kong starting off with a bang—all of them hit number one."
At last, Jimmy Cliff was off and running, with hit singles at the top of the Jamaican charts. The mode was ska, and the music forceful and bright: 'Hurricane Hattie' was a boastful jaunt that referenced a recent storm, while 'King of Kings' was a coded reference to the growing faith of the Rastafari, many of whom were based in Jimmy's neighborhood, but the faith was not really then part of his general consciousness.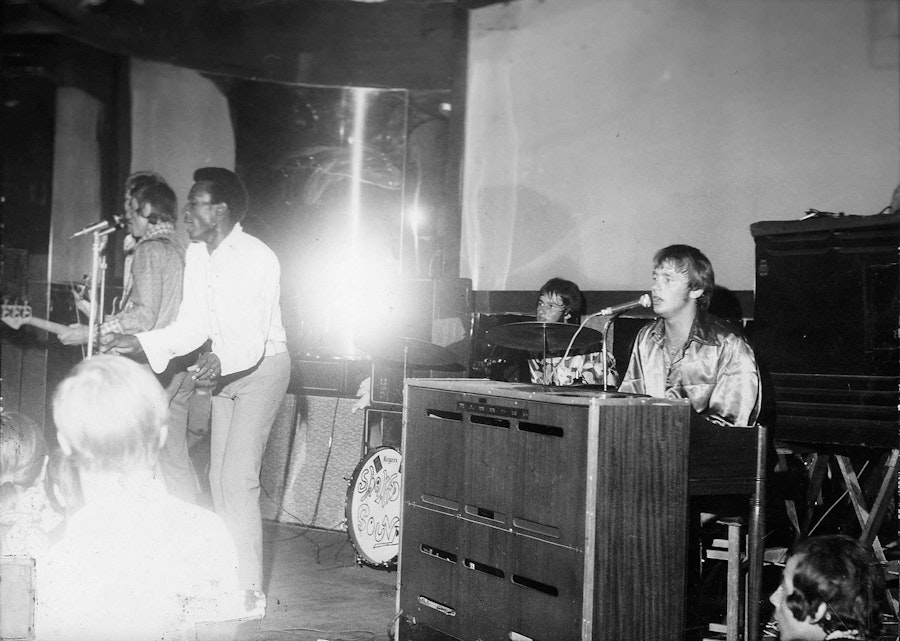 Meanwhile, the hits kept coming. As the status of the Beverley's stable continued to rise in the period following Jamaica gaining her independence from Britain, Cliff scored with the boastful "One-Eyed Jacks," also making a lesser impact with "Miss Universe" and a number called "I'm Free," a rebuke to a controlling lover that also celebrated Jamaica's newfound freedom. Cliff also helped audition artists at Beverley's, recommending both Desmond Dekker and Bob Marley to Leslie Kong for their first-ever sets of recordings.
Around the end of 1962, Cliff decided to take a break from recording, concentrating on live performances, which could sometimes prove more lucrative. He became part of the stage show of leading uptown club band Byron Lee and the Dragonaires, who had close links with conservative politician Edward Seaga, in whose constituency Cliff then lived. In fact, Cliff often performed at a venue Seaga controlled in his neighborhood. The noted dance hall, Chocomo Lawn, was located immediately behind Jimmy's dwelling. In 1964, with Seaga's assistance, Cliff traveled to New York as part of a ska delegation that included Prince Buster, the Charmers, and Eric "Monty" Morris, who all performed at the world's fair, along with Ronnie Nasrallah, who taught the audience how to dance the ska, as well as Jamaican Carol Joan Crawford, the 1963 Miss World title holder. The trip, during which Buster brought Cliff and his peers to meet Muhammad Ali, had a tremendous impression on Cliff, whose individual vocal style and wildly elaborate dancing made a very strong impact on the audience—so much so that several record labels approached Cliff through Byron Lee. But, as part of the deal would be that Cliff was to record with Lee behind him, Cliff was reluctant to take up the offer, mostly because Lee was seen as an uptown appropriator of ska, which was definitely a downtown ghetto music.
Shortly after the performance, while still in New York, Cliff was also approached by Island Records' founder Chris Blackwell, who was then enjoying a spectacular success with Millie Small's "My Boy Lollipop." Although Cliff had his sights set on America, Blackwell eventually convinced the younger singer to try and make it in England as an Island recording artist.
Cliff made the journey in early 1965 and immediately started gigging, gathering a group of White English musicians to perform soul numbers, interspersed with a few ska originals. But as these Brits knew nothing of ska, musical communication sometimes proved difficult, and the band's membership fluctuated. His most consistent live backing came from the Shakedown Sound, whose core would later form Mott the Hoople. This young band spent several weeks with Cliff in France in late 1966, before gigging all over the U.K. with him in '67.
Although Cliff cut plenty of demos with Shakedown, largely at the behest of record producer Jimmy Miller, he used other session players on his recorded material, including members of the outfit known as the Wynder K. Frog band, featuring drummer Bruce Rowland and bassist Alan Spenner from Joe Cocker's Grease Band, and Wynder leader, organist Mick Weaver, who joined Traffic with Steve Winwood, with whom Cliff was also collaborating. Partly because these musicians had no feel for ska, Jimmy's debut album, Hard Road to Travel, was basically a straight-ahead soul set, about half of which was comprised of cover tunes. Sublicensed to Veep in slightly altered form as Can't Get Enough of It, the album flopped on both sides of the Atlantic, though a standout original, "Give and Take," nearly reached the U.K. pop charts, and the original, slow version of the title track, delivered as a bluesy soul ballad, was also impressive, though it failed to make much impact at the time.
In the U.K., Cliff's ecstatic dancing and Otis Redding–style vocal deliveries drew devoted fans on the live circuit. He shared the stage with Jimi Hendrix and other notable artists, but his soul persona was generally overshadowed by Geno Washington, whose live band featured a horn section. Traveling in a dilapidated van to play at small venues in a cold country was greatly discouraging. Cliff was on the verge of calling it quits in 1968 when fate intervened in the form of the Third International Festival of Song in Brazil, at which Jimmy performed a rendition of an obscure pop song called "Waterfall," originally created by a band called Nirvana, one of Island's rock signings that did not fare particularly well. Despite not placing at the song competition, Cliff somehow captured the Brazilian public's imagination through "Waterfall," which became a hit single there, and the weeks he spent in Brazil resulted in a surge of creative activity that completely revitalized his career.
While in Rio, which he found to be reminiscent of Kingston but much more ethnically diverse, Cliff laid down a few cover versions of bossa nova tracks, half-sung in Portuguese, with inventive arranger Nonato Buzar, then an in-house producer at Polygram Brazil who was heavily involved in the song competition. This material, together with several songs from Can't Get Enough of It, was released by Philips as Jimmy Cliff in Brazil. Cliff subsequently traveled throughout South America, performing to ecstatic audiences, writing new material all the while.
Returning to Jamaica in 1969 for the first time in nearly four years, Cliff rekindled ties with Leslie Kong, working fervently at Dynamic Sounds with Kong's crack team of session players, led by bassist Jackie Jackson, for a superb breakthrough album. It was first issued in the U.K. as Jimmy Cliff on the Trojan label (which Chris Blackwell designated for Jamaican material, now that Island was concentrating on rock), but better known by the title of its American release on A&M, namely Wonderful World, Beautiful People. Tracks such as "Time Will Tell," "Sufferin' in the Land," the title track, and especially the poignant "Vietnam" not only took Cliff's music to a whole new audience but also notably inspired Paul Simon to travel to Jamaica to record "Mother and Child Reunion" and drew accolades from Bob Dylan. Cliff was also writing and arranging material for other artists at Beverley's, such as his old pal, Desmond Dekker, who hit with renditions of Cliff's "Song We Used to Sing" and "You Can Get It if You Really Want," as well as the Pioneers with the massive "Let Your Yeah Be Yeah" and "Give and Take," the latter's popularity far eclipsing that of Cliff's original. But probably the biggest hit of all from this era was Jimmy's version of Cat Stevens's "Wild World," recorded with Cat himself in the producer's chair. In the U.K., it peaked at number eight and stayed in the charts for three months.
One of the most remarkable tracks from Wonderful World was the mournful "Many Rivers to Cross," a song Cliff had written coming back to Dover from France after gigs with the Shakedown Sound. Recorded in New York with the Swampers—session players from Muscle Shoals, Alabama, who provided exceptional backing on recordings with Wilson Pickett, the Staple Singers, and Aretha Franklin—it was one of the numbers that helped Cliff reconnect with Chris Blackwell after Cliff's time in South America. In order for Jimmy's next album to stand out from the rest, Blackwell decided to send him to Muscle Shoals itself to record an entire album with the Swampers, along with Guilly Bright, a Panamanian singer-songwriter whom Cliff had met during his travels, and with whom he was collaborating closely. The result, Another Cycle, had some excellent material—Cliff's earnest tenor nicely contrasted by the bluegrass soul of the Swampers—but despite containing classics such as "Sitting in Limbo" and the title track, the album was widely panned, falling as it did between two camps and perhaps being too far from the Jamaican vibe that had driven Wonderful World.
Despite the many disappointments, Cliff reached another level altogether through his appearance in Perry Henzell's cinematic landmark, The Harder They Come. The first full-length feature film shot in Jamaica by a Jamaican director with a fully Jamaican cast and centered on a plot that dealt with the realities of Jamaican life, The Harder They Come cast Cliff in the lead role of Ivanhoe Martin, updating the tale of Rhygin, a legendary Jamaican gangster who terrorized the police during the 1940s, here recast as an aspiring ghetto singer of the reggae era. And Cliff's performance is undeniably natural, because although he avoided taking up the gun (unlike many of his ghetto peers, whose lives were cut tragically short), Cliff underwent some of the same tribulation as Ivan upon arriving in Kingston from the countryside as a green youth who knew virtually no one in the capital, where daily existence was a terrible challenge, and the slightest wrong move could result in death.
Although the film won prizes at European film festivals and eventually became a cult classic, establishing its popularity was a slow, difficult process, particularly in the U.S., where it did not gain a general release until 1975. Through the film and its terrific soundtrack, which contains some of Cliff's most moving work, a whole new audience would be drawn to reggae. But, in 1972, Cliff was frustrated by what he felt was career stagnation at Island, so when attractive offers came along from elsewhere, he chose to break away, signing to Warner Brothers' Reprise subsidiary in the U.S. for the 1973 Unlimited album, while another deal saw his European releases handled by EMI, just as he was awarded the Order of Distinction by the Jamaican government.
Cliff's departure from Island had long-term repercussions he probably had never dreamed of: Chris Blackwell had been planning to market him as a rebel outlaw following the release of the film, but when Cliff jumped ship, Blackwell focused his energy on the young Bob Marley, who approached Island through an intermediary just after Cliff left. But his action was certainly understandable. He'd been with Island for the better part of a decade, and things had not really gone according to plan. Plus, RCA had offered him a significant sum to defect, prior to the making of The Harder They Come, and although Chris Blackwell had convinced him to stay with Island at the time, the promised earnings were still far from forthcoming.
Dating from the era when Cliff publicly joined the Nation of Islam, the Black American religious and political separatist group then led by Elijah Muhammad, Unlimited was followed by House of Exile (1974, known as Music Maker in the U.S.) and Follow My Mind (1975). Each has strong tracks, such as the superb "Fundamental Reggay," "Under the Sun, Moon and Stars," "House of Exile," "Wahjahka Man," and "No. 1 Rip-Off Man" (a barb aimed directly at Blackwell), but Cliff's versatility meant they were not easy to pigeonhole, so European audiences were generally nonplussed, and Island's issue of an album called Struggling Man, largely composed of unreleased outtakes, most of which dated from 1971, did not help matters. However, Follow My Mind, featuring input from veteran singer Joe Higgs, provided something of a breakthrough in the U.S., and it and House of Exile made a very strong impact in Africa, particularly in Nigeria, where Cliff first performed in 1974. As with his experience of Brazil, Nigeria was a revelation for Jimmy, an African nation rich in music, culture, and spiritualism that helped him reconnect with his cultural heritage. However, his first trip there was problematic: an unscrupulous promoter had booked him for performances he knew nothing about, so he was briefly jailed upon trying to leave the country, as immortalized in the song "The News."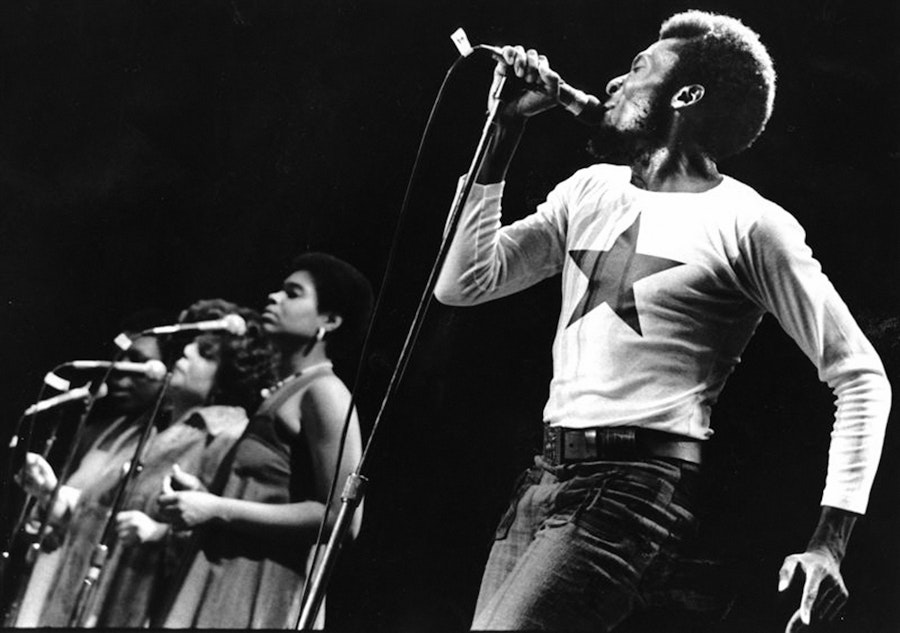 During this era, Cliff had a fantastic live band, featuring guitarist Ernest Ranglin, drummer Santa Davis, bassist Bagga Walker, and keyboardist Keith Sterling; sometimes Augustus Pablo helped with arrangements. His appearance on Saturday Night Live in 1976 was terrific, and the In Concert album captures him at the height of his powers, marred only slightly by gratuitous crowd-noise overdubs. In 1977, he toured extensively in West Africa, with South African backing singer Aura Lewis and Ghanaian percussionist Rebop Kwaku Baah. After an extended stay in Senegal, Cliff shifted his religious focus to the Baye Fall version of Islam. On returning to Jamaica, he formed the Sun Power and Oneness labels, cutting the excellent Give Thankx at Aquarius in 1978, backed by some of the island's best session players.
After signing a management contract with Don Taylor in 1979, in 1980, the year he issued I Am the Living (on MCA in America and via Warner Brothers in Europe), Cliff gave controversial performances in Soweto, where he was embraced as a hero before a mixed audience of fifty-five thousand people, despite flouting the anti-apartheid cultural ban. He then returned to Brazil for an extended period, collaborating and touring with Gilberto Gil. The pair appeared at the Montreux Jazz Festival the following year, which brought the album Give the People What They Want and saw Cliff giving a free performance for twenty thousand people in his hometown of Somerton, which formed the basis of the biographical film Bongo Man. He was also given a hero's welcome at Reggae Sunsplash.
Another highly significant year of achievements was 1982, in which Cliff received the Norman Manley Award for Excellence in the Field of Music. He also switched to Columbia/CBS for the album Special, produced by Chris Kimsey, who had worked extensively with the Rolling Stones. Once again, Cliff was backed by a superb group of Jamaican session players, augmented by Stones guitarist Ron Wood. Later in the decade, he formed a working partnership with Khalis Bayyan of Kool and the Gang, which yielded The Power and the Glory, with hit single "Reggae Nights," cowritten by LaToya Jackson, and Cliff Hanger, which won a Grammy in 1985. Cliff was back on the silver screen in Club Paradise the following year, contributing to most of its soundtrack and collaborating with Elvis Costello on one track, as well as appearing in the flick, while the 1988 set, Hanging Fire, a diversion into commercial dance music, was peppered by some soukous-oriented material recorded in Zaire.
By the 1990s, Cliff's output had significantly slowed. He was still traveling the world at a fair pace, dividing his time between homes in Jamaica, the U.S., Senegal, and Nigeria, as well as Brazil (where he collaborated with Olodum). Meanwhile, his sparse recorded releases were becoming ever more modern: the independently released Images (aka Save Our Planet Earth) and Breakout had excursions into rap and digital dancehall, though partly consisting of traditional reggae; 1999's Humanitarian, recorded with Steelie and Cleavie, was straight-ahead dancehall that maintained a roots sensibility; Higher and Higher and Journey of a Lifetime, which heralded a brief return to the Island stable, continued the blend, mixing the personal and political in a fresh-sounding framework. There had also been two huge soundtrack hits, the first being his 1993 remake of Johnny Nash's "I Can See Clearly Now" from the Cool Runnings feature film, the second being his 1995 cut of "Hakuna Matata" from Disney's The Lion King.
Early in the new millennium, Wayne Jobson, who had played kalimba on the Special album, helped Jimmy make an important connection with Dave Stewart of the Eurythmics, which ultimately saw Jimmy signed to his Artist Network organization, yielding the imaginative album Fantastic Plastic People, which featured contributions from Stewart, Sting, Joe Strummer, Annie Lennox, drummer Tony Allen from Fela's band, and Gary "Mudbone" Cooper of P-Funk. Cliff, who likened Artist Network to the working situation of Beverley's, felt he had come full circle with the release, which was supported by extensive touring. Unfortunately, as great changes were affecting the music industry in the age of unauthorized Internet downloads, Artist Network went bust, causing Jimmy to totally rework the album's material in an electronic form for 2004's Black Magic, issued with several new numbers, including a duet with Wyclef Jean.
Awards and accolades were reaching the man from all corners: in 1997, he was awarded an honorary degree of doctor of letters by the University of the West Indies; in 2002, a lifetime achievement award at the Caribbean Music Expo; and in 2003, he was awarded the Order of Merit, Jamaica's third-highest national honor.
Though Cliff has never been one to let himself be constrained by the reggae idiom, he has also given us some of the greatest reggae works of all time in a career that has spanned five decades. Throughout it all, he has remained a humble, philosophical, and spiritual being, focused on his mission of promoting love, peace, justice, and unity.