"There were no rules. I would mix totally different kinds of music together—an African percussion track into a German electronic Berlin School track, or Brazilian bossa into minimal wave. It was just about being the most creative I could be, always experimenting and innovating." DJ Beppe Loda is describing the genre-colliding global fusion of the "Afro sound" he pioneered in the early to mid-1980s at the Typhoon club in the small town of Gambara, Brescia, Northern Italy. 
The Afro sound of Beppe Loda gained momentum through DJ mixtapes when his series Afro was launched in 1982. Recently uncovered thanks to archivists, these wildly eclectic and mysterious mixes still have the power to disorient listeners nearly forty years later. You can only imagine what they must have done to the untainted ears and curious minds of Italian teenagers at the time, many decades before Spotify and Discogs.
Beppe Loda's "musical search," as he calls it, began when he had just entered his teens. "My mother gave me a turntable and a copy of 'Venus' by Shocking Blue when I was thirteen, and I started to collect lots of 45s," he says. "After that, I started to buy LPs like Live Peace in Toronto 1969 by John Lennon/Plastic Ono Band and Rare Earth In Concert. From then on, I was always looking for something different." 
Armed with an ever-growing collection, he was soon playing at friends' house parties before his first proper club date in 1973 at a spot called Kinky in his hometown of Manerbio, to the south of Brescia. The club was owned by two friends, Tony and Oreste, who were open to the young Beppe's eclectic tastes. "Kinky was a very beautiful period for me and a great time to be a DJ," says Loda. "There were not yet many private radios in Italy, so the only way to hear that new type of music coming from the States—the funk, soul, and R&B—was to attend the few clubs that there were at the time." Loda quickly learned the importance of being ahead of his rival DJs. "I used to love finding new records to play," he says. "I went to Ronchini in Piacenza, one of the first importers of records from the States, and spent hours choosing the 45s that I would then include in my sets."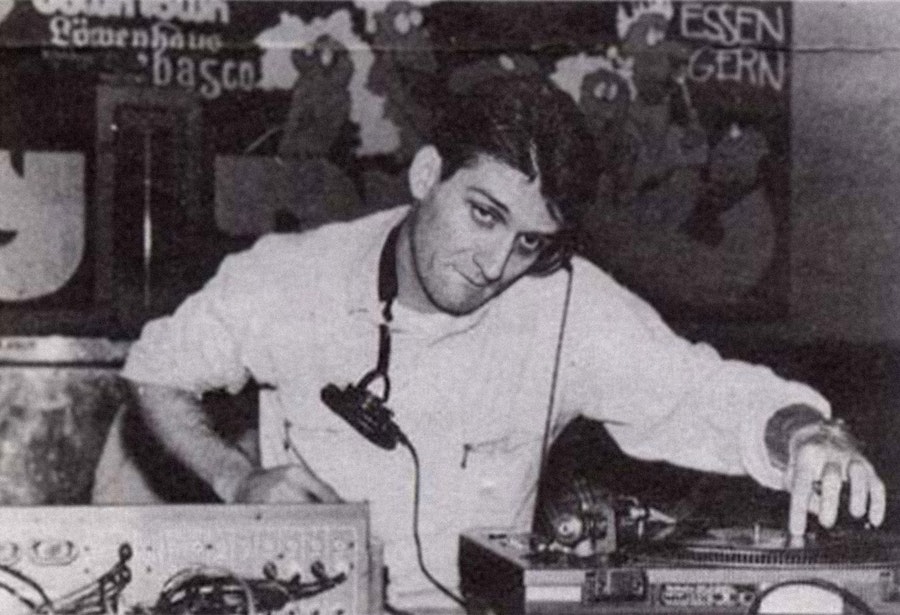 Inspired by two local DJs, Mec Lamonti and Morris, Loda began to pay more attention to the way he presented the music. "From Mec Lamonti, I learned the spirit of what a DJ was and how you could play a set differently by always watching the way the crowd reacted, and from Morris, I learned a lot about Black music, so this was a great foundation," says Loda. 
With word spreading about Loda's funk and soul sets at Kinky, the club started to attract some influential local figures, including the local fashion crowd. "A man called Nevio, along with his wife and sister—who owned a boutique called Mister Folly—came to Kinky," says Loda. "Soon after, we did a Kinky/Mister Folly party, which was a great success." After the party, Nevio and Loda began to discuss ideas for their own party using Loda's knowledge of music and clubs and Nevio's business acumen.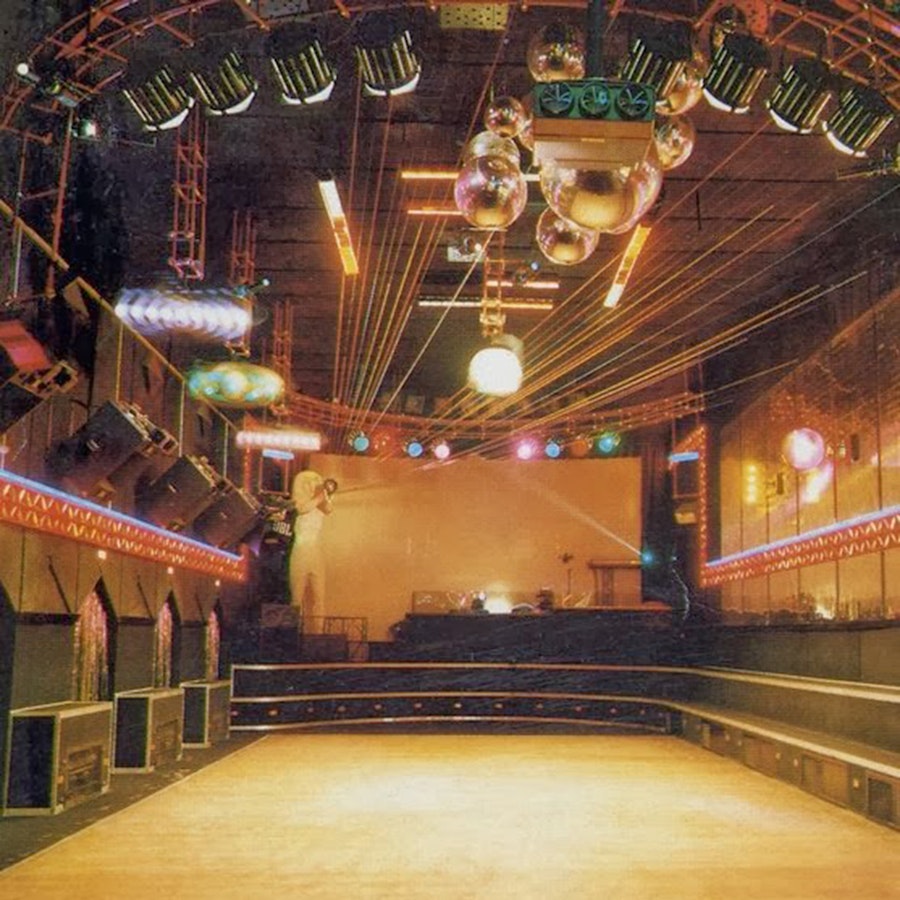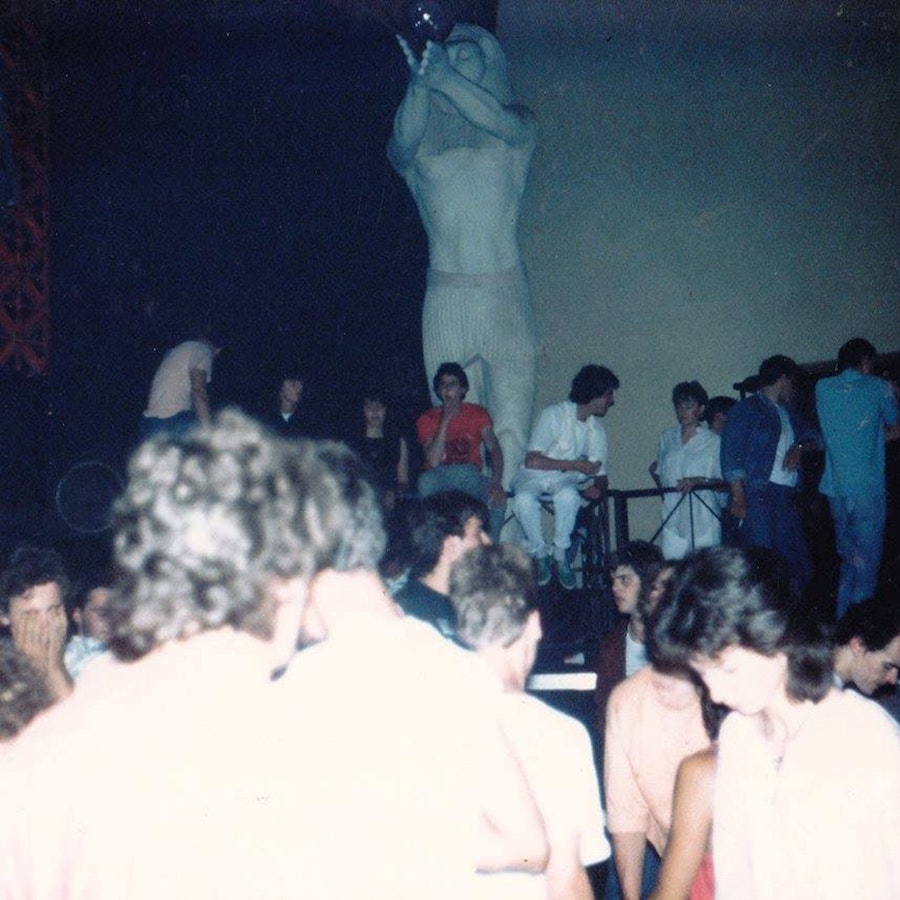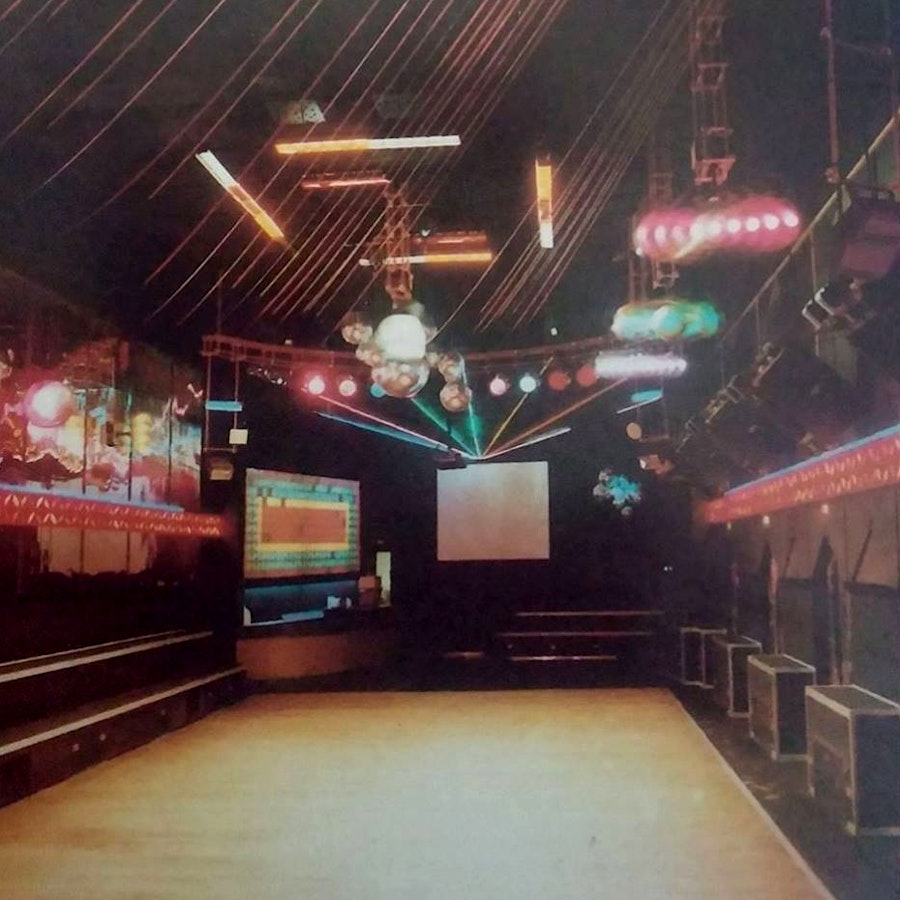 After bringing in three other partners—Mauro Losio, Mauro Co', and Bruno—Loda and his new friend opened Typhoon on December 19, 1980, on the site of an old cinema in Gambara. "Typhoon was made according to my directions, which reflected my ideas for an alternative club throughout," says Loda. "I wanted amazing sound, so we had three McIntosh amplifiers combined with eight JBL speakers. Then we had a special Coemar lighting system designed by the Castel Goffredo firm from Mantova—and to top it all off, a powerful laser beam." The immersive experience was enhanced by two screens on either side of the club that showed experimental films or videos of Loda working his Tascam mixer to the max.
This was a golden age of Italian clubs when a unique dance scene was born on the Adriatic coast and towns across the north of the country. Tired of just trying to replicate American disco, the Italian DJs reached into the deepest corners of their record collections with nothing out of bounds for their spacey and psychedelic mixes. Alongside Daniele Baldelli and his partner Claudio Tosi Brandi aka Tosi Brandi Claudio (TBC) at Cosmic on the banks of Lake Garda, and Claudio "DJ Mozart" Rispoli (Baldelli's cohort at club Baia Degli Angeli in Gabicce near Cattolica), some other innovative spinners of the late-1970s to mid-'80s were Daniele Malagnini at the clubs Les Pois in Cavaion, Verona, and Les Cigales in Bedizzole, Brescia (also home to DJs Meo, Rubens, and Joele); Ebreo & Spranga at Chicago in Baricella, Bologna; and DJ Lollo at Arena in Solesino, Padua.
Each club and DJ had a loyal following, but clubbers also traveled across the north of Italy in what was the country's first countercultural club explosion, akin to the U.K. rave scene of the late '80s. Thousands of young people would drive from club to club in battered old Citroën DSs and 2CVs, Renault 4s, or Vespa scooters. Dressed in a post-hippy style with long hair, faded Levi's, suede boots, and pastel-colored sweatshirts, the clubgoers would swap the mixtapes of their experimental DJs.
Because many of the same records were played at these clubs, it was up to each DJ to stand out and to create a unique sound. "I went to the other alternative venues to hear what music they played, but only to not do what they already did," says Loda. "I had noticed how much the clubbers liked the percussive music that could be heard in the breaks of the disco records, so I already had this idea for a new kind of music."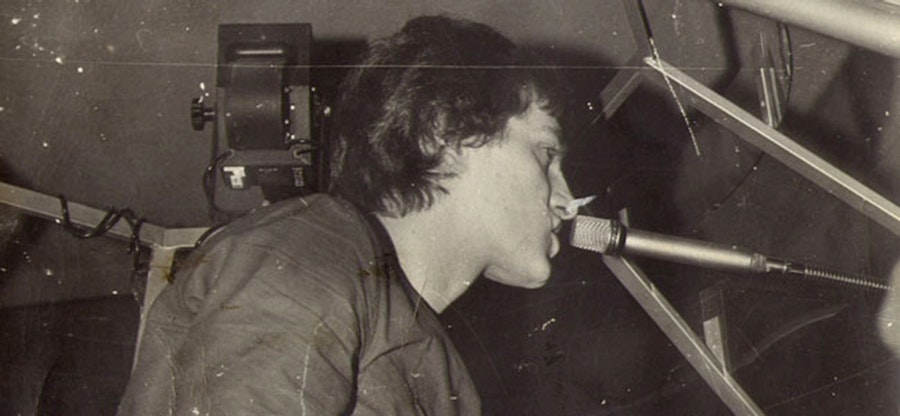 Beppe Loda's inspiration was fueled during one of his regular trips across Europe searching for ever more obscure records. "I arrived in Dam Square, Amsterdam, and there was a group of musicians who performed only with percussion instruments, and I was fascinated," says Loda. "I was intrigued by this interlocking of rhythms that pushed you to move, but I could not understand the construction of these syncopated rhythms. So I decided to learn them by studying percussion myself." 
Soon after his rhythmic epiphany, Loda was in Paris, another favorite city for digging for records, especially the African LPs impossible to track down back in Italy. "One day walking in the Pigalle area, I saw an African hair shop on the other side of the street and there was the word 'Afro Hair,'" he recalls. "It was the first time I had seen the word 'Afro,' and I loved it. The funny thing was, then I started to see it everywhere on lots of these records I had. There it was—Afro-funk, Afro-Brazil, Afro-Cuban, Afro-jazz, Afro-fusion, Afro-rock, and so on. So I thought, 'Why don't I use that as the name for my mix of music that uses all these various very percussive genres.'"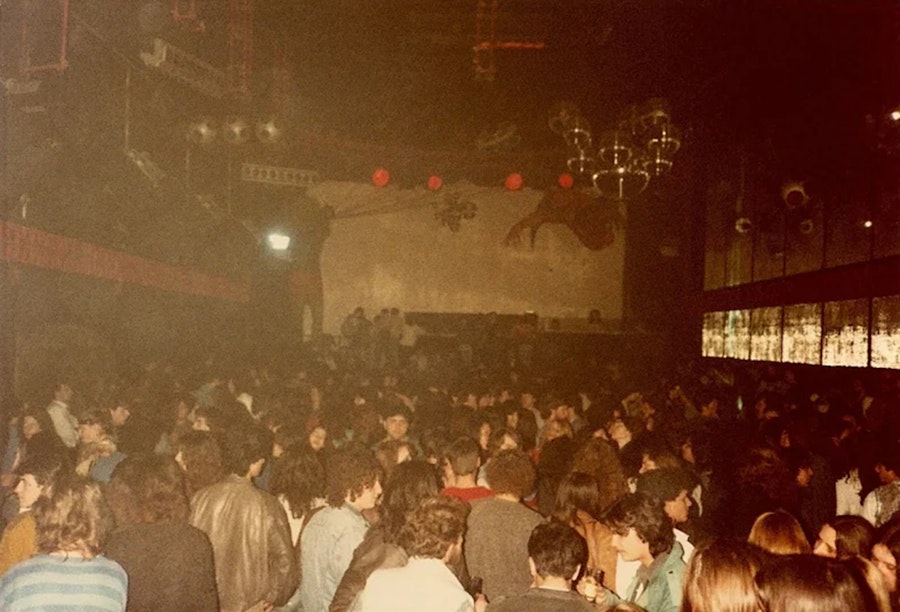 And so Loda's Afro sound was born, with Typhoon's young clubbers open to anything that Loda would throw at them. Layering an obscure African drumming track by Zaka Percussion over the bossa of Jorge Ben, dropping the wild disco breaks of Erotic Drum Band into a heavy batucada by Airto Moreira, sliding the gothic post-punk of Tones on Tails into the synth pop of Thomas Leer, mismatching the jazz fusion of Miroslav Vitous with the industrial music of Chris & Cosey, Loda used his vision and techniques to orchestrate a chaotically diverse soundtrack.
These were, of course, the days before the internet when digging required time and dedication. "I would go everywhere, spending hours and hours listening to music," says Loda. "I went around all the shops in Northern Italy almost every day, and abroad every couple of months—to Germany for electronic music, in France for African and Brazilian, and then in 1982 to the United States from coast to coast in search of funk, soul, and fusion." Loda's vociferous appetite for vinyl led to him opening a record shop in Brescia with his wife and friend in 1983. Going by the name of Señor Salsa, it became a go-to store for other DJs like Daniele Baldelli and gave Loda access to even more records. 
Armed with a vast collection of vinyl and avant-garde tastes, Loda weaved disparate records together, making things work that should never have. His mixes could be effortlessly smooth but at other times deliberately uneven as if to shock the dancers out of their comfort zone. "The thing for me was, I chose not to hear other DJs and radio, in order to keep my mind free from other influences," says Loda. "Apart from when we had guests at Typhoon, I only heard my music. So that is why I had my own style." 
One thing Loda did have in common with his Italian counterparts was tweaking the pitch of records, sometimes to make records work together and other times to do the exact opposite and to play with the minds of the dancers. "This came from our desire to create alternative music, out of the box and out of the rules," says Loda. But unlike many of his fellow Italian DJs, Loda didn't just play LPs at 45 rpm and singles at 33. "At Typhoon, I had four Micro Seiki DQX-1000 turntables with different speed adjustments so I could have a remarkable change in speed. One turntable was adjusted to +24 and the other to -24 and the other two to +12 and -12. When I went to other clubs that had turntables that just ranged from 33 to 45 [with no fine-tuning], I found that very limiting." 
Other tricks used by Loda included dropping fragments of breaks and short musical extracts from records into his mix, cutting in and out with a fader, or distorting the vocals by moving the decks back and forth. Like his most famous counterpart, Daniele Baldelli at Cosmic, Loda also became known for his edits. "I would record the track at my home studio and deconstruct the parts in different ways [according] to my musical tastes and what I thought would work inside the clubs," says Loda.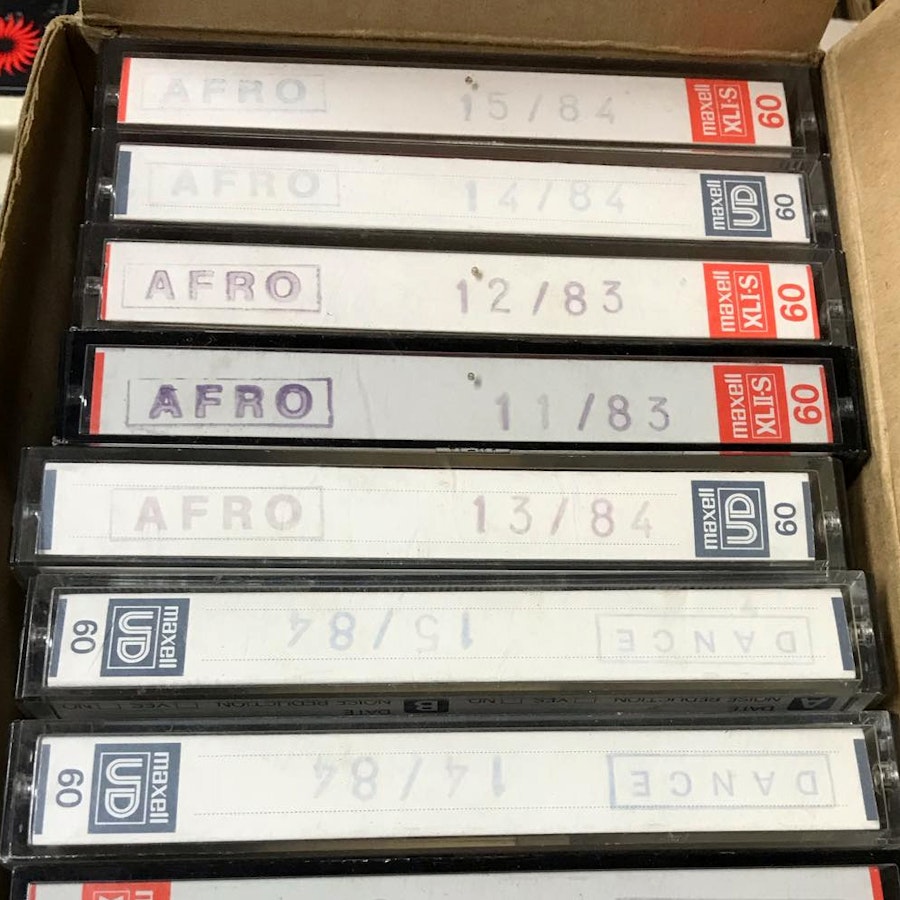 Many of the records Loda played were impossible to find in Italy, so his Afro mixtapes became common currency among the obsessive Typhoon regulars who collected and swapped cassettes, which numbered over two hundred. "I usually recorded them all at the club live with a reel-to-reel recorder extracting the best parts and putting them on tape," says Loda. "I began by distributing the tapes in the club, but soon they were being duplicated, and it became a big industry, so you could find my tapes in a lot of used music and clothing stores."
With Typhoon's most musically curious clubbers crowding the booth taking notes of the obscure records being played by Loda, the Afro sound soon spread to neighboring Austria as new DJs emerged playing many of the same records. In the mid-'80s, Typhoon and Cosmic regulars Stefan Egger, DJ Navajo, and DJ Enne started throwing parties in Innsbruck before the scene moved to Germany, with the names Cosmic and Afro often interchangeable.

As more and more DJs copied his style, Loda created a new genre he called elettronica meccanica that combined proto-industrial and left-field new wave.
While Loda continued to DJ, including a three-month spell at Cosmic, he noticed that some of the mystery and magic had gone. Typhoon closed in September 1987. Loda DJed across Italy through the '90s, including a residency at Marabù in Reggio Emilia, where he played to over three thousand dancers. 
As well as working on edits specifically for Typhoon, back in 1984, Loda had released an Italo disco record called "Basic" under the name MC1 with Francesco Boscolo. It was a moniker they revived in the 2000s for Paolo Scotti's Synthonic label. The relationship began with a remix of "Basic" in 2006 before Loda and Boscolo joined for an Italian synth/space disco project under the name Memory Control One. The pair also revived Boscolo's prog-disco group Egotrya for the "Volcano" track on Synthonic. 
Loda has also released a string of edits of classics from back in his heyday under the name Typhoon Music Machine, including new versions of Chris & Cosey's "Crisis," Propaganda's "Dr. Mabuse," and Depeche Mode's "Enjoy the Silence." Then there are his Italian Spaghetti Disco edits of little-known '70s and '80s Italo disco records like Sweet Company's "Life" and Nadia Cassini's "Passaporto Per La Follia."