Originally published in Wax Poetics Issue 66, 2017.
Danny Holloway's record collection is as deep as the Caribbean Sea, and he loves music.  The all-around music man is also behind the Los Angeles club nights Blazing 45s and Fuzz, co-owns the popular 45 label Ximeno, and has DJed for TED conferences, boutique hotels, and Damian Marley's Welcome to Jamrock Reggae Cruise. However, his pedigree and passion for music started many years back as a journalist with the British music mag NME, which led to a gig with Chris Blackwell and his Island label, working with Jamaican icons the Heptones and Bob Marley and the Wailers. I sat down with Danny at his home away from home, in the Los Angeles offices of Dublab, where he is a frequent contributor.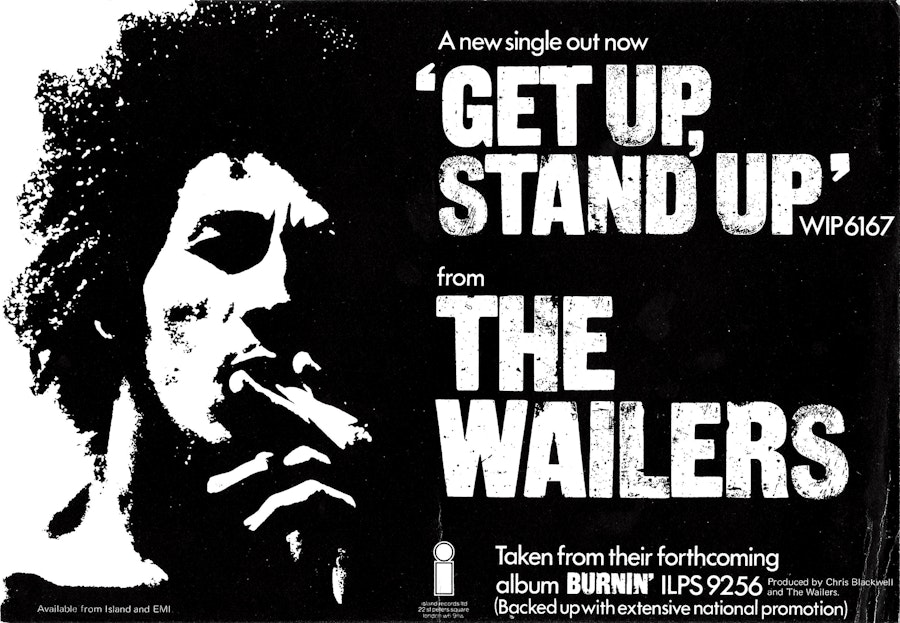 Tell us about how you first became interested in reggae music, Danny.
Well, here in the States, there were three really big songs—"Israelites" by Desmond Dekker, "Hold Me Tight" by Johnny Nash, and then one Jimmy Cliff song, "Wonderful World, Beautiful People," maybe—that were hit reggae tunes on the radio. They never called them "reggae" though. In fact, they never called it a genre at all. So I hadn't heard a lot of Jamaican music till I got to London, and what I heard was not very good—a lot of songs [with] "Humpty Dumpty sat on a wall"–type lyrics, you know? Anyway, at the NME [in London], one of my jobs was reviewing all the singles every week. And they were putting out all these Jamaican things, so gradually I started to like it, mainly because some of the vocals reminded me of soul music.
When did you first hear the Wailers?
While I was at the NME, Chris Blackwell asked me if I wanted to go to Island for a session for the Wailers' LP Burnin'. I went to the session and hung out for an hour or so while the band was doing overdubs, then they took a break. I was in the control room with Blackwell and an engineer when [Bob Marley] said, "Do you mind if I play you a tune? I want to know if you think it has potential for the States." And he played me "Get Up, Stand Up," you know? But it was slow. The way they recorded the tune was at a rocksteady pace. So after I heard it, I said, "This tune is an anthem, but the tempo is too slow. In the States, if you want the crowd to...put their fists in the air, it's gotta be more urgent." He responded by telling the engineer, "Can you speed it up using VSO [vari-speed oscillator]?" So they sped it up and looked to me for a reaction, and I said, "It's not fast enough." He asked the engineer to speed it up more, and I said, "That's it! That's the right tempo right there." I told this to [producer] Mario Caldato years later and he said, "I know you're telling the truth with that story, because I heard the original multi-tracks and I was shocked at how slow the song was." That was one thing that happened before I worked at Island officially.
I also interviewed Mick Jagger a few times while I was still at the NME, and so they asked for me to go and cover the Stones recording Goats Head Soup in Kingston [Jamaica] at Dynamic Sound in 1972. I spent a week or two there and knew that I was going to have some spare time, 'cause the Stones weren't available all the time. I interviewed Prince Buster, Byron Lee, and the Wailers.
Once you were hired to Island Records shortly after, what projects did you work on with respect to Jamaican music?
There were two things that were always a priority in the London office; one was to break Bob and the Wailers; the second one was to help spread the popularity of Jamaican music to a new audience. Our plan was to slowly, bit by bit, take it to the world, you know? We [also] did the This Is Reggae Music compilations. There'd been a lot of compilations for the U.K. market, but we started doing it for the States and the rest of the world, trying to turn them on to Jamaican music. At that particular time, the thing that really cut through and got a lot of people that weren't into Jamaican music into it was The Harder They Come movie, which was done before I got there. It came out in [1972 and 1973 in the U.S.] and was magic for so many people. But right when The Harder They Come was [so popular], Jimmy Cliff's deal was up. 
Good timing for him.
Yeah. Well, the way Blackwell told me, he said, "I couldn't [renew] the deal with Jimmy Cliff because he asked for a house in the country"—right? Now, a house in the country is, like, kind of an estate, you know what I mean? That's a lot of money, and [Cliff] hadn't recouped yet; he hadn't paid back for all those years that Island had paid for him to record and all that. So, Blackwell couldn't buy him that house until he was caught up more. So he said, "Sorry, I can't give you [what] you want," and [Cliff] went to EMI, they gave him a bunch of money, and he left [Island]. That left a void of, like, who's gonna spearhead the reggae movement now? Then Marley walked into Blackwell's office.
What was Blackwell and Marley's relationship like?
[Chris Blackwell] looked after [Bob] like he was his son. Bob asked for the Island Records office in Jamaica very early on, before he'd sold any records, and Blackwell found a way to do it. So, in a way, Jimmy Cliff didn't get his house, but Bob did. There were so many sympathetic things about Bob—he wasn't materialistic, he just wanted to get his music out to the world. For instance, Bob gave me a tour of the Wailers' headquarters at Hope Road once in the mid-'70s. When we went upstairs, he showed me his small room and there was a single bed, a small table with a lamp on it, a chair, and on the bed was an acoustic guitar. He always seemed to live very simply. His wardrobe was basic and he didn't have many possessions.
We had a meeting one time with Blackwell, and he gave me the recap after Bob left. He said, "Bob wants to be thought of in the same sentence as James Brown, Jimi Hendrix, and Bob Dylan." And, to us, it was a really encouraging thing, because when you have an artist sign to your label, you're sweating blood for that artist. You're doing everything you can to make it happen and when you hear that they're prepared to make sacrifices and their sights are on taking it all the way, you know?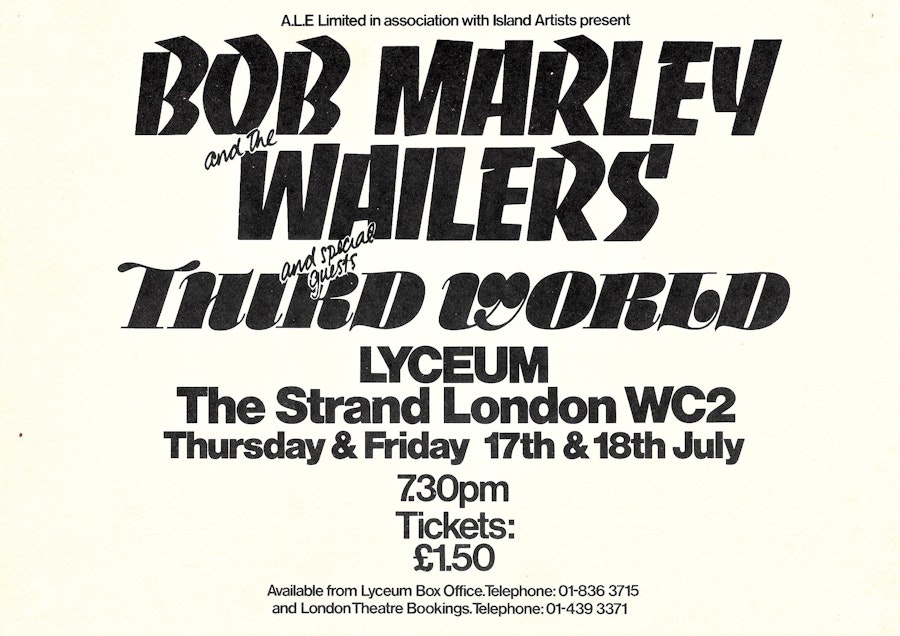 What Marley LPs were you involved in?
I worked on three Marley albums in a row: [1973's] Burnin', [1974's] Natty Dread, and [1975's Live! At the Lyceum aka Live!] with "No Woman, No Cry." On Burnin', I transcribed all the lyrics that are on the original package. I made a couple mistakes, but [laughs] I did that. I also coordinated graphics. On Natty Dread, I didn't do a lot, just coordinated graphics again. The sessions were closed because Bob was really having to concentrate on creating a new sound after Peter [Tosh] and Bunny [Livingston] left.
Then on the live album, the Wailers were on tour in the U.S. and doing very, very well supporting Natty Dread, right? One day, Blackwell calls me and says, "How'd you like to produce Bob Marley and the Wailers?" I just had a sarcastic look on my face, like, "Yeah, right," you know what I mean? "That's your job." I was waiting for the punch line; I thought it was a joke or something. He goes, "Look, we need to record this show, and I don't want to be out in the truck. I wanna host and look after people. Can you do that?"
Now, Island had an excellent mobile [recording] truck, but it was being used by Led Zeppelin. All of our best engineers were also obligated, so we got the Rolling Stones' mobile truck and the two guys that came with that. I'd done a lot of research on live albums, and what I realized was that people in 1975 were trying to replicate the studio sound; many didn't give you a [true] representation of a live show. So when I walked through the Lyceum with the two Rolling Stones engineers the afternoon of the first show, I noticed that forty to fifty feet up there were rafters. I asked the guys, "Can we hang microphones on long leads above the audience's heads?" And they said, "Yeah, we can do that." We had no idea that there would be these spontaneous reactions to songs, the crowd singing along without being encouraged. That whole unique concert experience was captured because we had those mics there.
You saw so many great reggae shows while in Jamaica, Danny. What were your favorites? You saw the Mighty Diamonds then?
Well, when I went to Jamaica to produce the Heptones' [Night Food] LP in 1975, [the Mighty Diamonds] were huge. You know, they had "Right Time" and "Back Weh," and it seems to me that it was the first time the Channel One sound became massively popular. I mean, on the radio, in the dance hall, everywhere. When the Diamonds came with their hits, it was launched into the mainstream more. The Channel One sound is one of the most classic sounds to come out of Jamaica, and Sly Dunbar had a lot to do with it. Some of my best memories, though, were just seeing Bob play in tiny little places, you know? Those gigs were real magical—they'd start with "Rastaman Chant" and you were able to get so close to them, really feel their energy and essence. That band with the Barrett brothers was a really, really special band, and they created such a raw, soulful thing.
Bring us into your time with the Heptones.
At that time, Blackwell didn't have time to go down to Jamaica, so he gave me a list; "Can you check out these things," right? One of the things was finding out what was happening with the [overdue] Heptones album, because Chris hadn't heard any progress. Another was to find and sign Burning Spear.
Anyway, when I got down there, I talked to the Heptones and said, "So what's going on, how far along is your album? How many songs have you cut?" They said that they weren't recording! For some reason, there was tension between [studio owner] Harry Johnson and the group. He hadn't even expressed to them why they weren't working; he just kind of avoided the question. The group was very frustrated and said, "Can you produce?" I go, "Well, I've had some experience [in the studio]," and they go, "You do it," you know? [laughs] "If you do it, we can get it done now." And that's what ended up happening. I think I called Blackwell and went ahead and [produced Night Food]. 
You ended up recording Night Food at Harry J's, right?
Blackwell was helping to fund Harry Johnson's operation, so that was our trump card. We stayed there and we cut tracks with a basic band of Robbie Shakespeare on bass, a guy called Touter [Harvey] who played keyboards with Bob [Marley and later with Inner Circle], really nice guy, great keyboard player. We had Chinna [Earl Smith] on guitar from Soul Syndicate, and different guys on drums—Benbow [Basil Creary], Santa [Carlton Davis]—two or three different drummers. One of them kept falling asleep. Like whenever he wasn't playing, he'd fall asleep.
Like narcolepsy?
Yeah, he must have had narcolepsy or something, because we could be listening to a playback that was really loud and he'd be asleep. [laughs]
I'll tell you a funny story about the first day: I was used to the way sessions flowed in England; everybody looks forward to the day, and everybody's got it written down. So, first day, session is at one o'clock and nobody's there, you know? [laughs] Then at like 1:30, 1:45, someone shows up, and I'm like, "What's up, where is everybody?" I'm relating in kind of a first-world kind of way, and they're all from the islands and more relaxed, you know? So, I was [trying to] get used to this. I went to Robbie Shakespeare's house—he was still in bed. I went and picked up the drummer, Benbow, I think, and he had his drums at a bus stop. [He was] waiting for the bus to take him to the studio! It was literally like a scene out of a comedy movie; I had to go around and pick up all these guys! Then I realized if I could pay them for the session at the end of the session, they would show up on time next time. They'd know that they were gonna get paid that day, you know? A lot of times at Jamaican studios, they were being offered twenty dollars a tune, and they wouldn't get paid; they'd have to chase the man to get paid. So, I just figured if I pay them in cash, they'll show up on time, and they did.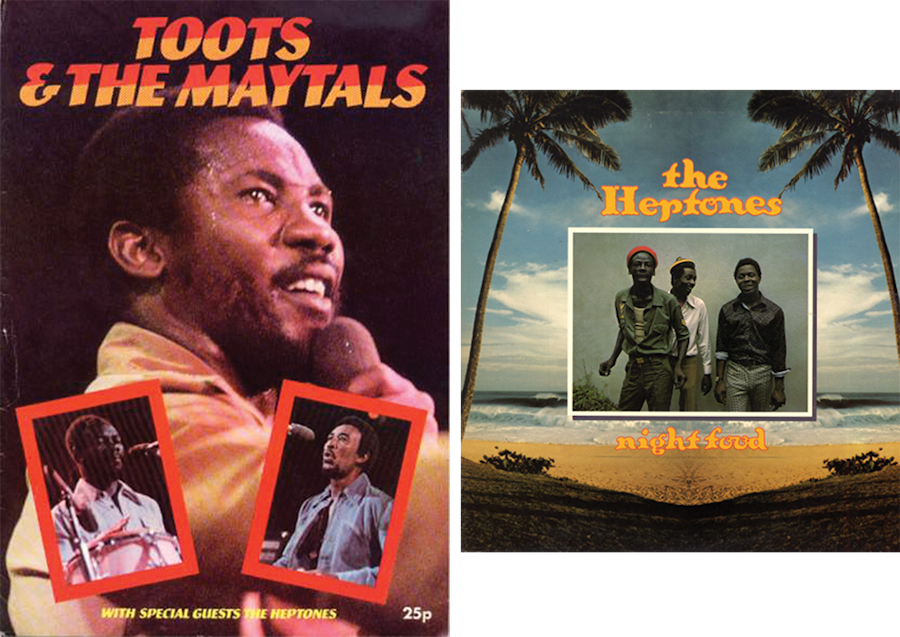 Tell us about the Toots and the Maytals/Heptones U.K. tour.
That was in 1976, and it was right around the time that Night Food and Toots' album Reggae Got Soul came out, so they were both promoting new albums. It was a really positive experience for everybody, I think. Everything was underwritten by the label. Leroy [Sibbles] was now living in Toronto, and the other two guys were living in Jamaica. They hadn't really seen each other that much, so when they arrived in London, they all came together as a group again. We got them clothing to wear onstage from Chelsea.
Anyway, the same guys who booked the Marley tours booked this tour, so we were playing universities mostly. Toots was always the first guy on the bus, every day. On some tours, the big star would be the last on the bus and make everybody wait, but Toots was the opposite. He had a little boom box, and every day he would play this Grounation music, and he would chant for hours, fine-tuning his mood for the day. I never saw Toots get angry—he was a gracious, kind, kind dude. All those guys from Toots's band were cool and calm: Hux Brown, Jackie Jackson, Winston Wright. Great band, great players. 
Were the Heptones on first, and Toots headlining?
Oh yeah, Heptones opened. I came up with this idea, kind of a stupid idea, that the band would be onstage playing warm-up music and then Barry and Earl would come out followed by Leroy who would make his entrance on a motorcycle [laughs] just to get people to go, "Whoa! That guy just rode a motorcycle onstage."
They had to get a ramp up to the stage and Leroy would put it in neutral, rev it a few times, jump off, get on the mic, and start singing. You know, just a little bit of show business [to] grab people's attention. Man, they loved the Heptones that night, boy, I'll tell you. Toots and the Maytals probably had to work a little bit harder at the London show because there were so many fans that hadn't ever seen [the Heptones] perform. They're shoutin' out song titles from over the years—the reaction was really strong.