Ernie was the first guy I ever knew to get divorced. Back then, the only people who got divorced were movie stars. Most folks in our neighborhood considered divorce the worst thing that could ever happen to a person other than death. But Ernie was cool. With his sly grin, goatee and silver Corvette, he was getting along just fine "without the old ball and chain," as he used to say.
In his liner notes to Heavy Flute, a compilation of funky flute grooves culled from the Atlantic vaults, producer Joel Dorn traced "the long and tortuous route" the flute once trod before eventually being "welcomed to the head table" by jazz musicians and critics. Dorn likened the instrument to yogurt back in the days when pudding and Jell-O ruled the snack world. He compared playing the flute to playing soccer instead of football, baseball, or basketball. He had a point. Guys from South America and Eastern Europe played soccer. It wasn't a real American sport. Before Mann came along, the flute, at best, was an instrument that saxophonists would pick up once a night for a moment of exotica, to evoke moonlight, swaying palm trees, and passion-filled nights in distant jungles, deserts, or Pacific beaches. 
Carrying around a flute case, even in the heady days of Jethro Tull, was always a bit risky. If you weren't being badgered by some stoner to "play some Tull, man," you were sure to be hassled by the halfback and his pals for playing "a girl's instrument." 
Herbie Mann always took chances, had no fear of venturing out on a limb, and didn't give a damn what anybody thought. But like the pied piper, he sometimes wound up with a glob or two of meringue on his face over the course of his career. Herbie paid in full for his success. While the 1975 disco hit "Hi-Jack" brought him a whole lotta loot cakes and mass popularity, he also found himself unceremoniously exiled from the land of jazz.
Born in Brooklyn on April 16, 1930, Herbert Jay Solomon, from a young age, began driving his mother crazy, banging incessantly on pots and pans. Looking to channel her son's rambunctious energy and find an outlet for whatever musical talents the boy might possess, Ruth Solomon took a nine-year-old Herbie to see the "King of Swing," Benny Goodman, at a Saturday matinee at the Paramount. Two weeks later, Herbie got his first musical instrument—a clarinet. But the clarinet soon gave way to the tenor sax after his music teacher suggested that if the boy was serious about a career in music, he had better learn to double on the horn.
In 1948, Herbie Solomon joined the army and spent the next four years in Trieste, Italy, playing with the 98th Army Band. After returning to New York, Herbie found himself among hundreds of young tenor players languishing in Lester Young's towering shadow. 
After changing his name to Mann, which had a hip ring to it and was apparently less ethnic than Solomon, Herbie eventually stumbled onto his destiny in 1953 when he was hired by the Dutch accordionist, Mat Matthews. Matthews was looking to forge a fresh, new sound by combining jazz flute with his squeezebox for a debut album by an unknown vocalist named Carmen McRae. Not owning a flute, Mann auditioned for the gig anyway, playing the arrangements on sax. His flute, as he assured Matthews, was temporarily in the repair shop. Nonetheless, Herbie got the gig, bought a flute, and spent the next few weeks woodshedding on the instrument, imitating the phrasing of Dizzy Gillespie and Miles Davis. As there were no forefathers of the jazz flute to speak of, other than perhaps Wayman Carver of Chick Webb's band, Mann was on his own to invent the style. As he later told Down Beat: "There wasn't really anybody for the people to compare me to."
A year later, Herbie cut his first album for Bethlehem Records—Herbie Mann Plays. Although surrounded by a crew of stellar beboppers, including Art Blakey and Kenny Clarke on drums, bassist Milt Hinton, and Tommy Flanagan on piano, Mann was uncomfortable playing straightahead. In 1957, Herbie recorded his first of three albums for Verve. The Magic Flute of Herbie Mann, which featured "The Evolution of Mann," became an instant hit with help from New York DJ "Symphony" Sid Torin. Symphony Sid, a "mambo-nik," as Herbie once described him, suggested he add conga drums to his sound. And with the newly enhanced groove, Herbie's popularity began to skyrocket.
A year later, Mann formed a group with four drummers, that he hoped "would kill the audience." As his popularity blossomed, Herbie could afford to pay musicians more than they were used to making in Machito's orchestra. He soon lured a veritable who's who of Cuban percussionists into his band, including Rudy Collins, Ray Mantilla, and Carlos "Patato" Valdez. Ironically, Mann soon found himself a sideman in his own group. Not only did he take a backseat to the lineup of all-star percussionists, he soon found the repetitive two-chord vamps of Latin music driving him nuts. 
In 1959, after hearing Mann's Afro-Jazz Septet's "African Suite," the U.S. State Department funded a trip for him to visit Africa. Upon his return, Herbie signed with Atlantic Records and released his first album, Common Ground, which featured Nigerian percussionist Michael Olatunji and poet/vocalist Maya Angelou. 
Mann's next Atlantic offering, The Family of Mann, was released 1961. "I was still a disc jockey in Philly," Joel Dorn recalls, "when he came out with The Family of Mann that had a killin' Latin/African version of Ray Charles's 'This Little Girl of Mine.' That had as good of a Latin-jazz rhythm section that existed in the world—Ray Barretto, Ray Mantilla, and Willie Rodriguez. Let me tell ya, it was wailin'!"
On November 17, 1961, Mann brought his sextet to the Greenwich Village to record the classic live album At the Village Gate. Although the Gate is long gone, having become a CVS drugstore on the corner of Thompson and Bleecker Streets, the record still continues to sell—over half a million copies to date. The album's centerpiece, "Comin' Home Baby," composed by Herbie's bassist Ben Tucker, made the top thirty on the pop charts.
"It was a runaway hit. It launched him!" Dorn says. "You can't get past that groove. It just grabs you. Groove is like laughter. You don't laugh because you make a decision to laugh! You laugh because somethin' struck you funny. It's the same thing with a good groove. Once it hits and it nails you—you're nailed!"
It was the 1959 Cannes Film Festival's prizewinner Black Orpheus that first turned Mann onto Brazilian music. The movie's sultry soundtrack immediately made Antonio Carlos Jobim an international star. Although completely unknown in Brazil, Herbie convinced his manager Monte Kay to book him in Rio de Janeiro two years later in 1961. Brazilian music, as Herbie discovered, "not only had the rhythmic excitement," but for the first time he "heard beautiful melodies that were great to improvise against."
While saxophonist Stan Getz and guitarist Charlie Byrd get all the cookies for sparking the early '60s bossa-nova craze with Jazz Samba, Mann was actually the first American to fly to Brazil to jam and record (with Nesuhi Ertegun at the board) Brazilian music with real Brazilian musicians. Herbie's 1963 release, Do the Bossa Nova, featured such legends of the music as Brazilian guitarist Baden Powell, and Sergio Mendes and Antonio Carlos Jobim on piano, the latter singing his "One Note Samba" for the first time in English. 
Mann's commercial success was unprecedented. From 1962 through 1979, he hit the top two hundred on the pop charts twenty-five times. But jazz and commercial success make strange bedfellows. An artist's integrity is immediately brought into question whenever he's got more than thirty-two cents in his pocket (the amount of currency said to be found on Charlie Parker's person the night he died). 
Since the late '50s, Herbie has been a target of ridicule and jealousy after being named Down Beat's Number One Flutist for thirteen years straight. The honor, whether deserved or not, brought with it a vat of sour grapes. There were plenty of other guys out there who, although saxophonists first, worked more than their fair share of magic when doubling on the flute. Among them are Frank Wess, James Moody, Hubert Laws, the fence-buster Rahsaan Roland Kirk, Yusef Lateef, and David "Fathead" Newman to name a few. There's Charles Lloyd and Eric Dolphy—who spit and spewed notes like red-hot volcanic sparks—Moe Koffman and Bobby Jaspar, just to name a few more, as well as Sam Most, the guy that Mat Matthews was looking for when Herbie Mann stepped up to the plate. 
"The rap against Herbie always was that he wasn't the greatest flute player that ever lived… and he wasn't," Dorn says frankly. "But he's the guy responsible for flute becoming a legitimate jazz instrument. For whatever reason, the jazz community didn't accept the flute as a legitimate instrument. Originally, the Down Beat Jazz Poll had shuffled it off as a miscellaneous instrument, along with oboe and tambourine and zither, into a category with anything that wasn't legit. It was pure stupidity."
"Rahsaan really had it in for Herbie Mann, and it was justified in a way," says Mark Davis, an old friend of Rahsaan Roland Kirk. "His point was that only a White guy could make a living from playing the flute. Until Hubert Laws came along, Black musicians had to play all the reeds, and maybe once in a while they'd get a flute solo. If Rahsaan was playing a festival with Herbie, he would dare him to come out on stage and play the flute with him. Of course he never did."
"Rahsaan couldn't stand him!" Dorn concurs. "Part of it was because he was jealous. He was so much better of a flutist than Herbie. But Herbie was a much more successful touring musician and sold a lot of records. Herbie connected with people! He had all those hits. It was hip to put Herbie down, to say he only had one solo. But it was pointless. Herbie played at the top of his game," Dorn emphasizes.
In the '50s and '60s, critics regularly wrote off anyone who was successful, especially if their music wasn't new or complex and difficult to listen to. One look at the various books on jazz history and you'll find Mann's name barely, if ever, mentioned. What's even more shocking and unjust is how the purveyors of world beat have treated Herbie. He's been snubbed by nearly every magazine and book on the subject, although he introduced much of America to the music and cultures of foreign lands.
He's the guy responsible for flute becoming a legitimate jazz instrument. Joel Dorn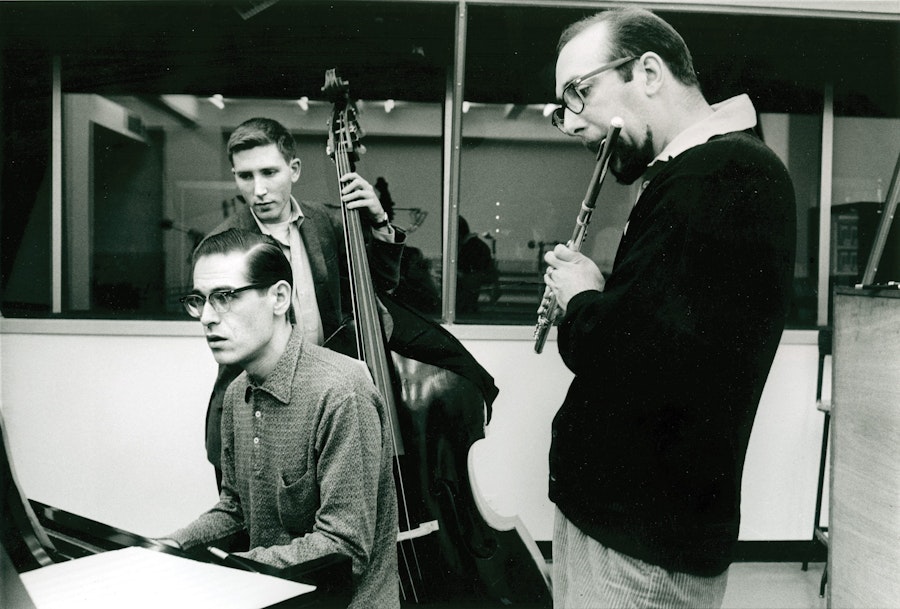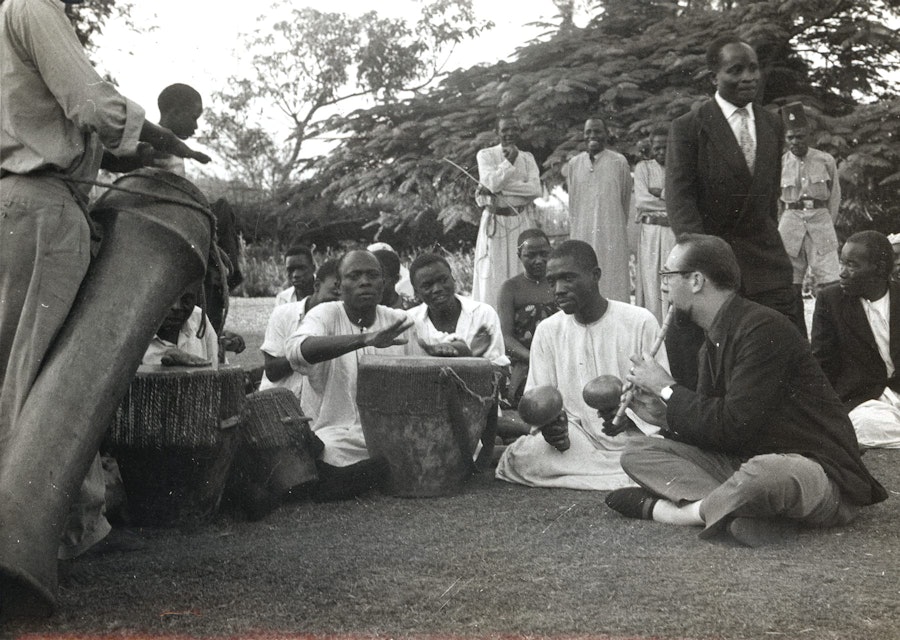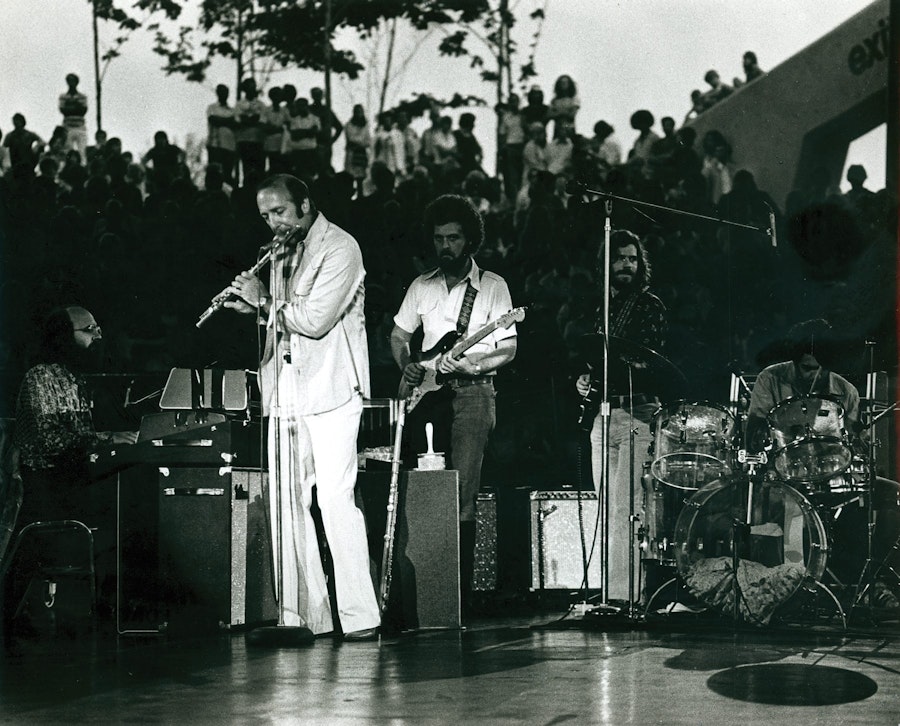 While some have given Herbie his propers as a father of world music, he quickly refuted such claims, pointing to Dizzy Gillespie's Afro-Cuban collaboration with Cuban percussionist Chano Pozo as the beginning of multiculti music. "I think Dizzy was there first," he said in an interview with jazz station WBGO. "Dizzy went to Cuba in the mid-'40s."
Beyond America's borders, Mann discovered that a rich tradition of flute and drum music existed in nearly every civilization around the globe, from the Caribbean and Africa to Brazil, Japan, and India. "That's why I started looking into all those sounds," he explained. "I always thought, why shouldn't you enjoy yourself? Why should you limit yourself to any one diet?" 
Once Brazilian music became ubiquitous, Herbie looked towards the East for new inspiration. In 1966, he released Impressions of the Middle East. Upon first listening one might suspect Mann was inspired by Yusef Lateef's classic album, Eastern Sounds. 
"Herbie had his own musical style and concepts. I don't think he was influenced by Yusef Lateef," Atlantic Records producer Arif Mardin claims. "This man explored every possibility, so many musical ideas, from bossa nova to Turkish folk music. We hired some ethnic musicians and included some Turkish songs. We experimented all the time, spending hours in the studio, making our wives furious," Mardin says with a chuckle.
"When I joined Atlantic Records in 1963, Herbie Mann was one of the main jazz artists very much valued by Nesuhi Ertegun, who was head of the jazz department. Herbie was a dear friend. He became like a brother and mentor who really helped me. Herbie has a very important place in my heart," Arif says earnestly.
While jamming with a crew of British rockers in London in 1968, Herbie got an earful of Willie Mitchell's "Mercy" and soon headed for Memphis, Tennessee, where he'd find his best groove yet. 
"Herbie never met a rhythm section he didn't like," Joel Dorn chuckles. "Once he heard a good rhythm section, he was on it. He went down to Memphis and later to Muscle Shoals. In the late '60s to the mid-'70s, he had some spectacular musicians in his band—Sonny Sharrock, Miroslav Vitous, and Roy Ayers. He had other bands with Chick Corea and Bruno Carr." 
Mann's best-selling album, 1969's Memphis Underground, boasted the monster funk groove of the title cut as well as a righteous rendition of Sam and Dave's "Hold On, I'm Comin'." Catchy arrangements aside, it was the sizzling guitars of Sonny Sharrock and Larry Coryell that put the smoke in the barbeque. 
Later that year, Mann started his own label, Embryo. Push Push, released in 1971, featured the searing slide work of Duane Allman, who Herbie met at a jam session in Central Park. Sadly, this was to be Allman's last session before tragically dying in a motorcycle accident.
The rhythm section on the title cut (an all-star crew comprised of keyboardist Richard Tee, bassist Chuck Rainey, legendary drummer Bernard "Pretty" Purdie, and percussionist Ralph McDonald) lay down a rock-solid soul groove while Herbie and Duane alternatively jam it on the one.
"But Herbie could play over complex chords," Arif imparts. "He was a very accomplished musician. Herbie was a rhythmic guy. He had a bouncy, funky style. He liked to jump around and be rhythmic."
The flute, since time began, has been an instrument of seduction, whether played by Lord Krishna surrounded by a horde of adoring gopis, or by Pan serenading a pack of oversexed satyrs while cavorting with nymphs in the wilds of ancient Greece. Nowhere in music is there a sound as immediate and purely evocative than that created by the breath, whether the human voice or channeled through a flute, saxophone, or trumpet. 
And Push Push, as the title suggests, is all about sex, right down to the album's cover ("a work of art!" Les McCann exclaims)—in which Herbie poses nude (from the waist up) with his flute gently resting on his shoulder. There stands Mrs. Solomon's boy, the Jewish Dionysian stud muffin of Brooklyn. Turning the tables on popular notions of sexual persona, Mann glances at the camera with bedroom eyes, as if to say, "Hey, if naked chicks sell records, why can't I?"
Besides, Herbie believed, as he told the New York Times in 1973, that his audience "wasn't listening intellectually; they were listening emotionally." 
"Push Push," Arif Mardin recalls, "turned out to be a wonderful album. It had that soul and R&B flavor. Herbie used the same musicians from Aretha Franklin's sessions," Mardin says, referring to Stax bassist Donald "Duck" Dunn and drummer Al Jackson, Jr. 
Mann soon followed his muse to Jamaica to play reggae and soak up the atmosphere of the land that spawned the infectious new sound: "If you want to play somebody's music, you'd better go into his house," he said. "I'm not going to do an album where I want real authentic Brazilian rhythms and record it in Jamaica. If I go to Brazil to make a Brazilian record, if I use Latin players to make a Latin record, why don't I go to the place where it's natural for those players to play that groove?"
But by the mid-'70s, that natural groove he loved so dearly gave way to the guilty pleasures of disco: "It's a double-edged sword having some pop records like 'Hi-Jack' and 'Superman' out there," Mann once said. "Pop is a very temporary pinnacle. You can go from having a top-ten seller to not having anything. In the jazz market, even in the broadest sense, you normally carry your fans along your whole career until they start dying out."
Although disco got the best of him, Herbie drew a line in the sand when it came to cutting fusion: "Listen to Memphis Underground or Push Push, that's the epitome of a groove record…the rhythm section locked all in one perception. Fusion music didn't have that unconscious groove. For lack of a better definition, the groove stopped being reefer and started being cocaine," he said. 
The jazz world's potential sales certainly diminished with the evolution of million-seller pop artists. Herbie Mann
"Growing up where rhythm is the heartbeat of the music, to me, the bass player is the heart of the rhythm," Mann explained. "With fusion, the bass player's role changed, it stopped being rhythmic and started being melodic. For me, the music stopped grooving." 
If the critics and purists hated Herbie before, with 1975's Discotheque he'd lost whatever jazz fans had been still hangin' on. Mann recalled livid audience members running up and pounding their fists on the stage shouting, "That's not jazz!"
"Everybody needs a scapegoat," Herbie said. "I was the Kenny G of the '60s, even though Kenny is a far better player than I was in the '60s. The fact remains that the purists, who are very territorial about what they perceive is their music, hate it when anybody sells more and has a bigger public."
Herbie never shared the jazz snob's attitude that the best music was always played before a crowd of six people at two in the morning. He harbored no romantic dreams of wallowing in obscurity: "I always said, 'Why do you have to play for a hundred people? Why can't you play for ten thousand people?' I never saw the limitations. Winning awards and being incredibly successful takes the same amount of effort. It's a mental process that you do. Why not think about hitting a grand-slam home run in the bottom of the ninth that wins the last game of the World Series? Why mess with a bunt single?" 
"If he committed any crime it was that he over-recorded," Dorn surmises. "In Herbie's case, it was more of a misdemeanor than a felony. He never stayed locked in a bag. He would chase any idea he had. Some of them worked. Some of them didn't. But when he was wailin', everything was workin'."
During his tenure at Atlantic, Joel Dorn produced two sessions for Mann—Windows Opened and The Inspiration I Feel. "Neither of them were standout records," he says with a shrug. "Herbie's best albums, I think, were self-produced. If you got the right band, a great quintet, you don't need a 'genius' producer. The guys come in and they play what they play. You get a good engineer and if the producer's watchin' everybody's back, you can pretty much make a serious 'jazz' record. More than most musicians, he understood what producing a record was about. He was very hands-on." 
Beyond his own albums, Mann produced sessions by his sidemen including Chick Corea's classic first record, Inner Space, and Miroslav Vitous's Mountains in the Clouds, as well as recordings by Roy Ayers and Ron Carter. 
As disco petered out, Herbie returned once more to Brazilian music, but would take a hit in the sales department. Mann parted with Atlantic in 1979 after a twenty-year relationship, deciding to record and release his own records: "I didn't feel that, based on my reputation, that any label would give me the attention and the care that I wanted," Herbie explained. 
"In all the major labels, the people in charge of jazz are in a very funny position. They're probably fans who have their own agenda of how to defeat the obvious limitations of what creative music can sell. The jazz world's potential sales certainly diminished with the evolution of million-seller pop artists. In the '60s, when I had the Village Gate album and Memphis Underground, a pop record that went gold was considered very good. And when my records approached that level, I was, for a moment, in the same arena, as far as the sales and promotion people were concerned. But now that you've got records that sell twenty-two million copies, who's going to pay attention?" 
"As Herbie's popularity began to decrease," Dorn says, "and his time as a hit artist was over, he matured into an excellent musician during the last twelve years of his life. He got a grip on simplicity. That record he made with Phil Woods [Beyond Brooklyn] was spectacular. If you're gonna play with a guy like Phil, you can't walk in the door with three licks and couple of card tricks," Dorn quips.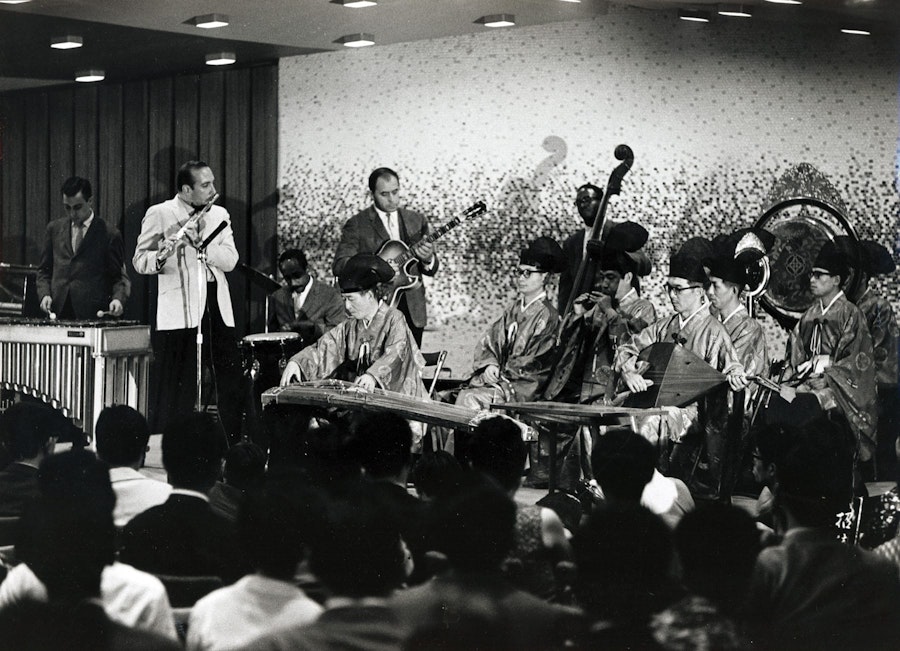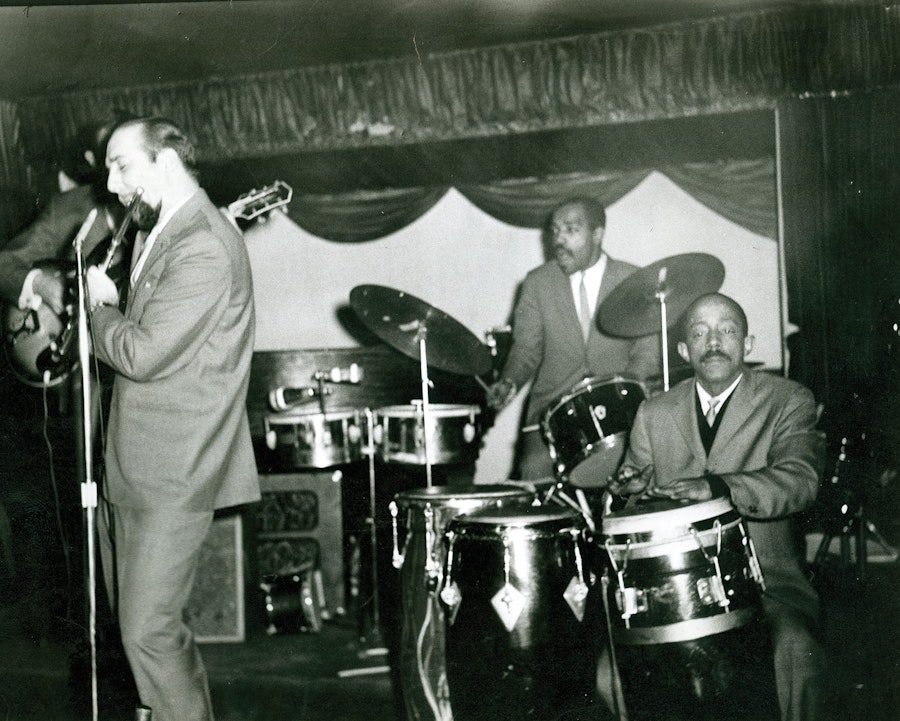 He was always lookin' for somethin' truly creative. I learned somethin' every night playin' with him. Les McCann
After nearly sixty years of living in New York City, Herbie and his third wife, Janeal Arison, relocated to Santa Fe in 1989, hoping to find "something more to the world than concrete." 
It wasn't until 1992 that Mann would return to jazz again, cutting and releasing Deep Pocket on his own label, Kokopelli. The disc featured an all-star soul-jazz lineup with fellow Atlantic veterans Les McCann, Fathead Newman, Cornell Dupree, Chuck Rainey, and Mann alumnus Roy Ayers.
"I got to know him late in life," Les McCann says, who joined Mann on Deep Pocket. "I had heard of him, but I don't think I'd even heard one of Herbie's records before! I just had my stroke and was tryin' to get my physical thing back together again to play the way I would like to, and he hired me anyway. Herbie was an excellent musician! He was always lookin' for somethin' truly creative. I learned somethin' every night playin' with him. There was never a dull moment."
In 1995, Herbie released two albums on his Lightyear label. Culled from a weeklong gig at the Blue Note for his sixty-fifth birthday, Celebration and America Brasil featured Fathead Newman, Billy Taylor, Tito Puente, and Randy Brecker. 
After five years of running his own label, Herbie confessed he was relieved to get out of the record business, claiming it was costing him his health.
Then in November 1997, Mann was diagnosed with inoperable prostate cancer. After undergoing radiation and chemotherapy treatments, he formed the nonprofit Herbie Mann's Prostate Cancer Awareness Music Foundation, becoming a spokesman for the disease, using his celebrity and music to create a greater awareness about the importance of early cancer detection.
"When that happens, you immediately start thinking that it's the end of your life," Herbie explained. "What do you want to be remembered for? And it dawned on me that I've played music I loved all my life, but they've all been assimilations. I'm not Brazilian. I'm not Black. I'm not Jamaican. I'm a second generation Eastern European Jew. So why don't I look at that music and see if there's anything in there I can use?" 
Mann's exploration of Eastern European music was inevitable. His grandfather had emigrated from Russia, while his mother was originally from Romania. In 1998, Herbie traveled to Hungary, the land of Liszt, Bartok, and Kodaly, looking for fresh inspiration. But it was the Magyar's rich tradition of folk and ethnic music that really grabbed Mann. Upon his return, Herbie formed another new group, Sona Terra, cutting Eastern European Roots. Along with guitar, bass, and his son Geoff on drums and mandolin, Mann added accordion and bouzouki to the mix, as well as the cimbalom, a hammer dulcimer used in Eastern European gypsy and Jewish music.
"Hungarian musicians grew up under Communism," Herbie said, "secretly listening to the Voice of America. Now they are using this knowledge to play their own harmonies and rhythms based on their folk music. It's a totally different genre. This music gives me the same kind of goose bumps like the first time I heard Benny Goodman, Lester Young, Charlie Parker…and Brazil," Herbie said. While following in the footsteps of the forefathers of "gypsy jazz," such as Django Reinhart and Gabor Szabo, Mann wound up crafting his most personal and perhaps most original form of fusion.
After enduring radiation, chemotherapy, and hormonal therapy, Herbie's six-year battle with prostate cancer finally ended on July 2, 2003, when he died at home in New Mexico.
There are currently more than fifty of Herbie Mann's albums in print, from every phase of his multifaceted career. His last session, recorded in Budapest with the Carpathian Basin Street Band, will soon be released.