Mike Clark's mighty drumming pocket is so deep, he's considered an innovator and icon in jazz, funk, rock, fusion, and hip-hop. His playing, kit sound, and unmistakable syncopation form the spine of masterworks by Herbie Hancock, the Headhunters, and Brand X. Mr. Hancock said of him, "The solo he played on the track 'Actual Proof' is one of the best drum solos on any of my albums. So many people have remarked about that solo, saying, 'Incredible.'"
His absurdly funky opening to the track "God Made Me Funky" is often cited as the most sampled beat in history, having been used to great effect by artists as diverse as NWA, Grandmaster Flash, Prince, and Britney Spears. 
Clark's playing on Hancockís seminal jazz-funk albums made him instantly one of the most imitated timekeepers and an inspiration to millions of drummers and beat crafters.
A generous teacher and esteemed member of the pantheon of truly loved "drummer's drummers," Mike has toured tirelessly since birth, embodying the title of the Headhunters' album Survival of the Fittest.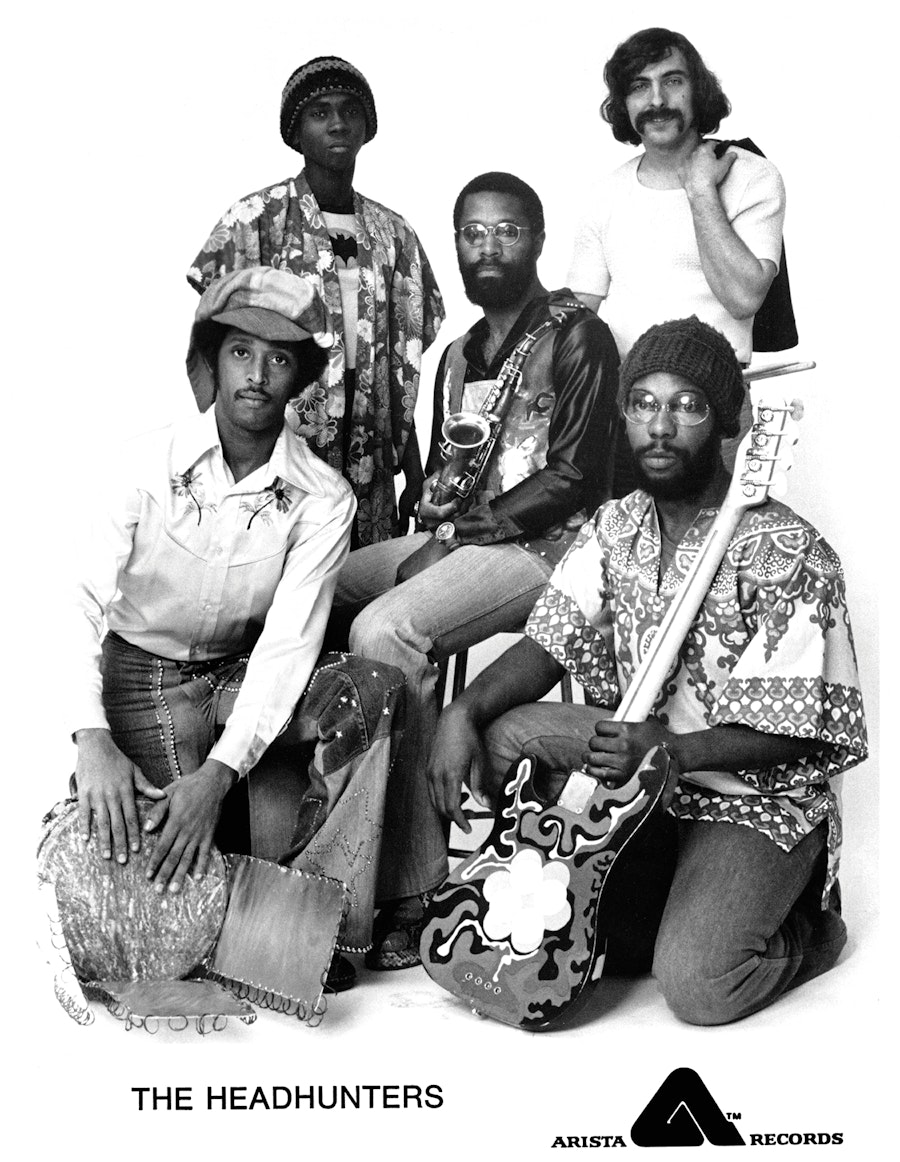 Mighty Mike, what's really going on? Give me the early years; how'd you come to music?
My dad had been a drummer and listened to a lot of Benny Goodman records. He wasn't great on drums, so he put 'em in the attic at, like, age eighteen. [chuckles] When I was four, he brought them back down. The first time I played drums, my style was completely intact. I had a kind of innate understanding of how the hands and feet could work together. Broken-up jazz. I immediately started sitting in at clubs and going out with my dad to clubs. He was supportive, and I actually did TV appearances as a kind of a child drum prodigy. I remember seeing Steve Gadd doing the jazz thing on the Mickey Mouse Club! I'm on the soundtracks for the Peanuts' Charlie Brown Christmas TV specials! [laughs]
Tell me about your meeting and subsequent amazing musical and psychic communications with the amazing "Black Octopus," bassist Paul Jackson?
I was playing a gig, and I saw this cat in the audience really checking me. I immediately knew he was bad, because he held himself like a musician. So on the last song of the night, he comes onstage and sits in on organ. We'd exchanged info, but after the gig, I'm looking for this dude, and he's just gone. A couple hours later, I get to my home, and Paul's sitting on the steps with an unopened bottle of wine! 
There was immediate love and respect like brothers. By the time we finished that bottle, our whole unique chemistry was totally born. 
You both immediately played in the style you became known for and continue to be the masters of today?
When we started playing with Hancock, he completed the rhythm section perfectly. We never had to speak. We all knew how to do it. All three styles of jazz-funk were completely intact. 
Paul and I had, and have, a secret language, musically and verbally, especially in our early twenties. Any person, place, or thing was named and had a title. One day, we're driving, and Paul says, "Lawrence Luconchu, what do you want to eat?" I became Luconchu from then forth. To this day, that's the name of my publishing company!
Let's talk a minute about Mike Clark and Paul Jackson, the hot-sauce pioneers.
It's like this. We were really hungry in those days, and just ate on a low budget. We frequented this spot, Everett and Jones, which, I think, is still a chain of rib joints in Oakland. Paul and I got the recipe from Ms. Jones for her hot sauce and started adding some real heat! Pretty soon, we were using a paintbrush on the ribs and had both developed immunity to its strength. 
One day, a great musician friend came by, and it was kind of a macho thing to paint your food with the brush. He laid it on thick, and, after one bite, he starts having an LSD flashback!
From many of us, thanks again for choosing the musical path. And could you explain the importance of this rib joint in relation to the funk?
In regards to hot sauce, we're lucky that didn't work out. [laughs]
We hit Everett and Jones for Oakland soul food twice a day. Eventually, we made a deal where Paul and I would get seven days of free ribs for recording the music for their radio commercials. Paul and I sat down and wrote, then recorded, this track—music, lyrics, everything—in about one minute, maybe ten. The song played under their radio commercials across East Oakland stations, and people started calling in and asking what the tune was.
We recorded it as a single, "God Made Me Funky," and as much as I love the later recording with the Headhunters, especially with the Pointer Sisters, this version smoked it sideways. The version you know is like the Four Freshmen compared to the funk of the original. The producer didn't know a thing about the funk. The original was so street and greasy. That kind of made us local celebrities. We performed that single a lot. 
If disco had coke, and rock and hard jazz got the hard shit, whatís the official drug of funk?
Weed. [laughs] People might move in other directions with the drugs, but weed's the intoxicant of funk-jazz! When we started, funk was about the need for weed and a little gas in the car.
How did you come to play the coveted position of drummer with "Mr. Hands," Herbie Hancock?
You know how Paul is, a social butterfly, a monster of a butterfly! Paul was never home, so when Herbie called, we'd shoot the shit. Life, religion, spirituality, politics, and, of course, music. We were just very compatible, and he knew I was a drummer. One time, he just asked if I wanted to play drums with him. Now this relates to some other stuff. 
One day, Paul came into our apartment chanting and shit: "Om Mani Padme." I remember, I was like, "Stop that, really, don't do that in here, Paul. You're bringing evil spirits or vibes into my house; so whatever it's about, stop that shit!" Paul turns and says, "Herbie taught me that. It's how he stays balanced and achieves his musical goals." I'm like, "Teach me that immediately!" 
I was raised Catholic until about nine, but after that learning, I chanted for either Hancock or Miles to call and hire me, and, within a month, I was in Herbie's band. Who knows? People say, "Well, you knew Paul and this and that," but Herbie could have picked out of a million great drummers. I don't know.
Were there other drummers of the era that influenced your playing, or that you enjoyed?
I first heard David Garibaldi in 1971. He was so funky, I almost passed out, and that's fucking true! The other drummer who was into this Bay Area style at that time was a really great drummer named Gaylord Birch. He played with the Pointer Sisters and with Cold Blood. 
Two of my major influences in the funk thing were Bernard Purdie and Clyde Stubblefield, especially Clyde's work on James Brown's Sex Machine album. What he did on "Give It Up or Turnit a Loose" is some of the finest drumming I've ever heard. 
How was playing and recording with Herbie?
Harvey Mason, who played on the album Head Hunters, didn't want to go on tour because he was doing so well as a studio cat. He wanted to stay in L.A., so I started with the tour for Head Hunters. During those years, we were all growing up. We all viewed ourselves as jazz musicians playing funk. I learned a lot from everyone in the band, and I hope they learned something, good or bad, from me. We were all on the same vibe. Bennie Maupin was a little distant, hard-edged, more avant-garde, and in a free-jazz space. Paul and I accented and played around the two and the four. That's why he's not on some tracks as much. It just didn't work. 
Thrust flowed so naturally. Herbie has incredible ears, and what a great band leader. He had forceful ideas but encouraged everyone to bring their vibe to the table. I toured Head Hunters and Thrust with Herbie for five years. During this time, we also cut Flood in Japan. The last thing I did with Herbie was Man-Child. Around this time, I kind of thought the band was getting an "L.A. haircut," and I wasn't into that. A multitude of great studio drummers could play that style, and I wanted to flex my own thing. 
Herbie was trying to put on more of a show. He had a whole thing where smoke bombs would go off, and he would step away from the keyboard, and it would play itself! He was on an "Amazing Kreskin" thing. [laughs]
Cirque de Hancock?
Herbie was surrounded by record company people, managers, agents, and all kinds of yes-men. Things were shifting into a more straight-ahead thing, where we were being marketed like a pop band. And check it out, Herbie's new albums have all these top pop artists, and he's great. He knew what he was doing! 
How was touring with other jazz-funk outfits like Weather Report and Miles? Some writings of those cats make it sound competitive. 
We certainly never felt any competition, because we were so consumed with the next gig and our own thing. Surprisingly, we didn't have that much time to jive with a lot of the other bands and players.
Japan. I know the country was good to you guys, being that Paul stayed!
Oh yeah. It was regular old Japan when we arrived for the Head Hunters tour, but following the first show—this is for real—they dispatched a guy to Oakland, and within seven days, they'd co-opted all kinds of African American slogans. By the time we left Tokyo, half the audience was wearing T-shirts that said stuff like, "Let's get funky!" We were rock stars. 
Let's talk about the legendary jazz-funk video you did in Japan. As one of the great lessons in groove captured on film, please take us behind the music.
I fly into Tokyo [in 1982], and Paul picks me up in a limo. We go to Hotel Van Domingo and start drinking straightaway. We hadn't seen each other in years, so we're merry and celebrating like you'd imagine. We get back in the limo, and Paul speaks with the driver. We jet into the night, and Paul starts explaining, "We gotta quickly stop by this lighthouse and do a video." Oh shit. [laughs]
We drive for hours until we arrive at a massive lighthouse in the middle of who knows where. I cart my kit up to the top of this lighthouse, and there's a studio setup. I've been doing filmed shows forever, and I was used to some rough script at the least. They just start rolling camera, and Paul says, "Mike, remember that thing we used to play with Herbie?" We know each other's limitations, so I'd just start something, and Paul would come in. We hadn't played together in years, so that video's all guts. Paul just keeps repeating those questions and fucking with me. [laughs]
How was your time playing in Brand X?
That was a great period. Phil Collins was their drummer, but he'd started playing less with them. I was ready to do something different. It was a different scene, rock-star status. We recorded at Ringo Starr's house and lived in an amazing flat. Blondie lived above us. New music and a new scene in London surrounded me. The move from music rooted in the African American tradition to rock music was big. Hard rocking! 
At this time on the road, I was digging Tower of Power, Larry Graham, Sly Stone, John Coltrane, Miles Davis, Lenny White, Tony Williams, and all the rock stuff. To some extent, I believe music's acting. With whatever act I'm playing with, I try and fill a role onstage for the audience, whether I'm playing jazz, funk, rock, or soul. I ran for the Brand X gig when they came calling. When I was done, I ran right back to the Headhunters! 
You're one of the most sampled drummers in hip-hop. Do you have any favorite uses of your playing?
Shit. Grandmaster Flash never gave me a dime. Prince paid a tiny bit. I have a great lawyer, but there are new laws limiting the time you have to file—new statutes of limitations. Some musicians and industry people did bad business in the early days of sampling. I've been paid about $10,000 total from sampling.
I'm always surprised how many people use my beats on positive-message-oriented tracks. My message: "Fuck you, give me some bread, and let's have a beer." Honestly, that's the human condition. Same reason we got a war. Politically, I'm left of left, so you know how I feel. 
Drumming moved from a pinnacle of complexity to the current fourth- to eighth-grade dance beats: the polar opposite of where we were heading. Musicians can get desperate and do bad things. Negative things can happen when large amounts of money are in the mix.
What players do you enjoy playing and touring with now? Any young cats?
I met Fred Wesley in 2000, and that was like meeting another brother. Fred's a master jazz-funk composer and performer that ran in slightly different circles but had explored the same musical territory as Paul and I. Mainly, he's a sensitive artist and a sweet human.
The modern jam band started as guys copying our style, but now it's moved into its own thing. I met saxman Skerik, and he was insane, and I said, "I like this guy." Woo. I've played with all kinds of people: Karl Denson, DJ Spooky, Charlie Hunter, DJ Logic, Les Claypool…
New York is the place to be for me right now. I have to be here; it's where the serious jazz cats I need to work with are. My end goal is to make my life a creative endeavor. Life speaking art. I'm not telling stories; I'm just reporting what was going on. I live fine and am happy. All the great shit and the bad shit, it's all an expression of our life. Seriously…what a run!
Knowledge.