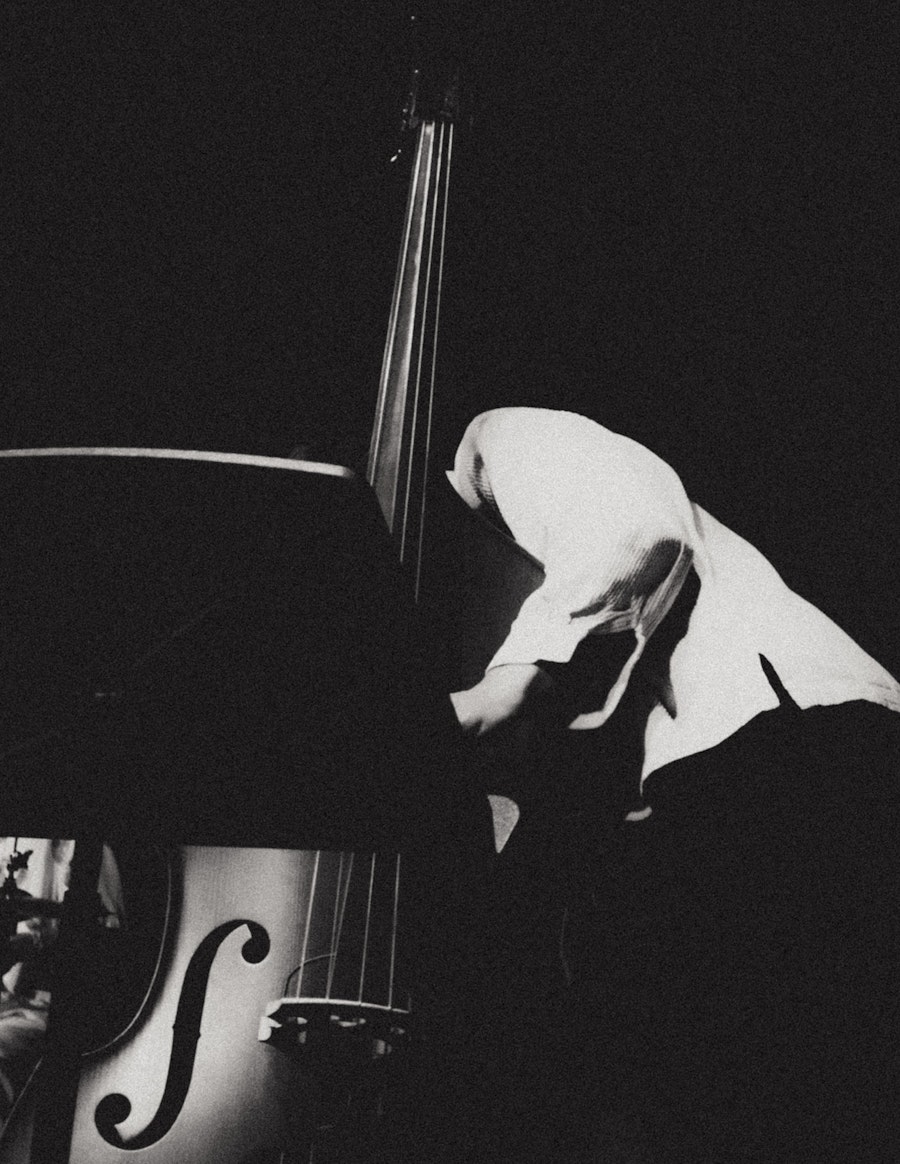 ---
Music and Community
Music and community have always been sewn into Glasgow's well-loved coat. It's stained with marks from techno, folk, and rock, which still live on through world-class venues such as King Tut's Wah Wah Hut, Sub Club, and the Barrowlands. With the legacy left by the eclectic tastes of the DJ duo Optimo and the beats broken down by the reggae sounds of the collective and sound system Mungo's Hi Fi, Glasgow has seen and danced a lot. It's a city that's been around, spent many a night with legendary personalities, and lovingly drank away those memories.
While the London scene has exploded as the sound of U.K. jazz, there are unique pockets in the rest of the United Kingdom that store a melting pot of creatives who aren't afraid to try something different. It's important to acknowledge that the London sound of jazz is unique in itself—it is a scene that is confident in its sound, one that blows through grime, Afrobeat, and R&B—but it seems inevitable that the jazz language should speak in different dialects across the U.K. Manchester was one of the first jazz scenes to be heard and separated from its older parent, and now Glasgow's sound is in its adolescence. It is a growing noise of changing personalities, communities, and improvisations and is now home to some of the finest jazz musicians in Europe.
In a historically techno-heavy city, there is a community that is building a platform for jazz. It's a small but mighty scene that is influenced by different genres and evokes entirely varied sounds. The real bass line that ties this scene together, however, is the people. 
Considering the size, infrastructure, and population, it is hard not to acknowledge the space these artists have in Glasgow. Space to live, space to perform, space to create, space to listen. There is a subtle difference, a slower pace that gives way to broader collaborations in a time where living creatively can be somewhat unforgiving. Glasgow as a city thrives off being busy in its own way. Its busyness refers only to the dense noise of creative styles, musical genres, and characters that live almost on top of each other yet manage to allow space for the other to speak. There is no closed-off, singular sound from the Glasgow jazz scene. There are multiple personalities that are freely embraced through the language of jazz.
Although jazz has always been around in Glasgow, corto.alto's Liam Shortall clarifies that it tends to get forgotten. "Maybe because of social media, like, we're always promoting ourselves online," he says. "The Royal Conservatoire [of Scotland (RCS)] has been quite an incubator for the scene, and it's definitely growing. There's definitely a separation of scenes, but there are a lot of amazing, older-generation people. A lot of the tutors at the RCS are now the older generation, and I think they inspired a lot of us." With jazz trickling through generations and the popularity from the post-London explosion filtering through different lands, Glasgow's DIY, social-media-savvy musicians have been slowly drawing in an audience with beats dipped in reggae, hip-hop, Scottish folk, and ambient minimalism.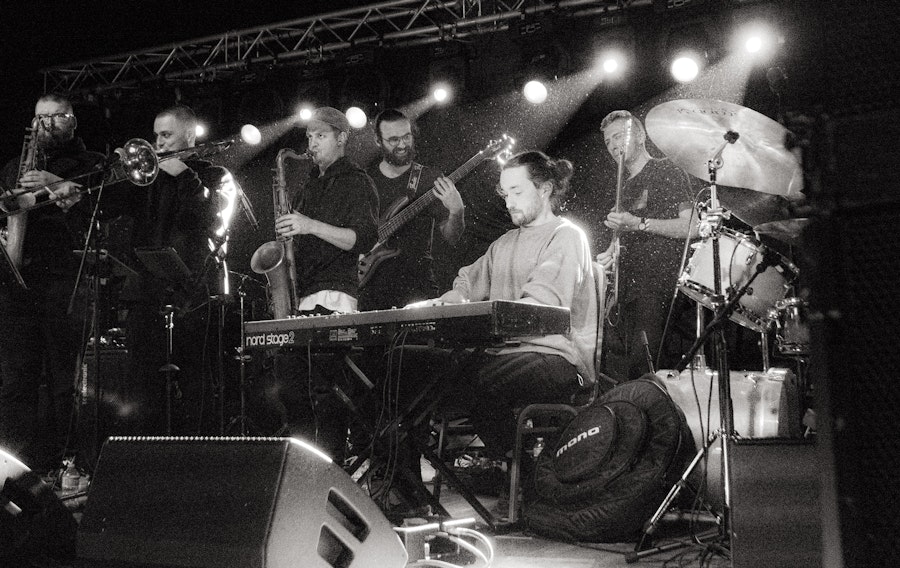 ---
Upholding the Tradition
"Ultimately, it's the attitude of the recent generation of jazzers bringing the music to different crowds and combining with different genres that are allowing jazz to flourish," says Harry Weir of the unique jazz band AKU! "Especially in Glasgow, we all listen to a lot of different music, and so we naturally want to experiment with the jazz formula in other ways. This should not be news to anyone: jazz musicians have always taken the popular music of the day and switched it up; this is our way of upholding the tradition."
So where has this language of jazz come from? The Royal Conservatoire of Scotland has been a key institution in giving Glasgow jazz musicians the tools to create their own sound. Over a course of only ten years, the RCS has given potency to Glasgow's jazz sound and brought in new air. Liam Shortall of corto.alto, Graham Costello of STR4TA, Harry Weir of AKU!, and Fergus McCreadie are key members in each other's projects: they listen, appreciate, and play. Graham Costello, signed to Gearbox Records, is a drummer who initially sprouted among the DIY post-rock scene, yet whose submission to jazz music came from an unexpected curiosity. "I couldn't have imagined that I'd be involved in the jazz scene had I not studied at the RCS," says Costello. "Learning that it's more of an art form than just a kind of free-for-all was a big deal for me." Graham's album Second Lives is conversational, somewhere between ambient and post-rock, with a minimalist piano mind. And why jazz? He uses words such as freedom, communal, and chemistry—an aura that these four musicians create in their personal space for making music. One would think that the crossover of members would naturally create similar sounds, yet their music couldn't be more different. These are worlds of hip-hop, reggae, folk, and noisy and ambient jazz coming from a small group of people. The understanding of each other's personalities is reflected in how they can evoke each other's styles without influencing their own feelings. "There are crossovers into bands that are not just jazz based, which a big thing of what we're all about is that kind of collaboration—bringing jazz language with our own influences," says Costello. 
Composer, producer, and multi-instrumentalist Liam Shortall also has his own brainchild, corto.alto, which spends the night with hip-hop and reggae while trembling to its own beat. His session videos are on Instagram, an invitation to the younger generations of possible jazzers disguised through DIY scrappiness. There is inclusivity in Shortall's work that doesn't take itself too seriously yet is layered upon pure craftsmanship. Like many other musicians and jazz lovers, his music reflects hip-hop's role in capturing the spirit of jazz through a different lens. Shortall and his band corto.alto's recent songs, "Mayday" and "Brotherhood" on Worm Discs, are cowritten and produced by Nubiyan Twist's Tom Excell. There is a balance of live bands, samples, and new beats that Shortall mixes into an overall sound—it's a busy yet satisfyingly whole. 
Both Shortall and Costello make a point in steering away from an environment that promotes exclusivity, judgment, and an impromptu jazz roasting in order to "learn." Instead, they want the meaning of jazz and its connotations to unfold into an open conversation. "I think jazz is just a term for an approach to writing music," says Shortall. "It's a language of music rather than just a genre. I think we're in the process of changing people's minds from being that really high-class thing to being club music." This idea of making jazz accessible is where the jazz language takes on different forms and is brought to life in a Glaswegian dialect. "You've got to present jazz in a way that's modern and cool," Shortall continues, "but your job as a musician is to help people. Especially jazz, because you've got a real responsibility as a jazz musician to not exclude." 
This group of friends feels comfort and chemistry when playing—this undoubtedly spills into the audience and releases any tension. Corto.alto's gigs and sessions are purposefully informal with an infectious groove. The crowd is as varied as the band members, but the music feels like banter between friends. Speaking with the band, you will notice that there is a classically Scottish self-deprecating nature at play. It is a community that knows its worth, but unlike many music scenes, there is no pretentiousness—space to create is always there, an attitude Liam Shortall is most aware of. "I'm trying to be less of a control freak about my music," he says. "You should trust the people you ask. My process now when writing something is to keep it simple. Some of it is complicated, but I try to take the neuroticism out of it." In every brainchild, there is usually an overprotective parent. While care and skill is inherent in every project that has sprouted from the RCS, there remains a will from these musicians to keep learning and experimenting.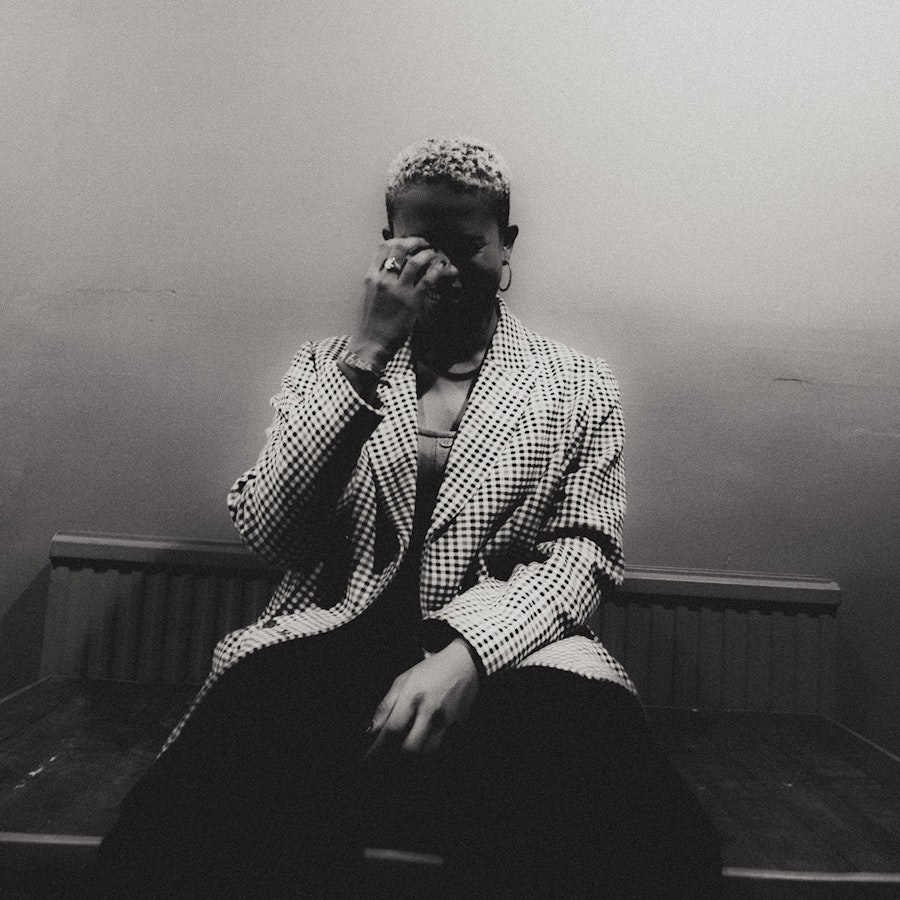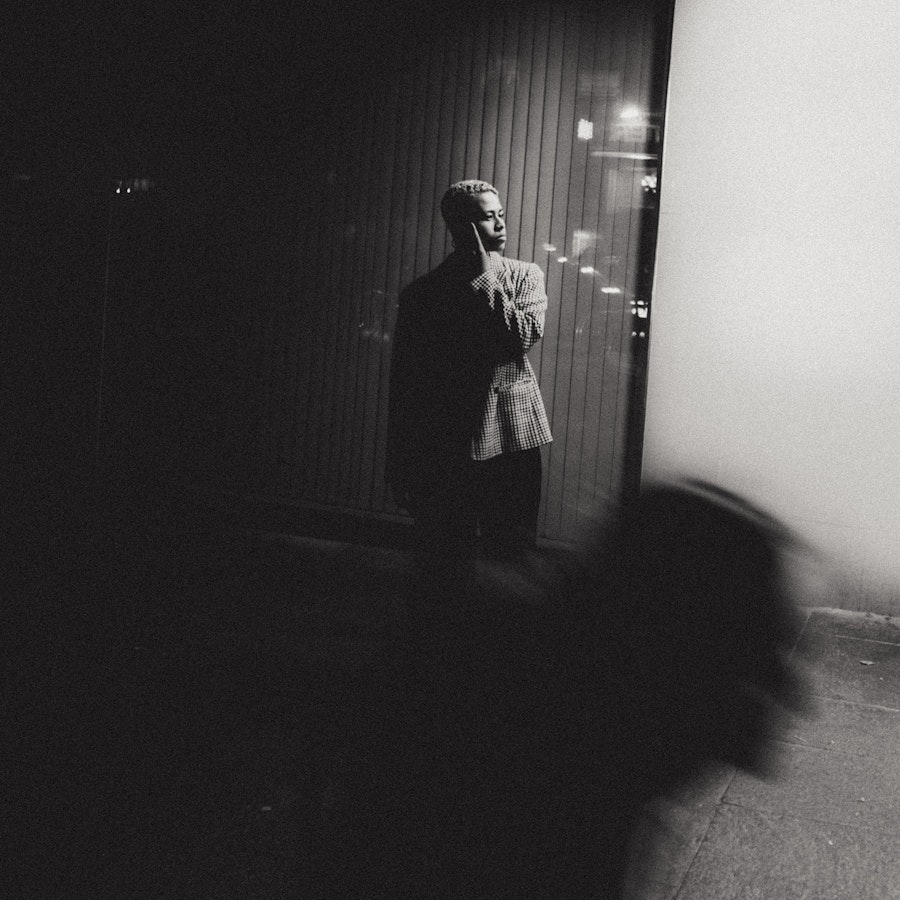 ---
The Energy of Youth
Where there is creation, there are ripples of fresh innovative talent. The younger crowds in Glasgow have heard this developing language of jazz and now speak with their own slang. Post-lockdown urgency fills venues like the 78; the Blue Arrow; the Hug and Pint; and the Butterfly and the Pig, with mutual crowds in each. Here you might find singer, composer, and trombonist Anoushka Nanguy playing in her band, Noushy4TET.
"I think I fell in love with jazz [because] for me it's one of the purest forms of expression," Nanguy says. "Jazz at its core comes from a place of oppression, as well as freedom and liberation, and this is something I feel strongly about when I play and listen to jazz. Being able to express my thoughts, feelings, and emotions through sound and improvisation can be a deeply spiritual experience that feeds my soul in many ways that words cannot express. I've realized over the past few years that this feeling only gets stronger the deeper you become lost in the music itself. It's almost addictive, you just want more of it."
Seeing Noushy4TET live is where you'll find sound merging with the soul as if it was there in the breath the whole time. There is a protective bubble when Nanguy sings Billie Holiday's "Strange Fruit" that pulls crowds and musicians into an intimate huddle. Whispers become shouts and glances become stares—it's a mood. 
With Nanguy's varying influences from big-band jazz, hip-hop, Elliot Mason's distinctive trombone sound, and Nina Simone's vocal depth, you have to wonder what it is about jazz that entices a musician. "The resurgence of the jazz scene, I think, has come from the energy of the youth," says Nanguy. "Everyone is just super open, friendly, and keen to play; it makes it an extremely inviting environment to play and hang out in, and this has led to a growing community that has formed as a result of the nonstop gigs and jams that are happening all over the city. Glasgow is one of the friendliest cities I know. Maybe I'm a little biased, but it isn't difficult to make friends almost anywhere you go. That's just one of the many reasons that I love my city."
The sense of urgency and stress that bigger cities evoke for creatives when it comes to earning enough to live or competing to be heard is where this idea of space in Glasgow is perhaps an advantage. However, there are undeniable gaps in diversity that are not only relevant in the jazz scene but in Scotland's communities in general. While artists such as Anoushka Nanguy and singer/trumpeter India Blue are paving the way for women and Black artists in Scottish jazz, and DJ and producer Rebecca Vasmant intends to promote an all-female jazz band in upcoming projects, still missing from the scene are infrastructures and platforms to help with this growth.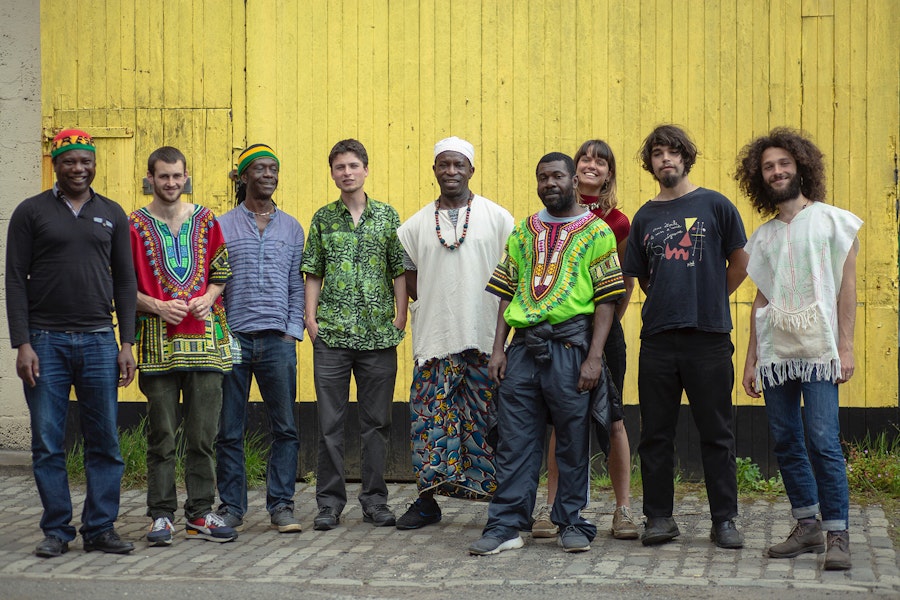 ---
A Sound of Differences
The openness to play and build a community is what GABO (Glasgow African Balafon Orchestra) Collective aims to create. With a sound that has sprouted outside of the RCS and outside of Scotland, this collective is home to artists and projects such as Glasgow-based jazz group Amara, keyboardist Joe Pimenta-Benn (aka Josef Akin), and India Blue. Pimenta-Benn is a musician, composer, and producer who didn't necessarily rise up in jazz through traditional training. He was inspired by the freedom of expression in jazz and found a funnel for developing his sound as an apprentice of GABO's founder Suleman "Chief" Chebe. "There are definitely people who wear themselves [on their sleeve], and you can understand their character a little bit from how they play," says Pimenta-Benn. "I love that idea of really committing yourself to an instrument. I love someone who's just so dedicated to their craft that it becomes them and everything. And that's one of the things I love about jazz, is that it kind of demands that of you. You have to take it seriously." With GABO's merging of Afrobeat, traditional rural African tunes, global jazz, and soul, the collective emits its own welcoming recipe of sound. Recording under the moniker Josef Akin, Pimenta-Benn's more personal project takes on notes of free jazz, Latin jazz, and Afrobeat. On Akin's "Sun Dance" from his 2021 album Flightcase, India Blue projects raw vocals across instrumental narratives that are massaged back into the earth.
In terms of scenes, Pimenta-Benn, who was born in London and now lives in Glasgow, doesn't necessarily feel the need to separate or compare U.K. jazz scenes. The explosion of London's Afrobeat-infused jazz is full and pounding in its presence, yet the Glasgow sound seems to separate itself as an undefinable sound. There are fewer bands yet with greater contrasts of style. Its uniqueness is found in its differences. This seems to be why many of the Glasgow musicians are joining audiences together—a crowd across differing genres. "I think it's always good if a jazz act can go on alongside a non-jazz act," says Pimenta-Benn. "There would obviously have to be some similarities and some kind of similar feeling but just [enough] to keep it going, keep the energy there, and keep getting more people interested in what's going on." With a goal of GABO's to become a collective that promotes African music in Scotland, this is what Pimenta-Benn feels is already built in the likes of London. As a bigger fish in a smaller pool, this idea of a "blank canvas" offers space and a slower pace to creatives yet highlights the lack of support and structures that still need to be built.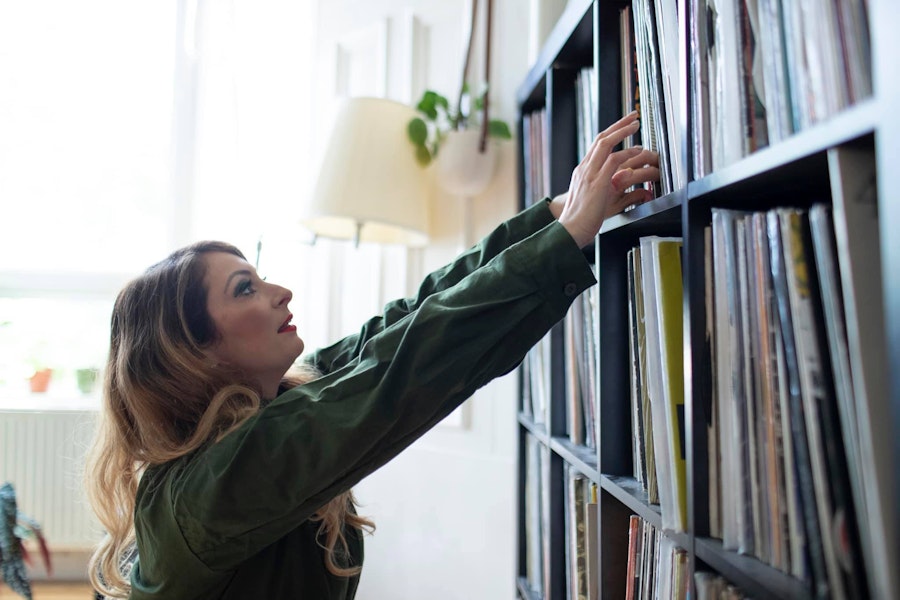 ---
With Love, From Glasgow
"There's more to life than just taking all of the opportunities," says DJ and producer Rebecca Vasmant. "Because at the end of the day, there is space for everyone—if we all just work together and try to make space for everyone. It's very saturated with creatives, but it's a city where there's a lot of opportunities and there should be enough for everyone to have their voice."
There is a side of Glasgow's jazz community that is always working, connecting, ticking. It takes more than musicianship, it's a collaboration between creatives, and it usually relies on one person to bring people together to unite a scene. Rebecca Vasmant is an individual whose energy is mirrored in jazz. There is a freedom and unapologetic nature in her presence, yet a modest all-knowing placement in what she does. As a DJ who was born out of the electronic waves that Glasgow chews for breakfast, Vasmant has always wanted to bring jazz into a space where crowds could dance just as much as they do to house and techno. It has been through her show on Worldwide FM that the first steps of a platform and connection with London gave voice to unheard jazz artists based in Glasgow. "It's kind of like being a piece of a jigsaw [puzzle]," says Vasmant. If we think of the Glasgow jazz community as a jigsaw puzzle then, from GABO collective, a scene in their own right, to the brainchildren of the RCS graduates, every artist could be a disconnected piece; yet, many of these bands would not exist without the other. Instead of playing the missing piece herself, Rebecca appears to be putting the pieces together, a curator of Glasgow's talent with an impressive insight on the overall end game. And, damn, they need one. 
It all comes back to making jazz accessible and feeding it into trustworthy platforms. While Vasmant has made a point in saying that jazz has always been around in Glasgow, it's this cross-contamination of genres that has fused the tastes of our younger generations. "I think the difference is that the young musicians are coming through or taking influences from music that younger people are into, like hip-hop, neo-soul, Brazilian music, and that kind of thing," says Vasmant. "So because there's such cross-inspiration and [combination] in music styles within the 'jazz bands,' that's the reason why it's becoming more accessible to young people, because it's not just straight-up jazz." 
With the 2021 launch of her first album, With Love, from Glasgow, and record label, Rebecca's Records, there is a DIY nature around the methods of Vasmant's creativity. She describes her album as a "bed of sounds" that has jazz and Brazilian samples folded over the unique sounds of Harry Weir, Nadya Albertsson, Paix, and Emilie Boyd. Tracks like "Timing's End" and "Jewels of Thought" are spiritual in rhythm and offer a stream of consciousness from the creator herself. "I guess the more that I work with making music, the more I'm able to put the thoughts that are in my head onto a piece of music," says Vasmant. "I think that's the key thing that I've been trying to teach myself for the past ten years, and I feel like I'm getting better at it; but I've still got a long way to go." Vasmant refers to her creative process as a "blank canvas"—just like the entire Glasgow jazz scene has been described. What's missing in Glasgow is the foreseeable path on how such an innovative space moves forward. "I discovered that myself when I released my own album, that it was quite difficult for people to actually listen to your demos. So I wanted to be the person who just took it upon myself to just start a platform to release everyone's music, help them get heard, and get their music shared with the rest of the world."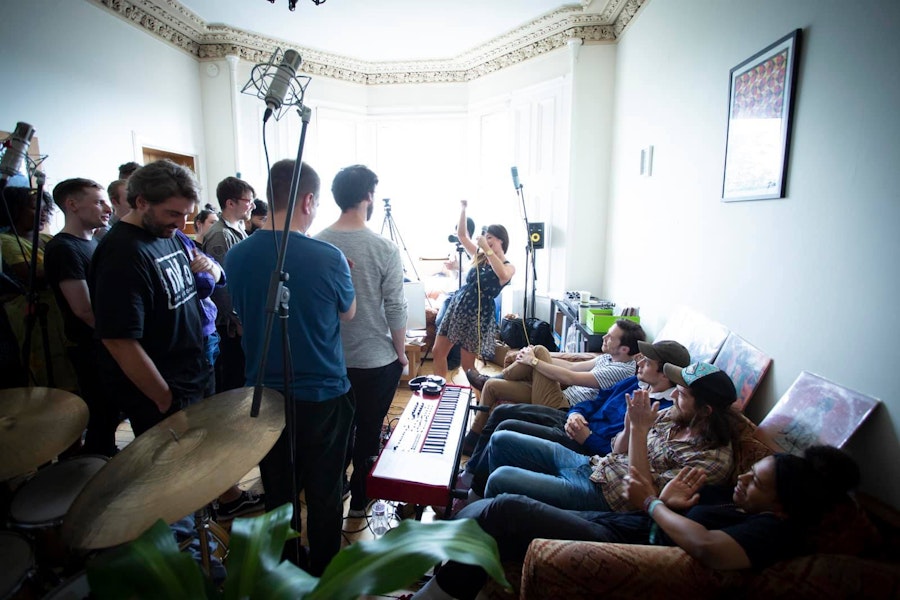 While creativity is flourishing and cemented in its own right, as Joe Pimenta-Benn suggested, it seems that the fundamental support that exists elsewhere has not yet been established in Glasgow. Jazz platforms, venues, labels, and educational programs are not something that people should have to move to a different city for. In a city where music can be heard through its nightlife's every drunken vowel, it is a shame there aren't more people to make sense of it all. "I think the problem is that everyone in Glasgow and the jazz community are musicians, so apart from me, there's not necessarily that many people who are not themselves musicians," says Vasmant. "I think when people are musicians, their main aim is to make music and perfect their craft and to perfect their art, which, of course, that's what they should do. It's causing our scene to just be this amazing, totally DIY thing where nobody pays to go to studios, everyone's recording in their homes, everyone's creating, there are all these jam sessions in little bars, and it's amazing. But at the same time, I think there are certain things we lack, and those things are definitely what we need." 
But where there is space for appreciation, there is space for opportunity. The story of Vasmant's album is not only influenced by her personal journey and life, but the meaning can be found in the experience of bringing musicians together who hadn't played together before, taking up space, creating something new, and giving a platform to sounds that had yet to be heard. It's an ode to the Glasgow jazz scene, and an effort to link up different dialects of jazz so the community becomes strengthened and can be heard. "Most of the circles that operate within the music scene just want everyone to be equal and to have a space, and it's not necessarily about competing for space," Vasmant says. "It's about us all getting together and making sure that there is actually space for everyone. I think that in itself is quite unique, because a lot of places are more competitive, rather than working together to make things better."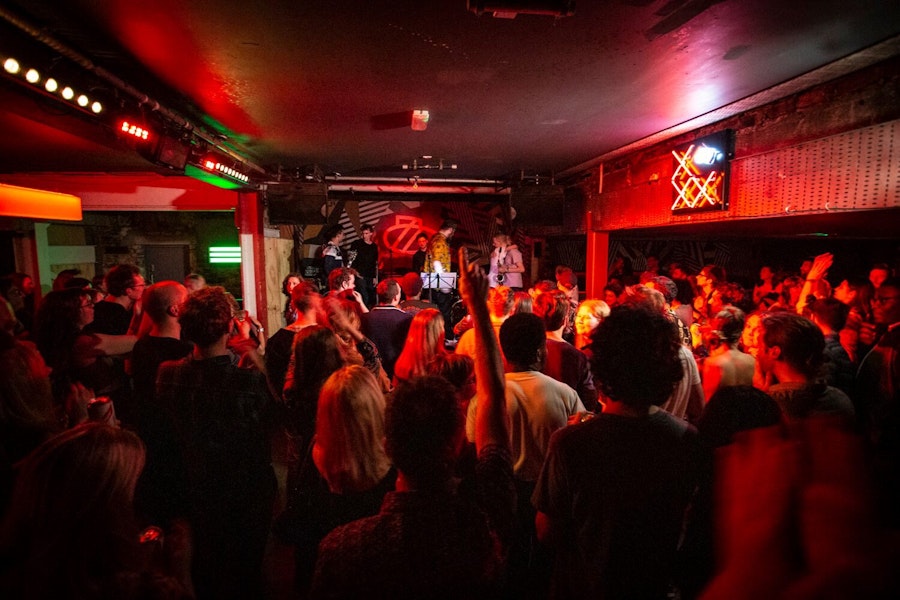 ---
Playing with Comfort
From conversations with jazz musicians in Glasgow, the universal note is that jazz is one of the most unrestrictive, freeing forms of expression—a language and approach to writing music that allows you to combine personality with tradition. "Comfort" is a word that's been used a lot. The importance of playing with comfort seems to be what a small community with a huge amount of crossover is lucky enough to have. While Glasgow has not had the overall recognition it deserves across the U.K. jazz scene, there is a recognition and appreciation among musicians. It's an approach of making truthful music that feels inclusive and of its own time that Liam Shortall suggests is important: "I think if you're doing honest music and you're pushing it, people will eventually hear it; maybe it'll just take a bit longer." 
The future of this scene rests not only in the whispers of committed crowds or the eager breaths of passionate musicians but in the infrastructures yet to be built and the platforms still to be danced upon. Thanks to the genuine support and encouragement among the scene, and figures such as Rebecca Vasmant promoting the sound, Glasgow's jazz community is continuing to grow and connect with the rest of the world. With these artists already gracing the grassy lands of the We Out Here Festival and the collaborative space of Worldwide FM, there is more dancing, more festivals, and more music to be heard. With space to grow, what exists now is a community of artists who are just as passionate about the people as they are about the music—people make Glasgow.
---
About the Writer
Maeve Hannigan is a music journalist from the West Highlands of Scotland, currently living in Glasgow. She has written for publications such as The Skinny, The Line of Best Fit, Clash Magazine, and Gigwise. 
Follow Maeve on Twitter @HanniganMaeve.
Plugged In shines a light on four up-and-coming music writers. This partnership with Wax Poetics reflects Calvin Klein's continued exploration of inclusivity and self-expression through creativity, art, and the clothes we wear. Discover more on calvinklein.com.
Photo by Alex James-Aylin.

Photo by Alex James-Aylin.

Photo by Alex James-Aylin.

Photo by Alex James-Aylin.

Photo by Alex James-Aylin.