At age seventy-four, late into the hours of a February evening, Giorgio Moroder—a stately, continental sort with a baronial air—is quietly putting the final touches on his not-so-quiet newest album, tapping on laptops and moving vocal mixes from one file to another. Deadline is looming. "Forever, we were going to call it 74 Is the New 24, until we realized," he stops and says with a halting laugh that has all the bearings of a rich Corinthian accent, "that it wouldn't come out until I was seventy-five."
Now titled Déjà Vu, the finished product isn't exactly what audiences would have expected from the Northern Italian–born gentleman who co-created electronically induced, Euro-disco forty years ago with Pete Bellotte, Donna Summer, and 1975's sensually syncopated "Love to Love You Baby." No, Déjà Vu is disco and more so, a thoroughly modern synth-and-rhythm symphony featuring current female hitmakers such as Sia, Britney Spears, Charli XCX and Kylie Minogue. "They're all very good, and very busy women at the top of their game," he states. "I like the ladies."
That's only fitting, as Moroder's biggest hits beyond disco and Donna Summer still starred the loveliest lasses of the '70s—the Three Degrees' "Giving Up, Giving In"—of whom he recalls how much he loved the creamy string sounds of Philadelphia International Records before working with the City of Brotherly Love's soulful sisters in song. The female singers of the '80s with whom he worked famously include France Joli, Janet Jackson, Nina Hagen, and ABBA's Frida, who did Moroder's "To Turn the Stone." There's Blondie's Debbie Harry and "Call Me," Irene Cara and "Flashdance…What a Feeling," and Berlin's Teri Nunn with whom he changed his dance card with the grand airy balladry of "Take My Breath Away" from the platinum-plus Top Gun soundtrack whose songs he cowrote and score he produced. There were other hits with men—Bowie, the Human League's Phil Oakey, and Limahl from Kajagoogoo—as well. 
"I had a very nice run," he sniffs, of a professional life that influenced all dance music and non-orchestral film scores of its time and beyond. "I was happy."
Consider Moroder's jittery, glossy, synthetic touch, then listen to Air, Cassius, Lady Gaga, Avicii, Madonna, David Guetta, or any Max Martin production, and gawk at the easily detectable inspiration. Listen to the pulsating strobe-light scores he did for Midnight Express (1978), American Gigolo (1980), and Scarface (1983), put on Trent Reznor's work for filmmaker David Fincher (The Social Network, Girl with the Dragon Tattoo) or Hans Zimmer's elegant scores for Christopher Nolan (The Dark Knight series), and be amazed at the resemblance in mood and rhythm. Not to mention how many hip-hop and soul sensations have sampled Moroder—Kanye, Dilla, DJ Shadow, Geto Boys, OutKast, Lil Wayne, and Beyoncé. "I guess, there's inspiration to be heard, but there's so much sound in the air always…." he trails off with humility.
When Moroder says he was delighted with his life—making neon art, golfing, creating signature cognacs and cars, traveling with his wife—after he released his last volley of solo albums in the early '90s, he's not being disingenuous. "I lost all interest, really. It probably helped that my music then wasn't the most requested at the time," he notes, considering first, disco's demise, then, electro dance music's commercial fall coinciding with the rise of hip-hop. "But I was preoccupied with living a very good life, relaxing and such, you know…until Daft Punk called." The legendary Italian producer then breathes a sigh, thinking about the huge hit-making power of the French electro duo's massive-selling (and epically Moroder-esque) Random Access Memories of 2013 and his own talky, vocal contribution, "Giorgio by Moroder," that suddenly put his name on every one's lips, just as it had been forty years previously.
"So, it began again."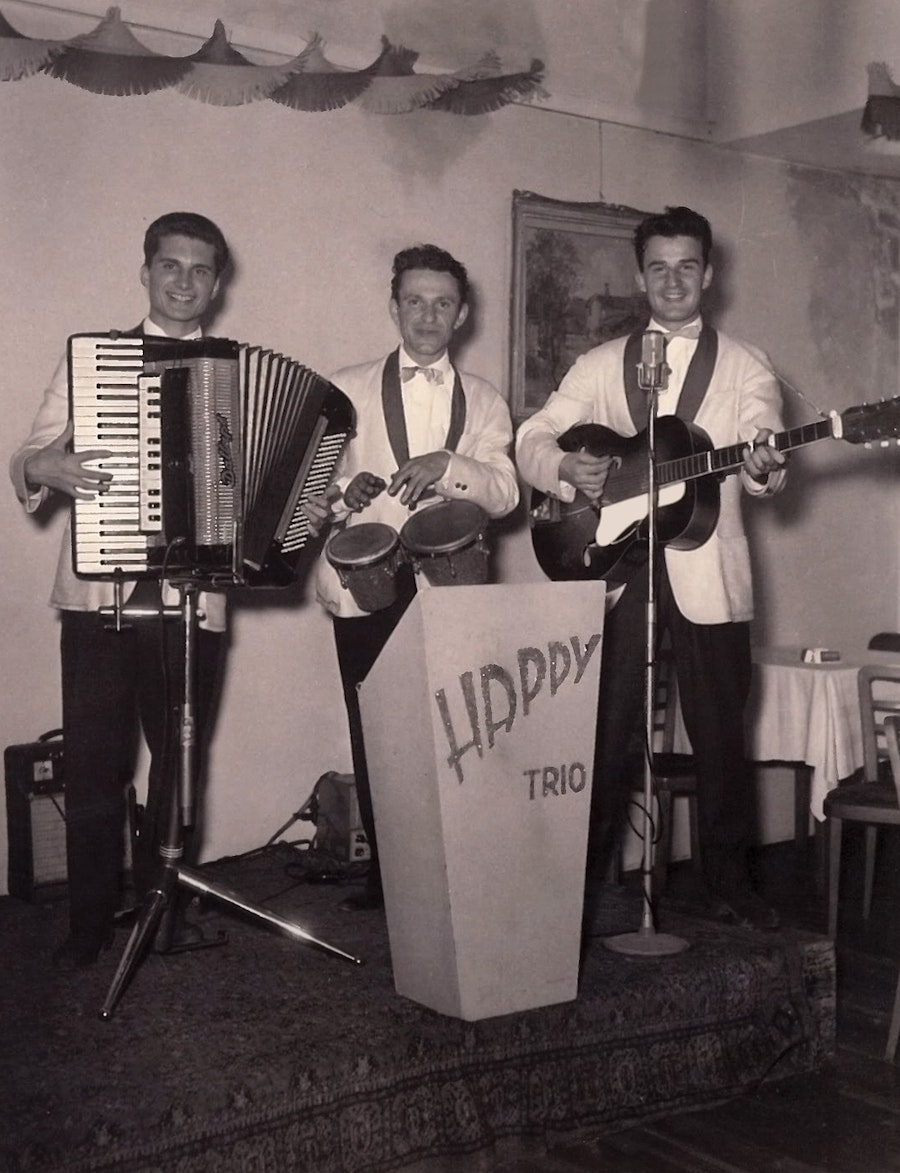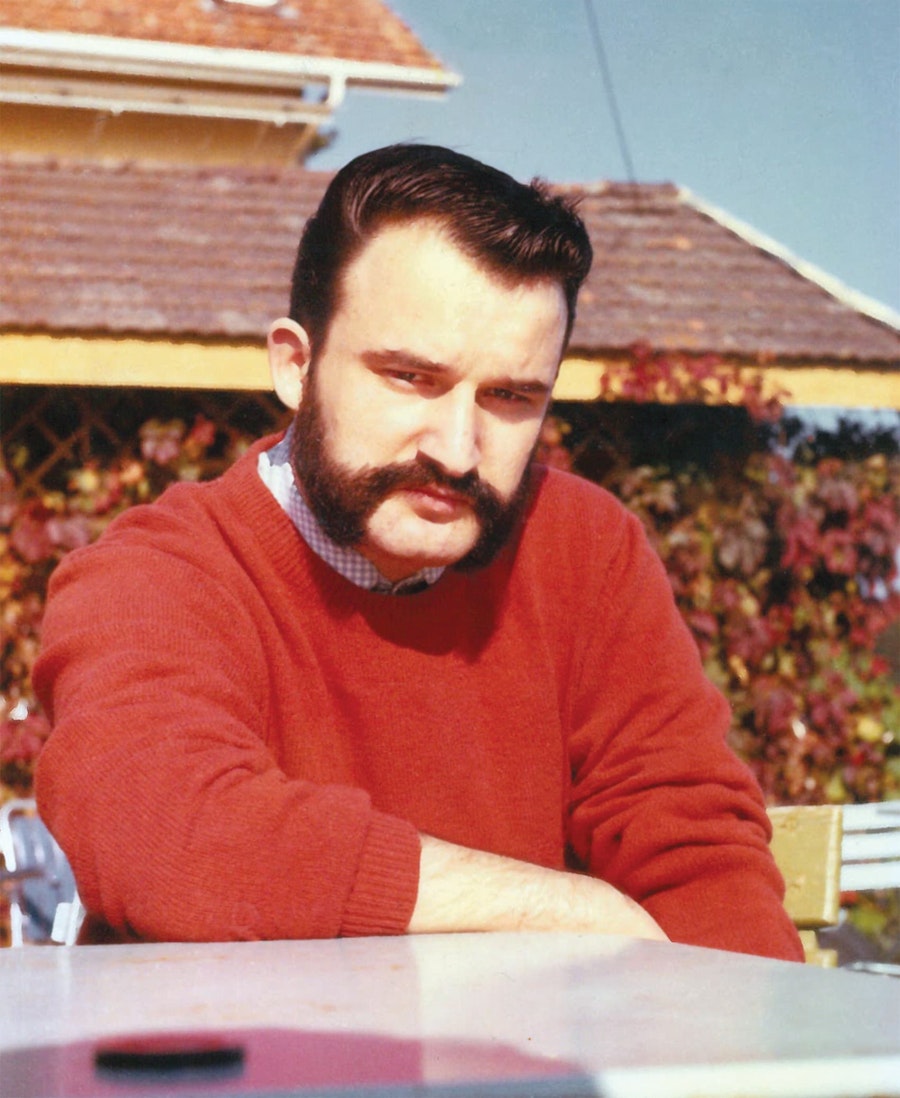 How it began in the first place was typical for a small-town Ortisei-ian who became a musician by trade. The teen Moroder played in lounge combos and coffeehouses, where he jammed on guitars and basses. Ask him if he enjoyed the live-music lifestyle, and he quietly states, "No, not so much" under his breath. By the mid-'60s, he began eschewing performance for behind-the-scenes work; first in Berlin studios as a recording engineer; then in Munich as a producer of flossy bubblegum hits for the German pop market. "Schlager music they called it," he says, remembering his first poppy production charge in 1967, Ricky Shayne—"A really handsome guy that all the girls were after."
Moroder's pop sensibilities were better put to use, so he thought, in his next stage of experimentation with the still-burgeoning field of synthesizer-based music. "It was an interesting time. I really liked the recording of Walter Carlos's Switched-on Bach, all done on synthesizers, and became so interested in using that instrument. But they were rare then, and I did not have the money to buy one, so I found a classical composer in Munich—Eberhard Schoener—who had a Moog that he used to make classical musique concrète." Moroder just loved that Moog, its feel, the sound. "But, me, I wanted to learn it and the sequencers to make something more commercial," he says.
The first product of Moroder's Moog-y mix of mainstream sound and synth-classicism was 1972's Son of My Father, a rhapsodic album all the more important to the producer's future, considering he found an engineer, Günther Zipelius, who got the most out of his Moog modular system—in particular, a great bass sound and vibrant strings. "It was tremendous," says Moroder. The album cut "Tears" would be famously sampled twenty-four years later by DJ Shadow for "Organ Donor."
That same year, Moroder met his "sounding board," Pete Bellotte, a "very creative" British musician who became a right-hand man on nearly every track the producer crafted until 1984, as well as on their collaborative, rescoring of the soundtrack for Fritz Lang's Metropolis. "When we wound up with Donna, Pete and she did the lyrics, while I worked on the music," Moroder claims, mentioning the woman who would change his life—Donna Summer.
A Boston-born vocalist who resided in Germany, singing backgrounds and doing rock musicals such as Hair, Summer became known to Moroder and Bellotte when they worked on a Three Dog Night record together. "Of all things, right? We were doing Dog demos and they needed female singers without a German accent," says Moroder. "One of them was Donna, and as soon as she started to sing, I thought she was just great. Such presence. Absolutely fantastic. I told her then and there that if I ever had an idea just for her, I was going to call her."
A month later, Moroder and Bellotte had that idea, a sultry soul tune called "The Hostage" and a set of R&B songs that would become their first joint effort, 1974's Lady of the Night. "It was okay, but it wasn't a big hit," says Moroder. 
That would come in 1975 when the trio recorded "Love to Love You Baby," a hypnotically rhythmic, heavy-breathing anthem that took the idea of Serge Gainsbourg and Jane Birkin's "Je T'aime... Moi Non Plus" to the grooving European masses. The song caught the ears of Neil Bogart, the flashy don of Casablanca Records, who not only released it in America, but insisted that Moroder remix the track as an erotic, repetitive seventeen-minute cut just for the dance floor.
"Yes, I was surprised we had a hit in Europe, but shocked—that's the right word—at what happened with us in America," says Moroder, who remembered that, at the same time, they were doing a rock record as Schloss as well as the Summer album. "I remember getting a telegram from Bogart saying that Schloss was doing okay, but that 'Love to Love You Baby' was a smash, so much so, he wound up calling me for an extended mix that would be the length of an album side." Moroder loved the idea of reprising the melody and the song's sexy pulse even though they had to produce that rhythm with—another innovation—a drum machine. "It was an absolutely great idea that set us up for the bigger context of that album, and the next one, and the one after that," says Moroder of a collaboration that yielded a string of essential albums, culminating in their final Casablanca recording, 1979's stellar Bad Girls.
"Yes, I do work fast," he says with a laugh when the vast amount of music comes up. "I think that I am less of a perfectionist than others who takes weeks looking for the right sound or note. I would look for a half an hour, tops. I guess that I am less precise. Or it's that I have a low threshold for boredom."
While producing records for Summer and others, Moroder continued to release solo albums, honing his electronic disco sound, first with 1976's Knights in White Satin, but especially with 1977's From Here to Eternity, whose vocoder track "Faster than the Speed of Love" is an obvious influence for Daft Punk's "Harder Better Faster Stronger." Moroder would transfer this purely electronic feel to a sole track on Donna Summer's I Remember Yesterday, a concept album from 1977 that combined disco with different musical styles of the past (the '20s and '50s) and present. The final track on the album was meant to represent the future of dance music—the iconic, throbbing, synth-driven "I Feel Love" was less an uncanny vision and more a blueprint for techno and modern EDM.
That robotic yet sensual analog pulse, the electronic layers of heaven-bound stringed ambience—these are the things that made dance music a must for Moroder. For him, it is the most vibrant sound he could make. "I love the feel of it. I mean, there are ballads in my catalog—'Take My Breath Away,' for one—and soundtracks, which are atmospheric and slower, but all in all, dance music is so sexy. And before you ask, no, I don't dance. But seeing people dance, enjoying the music, that's what I want. I don't think I would have committed the last forty years of my life to doing it if dance music wasn't crucial."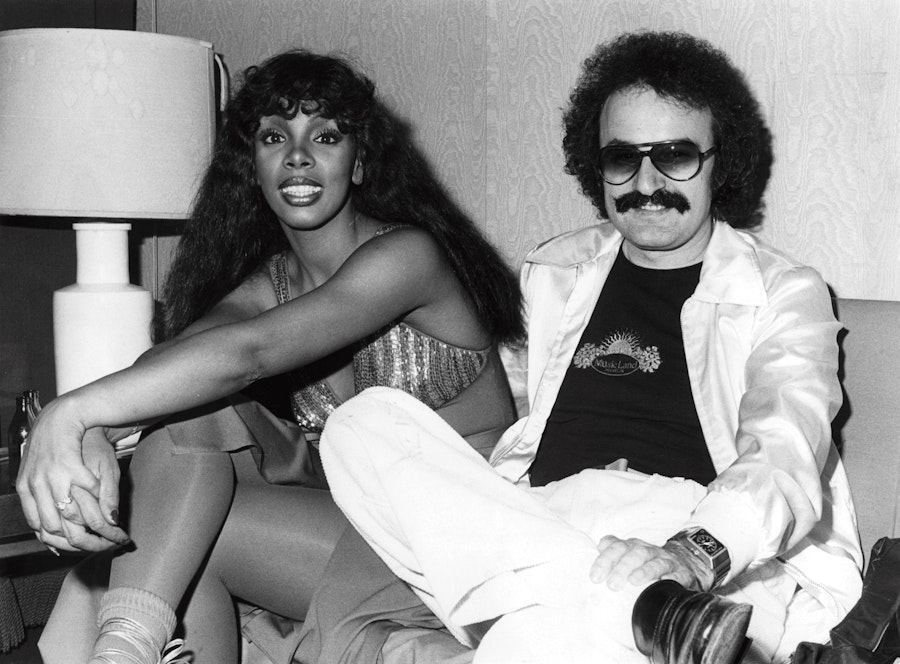 Even more crucial to disco and Moroder's work specifically—then and now—is use of the female voice, the human factor that pushed his icy music into the red, and occasionally into the orgasmic. "Oh, yes, those sighs," he laughs, recalling the moans of Summer's that filled "Love to Love You Baby" with an ecstatic edge. Certainly, the producer worked with men—Phil Oakey (an entire collaborative album), David Bowie (the purring theme song to Cat People), Freddie Mercury ("Love Kills"), and, nearly, Bob Dylan (an aborted soundtrack song for a Rambo movie at Sylvester Stallone's behest, which Dylan ultimately decided against). Still, it is the women in Moroder's life's music that truly stand out. "I think that when it comes to disco music, the voice has to be sexy, period. Not that men can't be sexy, but women are just sexier. Disco needs a woman's touch, that little something extra. The female voice projects true sensuality. It is more essential or equitable to the sexuality of the tracks—especially Donna's voice."
When he recalls Summer's name in conversation, he suddenly gets wistful thinking about how disco died away in a rush of hype, lousy copycat artists, and kitsch. "A sad moment for some, you know?" Did it ever really die, or did it just morph into what's become EDM, an acronym that Moroder pronounces as one long word ("eeeedeeeeyem") that sounds more like a cheese than a musical genre. For Summer, the disco queen whose voice led the charge throughout the '70s, the following decade was hard.
"When disco started to die or fall from fashion, I was already in another world; soundtracks for one," he says, mentioning how he became instantly in demand after his scintillating synthetic score for 1978's Midnight Express. "It was, however, really bad for Donna, because she was labeled—as if she couldn't do anything else, which couldn't have been farther from the truth. Plus, she had changed record companies, and they didn't know what to do with her—Geffen didn't. There was not great chemistry there. She lost a lot of credibility and was less relevant." It is here that Moroder suggests that maybe he and Bellotte could have done with Summer what Madonna and Lady Gaga have done with themselves and reinvent, reinvent, and reinvent. "I think that we could have helped her. We didn't do it. She didn't ask."
The other world that Moroder had become a part of—Hollywood and its film scores, a turgid, hermetic universe of old-fashioned orchestration, even with the dawn of rock and synthesizers—came easily to the producer. Director Alan Parker, then famous for Bugsy Malone (this was long before Angel Heart, Birdie, and Evita), heard Moroder's Euro-vibing "I Feel Love" and wanted something in that style for his darkly dramatic film about drug smuggling and incarceration in a foreign land. "The feel for Midnight Express, according to Parker, was that it should be something moving, running away," says Moroder, reliving the ominous feel of his syncopated score, and its crepuscular central theme, "The Chase." Midnight Express marked the first collaboration between Moroder and German keyboardist/arranger/composer Harold Faltermeyer, who would also work on the American Gigolo soundtrack and Donna Summer's Bad Girls, as well as Moroder's 1979 solo album, E=MC2, featuring the title track that was famously flipped by Dilla for a 2006 song by the same name featuring Common.
Modorer laughs when he says that Parker gave him carte blanche to do what he wanted on Midnight Express. "As long as I kept it in the vein of 'I Feel Love,' I had complete freedom. And you know, toward the score's end, it really became more about sounds than songs, which also gave me greater inspiration." It brought Moroder to a place of pure atmosphere, and with that, an Oscar for Best Original Score, the first for a movie featuring a totally synthesized music score. "That was really something," says Moroder, the first one in the room to claim how fortunate he was to do that score and many others since. "Look, whether it was music or film, I was lucky in that I came to the States with hits. There was no struggle, no working my way up the ladder in the biz of the time. Hollywood called and I was there. Disco opened all the doors."
After the success of Midnight Express, additional offers from high profile filmmakers poured in. There were two opportunities with Taxi Driver screenwriter-turned-director Paul Schrader (1980's American Gigolo, 1982's Cat People). Moroder re-teamed with Midnight Express's Oscar-winning scribe Oliver Stone on Brian DePalma's Scarface in 1983, wrote and produced scores for director Adrian Lyne (1980's Foxes, 1983's Flashdance), and Joel Schumacher (1983's D.C. Cab). Then there were the half-dozen songs he wrote and/or produced (like "Danger Zone" and "Take My Breath Away") for Tony Scott's 1986 Top Gun and lesser-known films (e.g. Electric Dreams, The NeverEnding Story, both 1984) that still yielded titular hits sung by, respectively, Phil Oakey and Limahl.
"This was never in mind to do this work," he says, "because I could never dream of doing [it]. Soundtracks were for guys who were classically trained. Alan Parker really changed my life when he showed me that first scene of that character running away and told me to think of the movement of 'I Feel Love.' The rest was just a do-whatever-you-want scenario." Midnight Express's game-changing, syncopated sound and Parker's sense of freedom wasn't necessarily what other directors required. "Some were a little more difficult, or should I say, specific," states Moroder. "Most of my other soundtrack work was more of a collaboration with the directors and producers."
In the case of Scarface, Moroder met the screenwriter, Oliver Stone, while on the set of Midnight Express and thought of him "as friendly and outgoing." Moroder got along famously with the film's director, the wild Brian DePalma. "He allowed me to look at some very raw scenes very early. In particular, he wanted me to watch Tony Montana [Al Pacino's coked-up criminal] and find sound and music to suit his movement. I heard it as soon as I left Brian's office, rushed to a studio, and recorded a demo. I think it's pretty rare to have a main theme so early in the movie process, but I did that." One of those musical bits, the tune behind "Rush Rush," would eventually involve another of Moroder's previous collaborator's—Blondie's Debbie Harry, who was the vocalist on "Call Me" for American Gigolo. "Yes, she's a very nice lady, a sexy singer—just right for those songs, different than what I would've conceived—and something of a good-luck charm. She really thought of her lyrics as if she was speaking through the characters of each film."
When it came to Paul Schrader, his two collaborations with Moroder required far more ambient soundscapes and ominous vibes ("Ooh, American Gigolo was dark, wasn't it?") to which the composer was altogether too happy to provide—and quicker than Schrader expected. Take for instance, the theme song to Cat People, "Putting Out Fire with Gasoline," and that tune's third man, David Bowie. "I had begun that soundtrack doctoring the tape and playing much of what I had recorded backwards, so that it all sounded uneasy, confusing, and, yes, really dark and very mysterious."
It is here that Moroder begins singing the now-famous, way-sinister melody to which Bowie would eventually apply lyrics. "Oh, Bowie was an absolute darling, and so professional. Paul and I met him in Switzerland for dinner, and he was instantly excited," Moroder recalls. So much so that he wanted to have breakfast the next morning and knock the song out in a Swiss studio. "He was so unlike any other rock star I had worked with—guys who only operate late at night." Bowie's "beautiful lyrics" and "powerful voice" came rushing out to Moroder in three takes—all perfect—the likes of which shocked Schrader. "Paul was incredulous that we had finished the song so fast, that in film there was often ten or twenty takes. But sure enough, we nailed it quite quickly."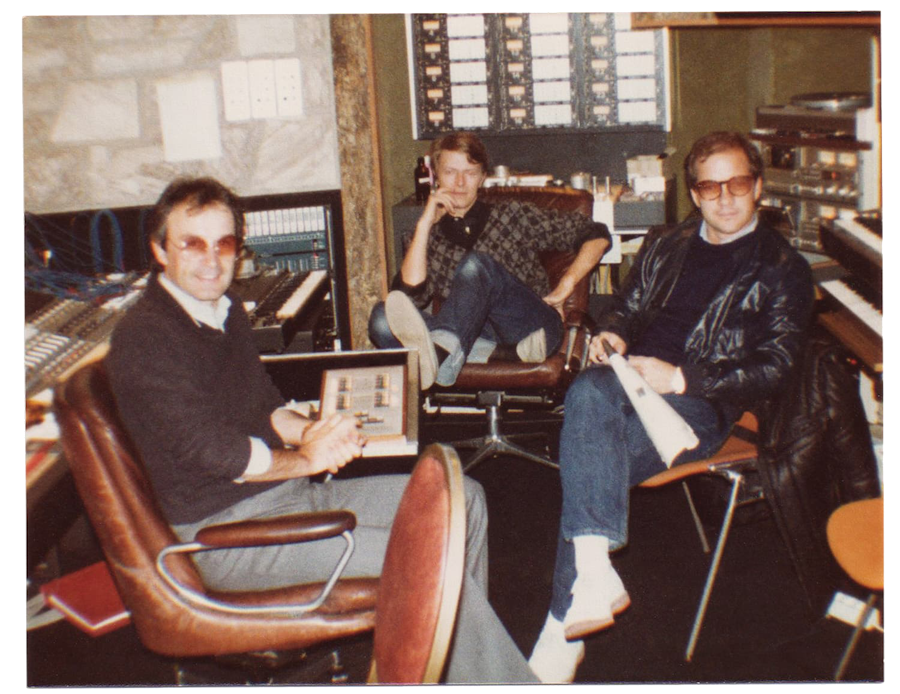 Look, I am delighted to do this now—disco or not—and I am absolutely thrilled to have this opportunity again so late in life. But I need to move around.
If all those compositions were the utmost in European atmospheres and elegant melodies, some of Moroder's most popular work would come within the framework of the ultimate American movie: Top Gun. "It's funny, all those powerhouse names—Tony Scott, Jerry Bruckheimer, Tom Cruise—and the studio wasn't so happy with the film at first. They didn't like the script," he says, humorously dishing the dirt. "But Jerry got involved more, especially with the music. He wasn't afraid to tell me when he needed something more dramatic or romantic." After nailing the intensity of flight on the energized "Danger Zone," Bruckheimer told Moroder that what was needed next was an exquisite ballad. "That's when I wrote 'Take My Breath Away,' which Terri Nunn really delivered. It worked quite well in the movie."
Acknowledging the intuitions of both the producers and the directors he's worked with ("DePalma really had a good ear, Bruckheimer too, very well integrated"), Moroder is anxious to work on his next film; a "great big project with huge names," that he can't discuss as yet until all Ts are crossed. "They'd shoot me," he laughs. Moroder does mention though that he is currently composing additional songs for a Broadway jukebox musical of his hits and finest disco moments. "This is all turning out to be so much fun coming out of retirement."
In the middle of his success with disco records and soundtrack recording, he moved to New York City and began producing neon art. As time went on, Moroder and his wife, Francesca, also resided in Los Angeles and found other jobs and hobbies without any relation to the music business. By the '90s, Moroder wasn't making as many records as he once was, as the industry was moving away from sleekly elegant European synthetic sounds and into a street vibe of hip-hop. "I'm not really urban, you know?" he says of fading to black for the moment, a sea change he welcomed with brio. "That's absolutely true," he says. "It was strange. I fell away from music and fell in love with doing other stuff. Music and I left each other. It wasn't my sole interest any longer. I was happy traveling and playing golf—a lot of golf. I was happy, period."
It's not as if Moroder became less happy when Daft Punk's Guy-Manuel de Homem-Christo and Thomas Bangalter called him in 2012 to discuss their upcoming project and the legendary producer's role in it.
"I didn't really learn anything from working with them," he says of Daft Punk. "I mean, all I really did on that song was talk about my life, and I wasn't exactly sure what they were going to do with my story or my voice. They didn't tell me all the details. Still, I was delighted with how they integrated my voice into their work—the tracks were great."
The more popular that Random Access Memories became, the more often Moroder's phone began to ring. He got calls to DJ any number of big-name parties, to remix all sorts of top-notch artists, to record a new album. "The first offer came from a Spanish label, which was interesting because no one had asked me to do something like that in such a long time. But I didn't like the guy," he laughs. "So I passed on it. Still, I had started to have ideas, and they stuck in my head."
Moroder got new management, began taking DJ gigs (Red Bull parties in NYC, shows with Disco Biscuits in Philadelphia), hit upon dynamic remixes (Haim, Coldplay, his "Tony's Theme" as a thirtieth-anniversary take on Scarface), composed ads (Volkswagen), worked on a Tron video game score ("Yes, I am talking with Skrillex about working on it with me"), and signed with RCA/Sony for an artist album. All he had to do was put a call out for the girls. He's quick to mention how he met so few of the women with whom he collaborated on tracks such as "Diamonds" (Charli XCX) or "Déjà Vu" (Sia), a track so stirring and inventive that he changed his album's name to her song. "She's a very creative woman, and a very busy one, so she did all of the vocal work and some of the music on her own," says Moroder, who sent Sia his track and the twosome went back and forth. "These people are international superstars. They absolutely have to make it work in their schedule. Plus, this is the new way to operate," he says, mentioning how Britney Spears—"like so many singers"—wanted to work directly with him in the studio, but time constraints made it so that they dealt in separate studios, with Spears hosting a separate vocal producer.
There was a cringe in Moroder's voice when the words "vocal producer" came up. In his day, Summers and he worked nearby the other. "You're right, in that there is too much separation. Donna and I, we used a few microphones. If she had a problem, she tapped me on the shoulder. Now, it really comes down to these singers being comfortable in their own environment with their own people, their own mics, and their own pace of working."
On Kylie Minogue's breathy take on "Right Here, Right Now," (a video which finds Moroder in the shadows, with his vocal charge its kaleidoscopic star) you can hear vintage disco's flickering guitars and Fender Rhodes keyboards against the oxygenated ambience of synthetic strings and a catchy melody. "It's funny because at first I was going to make this an all-disco album, until I got Sia's tracks back and heard the breadth of what this could become—something broader. But with Kylie, I did use some of the old sounds from the old days, including a vocoder on her voice. I really wanted to take advantage of the new sounds, the big sounds, but keep an element of disco in the mix." For him, Moroder's first new album in thirty years is more about the currency of EDM than it is disco's past. "It all just morphed anyway, all those old sounds into the new," he says.
At present, this is as close to disco as Moroder is likely to get. Hell, it's as close to a studio as he's likely to get, as he's getting antsy and would like to stop slaving over a hot mixing board already. "Look, I am delighted to do this now—disco or not—and I am absolutely thrilled to have this opportunity again so late in life. But I need to move around," says the seventy-four-year-old Moroder. "We'll see how disco the next album could be after we see how people take to this one."