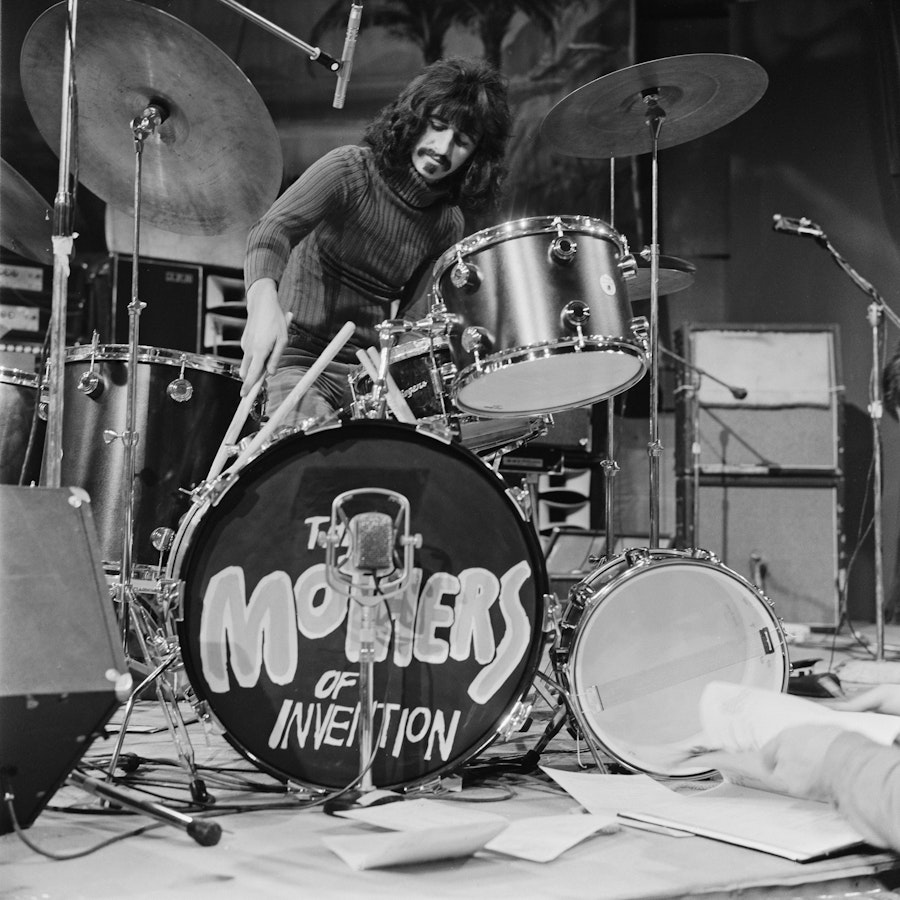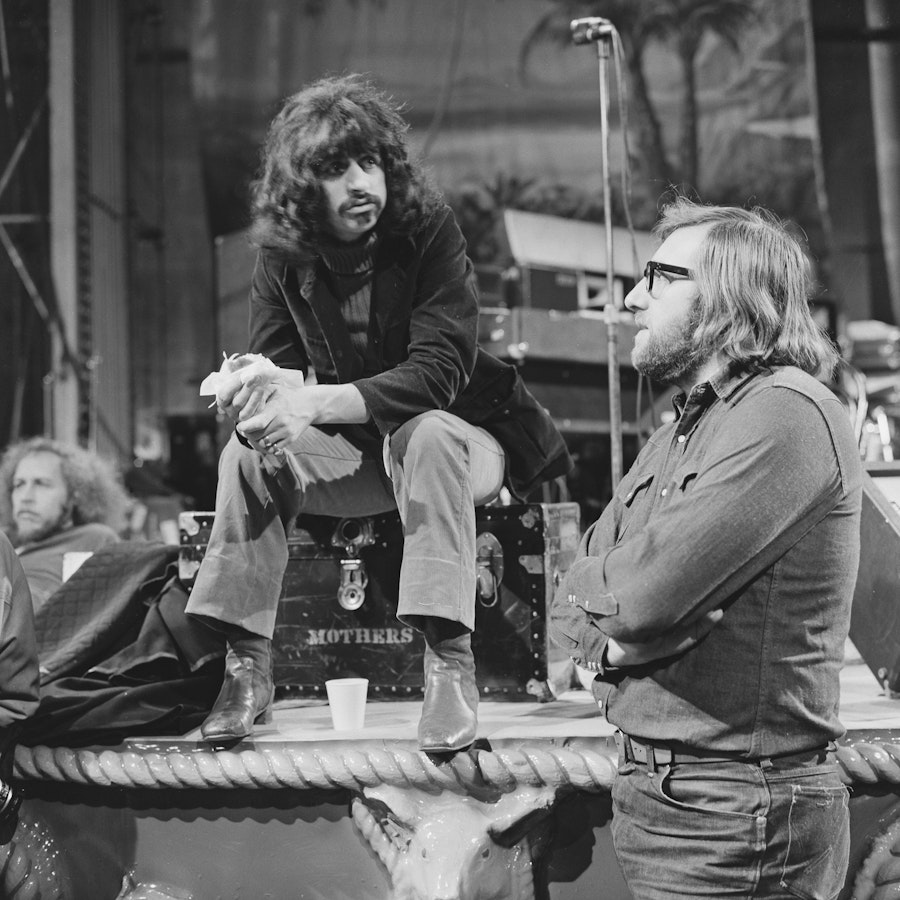 Ebert went on to write that 200 Motels was "a joyous, fanatic, slightly weird experiment in the uses of the color videotape process," and that, "overbearing is the word for this movie. It assaults the mind with everything on hand. When there are moments of relative calm—say, during the animated sequence, or during the rare moments when only one image is on the screen, we find ourselves actually catching our mental breath. The movie is so unrelentingly high that you even wish for intermissions."
As seemingly singular of a vision that 200 Motels represented, Zappa's directorial debut benefited greatly from the work of co-writer/director Tony Palmer, a Brit who also had his hand in the like-minded Twice a Fortnight, a 1967 U.K. television series with the pre–Monty Python likes of Terry Jones and Michael Palin; Cream's Farewell Concert, a 1969 early rock doc; and later in The Space Movie, a 1979 documentary on NASA with music by Mike Oldfield, known for his 1973 recording "Tubular Bells," made popular by its use in The Exorcist. With that, the auteur element behind Zappa's aesthetic is left primarily to the film's forceful wall-to-wall musicality, a still-stunning soundtrack's mix of free skronk rock, slippery noise jazz, dippy doo-wop, intricate hillbilly country, contemporary classical music, and whatever else Zappa could fit into its theatrical release's ninety-eight-minute run time.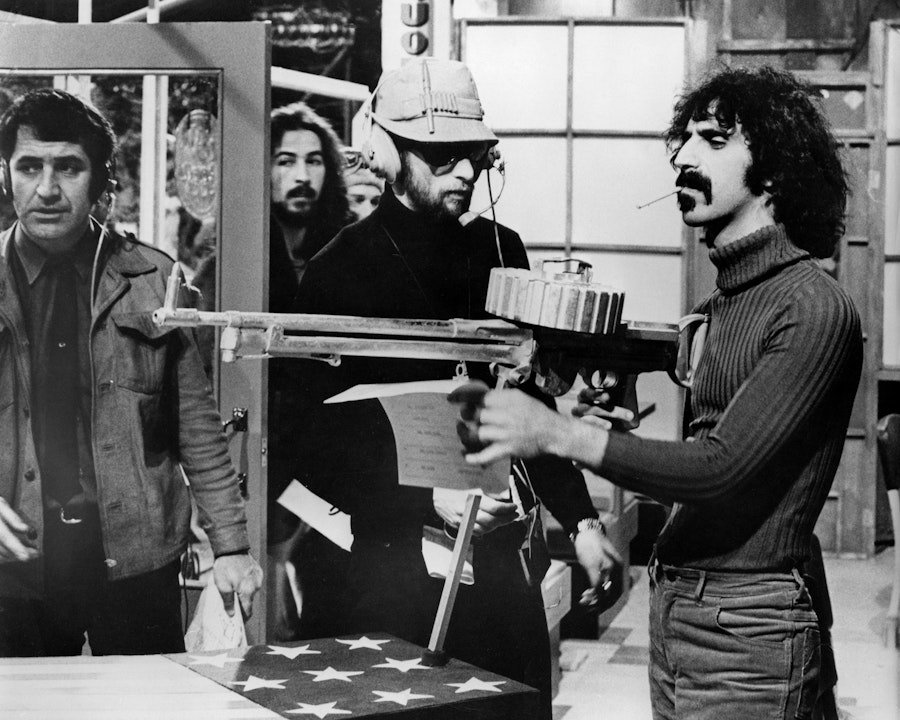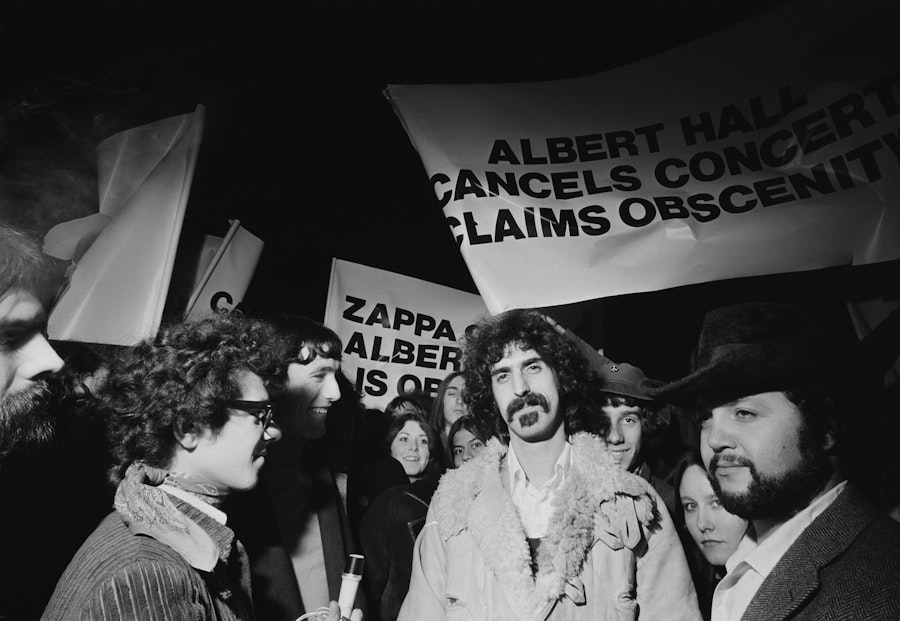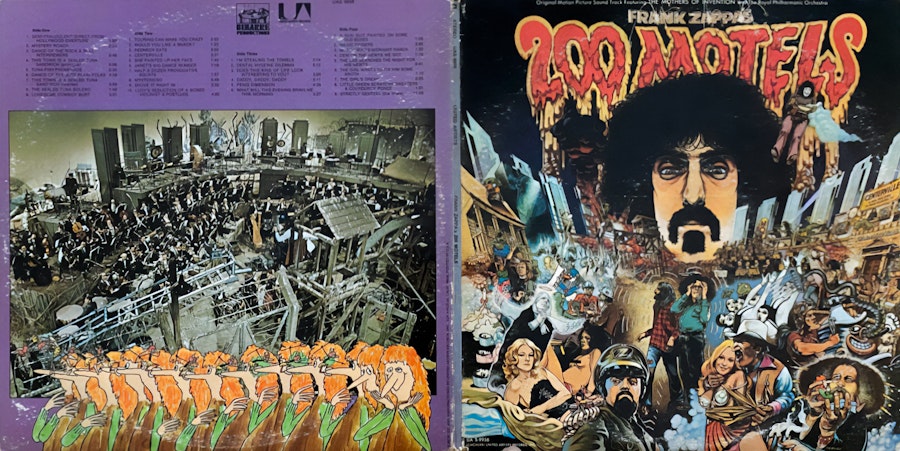 Zappa resuscitated Underwood's pre-collegial passion for playing adventurous, uneasy music, and by their first album together, Uncle Meat (summoned by "a telephone call at my Greenwich Village apartment at midnight in 1968 after our initial introduction and hearing me play once"), the composer-guitarist lurched forward into making the tuned percussionist the center of his sound. Working at a recording studio on East Tenth Street (Apostolic Studios), Zappa started by having Underwood overdub Artie Tripp's tuned percussion lines. "I was still in school, and I had homework, so at first I turned him down," she says. "But Frank wore me down, so I went to the studio and recorded. I mean, I knew it was the shot of a lifetime, but I was conscious of school and had a life."
Zappa had Artie Tripp as his percussionist, vibraphonist, and marimba player before Ruth Underwood became part of the Uncle Meat sessions in New York City. "But Art left to join Captain Beefheart's band," says Underwood, regarding Zappa's old Cucamonga friend, left-field blues man Don Van Vliet (aka Captain Beefheart) and his accumulation of ace instrumentalists for his own mad avant-garde classic, Trout Mask Replica. "Frank didn't want to lose that sound, so the transition was seamless between us. Art still tells me how important that sound was to Zappa. My Brentwood marimba was not meant to be folded or put into a typical standard touring instrument case. It was meant to be played with the resonators in them."
So with Zappa, starting with Uncle Meat, Underwood was getting to play "the meat of it"—the melody and the rich luster of pitched music. There, with Zappa's Mothers (and whatever ensembles he used on albums until the 1976–1977 Läther project—which Zappa had wanted to release as a four-record set but, after much disagreement, Warner Brothers had broken into 1977's Zappa in New York, 1978's Studio Tan, 1979's Sleep Dirt, and 1979's Orchestral Favorites—Underwood was in the company of equally inventive musicians that intellectually challenged the percussionist. "One of the thrills of playing with Frank was having [jazz fusion keyboardist] George Duke on one side of the stage holding down his section with me on the other, playing many of the in-unison parts that Frank wrote for the both of us."
Underwood here jokes about Duke getting dragged by Zappa, kicking and screaming, into playing synthesizers, only to master them, excelling at their "in-the-crack, bluesy sounds," that he could get through electronic keyboards that he just couldn't get with acoustic instrumentation. "Frank was aware that the synthesizer couldn't accent notes, but that the marimba and vibraphone sure the hell could. With me doubling George, Frank could get his beloved accents, that duh-nt-duh-nt-duh-nt-da pattern in five and one of Frank's famed, go-to time signatures." With that, the piercing quality of an upper-register marimba did the heavy tuned rhythm lifting. "It was an incredible stereo effect," says Underwood of her teaming with the chic and funky Duke. "Then again, you have to consider, before that, we never had the technology to be able to have the marimba be that loud." To this fact, Underwood laughs about Zappa being the person who turned her marimba electric, a process that she was reluctant to undertake, as it was her only marimba ("they're delicate instruments, easy to break"), a rare Deagan she received from her high school music teacher. That Underwood only agreed to have her marimba hot wired when Zappa allowed his own precious vibraphone to undergo the same sound-changing operation shows off each musician's willingness to move forward, fast, into the electric future.