"African Love Call"
Wilmoth Houdini
This 1934, jazz-hot-meets-calypso number by Wilmoth Houdini (real name Frederick Wilmoth Hendricks) proudly shouts out New Worlders' descent from Africans and what he sees as the freedom-minded achievements of Garvey. Born in Trinidad in 1895, Houdini emigrated to New York in the 1920s. He captured on shellac many songs in the big city for Decca, including with fellow Trinidadian Gerald Clark's Night Owls and with his own Royal Calypso Orchestra as well as other bands. He was one of the most prolific recording artists in the early calypsonian era.
"Black Man"
Lord Cobra
First recorded on Panama's Tropelco label in the late 1950s, this version of "Black Man" was captured circa 1967 to 1969 by Sally Ruth Records (the Heres brothers' path-breaking label in the isthmian nation), Jaime "Jota" Ortiz and Panamanian recording engineer-extraordinaire Eduardo "Balito" Chan told Wax Poetics. This three-minute lament by Panamanian calypso giant Lord Cobra (born in Bocas del Toro, Panama, with the name Wilfred Methusiel Berry Gonin) posed the musical question, "From I was a child this puzzling me / why Black man can't live in unity?" The lyrics include big, symbolic credit given to Garvey as well as a complaint about the collective ignoring of his messages: "In the days of Marcus Garvey, he freed the negroes from slavery / And from the time the negroes get free, they say to hell with Marcus Garvey." Another version released by Discos Tamayo in 1978 uses spare upfront ukulele, piano, and bass by the Pana-Afros backing band to enhance the singing by the Pana-calypso, pan-Caribbean star.
"Garvey's Ghost"
Max Roach
To unleash an overused term that nevertheless fits, this 1961 tune helmed by the master innovator of mid- to late-twentieth-century drumming is a tour de force of bebop jazz combined with the colors and sounds of Africa via the island of Cuba. It opens Roach's Percussion Bitter Sweet album, issued by Impulse! in 1962. Elegantly ferocious drumming by Roach, with the anchoring aid of Carlos "Patato" Valdés Galán on congas and Carlos "Totico" Eugenio on cowbell, escorts the shimmering solos of trumpeter Booker Little and tenor saxophonist Clifford Jordan. Gifted, hard-working singer Abbey Lincoln, who married Roach in the year of the LP's release, sends a message of angry urgency, not unlike what she transmitted in tunes such as "Driva' Man," on Roach's incendiary We Insist! Freedom Now Suite, recorded in 1960.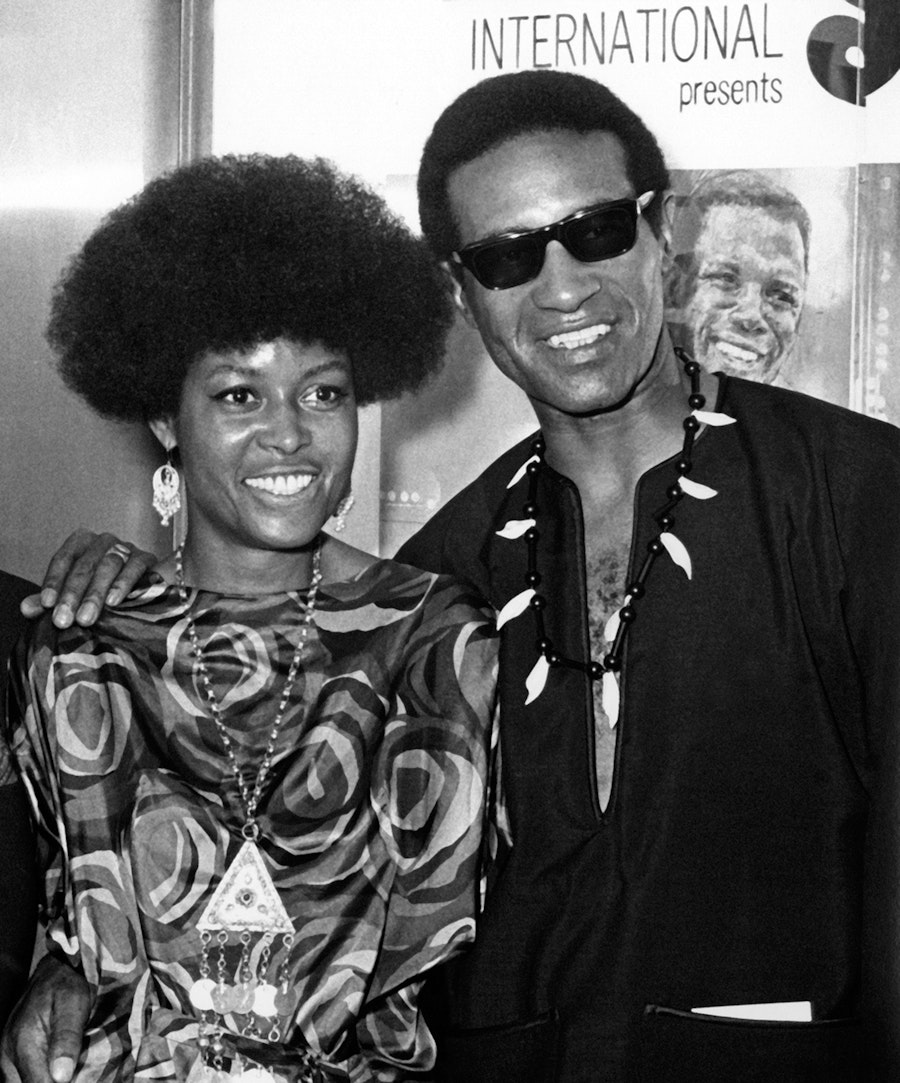 As Norman Weinstein wrote in A Night in Tunisia: Imaginings of Africa in Jazz, "It was Garvey who encouraged African-American artists to look toward Africa for aesthetic as well as political inspiration." That awareness of Africa was imbued in jazz artists such as Roach, Randy Weston, and Yusef Lateef, via travel to or long musical residencies in the continent. In a Down Beat interview after We Insist! was released, Roach vowed that he would never again play anything that did not carry social significance. "We American jazz musicians of African descent have proved beyond all doubt that we're master musicians of our instruments," he said. "Now what we have to do is employ our skill to tell the dramatic story of our people and what we've been through."
Jazz writer Gary Giddins memorialized Roach, on the musician/composer's death in 2007, as "the most ingenious drummer to rise with and define the nature of modern jazz"—as someone who played with Parker, Gillespie, and Monk before heading his own small-group efforts that featured lions such as Little, Lincoln, Clifford Brown, and Eric Dolphy. Pianist Noah Baerman, a jazz educator at Wesleyan University, told Wax Poetics, "The vigor and presence with which he played the drums manifested as importantly in his steadfast pursuit of new artistic terrain as a bandleader and composer and in his tireless activism in pursuit of racial justice." And Garvey played a role in helping school jazz players in New York. The UNIA leader's words were relayed and analyzed in late-night talks over food at Weston pere's Trios diner in the musical incubator of Bed-Stuy in the 1940s and '50s. The gathering led to an abundance of socially conscious artistic creation by friends-from-youth Roach and Weston and others at a time of political ferment and notable history, such as the first big wave of independence for former African colonies.
"Prophecy"
Faybiene
The Panama-born, U.S.-raised poet, lead singer, and political and feminist firebrand Faybiene Miranda wrote this edgy, low-bass-laden song as a tribute to Garvey. "Prophecy" was issued—and banned from radio and sound-system play in Jamaica—during a time of epic political violence. This cut was recorded in Jamaica circa 1975 by sound-system giant and record producer Jack Ruby. Lloyd Coxsone released it in the U.K. in 1977. In that halcyon era for reggae, few females stood at the main microphone. Faybiene was one.
Faybiene, who died in 2013, wanted to pay tribute "to that person who had awakened me from my own slumber," she told writer Peter I in Brooklyn during a fulsome, informative 2004 Q&A for Reggae Vibes. "So it was going to be to Marcus Garvey." Faybiene would write three songs that were inspired by the UNIA founder; "Prophecy" was the first. She said of Garvey in her sessions with Peter I that "though he had lived and had passed…I felt that his work needed to be resurrected. Because he was somewhat of a prophet, and he was letting people know what to expect of things to come."
The celebrated Black Disciples, who played on Burning Spear's Marcus Garvey LP, laid down superlative backing on the track, which understatedly seals the deal. The roster of musicians included the very sticks-able drummer Leroy "Horsemouth" Wallace, star of the cult-status reggae chronicle on film, Rockers. Four-string titan Robbie Shakespeare etched a memorable, Marianas Trenchtown-deep bass line. Hypnotic horn riffs came from the brass of two ex-Skatalites—Bobby Ellis on trumpet and (likely) Herman Marquis on alto sax—as well as Richard "Dirty Harry" Hall on tenor and perhaps Vincent "Trommie" Gordon on trombone. "Chinna" Smith supplied spot-on, pinpoint guitar accents.
"Right Time"
The Mighty Diamonds
The talent-blessed dread standouts from the heyday of the Hookim brothers' Channel One Studios, in Kingston, the Mighty Diamonds offered their trademark dulcet tones in finely honed harmonies that belie stern messages, such as those in this classic song from 1976. "Right Time," the touchstone song, led off the list of ten tracks on Right Time, the touchstone album, an impactful debut LP served up in a spare, but effective roots style. The "Right Time" at issue is judgment day after apocalypse, when righteous Rastas will stand the test with flying colors of red, gold, and green.
Marcus Garvey is referred to, "prophecy say," from the song's get-go. "When the right time come," the trio sings gently in the sparkling, warm chorus, some will be charged with treason, some with arson or murder, and the battlefield will be swallowed up. But "Natty dread will never run away, no, no, no." That is prophecy, "hold them Marcus."
Lloyd "Judge" Ferguson, Donald "Tabby" Shaw, and Fitzroy "Bunny" Simpson have been the Mighty Diamonds, practitioners of smooth vocals influenced partly by the Philadelphia and Motown soul sounds of the late '60s and early '70s. The first-rate musical backing on Right Time also makes the Diamonds' gems on the "Right Time" LP memorable. The Hookim brothers' sessions marked the first substantial recorded pairing by the monster rhythm section of drummer Sly Dunbar and bassist Robbie Shakespeare. Other side players on the album included Tony Chin on guitar (and masterful wah), Ansel[l] Collins and Ossie Hibbert on keys, Herman Marquis on alto sax, and Tommy McCook on tenor, and, also on bass and drums, respectively, Ranchie and Leroy "Horsemouth" Wallace.
Other songs on the Right Time LP paid direct tribute to Garvey. Most notable of those is the bouncy, plaintive "Them Never Love Poor Marcus." In that song, political lessons for the day were transmitted in the Diamonds' sweet tenor blendings. The story of the betrayal of Garvey, attributed to his personal driver, becomes a condemnation of "Bag O' Wire," a reference that is repeated in songs by Burning Spear and others. The moniker was bestowed on the alleged traitor after he went mad and wrapped himself in rubber tires, which lost their form and were reduced to wire, according to music writer Jason Gubbels in his online Kicking the Canon. "Men like Bag O'wire should burn in fire, fire, fire, Lord / betrayer … They didn't know there would be days like these/Now the human race, in such a squeeze …"
"Love Created I"
Tarrus Riley
A member of the second generation of Jamaican roots artists, Bronx-born Riley employs his maply, soaring tenor voice to full advantage in this pleasing, medium-slow tempo 2008 sermonette on politics, genuineness, and resistance to being taken for a collective ride.
"Give us the teaching of Marcus Garvey / Kebra Negast means Glory of Kings / Give I and I Selassie I and keep the guy with the blue eyes, for yourself / 'cause people without vision perish like suicide." A chorus to be remembered ensues: "You tell me it's not about color / Still you refuse to take the picture off the wall / All you do is trick the brothers, keep them confused / They don't know who to call on in this irritical war."
A scaled-back, slow-ballad version of the song (with slightly different lyrics), titled "Marcus Garvey," was released by Riley in 2012 on Mecoustic. The newer, more haunting rendition features upfront piano, acoustic guitar, restrained percussion, and—unusual in roots music and its offspring—fretless electric bass, complete with a Jacoesque, Hejira-like break on the latter. Riley, the son of late Jamaican singer Jimmy Riley, also is known for 2011's proudly political and Pan-Africanist "Shaka Zulu Pickney," the lyrics of which mark Marcus Garvey in the song's first line. A short video gives insight into how Riley created "Shaka" and how filmmaker Storm Saulter devised accompanying footage, in which direct tribute is paid to Garvey.
"Kucheza Blues"
Randy Weston
In 1960, innovative pianist Weston and his favorite arranger, the pantheon-worthy Melba Liston, both offspring of Garvey adherents, collaborated on the landmark Uhuru Afrika LP. The album marked one of the earliest and most successful meldings of African American jazz stylings with overtly African themes and phrasings, especially on baseline drumming. Poet Langston Hughes provided lyrics sung by Martha Flowers and Brock Peters and text spoken by Tuntemeke Sanga, of the future Tanzania.
"Kucheza Blues," the upbeat, blues-waltz finisher for the LP, was the only tune in the album's four-part suite that was spawned by improvisation at the Bell Sound Studios in Manhattan that November, sixty-one years ago. Weston used a tunefully off-kilter, Monk-style repeated blues progression to frame space for wondrous solos by various players of brass and reeds (musicians on those instruments at the Uhuru sessions included Clark Terry, Freddie Hubbard, and Lateef), plus electric guitar supplied by Kenny Burrell and the composer-bandleader's own piano.
All the while, Nigerian drummer Babatunde Olatunji combined with Cuban congueros/bongueros Cándido (Camero) and Armando Peraza (the latter became a stalwart later in Santana's band during their horizon-stretching Caravanserai and Welcome era), to contribute to the polyrhythmic romp. (Drummers Charles Persip and Max played at the sessions; Roach also stood at the marimba. George Duvivier and a young Ron Carter plucked basses, blending movingly.)
The results were a stupendous bridging of musical cultures. Hughes wanted to title Uhuru's fourth movement "The Birmingham-Bamako Blues," rather than "Kucheza." The poet wrote that he heard Alabama and Africa in the tune.
With Uhuru Afrika, Weston fulfilled his intent to portray a "pan-African consciousness while recording with musicians of wildly different stylistic bents," as Weinstein described the pianist-composer's goal in the book A Night in Tunisia. That this was done in 1960 astonishes.