"At the time, if you go back to 1989 to 1990," DJ Shadow says, "you started to see this trend of producers like Marley Marl, Hurby Luv Bug, and even Mantronix, stepping into the forefront more. You can almost tell the managers were like, 'The rappers are getting all the shine; you need to put yourself out there!' I came from an era where Jam Master Jay was dressed in black, and no one saw his face. I always liked that aspect—that the DJ was considered the silent secret weapon of the crew. And for me, ideally, I'd rather be the director not the star, because no one knows what the director looks like, but they're the ones pulling the levers behind the scenes."
Inside DJ Shadow's studio, what first strikes you is the overflowing ephemera. Sure, there are shelves full of records and off to the side are turntables, the same ones used on many of his masterworks. But there's also a framed, gold De La Soul record encased in glass. There are plaques on the wall that at one time belonged to James Brown. There's a Melvin Bliss original Ampex reel. There are books and memorabilia to behold, all of which surround his workstation, a mod­est, minimal setup for someone whose projects are known for their baffling, expansive depth. "I'm actually music's biggest fan," he says.
When it comes to pioneers, you wonder how they got that way. For Shadow, born Josh Davis, it was a keen interest in music early on that sparked an obsession with hip-hop. It was personal ambition, fulfilling curiosities about DJing in an age before know-how could be Googled. And it was the kindness of others who saw in him a prodigious talent and were compelled to help. 
Says Shadow: "My DJ mentor was a guy named Oras [Washington] who had a local radio show, and he let me borrow his turntables when I was young. [Bay Area FM station] KMEL let me walk into their station office and hand them my mixtape, and eventually they gave me a show. Now, I'm not the type of producer who can walk into a studio and make ten hot beats a day. It takes me months to complete just a few minutes of music. But my successes, especially early on, have really been due to the kindness of others."
Leaving your hometown and making it big is often romanticized. For Shadow, he did the opposite and stayed in the Bay Area, attending college at UC Davis and playing on local radio before going global. Through the last twenty-five years, his work, particularly his bold 1996 debut, Endtroducing…, has been described with epic language—genre defining, game changing, Coltrane-esque even. 
Endtroducing… was a first of its kind, an instrumental hip-hop album in which the narrative was solely driven through a pastiche of measured samples. At a time where rap beats were mostly vocal-less takes of originals, these textured takes signaled a sea change that would be copied for decades thereafter. It defied easy categorization, and implicit in the songs was a desire to nudge the norm forward, to rattle the ennui. Endtroducing… was, ironically, according to Shadow, a very specific and purposeful farewell to his early approach. 
"The reason Endtroducing… is called End-troducing," he says, emphasizing the End, "is because it was supposed to signify the end of that sound. That's how I saw it. Ironically, I still get asked by people, 'Why don't you make music more like Endtro?' But the title, to me, says it all. I was already trying to actively move away from what I thought people thought my music was. I mean, now I'm totally at peace that people want me to continually make this sound. I'm used to it by now. But even then, even with that first big project, I was trying to do newer things."
The Mountain Will Fall—his latest as of this writing—has similarly effusive intricacies as some of his earlier work but is also a noticeable artistic pivot with more features and a more current sound. There's a larger context of ascension here; he's student of the history that came before him. His almost encyclopedic knowledge of music recently came into play through the recent death of maestro and composing legend David Axelrod. In a recent interview, Shadow said, "What separates him from his contemporaries in striking fashion is that he refused to specialize and was willing to tackle a wide breadth of genres in an era when most producers strove to establish brand recognition within the rock, jazz, or vocal field." In more ways than one, this is and has been, Shadow's musical worldview and approach. "As a producer, I count him as one of my biggest influences."
In his studio, holding a small green booklet with a picture of Louis Armstrong on it, Shadow says: "What I've done has been what all artists whom I've admired have done. This isn't anything new. Look, this pamphlet has Louis Armstrong on it, and if you notice, it's from 1948. People were calling record collecting diggin' back then. This was likely a pamphlet that they circulated at trade shows or conventions. It's all about knowing where you came from. I just always felt, even since I was at a very young age, like I could do something that was unique but that was still inspired and informed by the past."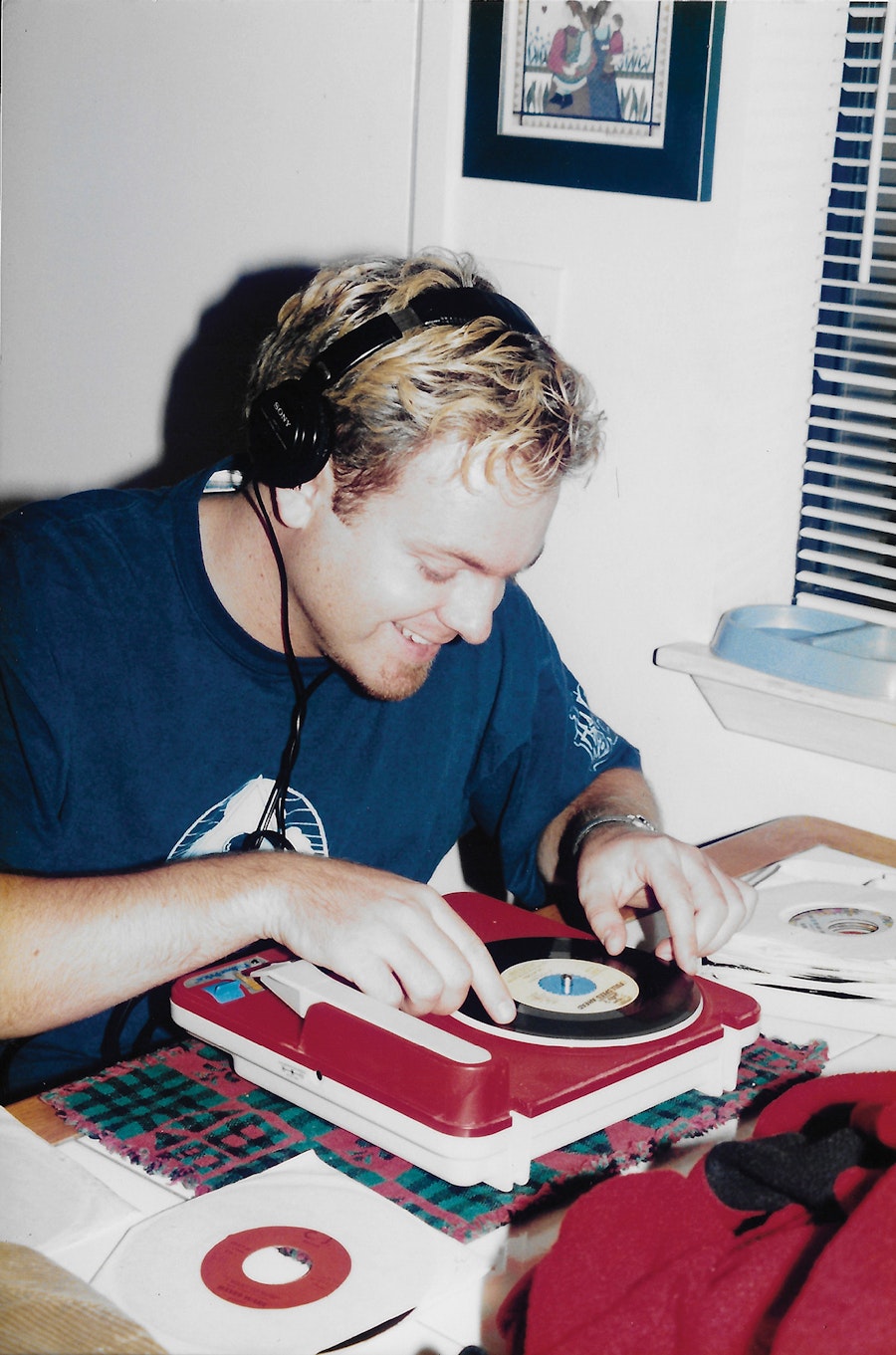 The idea of Shadow is actually pretty straightforward.
Let's start with your moniker. Why Shadow? And what did your first mix sound like?
For context, these were some of the early days, and I was involved in a crew called Bigger Than Life Productions. The dude who ran the crew was from Oakland, and he came up with a mega-corny name for me, which was DJ White Lightning! [laughs] At the time, I was toying with DJ 24KT too. [laughs] 
The idea of Shadow is actually pretty straightforward. At the time, if you go back to 1989 to 1990, you started to see this trend of producers like Marley Marl, Hurby Luv Bug, and even Mantronix, stepping into the forefront more. You can almost tell the managers were like, "The rappers are getting all the shine; you need to put yourself out there!" I came from an era where Jam Master Jay was dressed in black, and no one saw his face. I always liked that aspect—that the DJ was considered the silent secret weapon of the crew. And for me, ideally, I'd rather be the director not the star, because no one knows what the director looks like, but they're the ones pulling the levers behind the scenes. 
The issue was, and I was talking with QBert recently, is that Q's crew at the time was known as the Shadow DJs. So we were at a rap summit in Berkeley around 1991, and we were both doing mixes for KMEL and the names were a little too close and confusing. And this dude Marcus Clemmons, who used to manage [Bay Area rapper] Paris, for some reason he overheard the conversation and said, "Okay, Shadow, you're dope, and, Q, you're dope. Both you guys should be worried about bigger things than y'all names." Shortly after that, Q began calling his crew something else; this was before they called themselves Invisbl Skratch Piklz.
The very first mix I did as DJ Shadow was for Tommy Boy. It was a mix that never came out, and they didn't like the mix. But James Lavelle from Mo' Wax heard it years later and thought it was very drum-and-bass, and he wanted to put it out. It still has never came out. [laughs] 
I want to further contextualize your start. Tell me about your mentor DJ Oras Washington, who you've called immensely impactful.
I actually met up with him for the first time in like twenty-five years recently. He's still kind of around. He'll do a wedding here or there or a comedy show and is still in Oakland. He was the first person to have a hip-hop show on KDVS, the [college] radio station in the town I grew up in. He was definitely into stuff like the Time or Rick James; if you were a mobile DJ at the time, that was your shit. But you still had to play hip-hop and stuff like Egyptian Lover and the more clubby shit that people were digging at the time. Oras was the first to let me borrow his [Technics] 1200s. Growing up, I couldn't afford real turntables, so I just used busted belt-driven ones. That's how I learned to scratch, because on a belt drive you can do whatever you want until the point where your hand physically releases the record.
Basically, around 1985, I started calling Oras up during his show and was like, "Can you play this or that?" and he'd pause and say, "Who is this?" I mean, Davis is a small suburban, liberal town and very much a college-rock-type place. I don't think there were many people into hip-hop; in fact, I know there wasn't. There was one other dude, Tom Curry, who was the first person from Davis to put out a rap record. If you look on Discogs, it's Tee Oh DCB Posse. It's hard to find now but used to be all around the late '80s and early '90s; you'd find it everywhere sealed. He was a cool dude and was kind of the first person to be on the map. 
Around 1986, I spoke to Oras again and was like, "Yo, can I come down to the station and watch you work?" And he was always super down. He was just stoked to have a fan, you know? So I was thirteen or fourteen at the time, depending on what side of June it was; I'd ride my bike down there. And they'd get all these promos, and, of course, most people at the station didn't want to play rap records or R&B—or any Black music really. But I'd be able to see what was coming out soon, and when it did, I'd rush and go try to find it at the record store. Around early '87, I asked Oras if I could play a mix, and he actually said yes. I'm pretty sure you could even find it online, because I made it available for free on one of my sites. On it, you can hear Oras say: "We have Josh here, he's sixteen years old with a mix for you!" It starts off with a Mantronix song then "Cabbage Patch" from the World Class Wreckin' Cru. You can hear what I sounded like scratching- and mixing-wise at sixteen on all this real primitive equipment.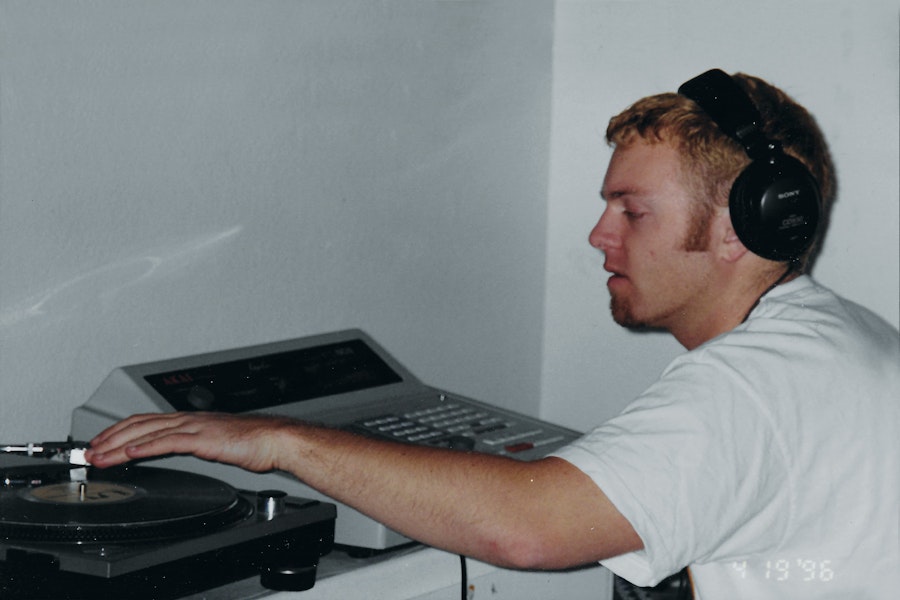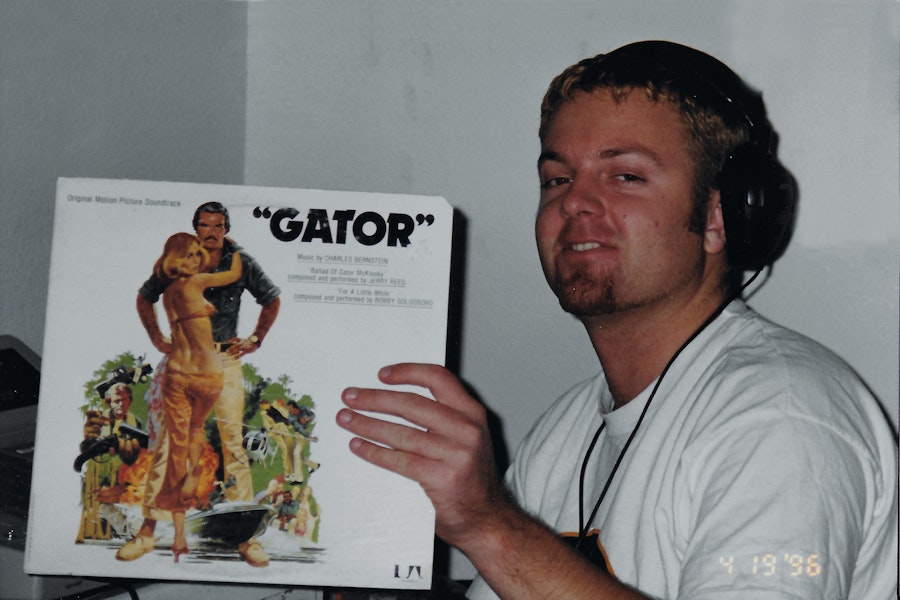 What was it about rap music that caught your ear, and how did it eventually progress to collecting records and DJing? Was it sort of all at once or a slow process?
For me, it was fascination with hip-hop culture as viewed through the lens of what's accessible for a twelve-year-old. So, I mean, ever since about age five, I had a little second-hand transistor radio, and I was into whatever else was happening around me. When you're six or seven years old, you're into whatever is out there, so for me it began with disco then later Cameo and Rick James, and after that, early '80s funk. KFRC in that time was heavily rock. I mean, they'd break records by Jefferson Airplane and stuff. But by the late '70s, they were playing R&B and broadcasting from the city, and I'd be able to pick it up on my AM dial in Davis because AM travels farther than FM. And then one day, I heard "The Message." I mean, I had heard [Blondie's] "The Rapture" before, and I knew what rapping was; but to me, I didn't get the cultural connotation that came with hip-hop culture until I heard "The Message." Then I heard "Planet Rock" shortly after. I'd see videos like "Hey DJ" by the World Famous Supreme Team. You'd see people scratching in the movie Breakin'. As a twelve- or thirteen-year-old, that's what struck me. I thought to myself, "I cannot see myself rapping, but this DJ thing is fascinating."
At what point did you move toward listening for drum breaks within songs, with the intent of using it later?
So my family disbanded shortly after I began taking interest in hip-hop; my dad stayed in San Jose [California], and I went with my mom to Davis. So I would see him every two weeks, and sometime around 1984, I asked him, "Do you know what rap is?" And he was like, "Yeah, I think so." He grew up going to Tower of Power concerts and stuff like that, so he was a music head. I then asked him if there was a radio station I could listen to that played more rap, and he was like, "KSOL!" It would eventually be people like Michael Erickson, who was also my hero, and then people like Cameron Paul came later. 
So I'm hearing records around '84 or '85, and you have things like "AJ Scratch" by Kurtis Blow or "One for the Treble" by Davy DMX—scratching is starting to become part of the arrangement on all these records. On the Davy joint, you hear them scratching the stab at the top of the "Ashley's Roachclip" break [by the Soul Searchers]. They'd scratch on the drum fill leading into the break on "Take Me to Mardi Gras" by Bob James, and simultaneously I'm hearing these same sounds on different records. So I started to become fascinated by these sounds and was like, "Why do these DJs know what these things are and I don't?" Because, at the time, I didn't know what breakbeats were yet. Eventually, you start to hear more of the break being played. For me, a big moment was at the end of "The Magnificent Jazzy Jeff"; he let the rest of [James Brown's] "Funky Drummer" play, and I was like, "Oh shit, you can hear the moment within the moment!"
So as hip-hop became more willing to let the breaks ride for longer, I came to realize everything was pretty much all from Ultimate Breaks & Beats [and] Octopus Breaks. That's when I started becoming fascinated by breaks. But it wasn't just, "I want to scratch like this DJ or that DJ," but rather, I wanted to be able to just do what they were doing. Around that same time, in America, before The Source, everything about hip-hop was always something negative, always stuff about riots at concerts and how it was terrible music. All these magazines and publications were built to sustain rock and roll, and you couldn't find anything positive or educational about rap. 
Being in the Bay Area, I'd imagine it wasn't too easy to get your hands on stuff about hip-hop at the time, at least right away.
There was this store in Davis that imported British stuff. U.K. magazines were a different story than U.S. publications. NME or Melody Maker were from the U.K. and would have Just-Ice on the cover, and you'd open it and there's a ten-page spread about Mantronix and a list of his top ten breakbeats. I was like, "Oh shit!" It was mind-blowing! I mean, if you live in New York or Philly, you could go to any store and get Ultimate Breaks & Beats, but on the West Coast it wasn't like that, at least not in the Bay Area. So as an aspiring DJ, I had to put the pieces of the puzzle together over time. When people ask me what drew me to hip-hop, since it was so far away, it was the same thing that likely drew Krush from Japan, same thing that drew this dude from Brazil, or this dude from Europe. Something was happening thousands of miles away and you're just piecing it together because you knew something important was happening. 
So I remember in 1987, I went to a record store with the sole purpose to buy breaks that were on my list. And there was a store in Davis called Recycled Records, and though it was only open for about four years, I remember going there and buying James Brown's The Payback and Herman Kelly's "Dance to the Drummer's Beat." And the records were only like three bucks! At that point, that had only been out about ten years, so they weren't super valued yet. I remember reading an interview with Biz Markie in 1990, and by then things had changed and everyone loved rap, and it was mainstream and making money. In it, Biz mentioned that one of his favorite breaks was Skull Snaps' ["It's a New Day"], and I had never heard of it and was like, "Oh, Skull Snaps, I'll go buy it." So I just walked into a record store, and there it was. Back then, it was easy, especially out here, because nobody even knew what this Skull Snaps record was.
When did all this lead to actual hands-on experiments with sampling? 
It definitely took some time, but one of the first records I used was in my dad's collection—it was an Isaac Hayes album. Public Enemy was also a huge influence on me, and they still are. They're top three most influential alongside De La Soul and Beastie Boys. Over the years, I felt like those three were constantly setting the pace. When I heard "Black Steel in the Hour of Chaos" on It Takes a Nation [of Millions to Hold Us Back], I was like, "Oh shit, I know exactly what this sample is!" 
I soon came to find that between my dad's collection of records and the stuff I was buying, I felt I had solid early finds, including stuff like the first Boobie Knight [and the Universal Lady] album, which [was] eventually used [by a few big groups]. I was young but was like, "I've had this since '88!" I mean, the thing is, everybody had those records before people picked up on it and made the records famous. So around that time, I thought, "Okay, I think I can do this," and my main thing was saving up for a four-track recorder. Not sure if you had a chance to listen to this on my website, but I sold this thing called The 4-Track Era in which there are three volumes—one is original productions, one is remixes, like if I had an a cappella of something, and the other side are KMEL mixes. And all of it is from 1989 to 1991 made from a sampler I eventually saved up enough to buy for. 
If you live in New York or Philly, you could go to any store and get Ultimate Breaks & Beats, but on the West Coast it wasn't like that, at least not in the Bay Area.
I always wondered if you play any instruments.
I grew up playing piano for a few years. I can hear when things are out of tune. Even on famous records. I grew up in a pretty argumentative household because my mom always encouraged us to have an opinion on things, so I was probably pretty precocious, and I'd say things like, "Those songs suck!" Funny enough, Michael Jackson is obviously peerless, but there are certainly pitchy moments on some of his records. I don't think that's a very controversial thing to say. You listen to certain records, and it's totally fine because it's a single moment—and I'm sure Quincy or whoever was there noticed but probably kept it because it had a great energy or whatnot. But in other music, there's always been moments where I'm like, "Why didn't they fix that?" [laughs]
In terms of using a sampler, did you also have a mentor or was it a process of trial and error?
No, I'm totally self-taught. My heroes were Prince Paul and DJ Premier. I mean, all the early Def Jam stuff mentored me. If you follow them as a label, when records like "Can You Feel It" by Original Concept came out, you're hearing more and more progressive records with scratches and samples. And of course, Rick Rubin's stuff. With labels like Sleeping Bag and groups like EPMD, and as a result, you start to hear all this new stuff being looped. And living in Cali, I was of course a Dr. Dre fan.
Talk a bit about Double Dee & Steinski's "Lesson 3 (History of Hip Hop Mix)" and how it impacted your progression towards sampling and production. When did you first hear it?
First time I heard it was '86 or '87. This was kind of an important moment for Bay Area hip-hop history because KSOL went under as a direct result of KMEL switching to an "urban format." Because, in the early '80s, people were playing stuff like the Cure, and everything was more of a progressive-rock format. And then one day, I remember hearing Cameron Paul on the radio and I wasn't sure what station it was for. I'll never forget because KSOL was 107.1 and KMEL was and still is 106.1. But back then, no one had digital displays; you just had a knob that you turned. So I was like, "Okay, KMEL poached Cameron Paul from KSOL," but that was a huge signal of change. I still have one of those early Cameron Paul mixes on cassette that I recorded, and that's where I heard Steinski for the first time.
How did it immediately strike you?
It had already been out, like, two years or something, because it came out in early '84, '85. And I think it got bootlegged years later, and I'm pretty sure that's how all those mixes became accessible for all those DJs out here. If you go back to '86 or '87, a lot of the music was techno synthetic, and I love freestyle and what people called Latin hip-hop and Miami bass. But when this dropped, it felt like the antithesis of all that. It felt dangerous. 
It was just that Led Zeppelin break without any addition to it and no enhancements—just drums. It felt like such a gearshift in the mix. So as a result, I'd go back and re-listen to all the original records he used. It also fed into this thing where I was like, "I have a list and I have to go grab all these songs" and that was "Lesson 3." That was my first time with the Steinski mixes. I also heard "The Payoff Mix"—[which was Double Dee & Steinski's mastermix of GLOBE & Whiz Kid's "Play that Beat Mr. DJ"]—as part of this double album [from] Tommy Boy.
What were your surroundings like leading up to your first single on Hollywood BASIC, 1991's "Lesson 4"?
Around this time, I was making mixtapes; this was 1990, and I was living in the dorms in Davis. My family had evaporated into a million different directions. My parents went into the foothills, my brother went to Hawaii, and I was actually the only one who stayed. For whatever reason, it just made sense to put me in the dorms, which, was a strange experience because I was the only local kid in the dorms when everybody was from elsewhere. And so, in addition, it made it easy for me to go to school. And since I already knew where everything was and had lived there, I felt like I had more free time than everyone else who was still getting acclimated, so I spent a lot of time with equipment, and mixes, and sampling, and so forth. I kept all my equipment and records at my friend's place—who went by 8th Wonder. He was a graffiti artist who did the art on all my early tapes. He also did the art on the "In/Flux" picture disc [on Mo' Wax] and stuff like that. He did the early Solesides art too. 
It was in Davis, in the dorms, where you linked up with Solesides, correct?
I met Lyrics Born, then called Asia Born, and Chief Xcel at the same time. Around '89, both Paris and Oras had graduated and there was nobody doing a rap show anymore for KDVS, our local college radio. Then I'm at Tower Records one day and saw a flyer for a radio show by a guy named DJ Zen near the new arrivals 12-inch bin section. Zen of course is writer Jeff Chang who went on to become a scholar on hip-hop and race. But back then, on the flyer, he had listed his info, and I was like, "Oh shit, that's cool, someone's doing a rap show again!" And of course, I had this provincial ego in the sense that this is my town. And he wasn't mixing or doing anything super technical, but he was always injecting the importance of social and political ramifications of every situation with everything he does, which is great. And that's an aspect that's always been with hip-hop as well. So I called him one day and was like, "Hey, can I come down to the show?" We'd talk about breaks and music, and seminars, and upcoming shows and whatnot. 
One day, I went down there and he introduced me to Lyrics Born and Xcel, and they took one look at me and was like, "Who's this Herb?" [laughs] But that's when I realized the value of the radio station's record library. They had loads of records. I'd be like, "I heard the J.B.'s made a record after they separated from James Brown and it's on a weird label?" And the library was so deep, you could just pull out a copy of Maseo and All the King's Men. "Oh here's that one Meters album before Reprise," or "Here's that weird rock shit called Silver Apples." It was crazy to me. And instantly we were all like, "Hey, what record is this?" or "Oh, you haven't heard this?" It quickly became a pissing contest. [laughs] Tom [Lyrics Born] was from Berkeley, so he was closer to the source, and he looked at me like, "You're from Hicksville!" 
Their view was like, "We're going to school here; we have nothing to do with this town." We all thought we were dope until DJ Zen was like, "Wait a minute, you guys are all into the same shit and all want to do the same things; why don't you put your resources together?" That's how it started. And although we weren't friends right away, I quickly realized that Xcel is one of the sweetest people you'll ever meet. So, I remember, prior to Jeff sitting us down to unify, he reached out to all of us individually and had us bring our best breaks. I think we all thought we were gonna impress each other, but that night we learned that we were very much on the same wavelength.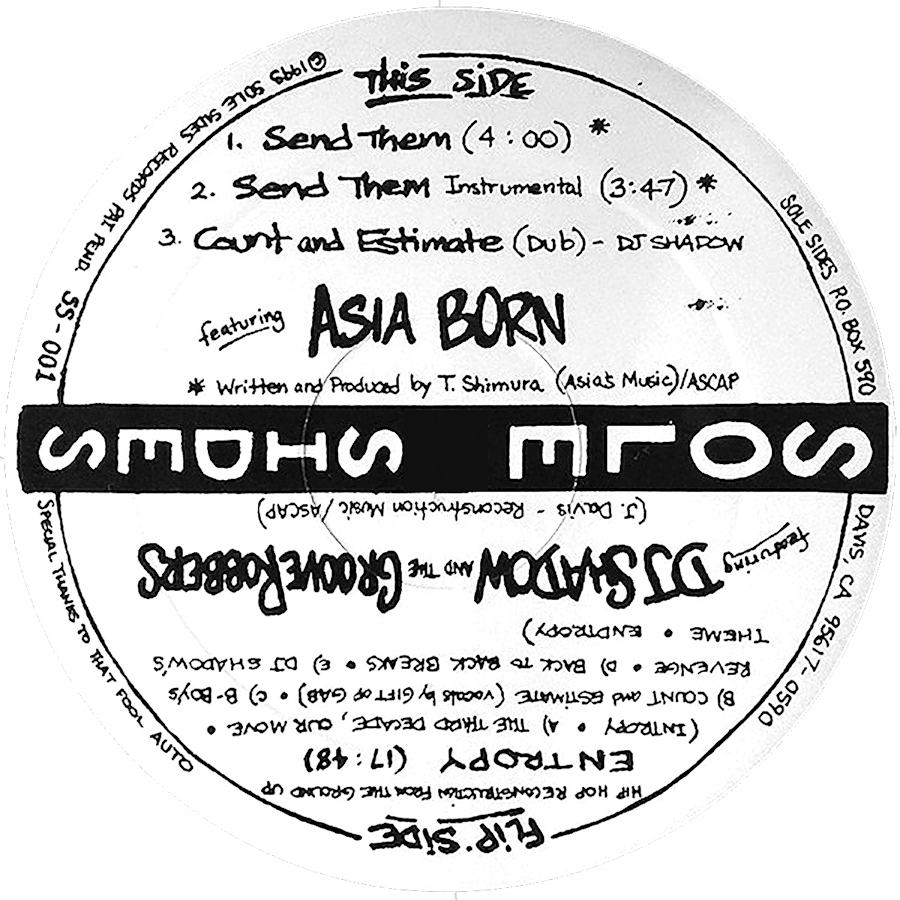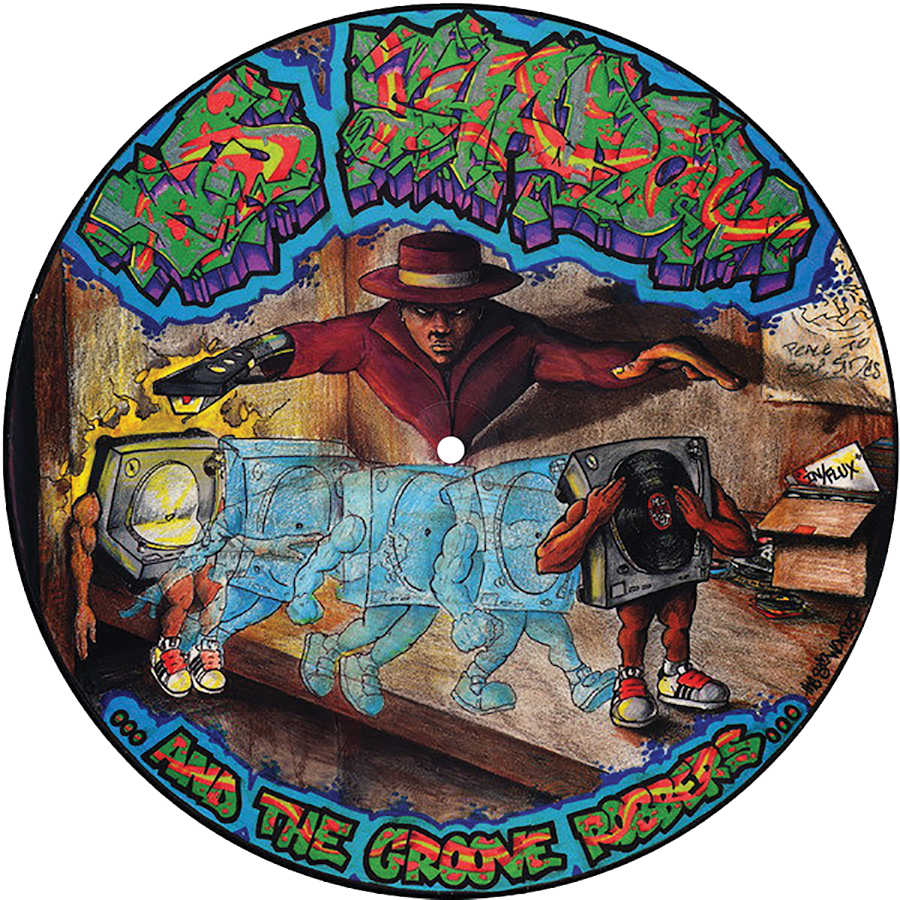 Looking back, how comfortable were you making and recording music at the time? In what ways did the your early beginning add to your later successes?
I mean, to this day, I wouldn't say I'm comfortable making music. [laughs] I do often feel like a lot of people who were a part of my timeline were just kind to me; like Oras letting me borrow his turntables, for example. Even when I walked up into KMEL and said, "I want to do mixes for you guys," they just looked at me and laughed. But later they were still like, "Okay." King Tech was doing their mixes at the time and started blowing up and not really doing them any more. And Theo ["DJ Theo"] Mizuhara at the time was starting to incorporate Janet Jackson and more R&B stuff into his mixes as well as more pop-oriented stuff. So I was like, to KMEL, "You guys need a straight up hip-hop hour," and they eventually listened.
Your first project was an unreleased tape that eventually got you your first mention in The Source. How did The Source and other music publications impact your narrative?
My first release were these tapes that I made and sent to The Source, Profile, Tommy Boy, Wild Pitch, and others. They were all hand-done and unique. When I was in the dorms, The Source had become huge, like majorly huge. It was being distributed on the East Coast, and they were already on issue eight or nine, and it blew up even further because it coincided with the first full-fledged wave of hip-hop crossing into the mainstream—I'm talking about guys like MC Hammer and Vanilla Ice. Suddenly anyone who had a magazine and was into hip-hop was like, "We need to take a stand right now." And for people like myself who at that point had invested themselves in this culture and music, The Source was the publication that was the litmus test to see what people were listening to and liking and at the time. Each issue was epic. And we felt like we wanted to move our culture in the direction we thought it should move in. That's how invested you were in it at a time where it still felt like a movement that was completely yours. 
So everyone would write in these very passionate letters and everything was very serious, and this phase only lasted a couple years. So around the time, I wanted to be a part of it still. I wanted to inject some seriousness back into it, I felt. There was a writer, Matty C, who had the Unsigned Hype column, and I was always like, "This is what I'm making these tapes for, might as well send them in." When it was received and accepted by Matty to write about, I was beyond excited. In fact, I memorized the answering machine message that I got, and I actually recorded it and saved it for years. Matty called up and was like, "We want to feature you in the next issue," and I had also reached out to Dave "Funkenklein" [Klein] who also wrote for The Source. And prior to that, I used to read his column in a magazine called Dance Music Report, which I used to buy at Star Records on Capitol and McKee over in San Jose; that was my spot in San Jose that I always got my dad to drive me to. Dave wrote that column with Hank Shocklee from the Bomb Squad, so immediately there was this inherent sort of, "Wow, this dude's opinion matters." And he would knock stuff and rip into stuff that he thought was bullshit, and I'd like and respect that because people who only talk about the positive and the good you're doing adds to this sort of injustice. I mean, eventually you have to separate the good from the bad. So I sent a tape to Dave Klein, and pretty much the same day or a day later that I sent one to The Source, Dave also called back and told me he had work for me, which was around the same time he started Hollywood BASIC. And that's how everything directly led into "Lesson 4."
What do you remember about popular rap at the time?
At that point, hip-hop was super mainstream; basically, it had become pop, but there were tons of stuff and the production was getting more and more slick. And while certain stuff from '91 either aged well or didn't, some was just very fast and very club oriented, so I thought it would be interesting to do the complete opposite, like a serious production track. At that point, I had finally got my hands on a copy of Ultimate Breaks & Beats, so I thought it'd be interesting to make stuff that was totally out of tune and out of time with everything that was going on musically. That's how "Lesson 4" came about.
It doesn't feel like many people are aware of your early work with Paris. Talk a bit about how that came about and how you guys coalesced.
I came across Paris because Oras showed me [Paris's] first 12-inch. Prior to Tommy Boy, Paris had an EP [Scarface Groove], and to me, it was the first rap record from the Bay that didn't feel novelty, it felt serious. I felt the same way about Sway and Tech's first records too. I mean, I have a lot of respect for Too Short, but his stuff felt like he was making a rap record for the sake of making rap, whereas these records felt like it was hip-hop and was saying more. Of course, the Paris EP was hugely inspired by Public Enemy, and the record was really, really good. 
He was going to school in Davis with his sister, and I eventually met him through Oras. And Paris, a lot of people don't know this or think this of him, but Paris is a real funny dude. Back then, no one was big and everyone was approachable, and I don't walk around with a chip on my shoulder and I don't care what people think of me, but Paris definitely used to clown me. [laughs] He used to be like, "Who is this dude?" all the time. But we would eventually talk about James Brown and P-Funk, and he could tell I was a music head. We just both really hit it off. So then he graduated in, like, 1989, and I didn't hear from him for a while until I saw "Break the Grip of Shame" off of The Devil Made Me Do It in a record store, and it was on Tommy Boy. I was like, "Damn, Paris is making moves!" I got a call later on that he wanted me to work on some tracks for an album he wanted to call Sleeping With the Enemy.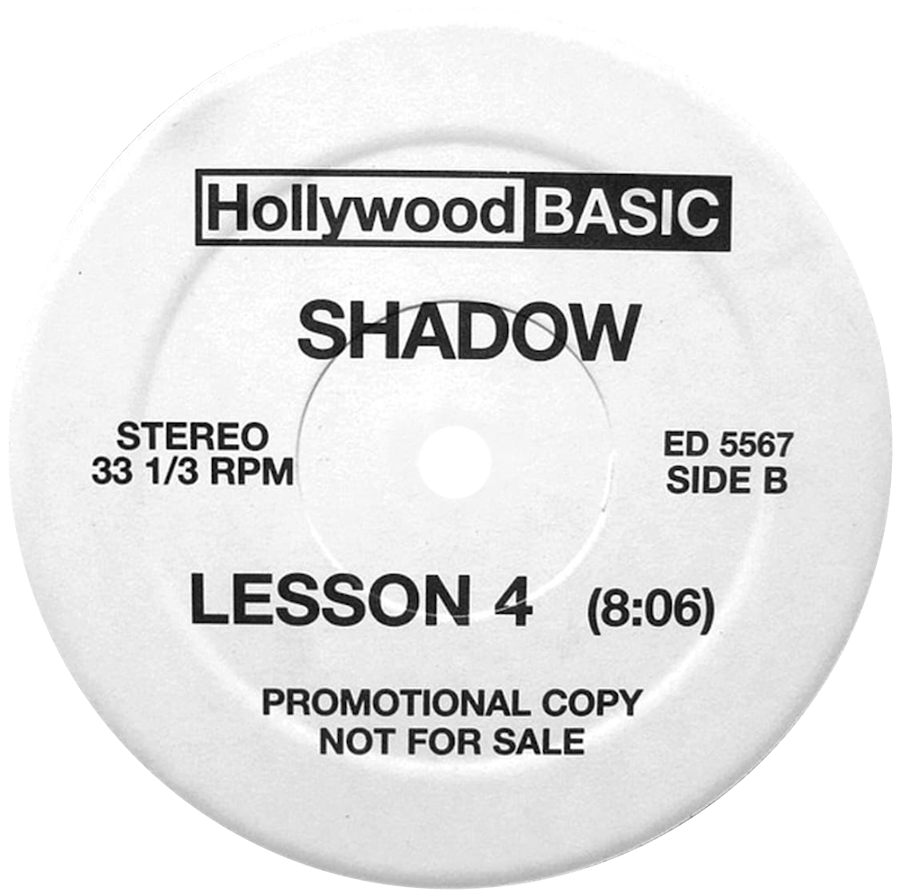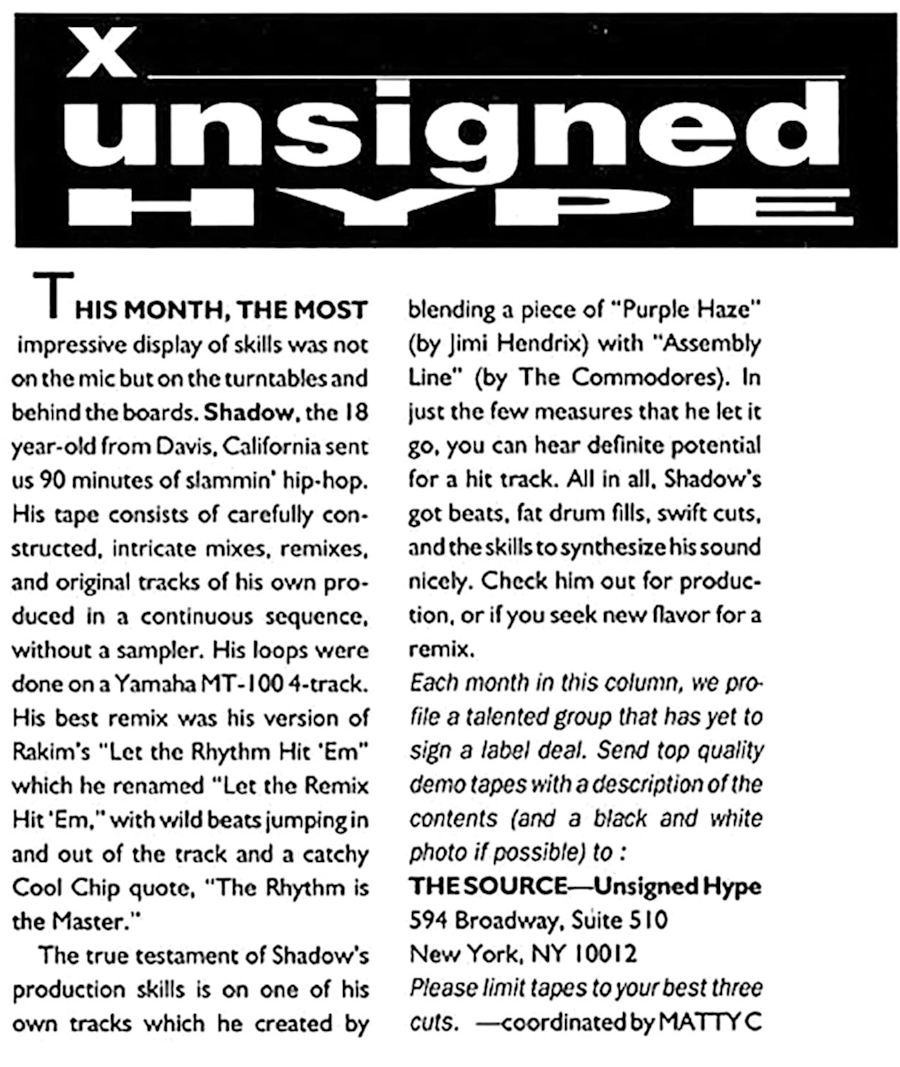 I think that's what a lot of people don't understand about the era—there were no resources whatsoever. Knowledge for DJs was sacred back then.
You touched on it earlier, but tell what it was like for you growing up in the Bay Area in the '90s.
I'm from the Bay Area; I consider San Jose my home just like I consider Davis my home. And my dad used to take me to S.F. all the time; we'd take BART and public transportation to a lot of places. And anytime I ever heard or saw a flyer about anything I thought was dope, even though I was underage most of the time, I would try to go. This dude, Chris Davis, would try to go to events too. He one time called me through Oras and asked me to scratch for some project. He was in Davis at the time and in a crew called Bigger Than Life Productions, which I mentioned earlier. They all had jet bomber jackets, and if you had a bomber jacket back then, everyone wanted to be down with you. [laughs] 
And there was this dude named DJ Macaroni whom I haven't seen since 1990 and have no idea where he is. Anyway, he lived in a remote part of Oakland, and I had gone to his house and he was the first person to show me Ultimate Breaks & Beats. And he had about six volumes! I had explosions happening in my head! At the time, I still never had a list, so this was just incredible to me. I think that's what a lot of people don't understand about the era—there were no resources whatsoever. Knowledge for DJs was sacred back then. 
We all eventually disbanded because it was one of those things where Chris was about ready to graduate and move to the Northwest. And I was about to graduate high school anyways. I don't think anyone was really tripping, but my early time in S.F. and Oakland was a lot of good knowledge for me. I still remember crossfader-transforming a part of LL Cool J's "Jack the Ripper" and people were, like, amazed and thought it was the coolest thing. But then I went to a DMC [World DJ Championships] final in 1990-something and saw QBert and was like, "Okay, this is next level." Because people then would be stoked if they even heard a halfway decent DJ, especially in a place like Davis. Once I met QBert, Eddie Def, and his crew, I was like, "You guys are not from this galaxy."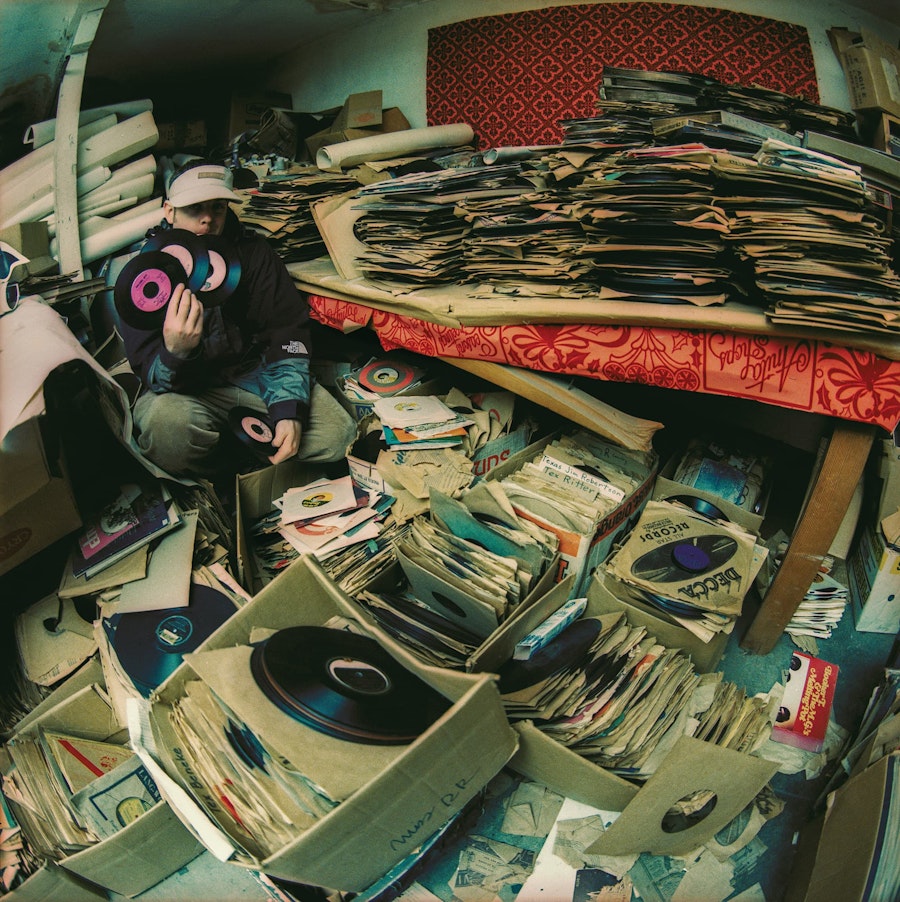 QBert is widely considered one of the best ever, especially the scratching aspect. How did you guys meet? What was the scene like around that time?
He was using a cane back then, which I think he was using because of a previous accident he'd been in. I'll let him speak about it, but I didn't know that at the time and thought it was an affectation. So I was like, "Who is this dude with a cane, who's this guy think he is?" [laughs] But it was my own ignorance; I didn't know he needed it, but he always made it part of his style. Him and his clique of DJs came from a part of the city that was pretty wild, a lot of parts were much wilder then, not like now. So to me, I always had a bit of complex about being with QBert and his homies. I was always aware that I was from the suburbs and had always looked up to people in the city, because they had the access and were cooler and got everything first because they're living in the middle of it. I was jealous. One of the lesser-known facts of this time frame is that I met Peanut Butter Wolf—we actually had the same manager for a while.
PB Wolf is originally from San Jose as well. Talk about your paths crossing.
Somewhere along the line, I met Wolf through a guy named Dave Paul, who was on the scene early. We were probably around nineteen years old at the time, and I was driving myself to the city quite often. Dave was looking after a rapper named T-More, who was dope, and who was being touted as the next big signing from Elektra. He was getting a lot of A&R shine around the time. I remember Bored Stiff was around too. Dave introduced me to a guy named Matt Brown who worked for Charizma and PB Wolf, and he wanted to handle my gigs and essentially manage me. I was like, "Yeah, sure," so he made press packs for me and PB Wolf and Charizma. Literally a few weeks into the relationship, Charizma was killed. As a result, Wolf lost his deal with Hollywood BASIC because they were just signed. Wolf and I both knew Dave Klein as well, so there were all these connections and similar relationships. 
Talk more about your work with Hollywood BASIC.
Dave Klein, known as Dave "Funkenklein," would literally call me and leave messages like, "I want you to do a mega-mix of our releases. I have a budget of three grand. Call me back." And, for me, who was working for minimum wage at a pizza joint, and at that time minimum wage was $3.55 an hour, and to have someone throw around those numbers, I was like, "Oh shit!" He was very direct too. He'd be like, "Start over, that sucks!" And I later realized I needed that. I needed that sort of real feedback initially. And he liked me, he liked that I was different. He liked to fuck with really weird shit. His original vision for Hollywood BASIC was that he wanted it to be international—an artist from Japan, one from the Netherlands, one from Africa, which eventually was Zimbabwe Legit. He had a vision for a specific roster that had all these different acts, but in the end it wasn't commercially viable. 
Is that why your work with Hollywood BASIC just abruptly stopped?
I stopped working for Hollywood BASIC because Dave's health declined so quickly. His column in The Source and Dance Music Report was actually called "Gangsta Limpin'" because he had these tumors that kept returning on his spine, so he literally was limping everywhere. And shortly later, he was wheelchair bound, and it eventually killed him. I'd done about three things for Dave, a couple mixes and some work on Zimbabwe's album [Brothers from the Mother]. The label was already on the down slope by 1993, and that was literally the moment James Lavelle steps in. It couldn't have been more serendipitous. 
So your work with Hollywood BASIC directly led to James Lavelle and working with Mo' Wax?
I think Lavelle and a lot of people were inspired by Hollywood even though it eventually folded. When I met Lavelle, the first time we spoke on the phone was around November 1992, and he was a huge fan of the Zimbabwe Legit record. One of the first things we talked about immediately was Funkenklein and his vision and why it was unique. What he was doing was so dope because it was a worldview to it. None of us, and certainly I, had no concept of what was commercially viable or what wasn't. I just knew that a lot of stuff that was on the radio I didn't care for. Lavelle and I had more phone conversations, and I felt he ate them all up. And I don't know if he already had his eye on DJ Krush or not, but he was a Major Force fan and Japan at the time seemed very exotic. And back then, nobody flew around as often like people do now. Lavelle really wanted his label to have that Hollywood BASIC aesthetic. He liked the idea of working with an American and the idea of working with someone from Japan. That's how everything with Mo' Wax began. 
UNKLE

The time has come

UNKLE

Psyence Fiction

what does your soul look like

and the groove robbers

The number song
Touch on The Time Has Come, the first UNKLE EP you were on. 
Well, the UNKLE project was originally a creative musical outlet for Lavelle via a producer named Tim Goldsworthy, who ended up [cofounding with James Murphy] a really seminal label in New York in the late '90s called DFA. So when I first started going to the U.K., Tim was already there, already a part of the setup and a part of what was going on. I first met him while promoting a Blackalicious track called "Changes" that I produced. Around '95, UNKLE was already going and Lavelle, as with me and others after me, he used UNKLE as a way of having artists make the type of records he'd like to play. Because he's not, at least at that time, he wasn't a full-fledged producer and didn't know how to work the equipment. UNKLE was always Lavelle's thing conceptually, and others have come in and breathed their own life into his projects. So he had me come in and do a remix for this release.
What was working on the first UNKLE project like?
It was tough, in all honesty. First of all, I relished the challenge. Without getting too tied down in the timeline, because it gets real messy around this time—around the spring of '95, Lavelle, Tim, and I convened in L.A. to work at the Beastie Boys' studio in Burbank. Lavelle has always been a massive Beastie Boys fan through the mid-'80s and mid-'90s. So we worked out of their studio and it became very apparent to me that we weren't working together real well. As I alluded to earlier about my sometimes headstrong attitude in the studio, this became an issue. So in that two- or three-week trip, I realized I don't do the collab thing very well. I can work with vocalists, because I am working with their voice and what it brings. But with producers, I feel like it's harder. 
So I told Lavelle, "Look, if you want Tim to do it, let him do it. If you want me to do it, I'll do it. But I'm not just gonna sit here in the studio to try to foster some sort of positive experience that I know is gonna negatively affect the track." So I essentially told James to choose Tim or me. By the summer of 1996, James had told me that he wanted me to do it. So I finished Endtroducing… and went straight into [working on the UNKLE LP Psyence Fiction], which I felt was a huge opportunity. The new MPC had just come out, and before, it only had twelve seconds of stereo sampling, but the new MPC now had sixty seconds! I was able to do so much more. I felt like my craft grew exponentially. Again, I was being told I was the dude who could do this. And when people believe in you, you rise to the occasion.
How was it working with DJ Krush? Was there a language barrier?
I first met Krush on tour in early 1994. I think there are some photos that exist of him and I on that tour. Someone is actually making a documentary on Lavelle; they're still working on it, I believe, and I gave them access to a lot of stuff. I used to record a lot of video around that time. To answer your question, working with Krush was dope. I always respected him from day one. 
For example, I liked James [Lavelle], and to this day I think he's a very good DJ, but I think, and he would probably admit this too, that with him it's not about anything technical. He's a crowd-pleaser. Whereas my favorite DJs are the kind that can read the room and are technical as well, in the same way Shortkut or D-Styles and Krush can do. These guys are artists enough to do something really cool and technical for the five percent in the room who care, but won't lose the other ninety-five percent just to pull it off. So Krush and I became good friends doing these crazy tours.
There also wasn't much of a language barrier that got in the way of what we had to do onstage or in regards to the tour. Like, we'd be DJing together and I'd hold up a record and he'd be like [frowns] or I'd hold up a record and he'd be like [thumbs up, smiling]. It also helped greatly that his management would never let him go anywhere without an interpreter. So whether it was us recording in New York or in Japan, he always had someone with him. He speaks very little English; about as much as I speak Japanese. [laughs]
Talk a bit about the making of Krush's "Duality," which eventually became one of his hallmark tracks. What was the division of labor like?
Amazingly, this was the first time I was in New York. For some reason, '94 and '95 are jumbled in my head, but Krush was working on his album out there. And this was before people did internet collabs, so it was definitely unusual for two beatmakers to work on a beat together. If I'm honest, I'd say I was a little hesitant in doing it. At that time, especially in the studio, I was a bit too headstrong about how I thought things should be. I'm sure the Solesides guys could attest that there were moments where I was less than eloquent where I was just like, "No, it has to be this way!" And I don't know if it's right or wrong, but that's how it was at that time. And I had so much respect for Krush, and, you know, he's no pushover either, but I didn't want to get into any confrontation, so I suggested the idea of us each doing our own part and then joining it in some way. 
I also think it had to do with the fact that Krush at the time was influenced a lot by a very downtempo, very New York, very sparse chops, not a lot of programming, nothing fancy—just head-nodding stuff. When you think about a lot of records at that time, it had a lot of that quality, this sort of post-Nas sound, and I was again trying to do something really different. I knew the drums I was going to use, and Lavelle was always complaining that he never had enough up-tempo stuff to put out, so that's how that came about. And Krush was really cool about my suggestions and ideas. I also came up with the title because of the obvious concept.
I felt like my craft grew exponentially. Again, I was being told I was the dude who could do this. And when people believe in you, you rise to the occasion.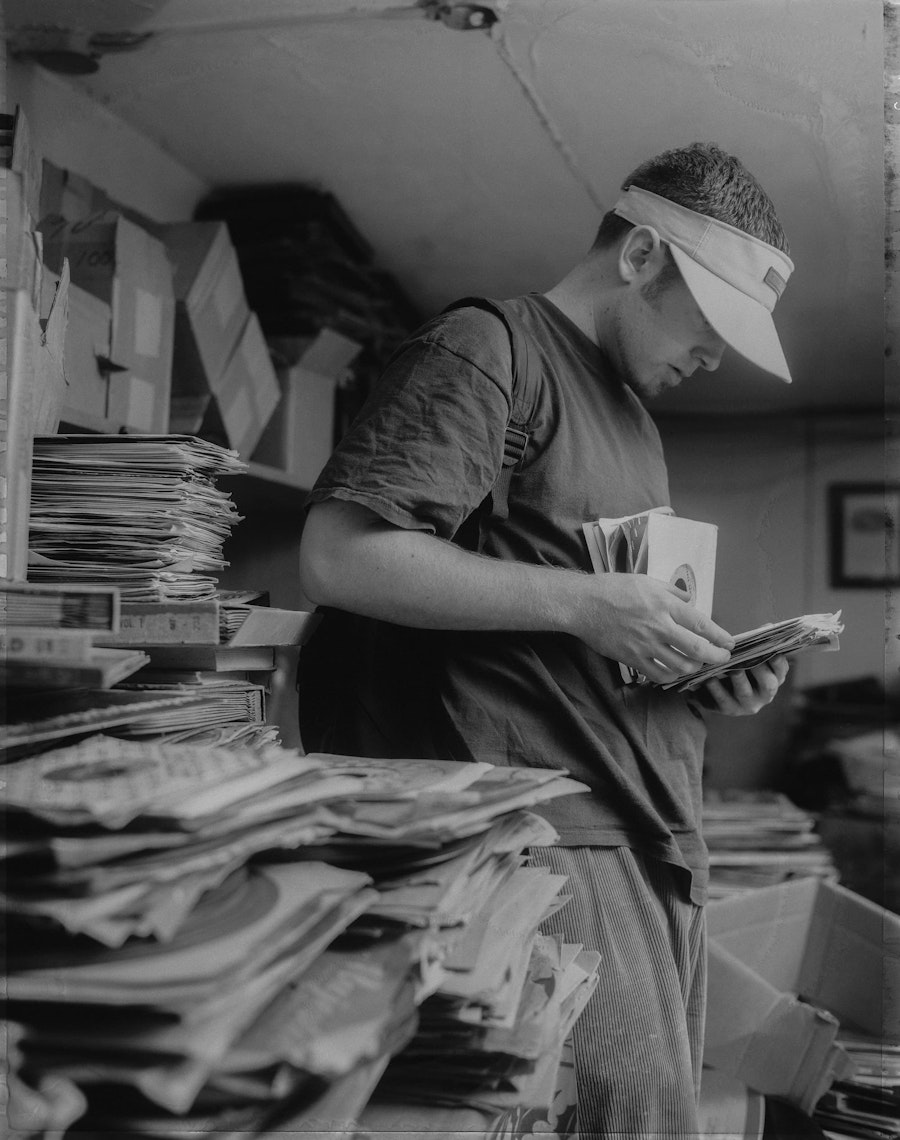 I really want to dig into a couple of releases, since they really not only set the tone for Endtroducing…, but also changed the framework for instrumental hip-hop that followed. Talk about the "In/Flux" b/w "Hindsight" release.
At the time when I met Lavelle, of course I mentioned that Dave Klein's health was failing, so he wasn't able to send me work. So I was doing mixes and demos for Profile, Wild Pitch, and Tommy Boy. I remember Funkmaster Flex, who was doing A&R for Profile at the time, he told me, "It's dope, but then it gets a little nervous." [laughs] Which was essentially his way of telling me he didn't recognize the samples I chose. If you think back to that era, what was popular was stuff like Nubian Crackers' [Cracker Beats], which were basically break records that you'd take whatever this record just used and use it yourself. My favorite of that era was Kenny Dope's "Supa Cat." It would be a phrase that was just repeated, no rapping came in, but different beats would come in. And it was a great club record. People would recognize parts of songs and be like, "Oh shit, that's the part from 'The Bridge'!"
So at the time, if you were going to attempt an instrumental rap record, that was what you were expected to do, these sort of club records. So the first and only person to come along and want me to pursue the weird shit I did on the Zimbabwe Legit record was Lavelle. He was like, "I don't want you to do what Diamond D is doing," or whoever was hot at the time. "I want you to do you," is what he said. And at the time, I wasn't even sure who that was. For me, what it was trying to do—and this really comes to the core of what I do—and sounds weird for me to even say this, but I wasn't just trying to make a beat. I was trying to tell a story within the instrumental form. With a record like "In/Flux," there are all these departures and stuff comes back around, and I really wanted to take people on a journey. For me, it wasn't just about a beat without rapping on it. 
Through the years, people would be like, "You're really dope, you should check out so and so," and I would finally check out the artist and be like, "Are you fucking serious? You think we're both trying to do the same thing here?" That used to kind of offend me, because what I loved about my favorite records like 3 Feet High and Rising, or Paul's Boutique, or It Takes a Nation is that there is this incredible amount of effort and thought in those records. I love that moment in Buhloone Mindstate where someone is telling Prince Paul to use this beat or use this loop or something to that effect, and he says, "Yeah!" and it goes straight into "I Am Be," which isn't a regular rap song; to me, it's an ultimate masterpiece. So that's what meant a lot to me, records like Bizarre Ride or even later, like Mike Dean's production on Last of a Dying Breed by Scarface. Like, I always really liked when people like Tony D would use stuff like Watts Prophets. I liked spoken word, and I liked the political stuff. That's what I'm always listening for, is a genuine vision and effort. 
The next release in the lineage is the "Lost and Found" 12-inch. Discuss that a bit. It's been widely bootlegged and there isn't much info about it.
This was a track that, in '94, a lot of critics seemed to love, and so it was in my head that perhaps people are liking what I'm doing, and I sat down to make something great and something ambitious. But this era coincided with my early twenties—I think I was twenty-two at the time. I wasn't fully financially stable yet and had to occasionally go back to work for minimum wage. There was a lot of turmoil; I was living with Xcel one year. I had to move my shit around all the time. I ended up having a falling out with 8th Wonder, who was a good friend I had all through the '80s and '90s, and now I had to move all my equipment out of his parents' place. There was just a lot of upheaval happening around me. So that was the environment I was in while making this record. At the same time, I also felt like there was a lot of expectations for what I was going to do next. This one is an outlier. It was intended to be a complete 180. I wanted to test people who thought I was making "acid jazz" or whatever they called it at the time.
The other sort of paramount track I want to discuss is "What Does Your Soul Look Like." Talk a bit about where your mind was at during its making.
When I think about that summer, it was '94 or '95, and I think about how I knew I had one year left in college. College was very valuable to me in the sense that I excelled much more in college than I did in high school. But once I felt like I understood the value of hard work and juggling all these things and tying to make a little money and trying to go overseas and tour, I felt like I had learned a lot and had grew up a bit. What is different about this record and "In/Flux" is that at this stage people were starting to write about my music. Mo' Wax got really good press, and all of a sudden all these magazines that I used to read growing up, like NME, were covering me. And, really, Lavelle stopped me and was like, "I want you to do an album."
Basically, even though this record was unfinished, I was only given a couple weeks to wrap it up and make everything feel like it gelled. But it also really freaked me out, because here I had thirty-three minutes of music that took me three or four months to make and by putting it out, it was basically asking me to make another album. The music I make now and the music I made then isn't easy for me to make. It's very time-consuming, it takes three weeks to a month to make a single track. I'm definitely not the kind of producer that can sit down and make ten hot beats a day—it just doesn't work that way with me. 
I wasn't trying to make a trip-hop record, or an electronic record, or an alternative record. I was trying to make a hip-hop record, albeit an adventurous and progressive one.
Yet, you then go on to do Endtroducing…, an epic record in scope. How long did it take you to go through all those bits and pieces of samples? Were these already accumulated; did you have these ready to unleash?
Well, what I thought at the time was, "Okay, they want to release these four finished songs as a single; I better get back to work making new songs." So in essence, I had to start the album all over again. Because I had no real public profile yet, there was no pressure to be productive beyond what that which I put on myself, and of course I wanted to make Mo' Wax happy. I would work on the album for a time, and then do something else, or go on tour, or get distracted doing Solesides stuff. This went on for about a year and a half. During that time, I was always "digging," always looking for elements to complement the songs I was working on. I remember going with James [Lavelle] to DJ in Australia in December 1995, and us deciding that I needed to make finishing the album a priority, so from January to June of 1996, that was when the real core album work took place—the difficult decisions and final touches. I basically did nothing else during that time. 
When one looks up all the samples, there are just so many. And the crazy thing—that I don't even remember about the record—is that there are so many hip-hop samples. I guess I just want to know a little more about your thought process at the time; were you purposely trying to make it super dense?
Well, remember, I wasn't trying to make a trip-hop record, or an electronic record, or an alternative record. I was trying to make a hip-hop record, albeit an adventurous and progressive one. And if you consider that my primary influences were people like Afrika Bambaataa, Double Dee & Steinski, Prince Paul, or others, I think you can see where I was headed. I wanted to ramp up the creative, mind-expansive side of hip-hop instead of the crass commercial side. I knew full well that some people would question my roots, question who I was and whether I had paid my dues. I actually used to relish people trying to test me, because I would leave them kind of stunned, like, "Damn, this dude knows his shit." The whole point was that I felt that hip-hop had become conservative and kind of twisted, but rather than go around ranting about it, I decided to make the kind of record I wanted to hear someone else make. Something that respected and was informed by the culture, but resisted the blatant commercial clichés. And, yet, I didn't allow the record to be some kind of "Let's take it back to the old school" manifesto, because, to me, that's too easy. Sample-wise, I was just trying to live up to and pay homage to classics like Paul's Boutique and 3 Feet High and Rising. They set the bar. 
You mentioned that you're the type of producer who "can't make ten hot beats a day" and that one song could take upwards of many months. What was your working process on Endtroducing… like? Were these concepts and ideas fully realized or came about as things were constructed? The aim of this question is to get inside your head a bit.
I recently was reading Philip Bailey's autobiography [Shining Star: Braving the Elements of Earth, Wind & Fire], and in it he described the process that arranger/producer Charles Stepney took. Basically, playing tracks over and over in his studio, adding twenty little things at a time, and stripping nineteen of them back, only keeping the elements that really gel, and then starting the process again. That's a pretty close comparison to the way I work. I get songs to a certain point, and then let them marinate until I can revisit them with a fresh perspective. I find that I sometimes try to fool myself into thinking something is "close enough" simply because I've become wary of messing around with it and I'm trying to trick myself into thinking it works. But with the benefit of a few days away, I can very quickly determine what truly works and what sticks out like a sore thumb. I call it my "bullshit detector." [laughs]
When you're asked about Endtroducing…, what do you think is the most common misconception about that record and what you put into it? As a lifelong music fan yourself, how did you think it fits in the pantheon of instrumental albums? And how does it strike you now?
I guess I would say that the most common misconception at the time is that I was trying to diss rapping and rap music. I was somewhat horrified by this interpretation, which I felt was often used by "rock" types, as in, "I hate rap music, but I love DJ Shadow!" That freaked me out a bit. I loved, and still love, rap, old and new. I felt that this was really an uninformed take on what I was doing. They also seized on the title "Why Hip-Hop Sucks in '96" as further ammo for their own warped interpretation when obviously that was a tongue-in-cheek title by someone who clearly loved hip-hop culture, loved it enough to criticize it. As far as where [the album] fit in. I was just trying to be me. I wasn't trying to be anyone else. I knew I was proud of the record, but I had no expectations beyond that. After twenty years, I have learned that for some people, the album has certain indefinable qualities that I can't deny, but that I also can't take credit for. I didn't sit down and try to make a classic or anything like that. I tried to make good music that lived up to the high standards set by those who came before me.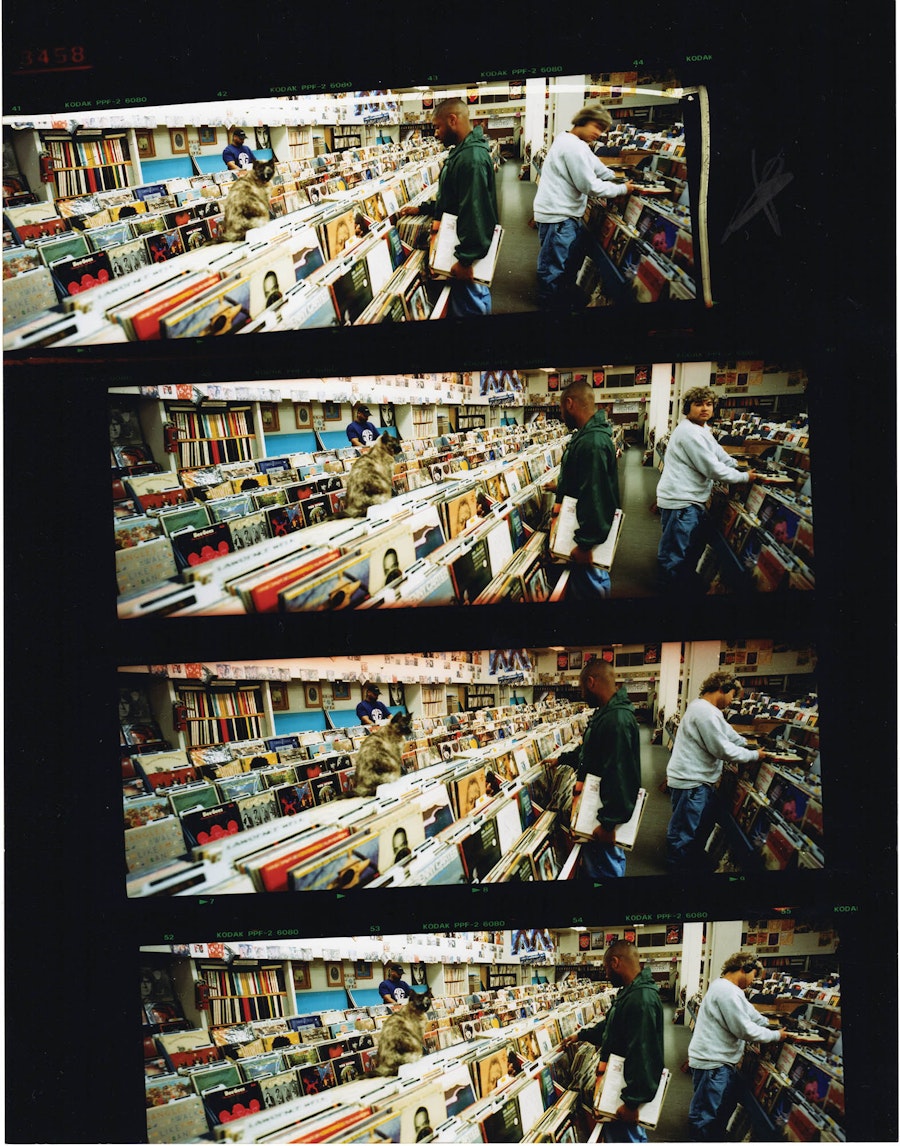 I want to intersect the collecting aspect of your narrative since it has, through the years, driven your production work. When did it become a definitive facet of what you do? It certainly is tied to your rep and, of course, output.
I find that a lot of people are really fascinated by digging culture. It's one of the most common things I get asked. It's something that is so much a part of my life and so much a part of my identity that I am in some ways very protective of it. It really affects whom I interact with on a digging level. I get emails from people who are like, "Yo, I got your email from so and so, let's meet up and talk about records," and I usually just let those go. I find that so many people miss what it's about. To a lot of people, it is about grails, how much you spent on records, how many records you have, that type of stuff. All of the people that I have close relationships with before there was the internet and before these records were worth anything have a totally different take on the concept of digging. I just feel like it's one of those things that needs to be said. 
There's a guy name Ben Nickelberry, for example, who goes by Beni B, he's an OG. There are very few people around when we were doing it. My homie 8th Wonder and I would go and there wasn't anybody around. If there was, it was English dudes looking for "northern soul." No Americans were doing it at that time. Obviously, there are a few dudes in every city, and I am specifically speaking on this region.
To us, the records were cheap and they weren't worth much yet. Once people started assigning value to them, I encountered all these dudes who called themselves diggers, and I couldn't relate to them or understand their aesthetic, not even one percent of it. Because, again, it was about ripping dudes off, and "I traded with this idiot for a $500 record, how cool am I?" And to me, it was hideous and just fucking up the game. So for me, I went inward and was like, "I fuck with these four people and that's about it." Occasionally, you meet people who are on the level, like Supreme from the Northwest or others I know who have a lineage there and an understanding that goes beyond the internet. 
What's a trip you took in search of records that's particularly memorable?
I did my first cross-country digging trip in 1993. I was actually sponsored by the Austrian government to do it. I got a call from Dave Klein, and he was like, "Yo, Shadow, I got this call from this lady named Katarina who wants a guide to take her and buy records, and get the contacts, and line up interviews with old soul artists. You're of course the first guy I thought of. Call me back." 
So of course I was down, and I went to L.A. and she flew in. She apparently worked for their equivalent of an Austrian NPR radio show or something. We went to New Orleans in 1993, and literally there were at least eight places in the French Quarter alone with over a half-million records. And literally every store had records, didn't matter if it was a bookstore, a furniture store, thrift store, it didn't matter—records were everywhere because they weren't of value. Then, literally, within about five years, it was all gone. 
On that trip, I was able to hook Katarina up with Eddie Bo, and he hadn't been interviewed since the '80s at that point. And he had been missing for years because he was in a cult. He was the sweetest dude, but he was even like, "Those were dark times for me." So I was given a wage and a budget, and I got to keep all the records. All I had to do was transfer all the records onto DAT, and after she would call and say, for example, "Okay, we're going to do a Kansas City episode," and I'd have to send over music that would help facilitate whatever her show was covering. It was also the first time I was in Music Exchange, this store in Kansas City. I passed out where the 45s were because I hadn't eaten or slept, and she literally woke me up amongst the 45s. [laughs] 
 
Cut Chemist is intertwined with your narrative, certainly the digging aspect and a number of huge projects. Speak on that relationship a bit.
I think we met around '95. Obviously at that time, we were both aware there was another person who did a record called "Lesson 4." I remember DJ Zen telling me about it and saying it was dope. Around that time as well, [Jurassic 5] were making forays up to the Bay Area for shows and radio shows. So I met Cut at a record show in Berkeley. I remember Matthew Africa was there, and Beni B as well. And we just started talking about hip-hop experiences and records. It's not very often you meet someone, and at that time, you used to sprinkle the conversation with little things to see if people would pick up on what you're referencing. And if they did, then you can go to the next level and speak more. 
So I'd talk about Mantronix and how dope he was, and Cut is the kind of guy that could jump in and talk about each and every one of his remixes. He's one of those people where we realized our experiences aligned incredibly well in terms of when we heard pivotal things and our home experiences as well that allowed us to hear these things. People in the '90s started calling us brothers, and I think some people actually thought we were brothers. [laughs] I mean, we were similarly passionate about the same stuff and thought the same stuff was wack. It was kind of inevitable that we'd become tight. I kind of formalized the relationship by asking him to remix "The Number Song." I actually asked him and Jazzy Jay, but Jay ended up calling me and telling me he didn't know what to do with it. So it eventually was just all Cut. All the other stuff we did through the years, it seemed like people just gravitated towards our projects. He had his fans, I had my fans, and together it was like having circles that overlap that creates a new shape.
Where do you think you fit into modern music?
I never really know, man. Honestly, my ex-manager had a good saying: "You're only good as the last burger you flip." It's like, I've done stuff that I think people have liked a lot. I've done stuff that's been ignored, I've done stuff that's celebrated, I've done stuff that people have hated, I've done stuff that people are receptive to. I find solace and comfort in seeing other artists do what they love and keep doing for a long time. And I'm not comparing myself to Miles Davis in any way, but he was a hero, like Neil Young, or Lou Reed, people who have ups and downs and there are times when their energies and perspectives align with the mainstream, and there are other times when it doesn't. 
I think that the only thing that other artists do that disappoint me is when they give up and stop trying. Inevitably, there's this moment where they say, I'm tired, I'm just going to do what they want me to do. And that's the exact moment where as a fan I lose interest. I'd rather have them fail miserably and fall flat on their face while reaching really high for something rather than doing the same thing over and over. I've now also have come to terms that not everyone shares that perspective, and I think there are a lot of people who'd want me to keep making the same stuff. But to me, it's a rhetorical dead end or intellectual fast food. It would taste real good for a moment, but ultimately it'll be full of empty calories.
Music critic Robert Christgau said The Mountain Will Fall is "heavy on first-rate texture, rumble, and of course beats," and your "best since The Private Press," which he says "is a sound effects record by comparison." What's your reaction to that?
I certainly feel like when I sat down to make it, I felt ready and I felt inspired. I think one of the defining decisions that help set the course for the record was that I knew I wanted to mix it myself. I haven't mixed any of my stuff since Endtroducing… And that's not to say that in any of my songs I let people do whatever they want with my records. I'm always there sweating and having people move things up and down a tiny bit here, a tiny bit there. I'm always extremely hands-on, but one of the things I didn't know when I made Endtroducing… was that I didn't know what compression was or other technical things. All I knew was bass, treble, left, right, up, and down. I didn't know reverb or any of the other things plug-ins now allow us. A lot of it has to do with Ableton and how intuitive it is—it certainly speaks to the way my mind works. Before Ableton, I always felt like I was in over my head or just a little bit lost and Ableton helped.
After I stopped touring for the last album, I fell into DJing again. So I was playing a lot of other people's music, which led me back into this sort of discovery mode in a really immersive way. I hit the road in 2013, and my only concept to myself was to only play music from that year, so literally I could only listen to hundreds if not thousands of songs to build my set. And in the process of doing that, I was able to determine what I was comfortable playing. I wasn't going to do any EDM, but I'd do post-dubstep, pre-trap, beats that felt hard and rap influenced. For literally decades now, I hadn't subsisted on a diet of purely rap; I always augmented it with drum-and-bass; stuff like Portishead, you name it. I was always on the lookout for beats that were more fierce than rap beats. And in dubstep I felt there was that feeling that wasn't in techno or house. They were more menacing and more swag than other electronic music that I tended to ignore. First getting into U.K. dubstep, I felt there were ideas that didn't exist when I first started making music, putting snares and kicks together then mixing them together and doing other stuff that wasn't available to do back then in 1996.