After splitting with his crew in Japan, DJ Krush embarked on a journey with British label Mo' Wax that found the turntablist/producer using hip-hop's breakbeat foundation while pioneering a new genre of abstract instrumentals.
Hideaki Ishii was part of the first generation of b-boys in Tokyo that started their own version of hip-hop after getting exposed to the burgeoning youth culture via Charlie Ahearn's seminal film Wild Style in 1983. Following a few years of honing and showcasing his turntable skills in the streets of Harajuku, during which he adopted the moniker DJ Krush, he formed his group Krush Posse in 1987 with DJ Go and Muro, who was an MC at the time but is now a globally renowned DJ and crate digger. Krush Posse established itself as an authentic hip-hop act that brought the true essence to the table at a time when hip-hop was often misinterpreted or misrepresented in Japan.
But while the other members of the group were focused on tracing and recreating what they were hearing on wax coming out of New York, Krush was more experimental in nature and was interested in taking the music to a new plateau. Krush Posse broke up in 1992 due to creative differences, and DJ Krush decided to push on as a solo producer.
After releasing his debut album, Krush, on a Japanese label in 1994, he teamed up with James Lavelle of the influential British label Mo' Wax and released the innovative, forward-thinking instrumental album Strictly Turntablized later in the same year. While the debut was a stylish jazzy affair featuring jazz musicians and vocalists, the second effort was a mind-bending journey into an expansive universe of dusty, warped samples and crunchy, head-nodding drums. The album displayed a decidedly darker, heavier, more atmospheric, and abstract sound than his prior releases.
Following up with Meiso in 1995 and MiLight in 1997, DJ Krush became one of the leading and defining figures behind Mo' Wax's "trip-hop" movement alongside DJ Shadow. With creative and intricate sonic layering and knife-sharp turntablism, DJ Krush's music became responsible for opening minds to the concept of instrumental hip-hop—hip-hop music that doesn't require rhyming to captivate the listeners.
His stint at Mo' Wax lasted until about 1998, but his creative streak continued until 2004, spawning several albums, singles, and remixes, with each release revealing new sonic depths in his ever-evolving sound. His music has touched and inspired countless souls in all corners of the globe across generations, with people like Flying Lotus citing DJ Krush as a major influence. He continued to tour extensively, and after putting out a string of singles in 2011 and 2012, came back with a new album in 2015 entitled Butterfly Effect, his first full length in eleven years.
In 2016, at fifty-four, DJ Krush continues to keep a hectic DJ schedule. And when he's not out on the road, he remains in the lab, crafting beats and sharpening his skills. I had a chance to chop it up with the legend before a show about his early days and his iconic releases on Mo' Wax.
You've mentioned in interviews about how watching Wild Style when it first opened in 1983 inspired you to take up DJing. When did producing become a passion of yours?
I started making beats after I formed Krush Posse with Muro. Back then, we didn't have great equipment to choose from. I had a four-track recorder, and I would record myself playing doubles of a breakbeat on one track and then punch-in scratches on top. It was a lot of work to make one beat back in those days. I had a Boss sampler that could only record a second of a sample. Eventually, better drum machines came along like Akai and Casio RZ-1.
After Krush Posse disbanded, you put out your first solo record, Krush, in January 1994. It was released through a label named Chance, a Nippon Columbia subsidiary. What was the story behind that album?
Before that, while I was still with Krush Posse, I was asked to do remixes of a few of the tracks from [Japanese cult film] TVO's soundtrack. That was released as an EP [in 1991] and that was what got me noticed initially in the U.K. "Acid jazz" was a big movement at the time. In Japan, we had acts like Mondo Grosso, UFO, and Monday Michiru. Overseas, there were people like Galliano and Brand New Heavies. I was kind of seen as part of that movement.
Muro and [DJ] Go were really into soul and funk music that was sampled in hip-hop, but I wanted to go a different route so I was sampling a lot of jazz. Then Krush Posse split and I went solo. A guy named S-Ken heard my TVO remixes and the stuff I did with Monday Michiru and liked what he heard. He was just starting his own label under Nippon Columbia and asked me if I'd like to release an album through his label.
At the time, my mindset was like, "What can I do by myself?" Since I didn't have an MC with me anymore, I wanted to see if I could do hip-hop music without any rapping. That doesn't seem like a far-fetched idea now, but back then I didn't know anybody that really did that. I was also part of a band called Jazzy Upper Cut, so I asked the musicians to play over my beats. I decided I do want to include some rapping on the album, so I asked [Gang Starr's] Guru to rhyme on a track.
I'll never forget what one of the band members had told me once. He said, "What can you really do? All you do is scratch records. Can you even do a solo?" That really got to me. I decided that if I'm really gonna do this, I have to take it to a musician's level. Being in the band really molded me to have a musician's mindset.
Guru raps on "B-Boy Mastermind," a track found on the Japanese release of Krush. I read in a previous interview that when you first met Guru, you gave him a rare record as a present.
I gave one to DJ Premier too. When Gang Starr first came to Japan, they were the sub headliner—Dream Warriors were the main headlining act—and we [Krush Posse] were the opening act. It was in Kawasaki or something. We were big fans of Gang Starr, so we went to their dressing room to say hi. I was especially excited to meet DJ Premier. I had with me a vinyl compilation of the instrumental breakbeats they used in Wild Style. At the time, you couldn't get that in the States, but stores in Japan had them. Premier and Guru saw it and they were like, "Where'd you get that!?" They looked extremely jealous, and we felt bad, so we told them, "We'll go to Tokyo later and get it for you." They were very excited to take home that record.
Then in August of 1994, the EP Bad Brothers came out, which featured your remixes of Ronny Jordan tracks. How did this come about?
Man! I hadn't thought about that record in a while! And R.I.P. to Ronny Jordan! I was devastated to hear that he passed away [in 2014]. Bad Brothers happened out of the blue. Apparently, Ronny Jordan had heard my track "Big City Lover" from Krush and decided he wanted to work with me. I got asked to remix a few of his tracks, and I was honored. It was pretty rough though, because I only had a week to finish it. But it was my first big commission from overseas, so I was delighted to do it.
One thing that left a big impression on me was how he treated me as an artist even though I was a DJ and an up-and-comer. Though it was a remix project, the contract was set up so I'd receive proper royalties from sales and that helped me a lot. I've been in situations where DJs and hip-hop producers were seen as unimportant or taken advantage of. He showed a lot of respect, and I was grateful for that.  I'm happy I got a chance to do a session with him before he passed, when he did a show at Blue Note in Japan some years back.
How did you link up with James Lavelle?
My first album was only out in Japan at the time. Over in the U.K., people like Paul Bradshaw, who was the guy behind the magazine Straight No Chaser, and Gilles Peterson liked my TVO stuff and some of the demo tapes that I had sent over there. James, who was working for Paul, heard them as well. Back then, I was making a lot of beat tapes. I would have a new cassette full of beats like every week. James and Gilles both liked the demos and offered to put out an album on their respective labels, Mo' Wax and Talkin' Loud. 
I wasn't sure which label to go with. Then Paul did a Straight No Chaser tour in Japan, and I got to meet James Lavelle in person. He was really young, but he had a vision. I liked his enthusiasm, and I decided to go with Mo' Wax.
If you listen to Krush, you'll notice I threw in weird little breakbeat tracks that sound a bit different than the rest. I put the tracks in there because I was already getting bored of "acid jazz," and I felt like the vibe on those tracks was the direction I wanted to go in. So I threw those in there as kind of a taster of what's to follow. James loved those tracks and said that he wanted to do a whole album of that sort of vibe, and that's exactly what I was thinking, so we were on the same page.
I felt like that was the way to move forward. A form of hip-hop music that doesn't rely on rapping nor instrumentation. And not just a simple, Kenny Dope kind of looped beat, but a track that has twists and turns. With abstract, obscure samples.
That vision is realized on your second full length, Strictly Turntablized, also released in 1994 on Mo' Wax.
Before I had that album out, James, DJ Shadow, and I went on a tour in Europe. [The Mo' Wax Headz tour in 1994] We did shows in about seven cities in Europe. I don't think DJ Shadow was really known back then, and neither was I, so the people that came out to the shows were mainly fans of the Mo' Wax brand.
I remember playing some really heavy, low-tempo stuff at the shows. The people would kind of look confused because they couldn't really dance to it, but I didn't care and I kept playing whatever I wanted to play. I wanted to establish a brand for my music, even if a lot of people didn't get it right away. Eventually, people would start to catch on.
After the tour, we immediately went into the studio in London, and I made Strictly Turntablized. I had brought my drum machines, Roland MC-50 and AKAI S-1000, and a bunch of demo tracks from Japan. But after doing shows outside of Japan for the first time in my life, I got all this new inspiration, and suddenly those tracks didn't sound right to me anymore, so I remade most of them right on the spot in the studio. I would stay up for hours recording tracks.
How were those shows in Europe different from shows in Japan?
I felt the audience was more open-minded. I was able to be myself and just do whatever I wanted to, and they would generally accept it. So I told myself that I was just gonna do me. Do my version of hip-hop.
What sort of sets would you DJ at these shows?
It was all vinyl of course, and I couldn't take too many records with me, so I had a bag of about a hundred records and I had several routines I could do with those. It would be hip-hop, or it would be breaks, and I'd layer some jazz on top or something. Some Miles, Jimi Hendrix's guitar solos, Funkadelic's Maggot Brain, stuff like that. When I layer, I'd make sure the records would be in key too.
It was common for DJs to scratch vocals on top of beats because that doesn't have a key. But I liked blending songs live because I was used to playing with musicians, but when stuff is out of key it'd sound horrible. So I really trained my ear to be able to play long samples on top of beats and stay in key. Being in the band helped me in DJing and production.
What was your impression of Mo' Wax at the time?
From the music to the cover artwork, they were cutting edge. They weren't catering to anybody's needs; they were just doing what they wanted to do. They were at the frontier, picking out and showcasing the newest innovations in music. I really liked how James thought. Being an Englishman, I felt he had a different view than Americans.
From the music to the cover artwork, Mo' Wax was cutting edge. They weren't catering to anybody's needs; they were doing what they wanted to do. They were at the frontier, picking out and showcasing the newest innovations in music.
Why do you think your music was more accepted in Europe than in Japan or the U.S. at the time?
Europe was more open-minded, I think. Instead of just putting out something, they put their own spin on it. That's why genres like drum-and-bass and dubstep were born in the U.K. I liked their experimental nature. In America, there was a sense of, "If an MC ain't rapping on it, it ain't hip-hop." Hip-hop at the time in the States seemed kind of limiting. So I couldn't make a name for myself in America right away. I wanted to though, but I decided to make some noise in Europe first, and then take my music to the U.S. And then eventually, I came back to Japan. And it was funny, because now that I got stamps of approval overseas, people in Japan were like, "Krush! Krush!" even though most of them didn't give a damn about my music before. [laughs]
It was difficult to find an audience in Japan. Even when I was with Krush Posse, we were often told we should do something more in line with what was popular back then. People didn't get what we were doing.
What was the Mo' Wax tour like?
Mo' Wax didn't have much money, so we'd spend nights cramped in a dirty van. James in the passenger seat up front, Shadow in the middle seat, I'd be in the back. We'd only get to sleep on a hotel bed every few days or so. We had many shows crammed into a tight schedule, and we didn't get paid that much, but it was so much fun. James had a vision, and he took a chance bringing Shadow from the U.S. and I from Japan. We all shared the same ethos, and I felt like what we were doing would pay off later.
It felt like this attention I was getting from the U.K. was my last chance at a musical career. My career wasn't going anywhere in Japan. Japanese record execs would tell me, "I think your music is great, but stuff like this doesn't sell here." And when Krush Posse split, I felt lost because back then, I couldn't imagine a hip-hop DJ having a career without an MC. I was almost about to give up on music altogether. I had a family to take care of. But I told myself I was gonna make a living off of music, and I didn't want to give up that easily. So I set myself a deadline. If I can't make music a viable career within a year, I'd quit. That's when I started getting noticed in the U.K. through my TVO work, and Mo' Wax offered me a deal.
I'll never forget what my then-girlfriend's father, my father-in-law now, said to me. He saw me on the turntables and said to me condescendingly, "You're not going to make a living doing something like that!" That's when I vowed to make music my career.
When DJ Shadow's Endtroducing… came out in '96, what was your initial reaction?
I was in awe. I listened carefully to that album. It was a classic.
Was there a rivalry between the two of you?
We collaborated on my track "Duality," so I already knew what he was capable of. But I never saw him as a rival. I was impressed by the way he programmed beats, and his music was incredible, but I always felt his stuff and my stuff were pretty different sonically, even though both of our music are rooted in the same hip-hop breakbeat mentality. I give props to James too for discovering somebody like that.
When yours and DJ Shadow's music started getting described as "trip-hop" music, did it irk you?
It was just something people were saying. I think most of us artists didn't like that term at all. I wasn't making anything that could easily be put into a neat little box anyway. But I don't really care what people call my music. Back then, I'd say to people, "I don't make trip-hop music, I make DJ Krush music." [laughs]
Talk to me a little about your sampling method in those days. What sort of records did you like sampling from?
I was never the type of producer to just take a big chunk of a record and loop it up and call it a beat. I've always liked taking elements from here and there and construct a beat, so I'd need a big palette of sounds. I always thought jazz was a colorful music with a lot of nuances, so I'd say I probably draw from jazz the most. I'd avoid records that I know other people sampled from. I used a lot of popular drum breaks but never popular loops. I wanted to paint using different colors than others. The fact that I was in a jazz band probably also affected my choice of sampling.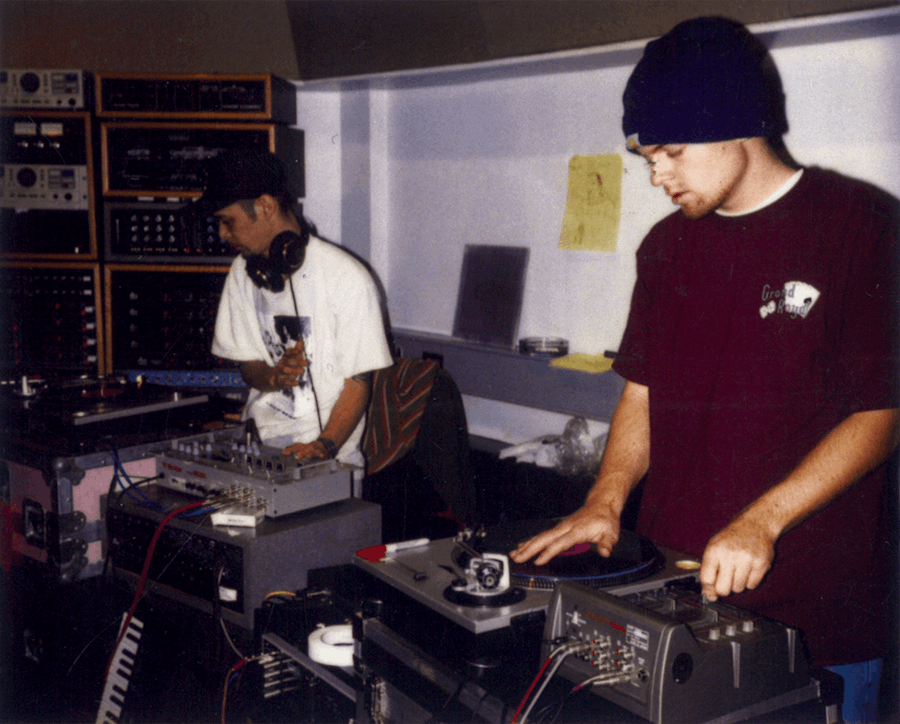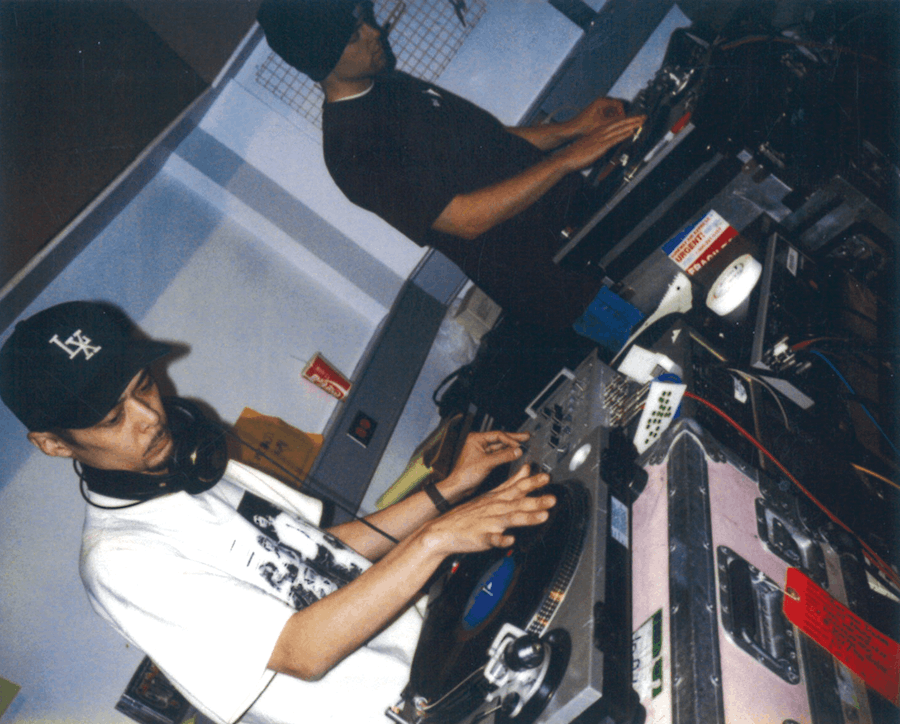 I wanted to establish a brand for my music. Even if a lot of people didn't get it right away. Eventually, people would start to catch on.
Did you listen to a lot of jazz growing up?
My dad was into jazz heavily. But he also played other stuff too, like James Brown, Santana, everything. When I was in junior high, there were these older guys living next to me that were really into '60s and '70s funk. I'd go over there often to borrow their 45s.
I'd listen to rock and other stuff too, but Black music resonated with me the most. And then, when I discovered hip-hop, I realized they were sampling all the music I had grown up listening to. I still keep a pretty big collection of 45s at my house.
On Strictly's "Yeah," you sample Miles Davis's Bitches Brew.
Members from Jazzy Upper Cut put me onto Miles Davis, and I started listening to him a lot. I was like, "He's doing everything we've wanted to do!" I went through his catalog and listened to everything he did.
But when I sample, I don't think like, "Yeah, I'm gonna sample me some Miles Davis!" What I would do was I'd build a basic beat, and then I'd play different records on top to see which one fits, which one is in key. I would just look for certain elements in songs that I needed for that particular track. It just happened to be Miles Davis sometimes, or some obscure Japanese records other times. That's how I did it.
Major labels in Japan were very careful about sampling. I would have to give them a list of all the samples I used on the record and they would go through it one by one, getting permission. At the time, a lot of record companies were getting sued for sampling. Labels in Japan were terrified of getting sued. They would tell me, "If you're going to sample, make sure it's unrecognizable." So I'd break stuff down and warp it when I sample.
Would you say that necessity to make sample sources a secret contributed to your music becoming as abstract as it did?
I guess that was a part of it, yeah. I'd lower the pitch down significantly and then make a beat out of that sluggish sound. Man, tracking down everybody to get permission for a sample was a huge pain for us. A lot of the records I'd use, the labels that released it would already be out of business or something and some of them would be impossible to reach. Sampling became such a hassle for us producers, and that's why some of us stopped sampling altogether, and others just made sure that it was unrecognizable.
Do you remember what you sampled to get that strange melody in the single "Kemuri?"
I forgot what record that was, but it was a jazz record, I think. Maybe James gave it to me. On "Kemuri," all the samples you hear are in reverse. I made a remix of that track ["Kemuri Untouchable Mix" from Stepping Stones: The Self-Remixed Best], which has all the samples in its original form. Of course the drum break is a famous one [Dalton & Dubarri's "I'm Just a Rock 'N' Roller"]. And all the high-pitched noise you hear me scratching is from a scratch record my friend DJ Honda made.
You put out your third album, Meiso, in 1995. You decided to recruit some rappers this time around. Why?
On Strictly, I wanted to see if I can do an all-instrumental album and make it work. But as I got ready for my next album, Meiso, I started to wonder what it would be like to have rappers from America over my tracks. I was heavily influenced by American hip-hop, so I definitely wanted to have that flavor in my music and focus on that market. So my concept was to have half the album be hip-hop tracks with rappers, and other half be the instrumental stuff that I was becoming known for.
I went to a studio in New York to record with rappers. I remember it was a lot of work to get all the raps recorded. C.L. [Smooth], for example, was scheduled to come in during the day, so I was waiting at the studio but he doesn't show up. Later in the evening he shows up with a few of his friends, and he tells me he hasn't written any of the lyrics yet! So I had to wait while he writes his lyrics. [laughs] People just operated differently than in Japan, and I had to get used to that.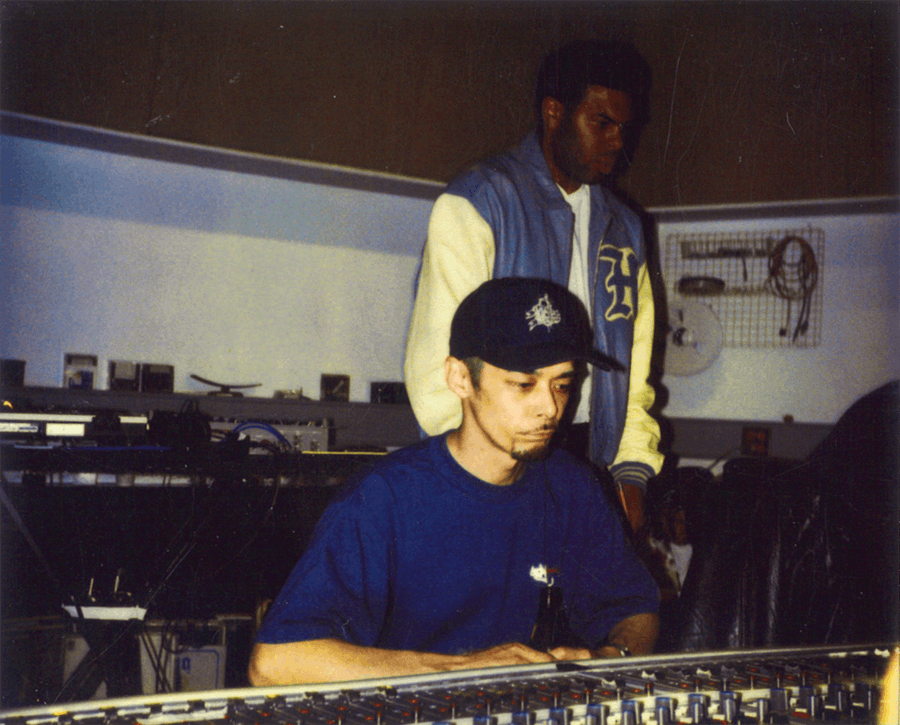 Besides C.L. Smooth, you got Black Thought and Malik B. of the Roots on the album. You also reconnect with Black Thought and Questlove on Zen (2001). And "Hardware," the lone single from Black Thought's aborted MCA solo debut, Masterpiece Theater, was a DJ Krush production. How did you get to know the guys from the Roots?
I first met the Roots when I went to England for a show. They were with Talkin' Loud at the time. It was a show put together by Straight No Chaser called London Jazz Festival, and acts like the Roots, Bjork, MC Solaar, and myself shared the stage. Man, it was an incredible lineup.
Your fourth album, MiLight, came out in Japan on Sony in 1996, followed by an international version on Mo' Wax in 1997.
I signed with a major, Sony, when I did Meiso. For Meiso and MiLight, Sony owned the masters and Mo' Wax was the licensee for overseas releases. Guys like Shawn J. Period and Mos Def, I worked with them before they were big. After they did my album, Rawkus blew up and they were suddenly big names in the hip-hop circuit. When I did Meiso, I carefully selected every feature and I did a lot of preparation, but MiLight was more loose and spontaneous. My engineer, Ken "Duro" [Ifill], would tell me who the hottest names were at the time, and I just shook their hands in New York and asked them to hop on my album. I tried a lot of different ideas in the studio.
I would say on MiLight, I didn't draw my sword out like I did on Meiso. I kind of think I kept my weapon by my side throughout the album. I think it was a more subtle album. It reflected the times. I remember, there was a bombing in Oklahoma, and I saw a picture of a fireman holding a burnt baby in his arms on the front page of a newspaper in the studio in New York. I had a child too and that just affected me on a deep level. That inspired the theme on the album. The album had a message for the future, and the sound was a reflection of how I felt at the time.
Looking back on the Mo' Wax days, what are your thoughts?
The '90s was an interesting, inspiring era. I think London was especially exciting back then. A lot of new music was being invented and exported out to the world from that place, thanks to people like the Mo' Wax guys. Plus, we didn't have the abundance of information that we do now, which meant that we had to go look for things. Not everything was already laid out on the table in front of us, so we had to experiment, explore, and try new things ourselves. That really made it fun for someone like me.