Despite the many differences in structure and sound design, jazz and punk are more alike than we might think. The similarities become clear from the releases on London-based Gearbox label. Inspired by legendary Blue Note engineer Rudy Van Gelder, label head Darrel Sheinman built a high-end analog studio in 2012, which now provides a home to a young jazz generation that brings free-form back to the present time. 
The history of Sheinman's Gearbox label is full of apparent contradictions. After successfully releasing old BBC U.K. jazz recordings on vinyl, they focused on rising new artists. After building up a U.S. audience, they opened an office in Japan. "It seems like a paradox, but I totally believe in elitism—for everybody!" says Sheinman.
Binker and Moses's award-winning debut album, Dem Ones, was arguably the first release to break that fresh U.K. jazz sound in 2015, followed by contemporaries who conjured up jazz, grime, and hip-hop. 
"They might be much better trained in their instruments than the punk guys were, but there's a lot of similarities in their spirit, which shines through in their music."
You are a drummer. How did you make the switch to studio engineering?
My interest in recording started out when I was a young kid. I played the piano and guitar as well, experimenting with overdubbing, using two cassette recorders. It sounded right rubbish, but it was good fun! As an adult, I initially went into different areas to make money, while continuing semi-professional as a musician, touring around. When I started the Gearbox label in 2009, it was still mainly a hobby. It became a full-time occupation in 2012 after opening up our studio.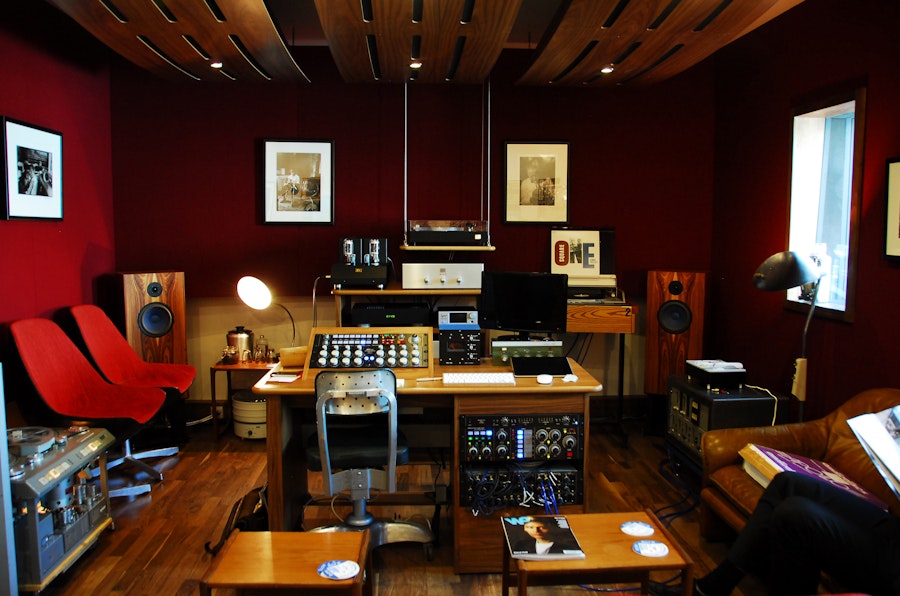 At the start of Gearbox, you were remastering old reel-to-reel recordings from the BBC's huge jazz collection. It's a big archive, what was your focus?
Initially, I was looking for anything, it wasn't genre specific. But I quickly found out that I could only get the rights for jazz music. Old British jazz. It was mostly really obscure stuff! So I decided to go for the famous guys in this area, and that's how Gearbox started. With music by Michael Garrick and Tubby Hayes, Joe Harriott, Dick Morrissey, Ronnie Scott… All the stuff from the BBC catalog was so well recorded and a lot of effort went into playing it; I wanted to make sure it was remastered properly. Eventually, I got access to some vintage equipment, which we used for building the studio. I sort of copied the Blue Note setup, to be honest. Rudy Van Gelder was my hero engineer, so I was following him in terms of techniques. 
Later on, you also connected with Mark Ronson's studio, which is next door.
Yes, we came up with the idea to tie the two studios together with cables. Luckily, we had sponsorship from Chord, because all these long cables would've otherwise cost us a fortune... Thanks to that, we made it possible to do live direct-to-disc recordings from his studio. Mark's moved out now, but Apple Music's Platoon sublabel is running there, so we can still use that connection. So yeah, we have a nice facility, really. 
How do you get so deep into recorded jazz when you have a punk background? I would think that punk is fairly unpolished, whereas jazz is often recorded very meticulously.
Well, I actually recently read an article about punk and jazz being the same thing. Both are free-form, and jazz was meant to send an antiestablishment message, just like punk. Talking about the early jazz, of course, when it was a breakaway form. I mean, it has come back to that radical form today, as with the stuff that we've been putting out. Some of today's free-form jazz is crossed over with grime, hip-hop, and has a much more punk element to it. The guys we're signing are arguably much better trained in their instruments than the punk guys were, but there's a lot of similarities in their spirit, which comes through in their music. 
After you released archival jazz recordings, you became aware of this fresh new London-based jazz movement. It all started with tenor saxophonist Binker Golding and drummer Moses Boyd?
Adam Sieff, who plays an important role in Gearbox, used to be director for jazz at Sony. He's also involved in Tomorrow's Warriors, a communal talent development group specializing in jazz. The platform gives support to musicians who come from college, but have limited access or opportunity or aren't well connected, et cetera. It's still going! It's going very strong. Loads of names came out of this already, with more to come.
Through that platform, I found out about Binker and Moses. When I heard them playing, I was simply blown away by it. It had exactly that raw and energized kind of death-jazz, punk-jazz sound I was looking for. Which I only ever heard in Japan, from a band called Soil & "Pimp" Sessions. So I said to Binker, "Hey, your stuff is absolutely fantastic, we gotta do something together." And his reply pretty much spoke for his personality in music, like, "Yeah man, whatever! Let's have a go." And so Binker and Moses set up as a duo in Mark Ronson's studio, and did a recording! Straight to quarter-inch tape. They were so well rehearsed and knew their instruments so well, it was pretty much a straightforward gig, more like a live recording, really, with very few takes and overdubs. So this became their debut album Dem Ones, which was arguably the first release on the scene that had that fresh U.K. jazz sound. You can feel it in the recording. Everyone loved it. I decided to give the sleeve a bit of a hip-hop feel. I mean, the artwork portrays the two guys like that stylistically, I think. This must have surprised people a little bit as well.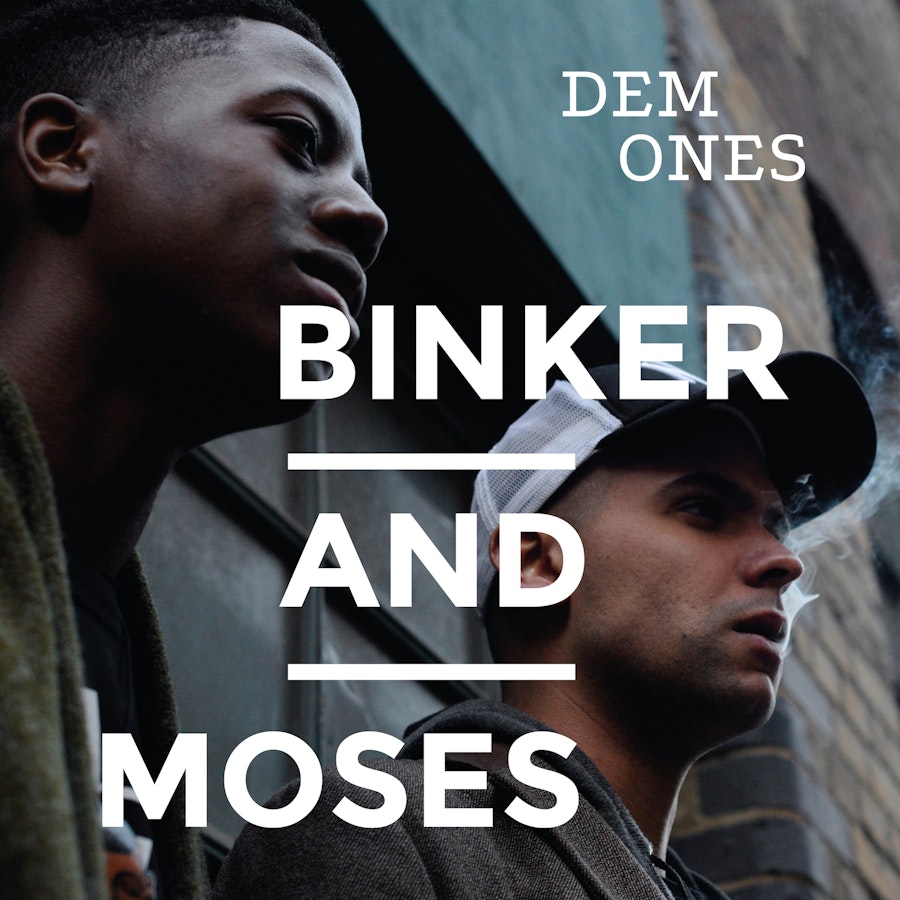 And eventually, you met other contemporaries through them?
Yeah, we signed tuba player Theon Cross's debut album through them… There's a number of people coming through now, like Sarathy Korwar, who plays tabla on Binker and Moses's Journey to the Mountain of Forever album. Also, this scene is really morphing, which you will see this year. 
I would say that the spirit of a music community has an original stylistic effect on their output, which in a more exaggerated sense makes European jazz essentially different from American jazz. Would you hear something distinctive in U.K. jazz from all ages, compared to their U.S. counterparts?
That's a very good question. The archive material we've put out is definitely not as bluesy as the American stuff from the same period in the '60s. I would say it's more pastoral, umm…flowery. And I think in the contemporary output it's the same. If you listen to what Americans like Kamasi Washington make, or Flying Lotus, it's more driving, more bluesy with elements of soul music. Whereas the British are more, hmm, I wouldn't say discordant, but their output has definitely different chord sequences and slightly different rhythms. When I produce a record, I can definitely feel it. I recently produced Charles Tolliver, an American trumpeter who owns Strata East Records. He brought over his amazing band, with the likes of Lenny White, who played drums on Miles Davis's legendary Bitches Brew album, and Buster Williams who plays the double bass for Herbie Hancock. And I brought Binker in as a guest. Then I could definitely feel that American energy. I don't know what it is exactly. It's more a feeling. Another example is Chiminiyo. He's a British drummer and percussionist on the label, who triggers a lot of different sounds, but comes from the jazz mold. Even though he played drums for American saxophonist Gary Bartz, his own output sounded quite R&B and drum & bass–led, but it sounded really English!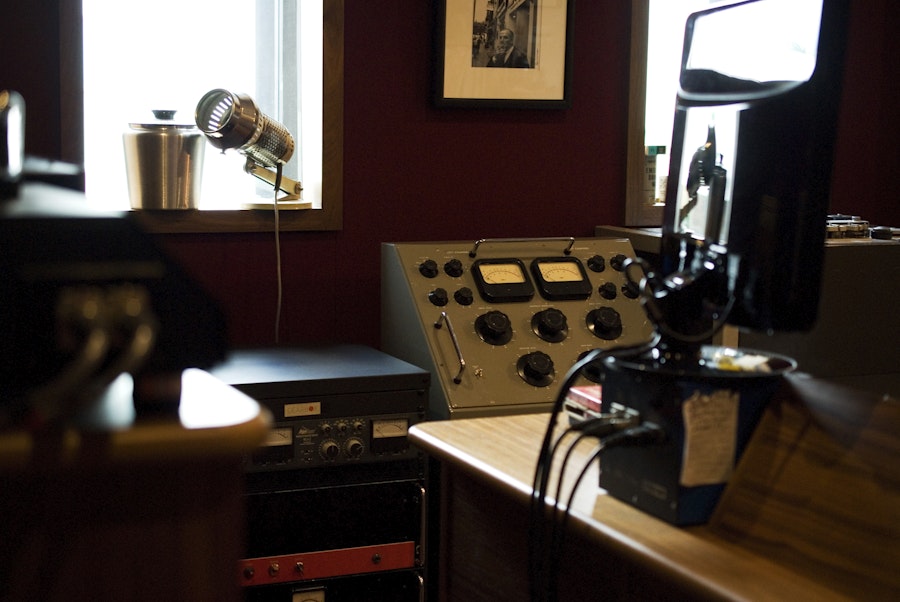 Gearbox recently started working from Tokyo as well?
Japan is the second-largest music market in the world, after America. And what's interesting is that not many Western labels have a presence there, because the culture is different and there's a language barrier. Because I've been personally involved in Japan for many years, I am not scared of just giving it a go. Because we're interested to explore what that will lead to, musically. It will introduce us to new music that we wouldn't normally look at, and we're exploring to set up exchanges from Japan, for example, with Brazil in connection with our recent Thiago Nassif release from Rio and South Africa, with Abdullah Ibrahim aka Dollar Brand receiving the Japanese Order of the Rising Sun award.
Each genre in recorded music has its distinctive sound and every sound engineer has a personal focus. What makes Gearbox the go-to label for this genre-defying jazz generation regarding sound engineering?
A lot of our sound aesthetic comes from the equipment we use. We've got a great mastering engineer, Caspar, and I do it as well, but less so these days, due to my other label work as it grows. We've got great Westrex cutting heads and amps, an old 1967 Scully cutting lathe, a very rare Decca tube mastering EQ, a transparent clean Masalec EQ, and we work with Audio Note for all the monitoring, a high-end domestic hi-fi company. 
What we have available here is like having a forensic microscope to hear and meticulously dig out what we want. Although what we can do is quite a broad spectrum, I would say that Gearbox is quite forward-sounding, rich, with strong bass. In your face. It's not a laid-back sound, although we do that as well, for other record labels. We mastered the last two Bryan Ferry albums for instance, Ronnie Wood's last album, and the Prodigy's most recent album. I really invest in the mids and the lows. Especially the mid-range, which is actually the hardest part of the frequency spectrum to get right. If that's right, it's king. [laughs]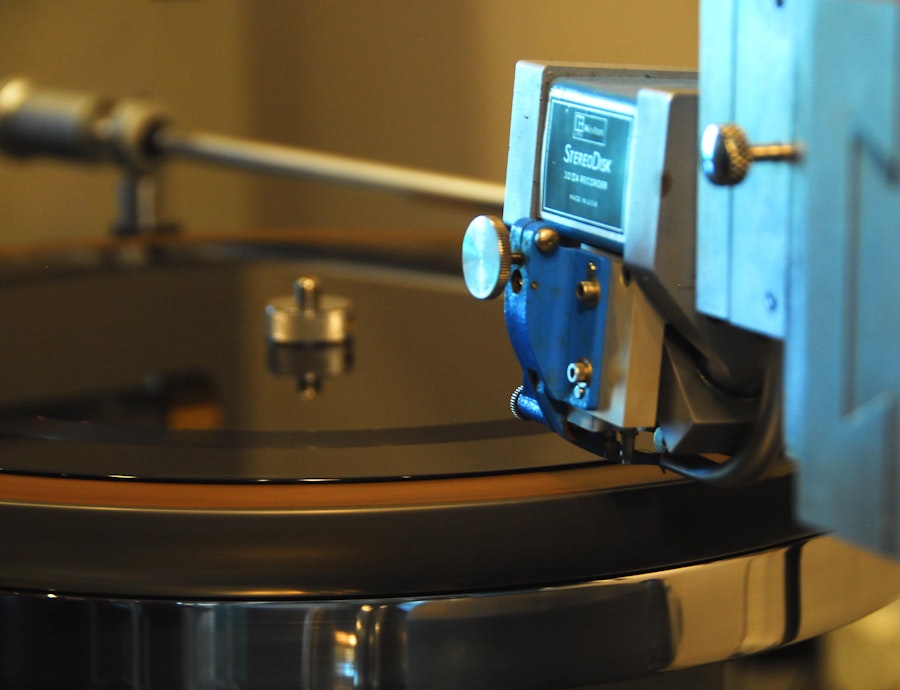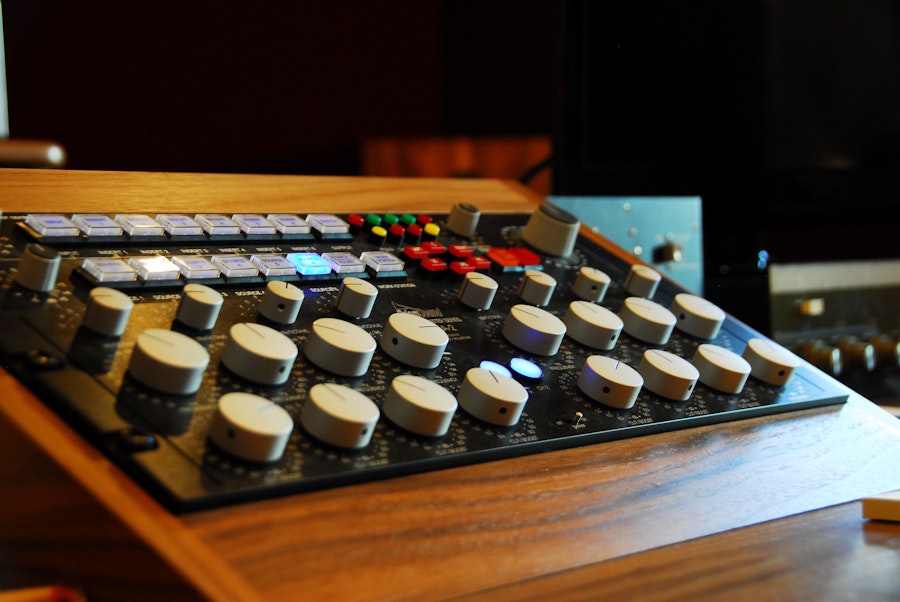 What can we expect from Gearbox in 2021?
We signed a couple more artists, for example, a really big spiritual jazz collective. And Graham Costello's Strata from Glasgow, who also have that aggressive fusion of sounds, a bit like Binker and Moses, but come from the rock side instead of the grime side. And more from Dwight Trible, from the U.S. He's involved in L.A.'s World Stage, where Kamasi, Flying Lotus, and the likes all started. Dwight has already collaborated with Kamasi for his first album on the label, but the new one will have a lot more of those U.S. West Coast collaborations. I can't tell much more now, because I don't want to jinx it!