Damon Locks has what some folks call an old soul. For those who've known him for a while, the nature of this soul is an open secret and a constant presence. That grace and thoughtfulness has also been characteristic of much of the music and visual art he's been making for nearly three decades, there for all to see in an interwoven set of social, political, and creative interests and insights, carried on the wind of a focused calmness. But it's really unmistakable when you talk to Locks. 
I've never forgotten first speaking with him almost twenty years ago, during his short stint with a Chicago-based music PR company—mostly because his phone calls to pitch a client that I likely wasn't interested in had a good chance to drift into a curious conversation about books and art and culture. By that point, Locks had already been in one semilegendary hardcore band (Trenchmouth, whose drummer became a famous comedic actor), and was in the midst of pushing his new dub-punk group (the Eternals) into increasingly exciting, fertile territory. He was also unmistakably in possession of a considered aesthetic focus—the black-ink drawings, linocuts, and comic-book prints on album covers and 7-inch sleeves hinting at an art practice beyond multidisciplinary dilettantism. During the Obama years, it was possible to follow Locks's creative journey through Chicago's experimental-music milieu as both a musical and visual collaborator, engaging the city's noisier and more improvisational circles. Friends of friends would also regularly invoke his work as a grassroots academic involved in mixing progressive ideas with various art projects; and his illustrations and collages increasingly took up the visual cues specific to Black Chicago and its experiences.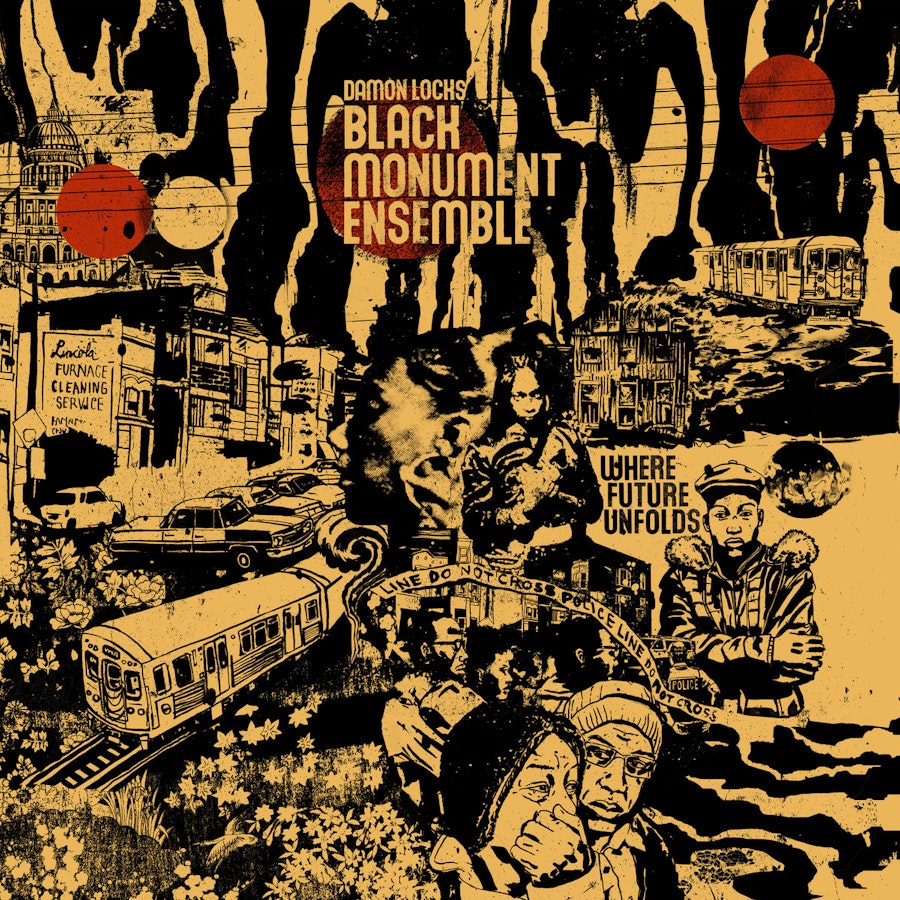 These anecdotes were in keeping with my appreciation of Locks. And this expression further blossomed with the release of Where Future Unfolds, the magnificent 2019 debut by Black Monument Ensemble, an Arkestral "spiritual jazz," gospel-choir-cum-dance troupe that Damon composed music for from behind a deck of samplers and drum machines. Recorded live in a botanical conservatory in Chicago, this Black Monument performance was a "happening," a sermon, a party, and a rally, all rolled into one. It also tipped a hat to the community's storied past (Chicago musical elders Sun Ra and Phil Cohran are Locks's touchstones here) while amplifying its shining future (among his collaborators are clarinetist Angel Bat Dawid and cornet player Ben LaMar Gay, two of the city's improvisational cornerstones, although Ensemble member Gay was unavailable for the recorded performance). More than anything, Black Monument and Where Future Unfolds felt like hope at a time when that was hard to come by, a product of place—Chicago—and a long view towards the future. 
Early April 2021 saw the release of the follow-up Ensemble album, Now (both albums issued by International Anthem). It is another incredible collection of music, words, and images, recorded during one of recent history's most tumultuous moments, deep into last summer's mix of pandemic/quarantine fear, anger, and dreams galvanized by the Black Lives Matter protests, the existential dread of contemporary life, and the indefatigable joy of Blackness. Now is a simultaneous expression of all this and more. It presented an opportunity to speak again with Damon Locks, now in a more formal manner over video chat, about some of the things that constitute his fifty-two-year-old soul, the moment, and Black Monument Ensemble's place in it.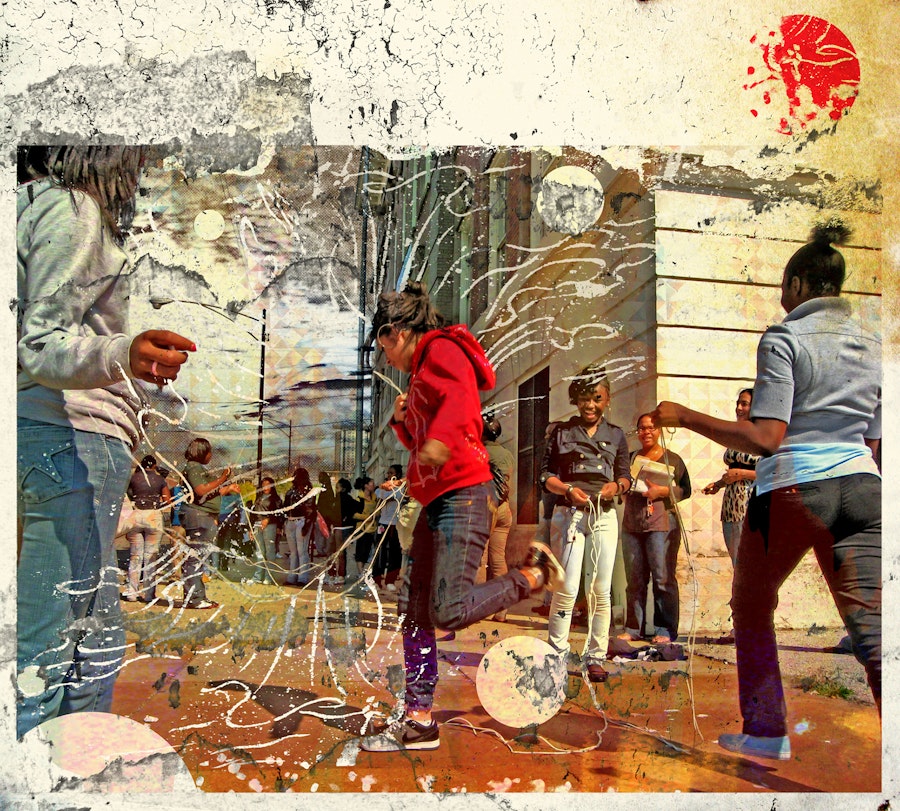 Let's start with Chicago. I think your practice and its power, both in Black Monument Ensemble and outside of it, relies heavily on the nature of the city and its community. You initially came to Chicago for school at the Art Institute, and you stayed. You started one band there, then another band, you worked, and you grew as an artist and as a member of the community there. Tell me about yourself and Chicago, your feelings for why it makes sense for you, for your music, and your art.
Yes, in the early days, the reason I stayed was school and then the band I was in and the community of friends I had. I also kind of lucked into a super-interesting job at the Field Museum of Natural History, where I ended up doing sound for exhibits; I would call people and get, like, puma vocalizations and make sound pieces for installations. I was a young guy in a band and the person that hired me there, John Patterson, was like, "You can do this." And if you look at what I'm doing now, and look back to that, it's like, "Of course, you did sound for exhibitions," but at the time, I didn't know what I was doing. I had that job for about five years, and it ended at the same time as a long-term relationship. I had to make some decisions, and I decided that Chicago was still a cool place for me. The bass player from Trenchmouth [Wayne Montana] and I started the Eternals, and Chicago became my life and the world that I lived in.
There was a point where I quit working at [the PR company] Biz 3—in '05 [or] '06—and decided I needed to put Eternals' music to the forefront. "Quit your job, do art and music." It wasn't a solid plan. And then, unfortunately, the economy tanked, so I really had to put a lot of thought into what I would do. That's when I started to dedicate myself to my politics—or define what my politics were, and try to make visual work that kind of fit in. I started teaching and used my time to do that research, to try and figure out how I would make art. I often say that the only model I knew for an artist at the time was like, "Go into your studio, make work, and then present it to people." And that didn't seem like a reasonable idea. So I thought it makes more sense to go out into the world, have conversations with people, and then make work based on those conversations. I figured out how to engage with people. And that finally led me to working in prison, at Stateville Correctional Center, where I started [in] 2014. I teach art there, and try to orchestrate classes that are exhibitable, which speak to issues around incarceration and are also open enough to let the incarcerated artists express themselves. That was kind of a crystallizing, life-changing experience, seeing the justice system. This is a men's prison, so going in and seeing how many Black men were incarcerated was bracing. You can read about the numbers, but if you go into prison and see it, you know that our justice system is either not doing its job or doing its job too well. That was happening at the same time as Mike Brown was getting murdered and things like that, so I actually hung up my sketchpad for a little bit, stopped doing visual work, because I didn't know what nice mark-making would add to the world. I was having a real kind of crisis. I was working with this organization called ArtReach. I continued teaching with Prison and Neighborhood Arts and Education Project (P-NAP). And I started trying to investigate how I was feeling with sound—and that sound work led me to what Black Monument ended up being. 
But I think I kinda jumped the train tracks on my story to Black Monument, because at the same time as leaving the PR job, I started to investigate academic circles that cross over with activist circles and poetry circles and all of these things. I was also asked to be a part of the Rob Mazurek Exploding Star Orchestra; so that, the Eternals, and engaging with activism and teaching all set me up for the investigation of the Black Monument Ensemble. I connected with Chicago but in a different way than with the Chicago music scene; and connecting to a wider network of new people—artists and educators and activists and improvisers—became really fruitful. I think that stepping away from the music scene really opened doors for me in different ways, in terms of my mind and thinking about working, and that kind of exploration has been really supportive and fascinating.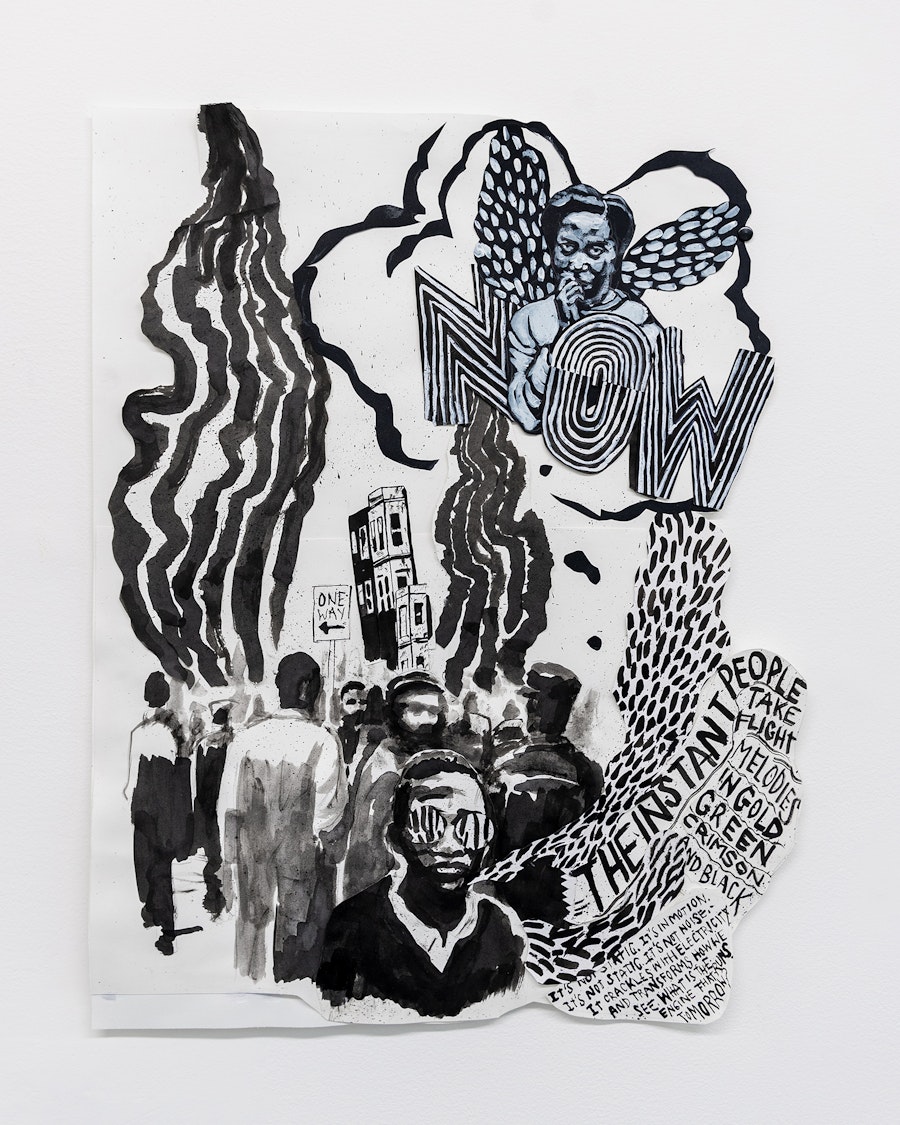 You've just described these interlocking communities of education, activism, and multidisciplinary creative arts and music folding into one another in Chicago. And much as I'm a lifelong New Yorker—I adore and rep the creative community of New York City—but by comparison, I find it a lot more fractured. What do you think it is about Chicago's community—and maybe specifically about its Black community—which makes that interlocking more natural, and thus the work that comes out of it seems to be that much more multidimensional?
I recognize that what you're saying is true. Chicago has been a really good example of people doing the work for a really long time. I also think that Chicago has a kind of generative and collaborative aesthetic. Meaning that people will help each other out and support other people's ideas very easily. This is not a place where people want to create something for themselves and not share it, you know? So [there's been] years and years of people doing the work, mixing with younger people coming in with new ideas, mixing with half a decade of insane leadership in this country. So now people are really reaching, supporting, and trying to get good work done. The fact that there've been so many people, not only historically but in recent years, who are laying down groundwork and doing stuff, kind of culminates in this time. When under pressure, people pull out their best work and pull it out as needed. I think that's what's happening.
One of the things that I admire, alongside the generosity from so many Chicago artists, is their B.S. detectors—how they're critical in their support, pushing people to do better work, whether in terms of creative ideas or outreach. The best work needs to successfully do things on multiple levels, and this tendency is not new. I find it interesting just how prevalent the thinking of 1960s creative Chicago is to what's going on today: the AfriCOBRA and AACM art and music collectives; how you seemingly can't turn around without running into Sun Ra's ideas, whether about music or temporality. 
A lot of people have been working for a long time keeping histories in mind, and [are] aware of the lineage in which they work. And unlike moments in the past, this...moment of conflict and revolution and accountability is feeling like a newer generation coming in; and they've been connected to the past in ways I haven't seen before. It's not only people who are fifty and older talking about James Baldwin, and really looking back to Nikki Giovanni or Octavia Butler or Sun Ra. Something switched where the generation divide is not really there. I feel like we are in a stream that is connected, which makes all the difference in the world. So you have a base of people that have been doing work and thinking about those things, then you introduce new people that are also interested in that lineage. That makes for a pretty strong lattice. (I've never said that before, but I feel like that's a good metaphor.) I also think there's more connective tissue nowadays. The connection to AACM is super vibrant; it's not very hard to get to someone from 1968 that's still here. For example, I can see Ben LaMar Gay's connection to [saxophonist] Ernest Dawkins; or there's [cellist] Tomeka Reed and [bassist] Junius Paul, who are now playing in the Art Ensemble of Chicago...[saxophonist] Greg Ward or [flutist] Nicole Mitchell, all you gotta do is reach out. It's all in this line of people; it's palpable.
It's so interesting to hear you say that, and reaffirm that this is not just my projection from twelve hundred miles away. That there really is a greater currency in this happening right now. 
Yes, and it feels very organic. It's happened. The groundwork had been laid, all the constellations came into crystallization, and now everything is connecting. Like, there were people on the right frequency the whole time dialing in, and then there were people moving around, to the left and to the right, adjusting their frequency to tune in. And I think I've been one of those people.
Which I think is a great entry point for talking about Black Monument Ensemble's work. It's kind of interesting that on the one hand it is musically in line with that lineage, but then you add collage elements, the samples, the spoken word, while the Ensemble's music stays tuned in and also reverberates both outward into the cosmos and towards being a pure contemporary work. It's very hip-hop because of the process of how you made it—listening to the new album, I keep thinking how it sounds like a Bomb Squad record—yet also very much a gospel-jazz-pan-global-funk record. 
I'm actually curious to see how people frame it. I've always worked without thinking about genres, and Where Future Unfolds was kind of neatly folded into "spiritual jazz," which I was complimented by. And then I listened to Now, and I don't know if this is spiritual jazz. I'm not sure what it is.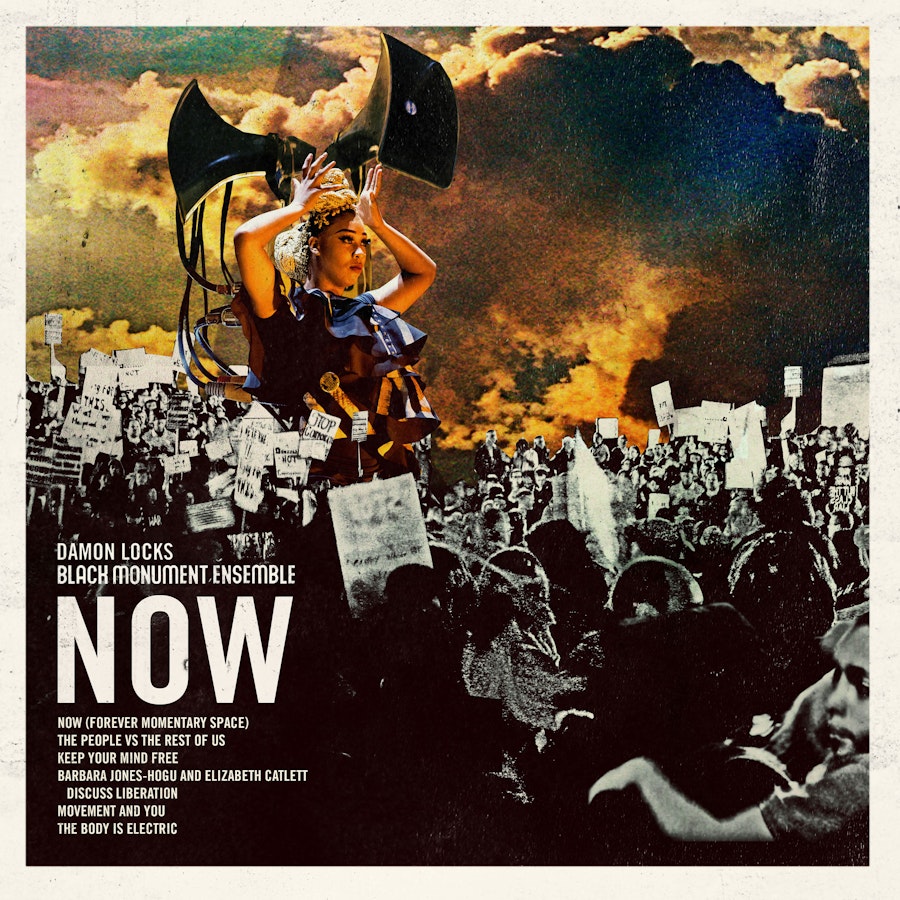 When you were making Now, were you contemplating it as a continuation of the first album, or were you thinking of capturing the moment? I know that you recorded it in late August 2020, in the midst of all the things that were going on. Right after you and Ben LaMar Gay, who plays on it, performed on a livestream for Experimental Sound Studio (ESS), where you recorded the album. I've regarded that particular performance as maybe like a trial run of the album.
I definitely had some of the sounds in my sampler already.
So were you thinking, "I need to create a body of work of what Black Monument Ensemble is about now," or was Black Monument Ensemble just a vessel for ideas that you want to participate in creating together, in a group? 
I was thinking of several things at once. Primarily, about what Black Monument would say in this moment, because it was the summer of, you know, George Floyd, et cetera. I had watched Watchmen and Lovecraft Country, and according to Instagram, people were returning to Where Future Unfolds. That album was really reaching and speaking to them. And like these other media that I'd been experiencing in this moment, the Black Monument material being listened to and reflected upon was written like two years [prior]. So I was thinking, given the opportunity and knowing everything that's happened up until this moment, what is the next thing that Black Monument would say? That was a challenge, and I really felt moved to take up that challenge. Unlike in the past, I was mostly in my apartment, mostly in this room that you're seeing right now, doing trial and error with my sampler and drum machines, and I would use opportunities like that performance with Ben to get those sounds out into the world. Sometimes, I would turn on Instagram and do a set unannounced just so I could see what would happen. So I had some material and I wanted to figure out how to record it. There was the process of trying to figure out how to make it happen with a group of four or five or six vocalists, a clarinetist, a horn player, all of these aerosols. That's one thing I was thinking of while writing. 
The other was, what would another chapter of a Black Monument story sound like? I enjoy and really dig into Eddie Gale's Black Rhythm Happening, or Ghetto Music. I love Voices of East Harlem. I love Phil Cohran. I love Sun Ra. Those things resonate in my head, and I would wonder what those shows were like, which is some of what fueled the "happening"-like Black Monument performances. But what also fuels me is that intersection that created Basquiat, that created the Rock Steady Crew, ESG, Rammellzee—all of those are things that inspire me as well. So even in the presentation of Black Monument Ensemble, you'll see boomboxes, because that's been a part of my musical DNA. I use boomboxes in my performances. Not only symbolically. I think I'm drawn to them because, as a kid, I never had one that I could put on my shoulder because I was too little and they were too big and I couldn't afford it. But I would take a small version and play the Dead Kennedys while walking to the comic book store. The boombox has always been a symbol of public address that I really identify with, and when I walk on the street with a boombox, people smile at me, or they have their own associations with this object, you know? So I really wanted to figure out some way of adding a chapter that would address that and bring the boombox into the sonic conversation around the material. I don't know what that looks like yet, but it's my hope that when we get to perform again, that will be reflected in our performance. Just trying to make the conversation more complicated.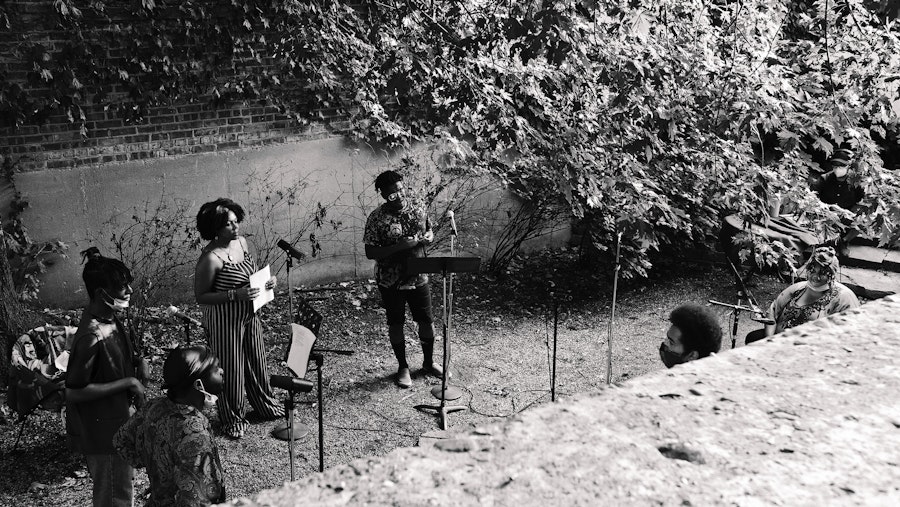 I hope that Now can be an offering to people, that they receive something from [it]. That's always been my goal for Black Monument, that we can add to the conversation. In the case of the leadoff song, "Now (Forever Momentary Space)," which, for me, addresses the moment, possibility, and a time that's outside the timeline, a time we always have at our disposal, which is now. That's the thing I would like to offer people, [the idea that] we always have a chance to do something that didn't seem possible before. 
The thing that was nervous for me is that I did really want to capture a moment. In my imagination, this was not what the second outcropping of Black Monument would be; but when I looked around at the world, this was also not the world I thought I was going to be in for 2020. So I said, "I need to make some material, get the groups together, and see what we can say at this moment." I didn't try to create a grandiose opus. 
I really hope that feeling of "Let's capture what we are trying to" comes out. There was no rehearsals. We were in the backyard with me talking someone through what the feeling of a song is going to be like, and maybe there's three takes of it so it doesn't die. It was working in a way that I had never worked before, but I put the ultimate faith in that. The way Future Unfolds was a documentation of this incredible live show that was really beautiful, Now was the documentation of life while we were trying to make something beautiful in it. It was really tense, liberating, communal, and scary in many ways to get everyone together. 
We did three days. The first two were in August, and on the second day of the recording, it was ninety-three degrees, and we were discussing that it was the anniversary of the 1963 March on Washington, and also the anniversary of the death of Emmett Till, and we're doing these songs. We did "Keep Your Mind Free," then a version of "The Body Is Electric," and then we packed it up, gave each other elbow taps and said, "Thanks for everything." When I got home, [actor] Chadwick Boseman had just died. And it really hit me. I was with my partner and we cried, and I didn't know that was going to happen. Clearly, no one knew that Chadwick Boseman was going to die so early. But also, I wasn't fully aware that I had investment in the biggest Black superhero ever. I was like, "Give me a break. Like, really? Black Panther has to die now too?" So this was all swept up in the moment of the recording.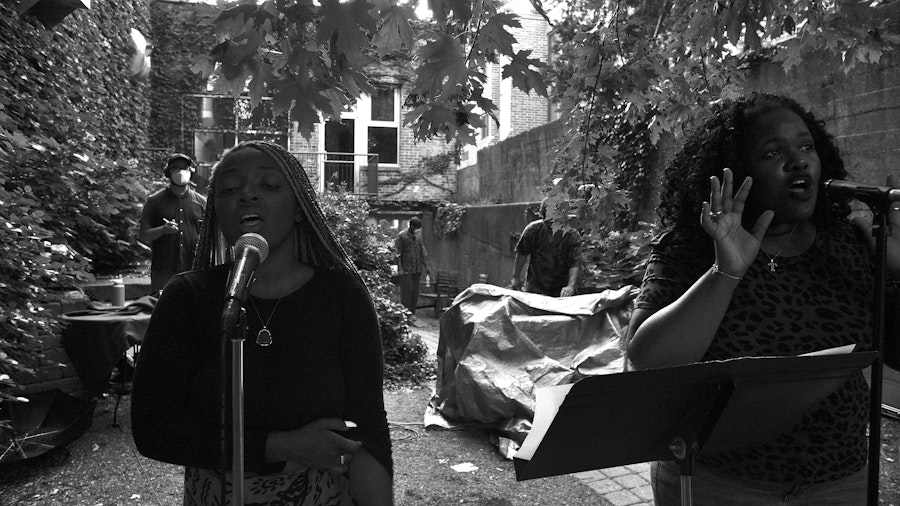 This mix of creativity and history, fused with the recognition and the weight of the moment reminds me of something else I wanted to ask. There's a phrase in the write-up on Black Monument Ensemble's Bandcamp page that describes the group's "artistic approach to activism." Not "artists as activists," which seems to be a common discussion, but an "artistic approach," which really struck me as poignant and multifaceted, and that I get from listening to the group. Can you tell me what that phrase means to you and how you see Black Monument embodying that approach?
It's interesting because I spent a lot of time in the leadership of P-NAP [Prison and Neighborhood Arts and Education Project], thinking about how to shepherd it. At the beginning of the pandemic, we had to pivot from being an educational program to seeing if we can get sanitizer and soap, and make sure that people had these necessities. And being ensconced in this work, I've been protesting and adding art to actions [for a long time]. That folds into working with high school students, on a program through the Museum of Contemporary Art [MCA Chicago] called SPACE—School Partnership for Art and Civic Engagement. This is the fourth year of a three-year program, where I've been introducing civically engaged, contemporary art to the curriculum and talking to students about it. That way, I can also share the work that's done at Stateville [Correctional Center] with students as well, keeping this conversation going right. That also folds into working with Move Me Soul, the Austin-based dance company, whose dancers [perform] with Black Monument; I've been creating sound for their projects as well. I met them doing collaboration for the MCA on a Merce Cunningham exhibition, when the museum wanted a response from Move Me Soul. I was the sound person for that. I also had a residency at the Hyde Park Art Center, where students came in and out of my studio regularly. So for me, the process of activism blends into teaching, blends into artistic endeavors and making music, and is all a part of the same practice. 
In general, when someone frames me as an activist, I kind of bristle at that. Not because I don't want to have a conversation about what activism is, but because I'm really so in admiration of the boots-on-the-ground activists, the things that they do. I do think that there are artistic activists, there's activism through art, and I'm kind of searching for that. I've discovered that sound and visuals can convey ideas in ways that straight-up activism [can't], as a support system, or even as a way of propelling ideas forward. It's necessary to do this other work. I also think that there are spaces [between art and activism] that are undefined, that have not been created yet. If you're an artist of any type, and if an impulse strikes you, it behooves you to follow [it] because you can make something that hasn't existed before, even if that first thing that you make may not end up being "The Thing."
When I was sitting in my friend's basement not knowing how to pay bills because I had quit my job, one of my decisions made my life harder—saying that I don't want to do illustration work and design that's outside of my politics. That lessened my chances of getting more work. But it also made me seek out making connections in a different way, which led me to the decision to only do design work that kind of fit in with something that I could get behind. (I knew that I would always do record covers, as long as the record was good.) This led me to reaching out to the Center for Urban Pedagogy in New York, which led me to doing a project they did called "Making Policy Public," where I did this booklet about the domestic workers' bill of rights. And then working with them introduced me to the Jane Addams Hull-House Museum here in Chicago, which introduced me to the Prison and Neighborhood Arts and Education Project. So making that parameter made me go in this particular direction that led me to where I am today. 
I still look at all of these things as an artist. When I'm on panels talking about prison abolition, or what have you, I'm speaking as an artist, and if what I'm doing is activism, it is through that lens. I think initially, in 2007 or '08, when I was sitting in my apartment, trying to figure out how I could be an artist, I thought I needed to get more information so that my art would know things—like, "I need to know more so that my art is richer." I think that it's a constant state of learning more, so that all facets of the thing are richer. I can't just make the Black Monument Ensemble album without having all the collaborations and experiences in Stateville, or in the high school, or working with young dancers. 
I love that. That makes me think of all the spoken-word samples on Now. I don't know how many you used, though it certainly feels a lot more conversational than Where Future Unfolds. One of the things I adore about it is the resonance of your source material, how it isn't just a random quote out of context. Because if you understand these samples fitting together, and place those contexts next to each other, the entire work becomes fuller. It provides a much stronger foundation from which to make a point. 
I agree with that completely, and I am glad that you are acknowledging or thinking about how the particular phrases in relationship to each other make a stronger argument, which is mostly what I think about when thinking about sampling. I'm not trying to just find something where someone says something, I'm trying to find something where someone's talking about something. And if you put [that] in the framework of [the album], then it means a whole different thing. It means the same thing that they meant, plus a whole bunch of other things.