When Sly and the Family Stone trumpeter/vocalist Cynthia Robinson died from cancer on November 23, 2015, it was a sad day as well as a haunting prologue for the next few months of musician deaths that would include David Bowie, Natalie Cole, Maurice White, and Prince.
Formed in 1966, Sly and the Family Stone consisted of Sly on organ, brother Freddie on guitar, bassist Larry Graham, drummer Greg Errico, saxophonist Jerry Martini, and Cynthia Robinson on trumpet; singer/keyboardist Rose Stone, who was Sly's younger sister, joined the crew two years later. While Robinson's funky horn on their innovative albums like Dance to the Music , Stand , and There's a Riot Goin' On; and classic tracks like "Higher," "Hot Fun in the Summertime," "Everyday People," and "Thank You (Falettinme Be Mice Elf Agin)" was important, she was always humble about her contributions to the greatest band to emerge from the Bay Area in the late '60s.
From 1967 to 1971—the year the group began to splinter over money issues, as well as Sly's continued descent into cocaine and PCP hell—Sly and the Family Stone was one of the biggest acts in the country, performing at Woodstock, appearing on television programs, and touring the globe, before showing up to the gig became just another of Sly's problems. "My thing was, whatever Sly wanted from me, I would try to do it," Robinson told me two months before her death. "Some things I might never have attempted on my own, but if Sly wanted it, I'd try my best to do it. All that music came from Sly's mind, so I can't tell you much about the recording of any songs; it was like one big gig to me: go to the studio, go onstage, go to rehearsal."
Although Sly Stone, birth name Sylvester Stewart, was a mack daddy from as far back as high school (where they first met), the kind of brother who always had multiple girlfriends, he and Cynthia became lovers, and in 1976 she gave birth to their daughter Sylvyette Stewart aka Phunne Stone. "My mom loved Sly's musical abilities and his mind," Phunne says from her home in Sacramento. "Sly was very clever. She would try to explain his logic, even if neither of us really understood it. My whole life, my father and I have had an up and down relationship, but she never said an unkind word towards him."
A forty-year-old mother of two daughters, Phunne is a singer currently working with the Family Stone touring band with original saxophonist Jerry Martini and drummer Greg Errico; for ten years before her death, Cynthia too performed with the band and was instrumental in getting Phunne involved. "I never imagined that I would ever be singing beside my mom," says Phunne, who had been working as a janitor before joining the Family Stone. "I worked hard for very little money; and my mother loved me so much, when she was in town, she would come to help me out. She was just a loving mom and my best friend."
Bandleader and sax man Jerry Martini says, "I put Phunne in the band when Cynthia gave me the go-ahead. I watched her develop. I asked Cynthia, 'Do you think she can sing Rose's parts?' She said, 'She can sing everybody's part, and if you can get her out that day job, she can sing Larry Graham's parts.' I asked, 'Do you think she's ready to go join us?' Cynthia said, 'Hell yes.' "
Phunne's relationship with Sly has never been the greatest as one could expect from a musical genius who has a reputation for being a notorious junkie whose life is a cocaine cautionary tale. "Sometimes he would call and tell my mom to come to the studio to work, but it wouldn't be worth shit. Wasn't nobody really working, they'd be down there getting high, running around, with my mom standing there with her trumpet like, 'What's going on?'" There were a few instances when one of Sly's women would try to test Cynthia, but soon discovered that wasn't a good idea. "I've seen her knock out a couple of broads in the studio who were being disrespectful." 
There were never any regular visits, but, Phunne said, "Once or twice a year, he might pop up at the house with two cars full of his sidekicks and a White girl dressed like a ballerina. When I was ten, mom and I were evicted, and we lived with Sly for ten months; I got to spend time with him, but the environment was cuckoo." It was during that period that Phunne saw her mom doing hard drugs, like the time she walked into her father's room just as her mom was about to do a line of cocaine. "The coke was on a tray, and I knocked the whole thing on the floor on purpose," she says. "Sly went crazy and started screaming, 'Get the hell out of my room!'"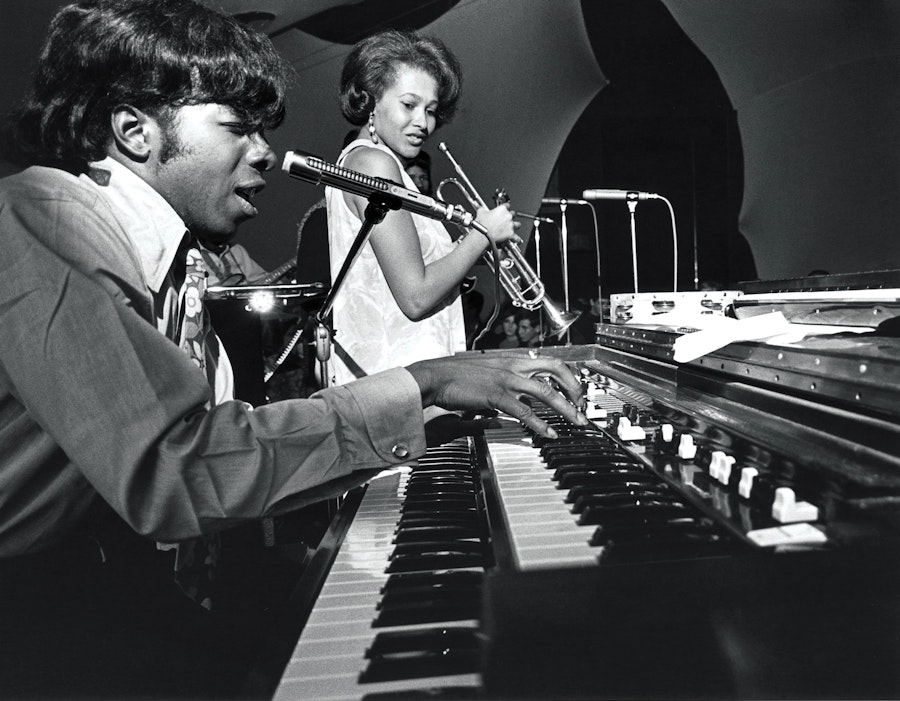 In 1993, when Sly and the Family Stone were inducted into the Rock and Roll Hall of Fame, Phunne was a seventeen-year-old pregnant teenager who hadn't seen her father in a while. "It was maybe four years since I last saw him, and I gave him the coldest look ever. He didn't say hi or I love you; he just said, 'Where your mama at? Tell her to call me.'"
Through it all, Cynthia stayed loyal to Sly as well as his legacy. Although Sly Stone has been the subject of non-fiction tomes, essays, regular reissues and boxsets, documentaries, and at least one novel (the entertaining Please Step Back by Ben Greenman), Robinson still felt as though Sly Stone hadn't gotten his due. "He made a big contribution to music," she said, "but he doesn't get his props. Some people in charge of giving credit or blame [would] rather give him blame. Sly has never been the type to brown-nose for recognition. He knew what he had and knew what he was capable of; I'm just proud he took the time and put it into music." 
Bay Area author Joel Selvin, who interviewed the entire band (with the exception of Sly) in 1997 for the excellent Sly and the Family Stone: An Oral History (1998), says, "Cynthia was a pretty sad case when I met her. She was practically homeless, sleeping on her daughter's living room floor and making sandwiches during lunch rush at a local deli. She was delusional about her relationship with Sly, something he no doubt exploited ruthlessly. To me, it seemed as though she was the victim of tremendous psychological abuse. It wasn't a pretty picture." 
A decade later, Cynthia and other band members started doing shows together, and she toured with them until August 2015. Upstart trumpeter Arnetta Johnson, a student at Berklee College of Music and a protégé of soul singer Jill Scott, saw Robinson perform in 2013 and was blown away. "She was playing great—singing, dancing, taking over the stage, hyping the crowd. Afterwards, I spoke to her a little. We talked about what kind of horn she used. She was very encouraging to me. She told me, 'Music is a dog-eat-dog world, but you can still have fun.'"
When Robinson suddenly became ill in September 2015, Phunne went to spend time with her mother. "You could visually see how she changed so quickly," Phunne said. "Her weight, the way she was moving, the expressions on her face. It was bad. I was crying all the time until my mother said, 'Goddamn it, girl, you going to cry every fucking day?' She sat me down and said, 'I have lived my life. I have beautiful kids, grandkids, I've traveled the world three or four times; and, most importantly, I was blessed to do what I wanted to do.'"
Growing up in Sacramento, California, young Cynthia Robinson experimented with a variety of instruments before being called by the spirits to play the trumpet. Having started off playing the flute in fourth grade, Robinson played tenor sax, alto sax, and mellophone for the next few years; but it wasn't until junior high school that a final decision was made. "I heard this guy playing the trumpet, and I was like, 'Whooh, what is that?'" Robinson told Selvin. "So I was standing by the room waiting for this guy to come out of rehearsal. I asked him if I could try and he said yeah. So, I wiped off his mouth piece and I couldn't get a note out of it. I couldn't get a staff bar, but I knew I wanted to play. That was it. After I was introduced to that, I didn't want to play anything else."
The trumpet was considered to be an unfeminine instrument in the late '50s (even today, few women play it professionally) and her constant practicing, perseverance, and perspiration didn't make her popular with the boys in the band who believed she had no right to play it at all. "They hated the idea," Robinson told Selvin. "They said, 'Why don't you go play violin or flute.' By the time I got out of high school, I went through so many changes with the same kind of shit, I knew there wasn't no guy that was gonna let a girl play in a band, 'cause I was already brainwashed into believing that." 
After graduating, Robinson played with a few local bands, but it wasn't until a few years later that she reconnected with an old high school buddy she'd known by the name Sylvester Stewart; the brother was working at Bay Area radio station KSOL and had changed his name to Sly Stone. A Texas native who moved West with his parents when he was two, Sly was a paradoxical young man who had been both a gospel singer and pimp, who also proved to be a musical genius who would change it all.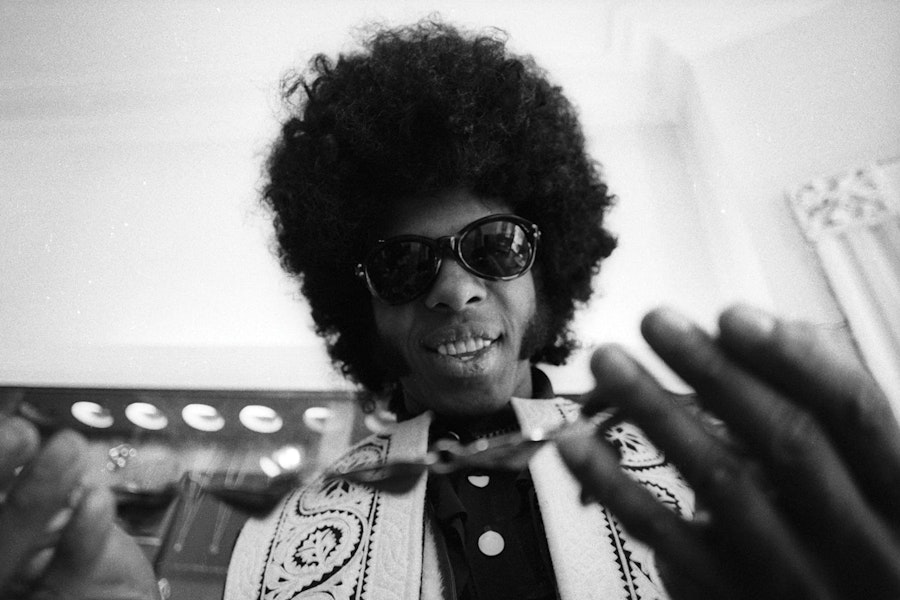 Within a few short years, he would become one of the most important musical (as well as literary, often penning lyrics that were clear in their abstractions) artists in the country, whose eclectic sound would inspire and influence the future of funk (George Clinton, Rick James), soul (Curtis Mayfield, Prince), hip-hop (Public Enemy, the Coup), and jazz. "Miles Davis, Herbie Hancock, all the great jazz guys loved Sly, because he was beyond notes," says saxophonist Jerry Martini, who's known Sly since the '50s. "He was so into what he was doing; his voices, his harmonies; his writings were more advanced than the average person could comprehend."
Sly was twenty-three when he approached Cynthia to join his band, but he was already a musical veteran who'd recorded his first track "On the Battlefield for My Lord" with the family gospel group the Stewart Four when he was a kid; his deeply religious parents were members of Church of God in Christ, a Pentecostal house of worship whose sanctified membership included future Tower of Power vocalist Lenny Williams and gospel sensation Tramaine Hawkins. 
In 1961, while a senior in high school in Vallejo, California, he recorded "Yellow Moon" with one of the first integrated doo-wop groups, the Viscaynes; the song became a local hit. After graduation, he studied music composition at Vallejo Junior College and, in 1964, was recruited as an in-house writer/producer for Autumn Records, owned by disc jockeys Tom Donahue and Bobby Mitchell. Young Sly crafted rock/pop hits for Bobby Freeman ("C'mon and Swim"), the Beau Brummels ("Laugh, Laugh"), and the Mojo Men ("Dance With Me"). In addition, Sly recorded two solo singles for Autumn Records ("Buttermilk" and "Temptation Walk") in 1965, but both 45s flopped. By the time Stone stepped to Cynthia a year later, he was ready to break away from Autumn, spread his wings, and soar in a completely different direction.
As Sly's favorite pop poet Bob Dylan observed, the times were a changin', and he had every intention of being a part of it. As part of the local S.F. music scene, he was as down with the hippies as he was with the homeboys; he was also friendly with future stars Billy Preston, Grace Slick, and Jerry Garcia. Sly knew what was bubbling in the Bay Area music underground, and he was determined to assemble a team of musicians to help him nurture his own visions to life.
Cynthia Robinson was a single mom with a two-year-old daughter named Laura when she accepted the invite to blow in Stone's band. Although he would later open up her musical world, hippin' her to the Beatles and other rockers, during that time she was still listening to soul and jazz cats like Red Holloway, Nat Adderley, and tenor saxophonist Stanley Turrentine. "He's my favorite," Robinson said of Turrentine in 2015. "I could play him over and over again. Just that feeling in him and the way he attacks a solo. There is never any resistance in him; he just jumps in with both feet."
The first group Stone and Robinson were in was Sly and the Stoners, but the other band members were older and not as serious about it, so, in the winter of 1966, they were scrapped. Sly talked his younger brother, Freddie, into letting him mine his band, Freddie and the Stone Souls, for talent. Soon after, Sly had a fresh crop of young, creative musicians—including Freddie. Cynthia came by his parent's crib to meet the rest of the group. By design, Sly wanted a mixed-race/multi-gendered posse. Standing in the basement of that house in San Francisco, that first night no one picked up their instrument, but the vibe was already right. 
"That first day we all got together, we didn't play, we just talked about what we were going to do," drummer Greg Errico says. "Cynthia was shy, but cordial; she didn't have a lot to say back then, but she was always friendly and present." Jerry Martini adds, "She was very shy, but Sly brought it out of her." The following day, when the band finally rehearsed, the first song they played was a cover of Ray Charles's then-recent single "I Don't Need No Doctor."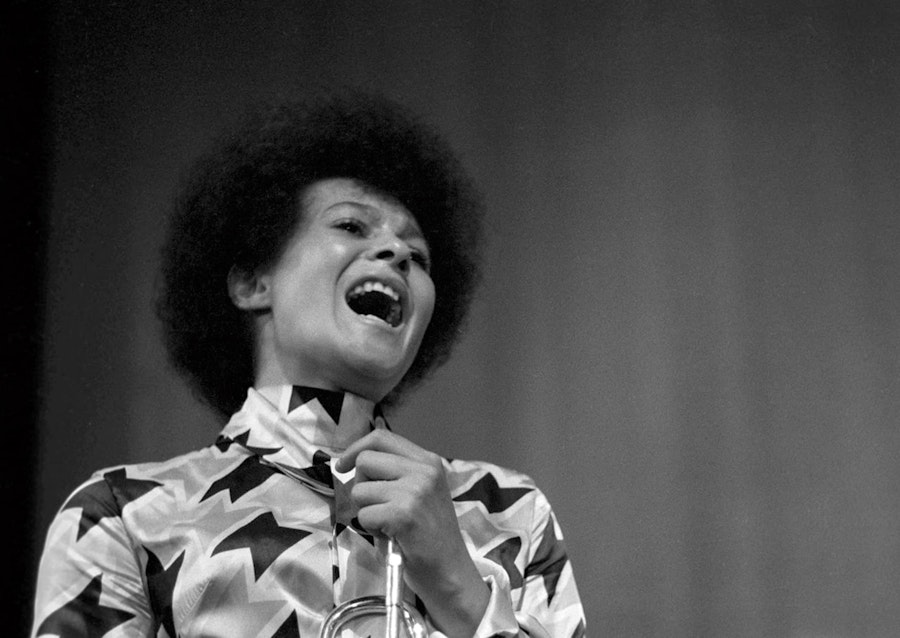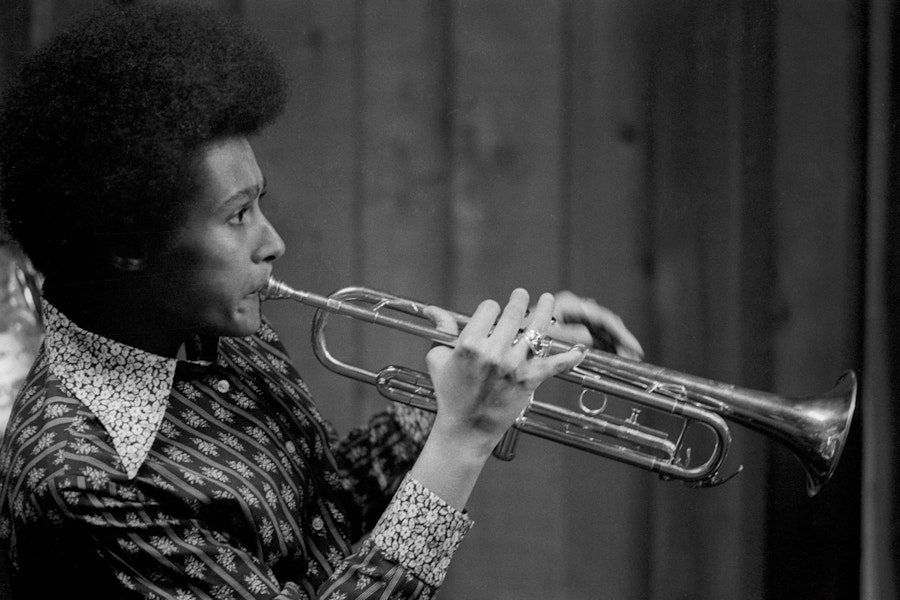 In the center of the action, Cynthia was so impressed with her bandmates that she forgot to play her part. "It was so powerful that I literally had to put my horn down and watch," Robinson told Selvin. Within Sly's rearrangement of the bubbly R&B piece, he crafted these punching funky lines for the sax and trumpet that she'd never heard before. "It shocked me, because I had never played [with] a group that was that together. I had heard it on record before, but I'd never been part of it. I knew from the first note that this is going to be something."

With Sly writing the lyrics and music while also rearranging covers, he and the Family Stone practiced hard for the next two weeks. "We rehearsed and rehearsed and rehearsed; it was the most rehearsed band I'd ever been in in my life," Martini says. Two weeks later, they began playing weekly gigs at the after-hours spot Winchester Cathedral in Redwood City, often sharing the bill with the Chocolate Watch Band; their residence lasted from December 16, 1966, to April 28, 1967. 
Vintage photos of the band circulating online of Sly and the Family Stone performing on the Cathedral's crammed stage shows that the band was already dressing cool threads, though not as out as they would later go. One faded snapshot of them playing the "New Year's Freakout" party shows a permed-hair Cynthia clad in blue plaid pants suit, blowing her horn as her daughter Laura plays at her feet. 
"The club was owned by our [first] manager, Rich Romanello," Martini said. "I quit a great paying gig at Caesars Palace in Vegas paying a $1,000 a week, which would be like $15,000 today, to join Sly and play for $10 a night. I had to move out the house and move in with my in-laws at the time; my mom didn't talk to me for two years until she saw me on Ed Sullivan . Mom said, 'You're just a gypsy, always on the run,' but after she saw me on television, she called and invited me to dinner."
When Sly and the Family Stone first started their stint at Winchester Cathedral, they were doing some cover songs. Freddie sang "Try a Little Tenderness" and Cynthia Robinson played a stirring version of "St. James Infirmary," a classic, dark jazz-blues number that trumpeter Louis Armstrong recorded several times, and as early as 1928. "Cynthia doing a version of 'St. James Infirmary' was particularly amazing," recalls Greg Errico. "She and I played that together. I've always dug horns. To be a part of this band with those horns, every song. Those arrangements that Sly did, they were always so much fun—up-tempo, with sharp horn punches." 
Forty-nine years after those early live performances, Robinson talked about those shows that became part of their pop-star boot camp that also included hours of rehearsals and gigs at small clubs like Frenchy's in Hayward, California, in the East Bay, and the Losers' in San Jose. "Sly paid attention to all parts of something," Robinson said. "He paid attention to the sound in the place we were playing, and that's how he knew where to put the microphones. They were set according to how high the ceilings were, the acoustics, all of that."
While jazz trumpeters usually stand in one spot, soul and funk horn players are expected to perform in a different way. "I think it's the most difficult genre, because you have to play the horn lines, rhythms, and all that intricate stuff while also dancing," trumpeter Lessie Vonner says from her Brooklyn apartment. A graduate of the New School, the Dallas, Texas, native is a member of electro-fusionists Space Captain and considers Robinson a spiritual mentor. 
"Growing up in Dallas, they played a lot of Sly Stone on the radio," says Vonner. "It's hard now to be a female trumpet player; I can't imagine what it was like back then. To see her doing her thing and be a prominent part of the band, that was inspiring to me. Sometimes, I look at YouTube clips of her early performances, and seeing her with her horn is a powerful image." 
In 1967, Sly and the Family Stone recorded a one-off 7-inch single, "I Ain't Got Nobody (For Real)," for the San Francisco label Loadstone Records that was owned by bus driver Walter Curry Stone (no relation). Although the record went tin, it caught the attention of Epic Records executive David Kapralik who contracted Sly (and eventually became the group's manager).
When asked what he remembered about those first sessions for Epic, saxophonist Martini laughs and says, "Every single note, we had to do it so many times. We recorded that album on Sunset and Gower in L.A. at the old CBS [studio] on a two-track. My lips were hanging down to my kneecap. We lived and slept in the studio. Sly would book it for twenty-four hours. CBS loved that, because they made millions, because it all came out of his royalties."
Drummer Greg Errico says, "In the studio, when it came to doing the horn parts, there would be days of sessions when they would really dig in. Sly sat down with Cynthia and Jerry and worked out horn arrangements. It wasn't just like throwing some excess baps and patterns; they were intricate parts of the songs. Between the three of them, they took the time to figure out what they were going to play. If it was going to be there, it had to mean something. Sly had a very unique way of voicing the horn arrangements that was very unusual and helped us define a signature sound. It was very unique. It had a bigger sound than what it actually was; it sounded like a whole horn section instead of just two people. Cynthia and Jerry really had a great chemistry playing together."
Released in the summer of '67, their ambitious debut A Whole New Thing opened with the rip-roaring "Underdog," a horn-heavy track whose lyrics ("I know how it feels to be expected to get a fair shake, but they won't let you forget that you're the underdog") were clearly about themselves. "That kind of said it all," Greg Errico says. "That song really represented a whole new thing. That song was a good representation of what we wanted to do musically, just break all molds and expectations of a musical group at that time. Musically, that song represented the mind-set of the band."
"Their sound was so different that it influenced so many people," rapper/producer Boots Riley told 247HH.com in 2016. "Sly and the Family Stone came out, and Stevie Wonder changed his style… It set a new agenda. Sly came out with this sound that was way dirtier than even what Stax Records was putting out… In a way, he was just playing hard and dirty blues—and funky and danceable." Nevertheless, folks weren't yet ready for the Sly experience. 
"That first album bombed," Martini says. "It was too diverse, and it bombed. I remember when our management wanted us to sound like the 5th Dimension, but Sly was a visionary man." The following year, with the release of their breakthrough Dance to the Music (whose title track features Robinson notoriously roaring, "All the squares go home!"), Sly proved to be a musical chameleon and production genius on par with George Martin or Brian Wilson. A multi-instrumentalist, Sly was comfortable juggling blues-based soul, beige pop, and kaleidoscopic psychedelica; better still, he figured out how to make hits. 
The only person who ever got rock-star rich in Sly and the Family Stone was their damaged leader and the sharks that swam around him. Unfortunately, Sly squandered his cash on a sordid and extravagant lifestyle, IRS bills totaling in the millions, lawsuits over damaged properties and missed shows, and a number of other self-inflicted crises over four decades. Through it all, the one person who never judged him and was always there when he called was Cynthia Robinson. "She just loved Sly all of her life," Jerry Martini says. "Thank goodness for that."
Months after her mother's passing, Phunne was still getting used to performing without her mother by her side. "I would look over to my right and see my mother," she recalls. "She would be there smiling and swinging her trumpet, and I knew I was standing beside a very special lady."