In 2001, at the invitation of U.K. hip-hop and funk quarterly magazine Big Daddy, Daptone head Gabe Roth wrote a recording manifesto. Roth's "Shitty Is Pretty" explained in great attitudinal detail the tenets and recording processes that informed the gritty sounds coming from the newly formed Daptone and its predecessor Desco:
"The first thing to understand is that if you are trying to make a Heavy Funky 45, you are NOT trying to make a 'professional' record by today's standards. Funk 45's are rough because they were made rough. They were made in basements or garages or lo-fi studios by bands that played barbecues on Saturday afternoons. Many people come at Funk with this bullshit acid-jazz, smooth R&B methods. Everything comes out all clean and happy and nice. They called it professionalism. I call it bullshit. If your [sic] going to try to record Funk, you got to have enough balls to make it rough. . . .
"SHITTY IS PRETTY. By this I mean that in whatever you're doing, whether writing a horn line, getting some drum sounds, or designing a label, you got to be shitty, the shittier the better. The more you let go of the professional musician/engineer/producer bullshit that creeps into your head while holed up in a studio, the more you will be able to let yourself record the kind of rough-ass shit that you want to hear when you're out on the dance floor tryin' to get into your karate boogaloo."
The rebellious attitude and commitment to feeling over "professional" technique laid bare in "Shitty Is Pretty" wasn't new to Roth or his partner Neal Sugarman. Desco Records shared the same ethos—perhaps less intentionally, given the reckless, DIY nature of its beginnings—but making a statement about exactly how a Daptone record would be created and the intention behind the label's sound was important. "Labels today don't necessarily have a brand the same way that, when you pulled out a Motown record, or Brunswick or Dynamo or All Platinum, it meant something," Sugarman emphasizes. "That's important to us, you know? So when you see the Daptone label, it means something."
While the manifesto broke down heavy funk recording into digestible column inches, explaining Roth's philosophy on finding players ("beware of studio musicians"), melody (which should be generally restricted to horns and maybe organ), harmony, rhythm ("has got to be 99 percent of the arrangement"), and changes (the main purpose of which is to take a band out of the groove briefly, only to come back "twice as bad"), Daptone's success was about an indefinable feeling—even before the label became successful.
"I was actually never down with shitty is pretty; it was one of our first arguments. I was just, like, All my favorite records were really well recorded," says Daptone veteran guitarist Binky Griptite, who grew up listening to a variety of artists but was a huge fan of Parliament-Funkadelic. "Gabe ultimately came around to that, using nice microphones and actually making it sound good."
Roth, too, came to slightly regret the hardline philosophy behind his "shitty" manifesto, ultimately favoring a vibe over a specific set of techniques or lack thereof. "There's nothing pragmatic about music," he says. "It's not supposed to do anything. It's just supposed to make you feel good. I feel like the nuance, the feeling of a record, got diminished. We can talk about history, we can talk about rhythm, and we can talk about technology. But at the end of it, shit just feels good. That's the whole story," he adds, resigned after decades of explaining and backpedaling a philosophy he developed at age twenty-five.
Feel-good music is subjective; the ability to create music that stirs the soul and packs the dance floor is a subtle art. Yet pop consensus never entirely mattered to Daptone, which was still unconcerned with making radio hits or much money, so long as bills were paid and folks could eat. Without a real long-term strategy that would allow Daptone to outlast Desco, doubling down on the collective, cohesive taste of the label's players and staff became its major curatorial and marketing approach. If Roth and Sugarman dug it, surely other people would too.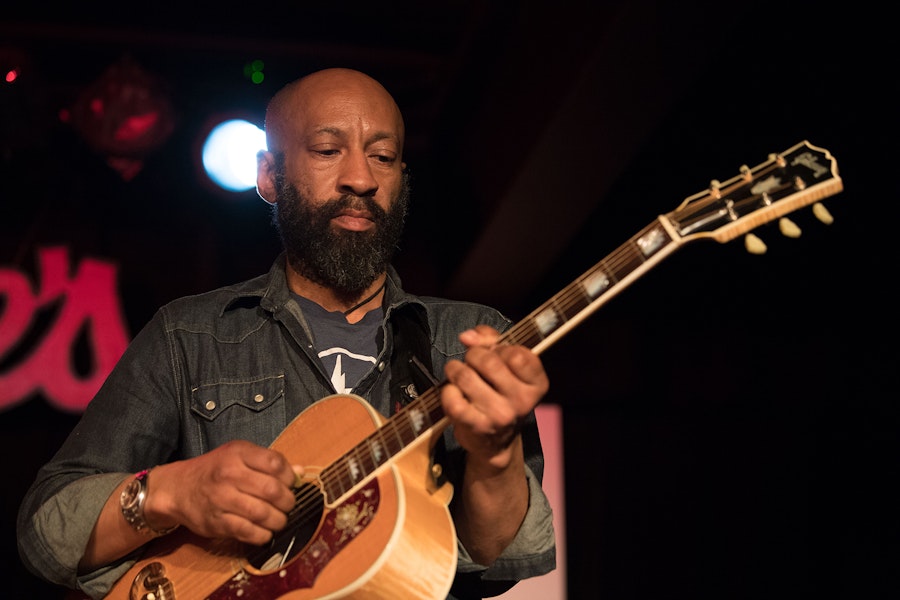 "Gabe is really specific about the sound on every level," explains Victor Axelrod, who by 2002 was experimenting with his own productions and had put out two solo roots reggae records (one under the name Ticklah). "So, if Gabe is going to make a record that he wants to listen to, there's a whole bunch of things involved." He's quick to point out that it's not about having all vintage equipment; vibe starts with the musicians. "So he's going to be particular about who he keeps around. These are elusive things; you can hear a particular chemistry between musicians."
Daptone Records released twelve singles and three albums in its first two years, a testament to the energy and familial feeling among the label's players—half of whom were holding down day jobs or taking other gigs in between sessions and shows. And whether it was the experience of a summer Barcelona residency, the shared obsession with collecting records, or simply the fact that the sound was cool, Daptone amassed a proper corps of musicians who acted as the label's house band and would support Sharon Jones on the road.
Initially, the Dap-Kings rhythm section consisted of Roth (as Bosco Mann, a pseudonym he employed just in case any debt collectors began eyeing the label) on bass, and writing most of the Sharon Jones and the Dap-Kings songs; Steinweiss on drums; Axelrod playing keys under the name Earl Maxton; Fernando Velez on percussion; Leon Michels on sax; Griptite on guitar; and, about a year into the label, Tommy Brenneck playing rhythm guitar. Neal Sugarman later led the horn section on tenor sax, performing alongside trumpet player Dave Guy. The Daptone family expanded to include semi-regular players in studio and onstage, including saxophonist Ian Hendrickson-Smith, as well as frequent collaborators like bassist Nick Movshon, Lee Fields, Naomi Shelton, and Cliff Driver. Sharon Jones, of course, provided leading-lady energy and a gravitational pull for the band and label, though she didn't write the empowered and love-laced lyrics she belted on Dap-Dippin'. As if the band wouldn't have enough of a difficult time coordinating schedules, piling into a van, or simply finding a table big enough to share a meal together, a chunk of the Dap-Kings were also performing with Antibalas, who released a double LP on Ropeadope Records in 2004 with vinyl support from Daptone.
Much like the great funk and soul labels of yesteryear and their infamous house bands—including Motown's Funk Brothers, Stax Records' Booker T. and the MG's, and the Muscle Shoals Rhythm Section (aka the Swampers) across the river at FAME Studios—Daptone's foundation was the Dap- Kings. Although Roth and Sugarman co-owned the label, the idea of it being collectively run (and certainly a collaborative creative process) was a selling point for fans who wanted to support musicians directly. Unlike most labels, Daptone was seen as embodying the best of their genre's tradition without economically exploiting its players. Yet even if there wasn't a ton of money to be made, some of the cash flowing into Daptone's coffers came with publishing and songwriting credits—and a majority of those credits went to Gabe Roth. Percentages of those royalties, which musicians could earn by fine-tuning songs, were often hard-won and miniscule. Over time, this disparity in income sowed seeds of discontent.
Regardless, Daptone became a sort of college of musical knowledge: musicians would come and go—trumpeter Anda Szilagyi left and was replaced by California transplant Todd Simon, who, when he went to work with Antibalas, was supplanted by Dave Guy, while others like Michels would play baritone sax instead of tenor as the music and lineup dictated— but everyone could always return to Brooklyn and be welcomed. While a family home might have generations of photos lining the walls, Daptone lined the halls of its studio with framed album covers, show posters, and a forever replenishing number of boxes.
"There's a sound to this crew, this bunch of guys," Roth effused in a video commissioned for the label's anniversary. "Man, that's our number one resource here. I think that's the biggest thing, to have a crew of musicians ... that know how to make a record, know how to make a sound, know how to play together as a group." Sugarman added, "It's really a group of musicians that really are deep inside the genre and the sound of the records, and know how to play in this particular studio and make this stuff come to life."(1)
After years of sneaking into Desco revues and handing out demos for his Staten Island–based crew of instrumental Afro-funk and soul musicians, Tommy Brenneck came into the fold early in Daptone's run. "I came home from one of these nights and there's a message on my parents' answering machine from Gabe Roth asking me if I could play keyboards on a gig for Sharon," he recalls over beers. Initially, Brenneck was more of a guitarist who played a little trombone; at the time, he was playing in a horn-free, less percussive, proto–Budos Band group called Dirt Rifle and the Funky Bullets. Their first Daptone recording was a single featuring a then-unknown Charles Bradley, whose vocal style was stuck somewhere between his James Brown impersonations and own heartaches and pain.
Credited to Charles Bradley and the Bullets, "Now That I'm Gone Look How You're Crying" (2004) and "This Love Ain't Big Enough for the Both of Us" (2006) were solid enough in their J.B.'s-style vocals and were breakbeat ready, but they didn't take off. Sharon Jones and the Dap-Kings, on the other hand, were hustling on a funk express. "And then, once I started playing with them, I was just like, I'm a way better guitar player; maybe we should just have two guitars," Brenneck continues. "Eventually I just became the main rhythm guitar player in the Dap-Kings for many years, which was just an amazing fucking position to be in in that band." True to form and the tradition of this being a family affair, future Budos saxophonist and bandleader Jared Tankel earlier interned with Daptone.
If the music flowed easily, getting a distribution network to push those tunes out of the Daptone offices and into the world was more of a challenge (unlike the way records were distributed during Desco's early days, Sugarman and Roth didn't have time to hand distribute around the Northeast). Through Caroline Distribution—which worked with Desco and was also key to encouraging the label to make CDs—Daptone made a deal with a label consolidator/management organization Shelter Music Group. Shelter had promised the fledgling indie that it could expect $40,000 in royalties from that first year or so in sales, and the windfall couldn't have come at a better time. Duke Amayo had received an ominous letter from the Afro Spot's landlord while touring with Antibalas in California, effectively ending his tenancy and pulling the plug on Daptone's rehearsal/recording space.
The Afro Spot's closure was one of many changes happening in rapidly gentrifying Williamsburg, which was experiencing the beginnings of what would become a highly publicized and satirized wave of young, hip types moving into what had previously been considered an undesirable part of the borough. Neal Sugarman had also moved from the Lower East Side to an apartment on Havermeyer Street with a view of the elevated J/M line, where he and Roth mixed a few early releases. But Daptone's operations were quickly growing beyond what a New York City apartment could accommodate. With royalties on the brain, the Daptone founders scouted the far reaches of Bushwick and Williamsburg for an appropriate HQ, landing at 115 Troutman Street, a two-story brick building owned by an older Italian man named Joe Siragusa, who Roth describes as "a real scumlord."
Sugarman was uncertain about the two-family home, which sat on a quiet street next to an auto repair and across from a vacant lot that blossomed into a summertime homeless encampment—but Roth immediately had a feeling that the house could become something great, or at least decent enough to practice in. "They were real pioneers in Bushwick at the time," says DJ Matt Weingarden. "They were the first hipsters over there, not that they were hipsters, but the first kind of people like me venturing into Bushwick." Nightlife in lower Manhattan had changed following 9/11, he adds, while the city's 2003 smoking ban further dampened the fun. "I remember the first time I went there, it was super, super desolate, and I didn't know where I was."
Daptone signed a seven-year lease with the promise of cheap rent. Sharon Jones was skeptical and, upon seeing the rundown building, asked incredulously, "Are you gonna make this a studio?"(2) With characteristic aplomb, Jones was down to roll, calking old wood and learning how to install wiring and electrical sockets on the spot.
It takes a village to build a soul studio, and the whole Daptone crew contributed over five or six months—some of the roughest of Roth's life, he later recalled. Amayo stripped the Afro Spot of building materials and transferred them to Troutman Street, where he helped with the building's out-of-date electrics. Artist manager Alex Kadvan (who had known Gabe since his Din-o-matic days) painted and plastered. Charles Bradley was a handyman, and he was called in to repair the radiators and rebuild the stairs to the second floor, where two offices, a storeroom, a bathroom, and hybrid kitchen/merch storage would live. They rerouted gas lines, employed members of the developing Budos Band to knock down walls, realized some of those were loadbearing walls, then jacked them back up using a jack from Sugarman's car, and brought the garbage across the Verrazano to a friendly dump in Staten Island. "All I remember is just, like, carrying out trash bags full of broken wall," Brenneck later said.(3)
The crew combined the downstairs kitchen and dining room to create a large live studio overlooking an unkempt backyard; Roth repurposed the gas pipelines as curtain rods and sent heavy blue velvet—purchased at a discount from a local theater company—to his mother in California, who sewed sound-dampening curtains. The most enterprising musicians fanned out across the borough in search of car tires to create the foundation of the studio's isolation room, then stuffed the tires with old rags and clothes.
Floating a few rubber inches above the house, in between the live room and the shelf-lined stray couch strewn control room at the front of the building, the well-isolated room is one of the crowning achievements of Daptone's House of Soul. "There's nothing too magical about that place as far as sitting there and playing music," Brenneck said, absentmindedly picking on a guitar on a control room couch. "It's kind of dusty and raggedy and you're kind of like, Get me the hell out of here. But you know, it sounds like magic."(4)
Daptone's "magic sound" quickly became the stuff of legend—due in no small part to Roth's "Shitty Is Pretty" manifesto, which was soon taken as gospel by adoring producers the world over—and the studio was filled with a variety of vintage analog equipment, cheap Radioshack microphones and whatever the hell else the label could get its hands on. Daptone's sound is drum-heavy, and the producer learned a lot about miking and the sound of a room from recording in a basement. Speaking with Tape Op magazine, Roth said he learned "to kind of let instruments blend themselves as much as possible," using a single mic for a horn section and usually just one or two for drums. "You can get a much more natural sound, but it's also much more challenging in a room that doesn't sound good."(5)
If Roth and crew built the studio to spec, the control room would also have to be just right. The studio started with the half-inch eight-track Otari (later graduating to a one-inch Tascam sixteen-track tape machine and eventually an eight-track Ampex gifted by DJ/producer Kenny Dope in advance of future session work), and Daptone got busy recording to tape. "We spend a lot of time on the arrangements, and getting the sound we want, before we record," chief tape operator Wayne Gordon told CNET years later. "Then we do a couple of takes, more than anything it's just a matter of what feels right."(6)
After a session, Gordon and Roth would literally cut and splice until the sound grooved perfectly. Mr. Fine Wine, whose record collection numbers in the tens of thousands (though he refuses to count), notes that "when you buy old records, there can be drastic sonic differences from record to record, even within the same label. Some will have a muffled sound; some will be too trebly; you've got to really work the EQ. That's not true of Daptone records; they all sound really good." Roth would later tell WNYC, "You can't roll a joint on an MP3."(7)
Various members of the label had borrowed money and purchased black-market Home Depot gift cards, engaging in a properly rock'n'roll level of by-the-bootstraps financial shadiness, when they heard the news: Shelter had gone belly-up and was in debt to Caroline. Caroline, in turn, wouldn't be paying out the consolidator's royalties. "So we're just left fucking ass out. It was, like, sink or swim," Roth says, the lingering dismay of yet another deal gone wrong still audible in his voice. "We were already deeply invested; we were fucking really upside down for a long time. Little by little, record by record we kind of made it back and paid off most of the debt."
During that first year or so, Daptone released several singles from Dap-Dippin', because that's all it could afford. "We could pay for the pressing, sell the records, and pay for the next pressing," Sugarman says. "I would set these little goals like, Okay, I need to make fifty bucks today for the label before I can leave the house. I was calling the U.K. and trying to convince this distributor to take a few more records. It really started small."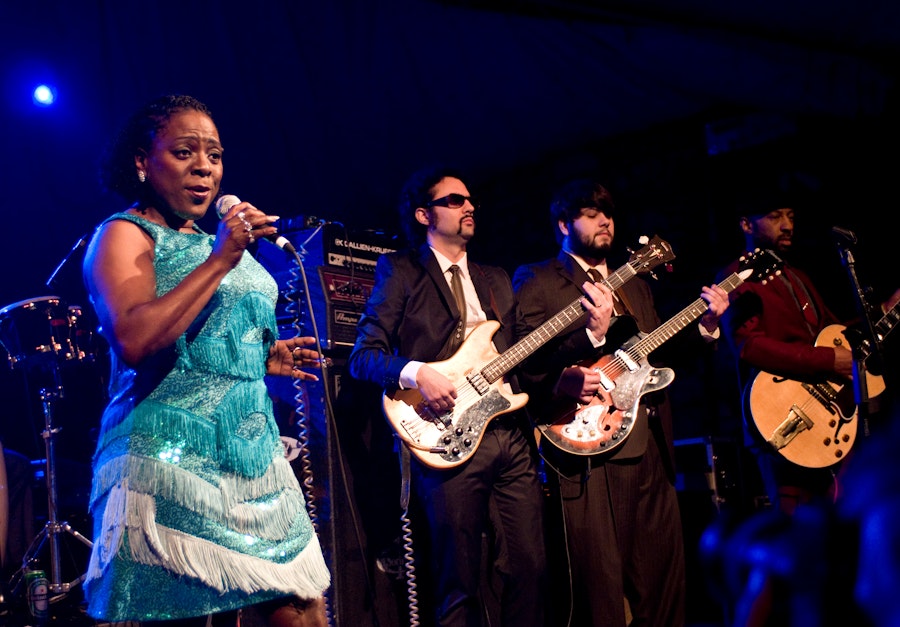 The first recording at the House of Soul was a similar version of Bettye LaVette's 1968 cover of "(Just Dropped In) To See What Condition My Condition Was In"—made popular and originally recorded by Kenny Rogers the First Edition the year prior—for a Kentucky Fried Chicken commercial that never materialized. Floating atop the now unseen tires in the isolation room, Sharon Jones flipped LaVette's slightly nasal vocal for a more bassy, gravelly condition; Rogers's psychedelic vibe became a mid-tempo funk with heavy saxophone and trumpet lines, and barely there background vocals.
Antibalas's third LP which, according to Pitchfork, provided a more "galvanized and urgent righteous noise" that demonstrated "the American Afrobeat awakening is in full effect"—was the first album recorded at Troutman.(8) Who Is This America? was an epic record of long arrangements and concepts, and Roth recalls engineering every possible studio trick around Antibalas's eight or nine members, all of whom were recording live in a room that was once a kitchen. From that session, Amayo points to "Big Man" as exemplary of how "an Afrobeat song behaves; how it's written, how it speaks the subject matter, and how it's simple and it grooves." Binky Griptite recalls writing the tune and presenting it to the band unfinished, while Amayo remembers writing together in studio, drawing on their collective experience in the workplace.
Although there were and would always be different rehearsal spaces, having a local label headquarters where the vibe was as productive as it was chill brought the connectivity at Daptone to a higher plane on wax and onstage. Musicians and friends could walk from the elevated Central Avenue M or the Dekalb L to Troutman and find folks hanging out, drinking beers and listening to records, eating together in the purple kitchen or Homer, Leon, and Tommy working out a song downstairs.
"The way people live and the cost of living here doesn't give you a lot of time to practice," says Griptite, who for years would commute to rehearsals in Brooklyn from 116th Street in Harlem before moving to Clinton Hill, Brooklyn. "You got to be able to swim and do your gig with minimal rehearsing. And, as a bandleader, that presents a difficulty because it's hard to have a band; a lot of time you're just hiring people for gigs and it affects what you're able to do and how you can do it. Those economics force a different type of attitude from New York musicians. Being able to do gigs like that is a specific skill and it's hard to get an ensemble vibe, like a true band vibe."
Well-engineered, vibey records were already becoming a Daptone hallmark, but live gigs were where the label really shined. Daptone continued to do label revues and play locally at Frank's Lounge, Southpaw (where the label held the majority of its album release parties), and the Brooklyn Academy of Music, before hitting the road hard with Sharon Jones and the Dap-Kings as its headlining act. The eight-piece band propelled Sharon—whose commanding presence cast a shadow far taller than her short frame—through a set of up-tempo funk and late-'60s soul made for dancing, as well as an occasional ballad thrown in to cool down the place. With the horn section stepping in time, percussion and drums holding tempo and two guitars driving the tune, Sharon physicalized the music—working her feet, knees, arms, and head first separately and then in glorious, outta-sight collective intensity on songs like "Got to Be the Way It Is." She occasionally brought up members of the audience—usually a man she could sing a love song to or castigate for his bad behavior. Each lucky fan quickly learned whether they had the chops to keep up with a fast footed diva with a locomotive energy. "I think Gabe saw, from the very beginning, that Sharon had the power," Steinweiss recalls. "If she can get in front of people, we were going to get people coming back to see us."
Daptone bands gigged regularly at the Lucky Cat in Williamsburg (where Binky had a weekly DJ night) and in Fort Greene at legendary bar Frank's Lounge. They also held a few larger gigs at Park Slope's Southpaw, yet there was no big soul or funk scene in the States at the time. And while audiences were always enthusiastic, fans were hard won. The band would pack into a fifteen-passenger van and spend weeks driving from New York to South Carolina, then to Austin, Texas, and back across the Midwest, playing the occasional festival and small clubs like San Francisco's Elbo Room and La Cita in Los Angeles for $50 to $100 apiece each a night— which Steinweiss assumes often came out of Bosco Mann's pocket. "They would be shitty clubs, but every time that we played a show Sharon would just own it. And so, the next time you go to that town, someone told their friends, and it's very organic growth," he remembers.
The band's shared musical aesthetic continued to grow organically as well. Although Apple had already unleashed its iPod onto the world and would fundamentally change how people listened to music, personal MP3 players were financially out of reach for most of the band (which was already embedded in a more analog musical view). They spent van hours listening to classic funk and soul mixes, as well as albums like the Isley Brothers' Get into Something (1970) and the Ohio Players' 1977 self-titled LP, with Roth manning the CD player most of the time. "Not even that many people had Walkmans," Griptite says. "We were mostly all listening to the same stuff, just all classics. They help keep everybody in the right frame of mind to do the shows, because that's just the world we're living in. Conversely, with Antibalas, it was all Fela all day, so you're just, like, in that vocabulary, and you don't have to think about it. It just comes out," Griptite says, adding, "we'd get in the van, light a blunt and..."(9)
While few women would want to be stuck in a van with a gaggle of men a decade younger, Sharon Jones rarely complained about these rough early tours or the energy required to lead a funk band—especially in front of a small crowd. She didn't psych herself up prior to a show, instead just enjoying a little tequila (she and the rest of the band preferred to save the party till after the show) before getting "in a state of mind." Later, Jones described how she was no longer herself onstage. "I'm like down to earth Sharon Jones here, but once I come onstage, I just go out. I lose my focus, but I don't lose my focus on the music. It's not about me. It's not about being a star I'm gonna give you 120 percent. I'm going out. You came to see me and this is my job, to please you."(10)
Jones and the Dap-Kings helped each other, in the studio and at gigs. "God sent them to me because I'm able to do my stuff and be myself," she stated.(11) After a good gig, Griptite says, the band would typically "go to somebody's soul DJ night, or somebody in the band would be the DJ, and we'd go dance to soul records. And like half the time we'd be out on the dance floor, just dancing with each other."
Those great gigs and hangs helped even out rough tours, where everyone was forced to manage stress, boredom, and the irksome nature of being stuck with the same people day in and day out in a small van. But life at home wasn't always the respite the musicians needed. In the winter of 2004, Roth was heading home from Troutman Street with Homer Steinweiss when the drummer drove into a pothole; the car airbag exploded and lacerated Roth's eyes. He spent nearly two weeks in the hospital and went temporarily blind, unable to get around on his own for months and forced to cover his sensitive eyes with dark glasses for the rest of his life. That first winter, the House of Soul studio had no heat. It would still be years before Roth and Sugarman could draw a salary from Daptone; for now, each made a living from gigs with the Sugarman 3, Sharon Jones and the Dap-Kings, weddings, and club dates while hoping their sweat equity in the label paid off.
It wasn't all highs and lows, however. Between performances, the band ate well (or tried, depending on how out of the way a venue was) and dug for funk and soul 45s at local record stores, which they'd listen to on tour and spin at gigs back home. When the band toured the West Coast, or Roth went home to visit his folks in Riverside, he would shop at Chandler's Wind-Up in San Bernadino—a jukebox seller with a stash of records who Roth would pay $10–$20 for a dig. "I would go back with my Fisher-Price record player and just spend days and days listening to thousands and thousands of records and come out with a stack. He'd charge me twenty- five cents, fifty cents for records. A big part of my record collection is from Chandler's," Roth says, joking that he was only willing to give up the name of his favorite non-record store treasure trove after Chandler's closed.
Bosco Mann brought the vinyl back to New York and also gave Duke Amayo money to buy Afrobeat records whenever he went home to Nigeria. "We would all spin at fucking bars on the weekends, when we weren't touring, or on weeknights, or whenever," Brenneck says, adding that the Daptone circle continued to expand to DJs who worked in record stores and collected. "There was Jared Boxx and Young Chris, and [future Daptone marketing manager] Nydia Ines Davila. They were playing, like, crazy deep ballads and just all sorts of just fun. All the musicians would love to go listen to them spin records on a Tuesday night at Savalas on [Bedford Avenue and] South Fourth Street in Williamsburg for all the 2000s. We all went there and just were blown away by their fucking records; it had a huge effect on us."
Back on Troutman Street, those ballads and soul tunes were indeed having an effect on the House of Soul studios' output. Daptone certainly released funk in 2003 and 2004, including a reissue of the Daktaris' Soul Explosion and a Sharon Jones 45, "What If We All Stopped Paying Taxes"—a direct critique of the Iraq war, released just before the 2004 election, on which Binky Griptite encourages, "Ladies and gentlemen, children of America, it's up to you! Let mister politician man know how you feel. Stop paying taxes. Stop paying for corruption and injustice." But the collective was also developing more soul songs in the style of Gladys Knight, Archie Bell, and Wilson Pickett.
Sharon's "How Long Do I Have to Wait For You?," a 2004 mid-tempo love song, would become characteristic of Daptone's mid-'60s-style soul output: tunes about love always written from the perspective of an empowered woman with distinctive horn lines and drums. Over the years, songwriting evolved from a bottom-up, groove-before-lyrics method to a process where Roth developed lyrics first, then a melody and chords with input from the players. "I think Gabe is an alien and he's in disguise, man, he's been around a loooong time," Jones said jokingly. "I don't know if he writes stuff for me because whatever he writes, it fits like a glove."(12)
If Roth's songs fit Sharon like a glove, there were some growing pains felt elsewhere in the label. Around 2003, demanding and often conflicting touring schedules forced the Dap-Kings and Antibalas to form separate lineups. The members the bands had in common (Griptite, Velez, Axelrod, Perna, Roth, trumpeters Jordan McLean and Anda Szilagyi) now had to choose the path of Afrobeat or funky soul. There was no competition or hard feelings, and everyone remained close.
"When both bands started getting more offers, it was just like you had to choose," Griptite notes. "I kind of didn't choose; I think I was chosen. Sharon was always really dependent on the vibe of the band; she also really did enjoy my guitar playing. It wasn't any of our habits to just be blowing compliments up each other's asses, but for a few gigs that I would ever miss, she would be the one that would miss me the most."
Leon Michels was also splitting time, doing sessions at Daptone while acting as Phillip Lehman's partner and right-hand man at Soul Fire Records. By around 2004, Lehman was getting tired of the business. "I feel like Phillip was not about the business at all, just, like, I'm fucking rich, let's just put out some stupid records," Homer Steinweiss suggests. Lehman packed his bags for Costa Rica, where he'd try professional surfing, leaving the studio and label to Michels and Jeff Silverman. Together, they'd pull back the needle on Soul Fire to create their own project, Truth & Soul Records. "Phillip kind of brought them in to this recording situation where they could just, like, get high and fuck around and have fun making records," Victor Axelrod says. "He just, like, left the label to them, and they were actually able to take it and run with it. That's just an extraordinary situation."
At the time, Michels was performing with the Dap-Kings and getting ready to release his debut LP as El Michels Affair, a mostly instrumental "cinematic soul" record he had been working on for two years in his childhood bedroom. Sounding Out the City was an emotional record and an early example of sophisticated horn arrangements in the New York soul scene, though positive reception was limited to that same niche community. "Even though it was instrumental, all the songs had really strong moods, and it felt like they had a sort of narrative even without lyrics," Michels told Wax Poetics.(13) The album was slated for release on Daptone and recorded with Nick Movshon, Steinweiss, and Sean Solomon (all Mighty Imperials), as well as Brenneck, trumpet player Michael Leonhart, and a few additional Dap-Kings on a Tascam 388 quarter-inch reel-to-reel eight-track recorder he borrowed from Antibalas's Luke O'Malley. According to Steinweiss, "There was some, like, little moment of nervousness, and Leon pulled the record and put it out on his own label, which was the beginning of Truth & Soul." Like the Dap-Kings, El Michels Affair became Truth & Soul's studio band. If there was any saltiness on the part of Daptone—which was busy working on a more soul-centered effort for Sharon and the Dap-Kings' sophomore album, while also readying a debut from the Budos Band, an Afrobeat group so metal they would come to have their own brand of booze and funk- fueled mayhem—it didn't show. Instead, the younger generation of Desco/ Daptone musicians (Movshon, Brenneck, Steinweiss, Michels, and Dave Guy) formed a tight-knit group who, according to Brenneck, played "on all of the records that were being produced around New York City," including Daptone, Soul Fire, Truth & Soul, and even productions from Mark Ronson—who at the time was mixing and developing mixtapes for Jay Z's Roc-a-Fella Records while working on his second solo album, Versions. Because of their years-long performance history and shared taste, the group developed an unspoken, almost extrasensory, understanding of musical phrasing and how to finesse imperfections.
"The Dap-Kings had this gap in the age of the group," Brenneck reflects, standing behind a small bar in the lounge of a Hollywood recording studio. "I was around nineteen, and Homer and Leon were nineteen, and they'd already been in the band for three or four years. Leon quit after I was in the band for a year or two, which was so, so sad. When I joined Sharon, we all started playing together on the regular, toured together and were making records in between tours. And that unit was just incredible."
Neal Sugarman contends that the Dap-Kings was a breeding ground for studio bands and the wider soul revival. From the Budos Band to El Michels Affair to Tom Brenneck's developing Menahan Street Band and everything Leon Michels would create at Truth & Soul and beyond, "whether they admit it or not, those concepts kind of came out of working in the Dap-Kings," the Daptone head states. "I also think that's what made the Dap-Kings great, because you had a group full of leaders and in most cases, that can be a catastrophe where everyone wants to do their own thing. But in this case, it worked perfectly because everyone knew how to make good music. And it was never about one person—it was always about the band and the way the band sounded together."