Loose Ends' founding members Carl McIntosh, Jane Eugene, and Steve Nichol arrived on the scene in 1982 with the single "In The Sky'' as products of the Brit-funk scene, before partnering with producer Nick Martinelli to create a distinctly edgy but polished brand of R&B and funk more electronic in its approach. The trio (originally called Loose End when they formed in 1980) was nimble enough to pull from reggae, jazz, disco, and house, while at their most ambitious experimenting with textures present in North African and Latin music. In the process, their music would set the wheels in motion for the eventual development of street soul and acid jazz.
"Hangin' on a String (Contemplating)" would become the band's breakout hit in 1985. Making history as the first single by a British group to top the U.S. R&B/Hip-Hop chart (then known as the 'Hot Black Singles' chart). Paving the way for a further influx of hits that included "Slow Down," "Stay a Little While, Child," "Nights of Pleasure," "Mr. Bachelor," and "Watching You." 
This run of hits placed Loose Ends firmly among the preeminent leaders of the British R&B invasion alongside Five Star, Billy Ocean, Junior, and Sade. A short-lived and forgotten period in music that saw British acts take advantage of the plethora of black music stations proliferating in America. As McIntosh recalls, it was a time when Britain was fervently refusing to support its own homegrown soul music.
"Here in the U.K., it's a numbers game," he says. "That's how they suppressed bands like Loose Ends, because they simply didn't play British soul music on the radio. And because of that, we didn't get the exposure that we should have had."
Decades before the likes of Floetry, Estelle, Ella Mai, and Daley would set up residence in the States, Loose Ends were among the first British R&B acts to relocate to the States in pursuit of success.
"We didn't get the support in Britain that we would've liked, but the behavior was corrected for those who came after us like Soul II Soul," McIntosh says.
Internal conflicts and creative differences would unfortunately result in the departure of vocalist Eugene and keyboardist Nichol in 1989 after four albums. McIntosh, the guitarist and vocalist who had long been the group's creative focal point, would go on to produce the group's final album, Look How Long, in 1990 with singers Linda Carriere and Sunay Suleyman. An unheralded masterwork, the album is yet to be recognized in the pantheon of essential Black British albums.
After initially lending his songwriting/production talents to works by Phyllis Hyman, and Cheryl Lynn at the height of Loose Ends' prominence, McIntosh would later become an in-demand producer and remixer for the likes of D'Angelo, Beverley Knight, Caron Wheeler, Leon Ware, and Sugababes. For his role in the shaping of contemporary Black British music, McIntosh would be formally recognized at the 1998 MOBO Awards with the 'Contribution To Black Music' award.
Wax Poetics caught up with McIntosh to reflect on his storied career.
Who were your favorite artists growing up?
My favorite artists were Isaac Hayes, The Detroit Emeralds, Detroit Spinners, Donald Byrd and Lee Ritenour. By the mid 70s, I was getting into Earth, Wind and Fire, Bill Withers, George Duke and Stanley Clarke. Reggae artists like Bob Marley, Big Youth and Burning Spear would also play a big part in shaping my tastes.
No Marvin Gaye? I hear so many echoes of his voice in yours.
Absolutely Marvin Gaye! My parents were romantics. My dad would always put on the 'Let's Get It On' album. There were some beautiful songs on there like 'Just To Keep You Satisfied'. I cried when I first heard that track. I didn't realize it until after he died, but God had definitely put this spirit in me which was definitely Marvin's.
Loose Ends was the first Black British act signed to Virgin Records. How did the deal come about?
Us signing to Virgin was actually accidental. We had sent demos to Mick Clark, a friend of ours who was working at City Sounds until he got fired. Luck would have it that he would be hired as head of Virgin's Black music department. When his bosses asked if he had any ideas on who to sign, he already had our tapes in his pocket.
Chris and Eddie Amoo of the Real Thing produced some of the group's earliest material. What was it like working with them? Especially as in some ways they passed the baton to you to fly the flag for British soul.
When I met them at our studio session, I didn't realize they were there to produce for us. I knew we were in good hands though, because they had songs like "Can You Feel the Force," which had a lot of brass construction and was a B.T. Express–type tune. Those guys really understood music. 
They literally played our demo and re-created it in a couple of hours. It was amazing to see. We were just looking at them like, "Wow, you're The Real Thing." And they were looking at us like "You're the future." We had a good thing going on in the studio and that was how we met our managers. Their managers became our managers, so we were really like the babies of The Real Thing. They really mentored us.
Between 1982 and 1983, you released three singles which wouldn't make your debut album A Little Spice—"In the Sky," "We've Arrived," and "Don't Hold Back Your Love." Why was that? 
We were trying to find our sound, and also we were just learning the industry. Our deal was for three singles and an album. This meant that if any of those singles went into the Top 40, we would then have the opportunity to make an album. 
Our first single, "In the Sky," didn't go anywhere near the Top 40. Its failure made Virgin feel that we needed to work with other writers because it was too Black. Early on, we were more of a jazz-funk band similar to Average White Band and Heatwave.
We ended up working with George Hargreaves and Tony Ajai-Ajagbe who wrote "We've Arrived," a poppy Shalamar-esque track. It wasn't our thing, but it was danceable and fit the mold of the time. Low and behold, it crossed over into the Top 40, so we triggered the album option.
We then put out another single, and this time the label paired us with Pete Walsh who had done work with The Sex Pistols. Even though we were an R&B group, they somehow felt he had a sound that we could benefit from. Completely different, of course, but this was the '80s and we were kids in Britain at that. The track we wrote with him, "Don't Hold Back Your Love" didn't end up charting well either. At that point, I think Virgin Records was starting to regret the fact that they had signed us. They were spending money to promote songs that were charting very low.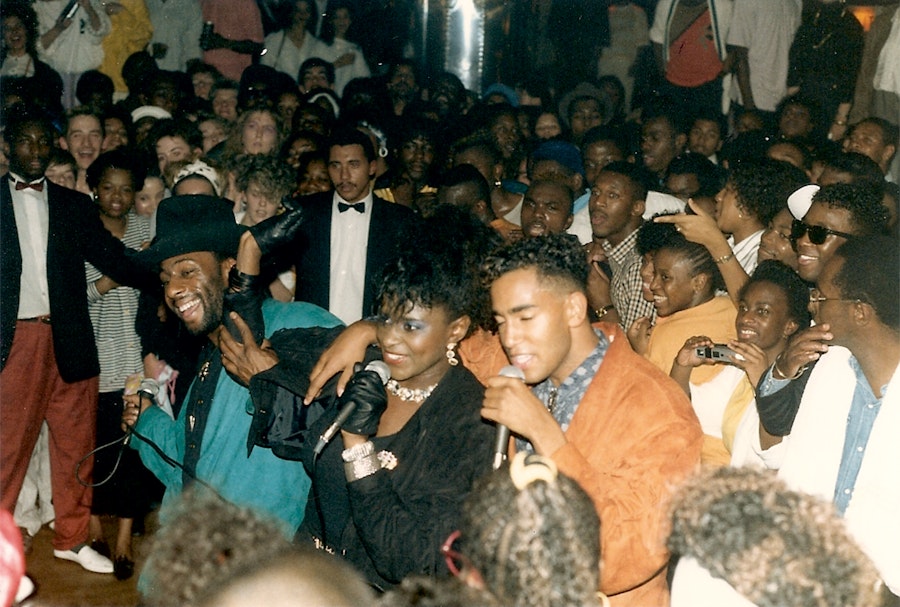 But the music was finding an audience in the club scene, right?
Our music was more popular in clubs than it was on the charts or the radio. Radio did not take to Loose Ends at all.
Loose Ends had a long-term creative partnership with Nick Martinelli, whose footprints are all over the majority of the group's discography. What are your memories of first meeting him and recording the first album in Philadelphia? 
When we did the demos for A Little Spice, Mick Clark was looking for a producer for us to work with. He asked us who we wanted to work with, and we said Jimmy Jam and Terry Lewis, and he was like, "Yeah, in your dreams, it's not in the budget." We then suggested Dexter Wansel in Philadelphia who did "Nights Over Egypt" for the Jones Girls. Mick [Clark] actually happened to know some people over there, one of them being Nick [Martinelli]. Mick then gave us a bunch of songs, that Nick [had] produced, for us to listen to, which had songs by Fat Larry's Band and Terri Wells. 
We loved what we heard, but we didn't know much about who Nick actually was. When he came to London, we were shocked that he was this little Italian dude, but he really knew his stuff. He said he loved our demos and wanted us to record the album with him in Philadelphia. With Nick, we developed a new sound for ourselves which was more grown.
We worked in a studio called Alpha in South Philadelphia, which was in the heart of Mafia activity. The studio was in a very Italian neighborhood and owned by a guy who always had a henchman with him. We ended up doing the whole album in this small little studio; it had a very analog sound, right before the digitization of music. 
Loose Ends was considered part of the Brit-funk movement of the early '80s alongside the likes of 52nd Street, The Cool Notes, Imagination, and Shakatak. Can you speak to the landscape of Black British music around this time and the emergence of pirate radio?
Most of us who were born in the '60s had listened to decades of pop music. And when I say pop, I mean European pop. It was all about Showaddywaddy, Shakin' Stevens, Bay City Rollers, Alvin Stardust, and Kate Bush. I'm not knocking any of these acts, but in our family homes, we would have a whole different thing going on. In our record collections, we had very exclusive music. We had music that could make you dance. We had lovers rock, we had soul, and we had reggae. You'd have to come to a house party to hear the good stuff. 
A friend of mine would then tell me that he met a guy on CB radio who was playing his record collection over the receiver and people were actually listening. By the time I got back from America from doing the album, it had taken off. Pirate radio was what they called it, and it was a movement that got bigger and bigger. Until the government, home office, and Capital [Radio] eventually clamped down on it. 
I remember coming back to England and hearing a song we had just recorded on one of the pirate stations. The record wasn't even out yet. 
So before Loose Ends had even officially debuted, pirate radio had somehow gotten ahold of the music. 
Yes! It must have been leaked by someone at the record label. While we were doing our mixes in Philadelphia, our record producer was sending reference mixes back to England. These mixes were being copied onto cassettes, which found their way into the hands of pirate-radio DJs. They were playing our unmastered album, but it sounded great.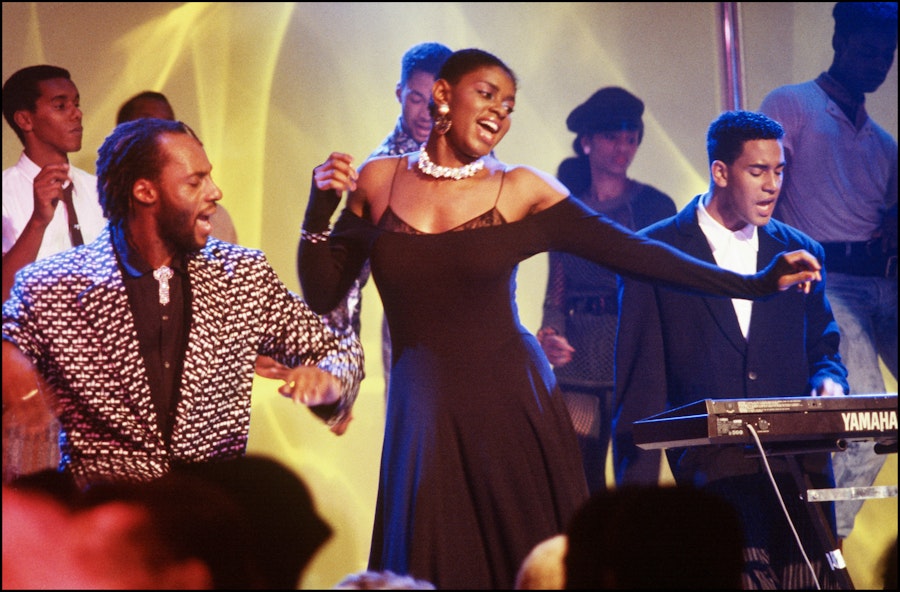 The group famously had more hits in America than they did in Britain with "Hangin' on a String (Contemplating)" and "Slow Down" both topping the U.S. R&B charts. Can you speak to how the radio landscape in America compares to Britain. 
BBC Radio 1 would not play music from Loose Ends at all. Unless we were already in the Top 20 or Top 30, then they had to play it because it was mandated. But they wouldn't help us to get to the Top 30 in the first place. We would hear from our manager that they didn't like our music, but when we went to number one in America, they hated it. It was a real egg-on-their-face and shame-on-you moment to the people who represented the authorities of pop music in England that we could have that level of success elsewhere. 
That's actually one of the things that broke the group up, because Jane took solace in America. She found comfort and loved the adulation we got over there, because it was totally different to what we would get when we were in England. I'd come back from an American tour and people would not know who I was, whereas in America, we would be asked to sign autographs as we went through airports. 
The discourse around British R&B back then, and even still now, is that our version of the genre is purely imitative. While you were of course influenced by American music, do you feel Loose Ends' music still had a distinct British feel to it? 
I wouldn't call it Britishness. We were born and raised in Britain, yes, but it's not actually a British thing. It's West Indian and African; a rootsy thing that we all have in us from the old country that made its way into our music. Even Americans identified with it differently. They knew that there was something different about our music. 
When it comes to the idea of imitation, when you start a band, you want to play music that you respect. Suddenly, what you like creeps into the music you start creating yourself. We weren't trying to copy Americans, we just loved the language of R&B. The tonality of the voice and the intonation of the accent that you sang with was naturally always American. We weren't really influenced by anything happening in mainstream British culture.
This year marks the thirty-fifth anniversary of The Real Chuckeeboo, notable for being the final album recorded with the group's original lineup. What are your memories of that time? 
Looking back, I don't think that album should have been made. If I'm honest, I think we needed a break. We did four albums in four years, and all the touring and the promotion takes a lot out of you. You're doing eighteen hours of promotion every day. When you finish doing that, you literally almost need a holiday. But you can't go for too long, because you will forget the creative side of things. 
I have to say, it was a sad time for myself, because I was a little bit confused with Jane and Steve. I think they were becoming tired, where I was sort of just getting going with my writing and producing. Money was coming in, so I went out and I bought a Linn 9000, the drum machine which ended up becoming the MPC. I sat down with the manual and it took me the whole weekend to figure out how to make sounds. When I was messing around with it, I came up with "Gonna Make You Mine" which would end up on Zagora. It was the first song that I had made entirely of just me on my own.
I continued coming up with new songs, the first of which was "Johnny Broadhead (Part 2)." The day I wrote "Tomorrow" / "Mr. Bachelor" / "You've Just Got to Have It All," I remember being vexed and so upset with Jane and Steve because I had been in the studio three hours waiting on them, but God's vibes rained on me that day. It took me almost as long to write the song as it takes for you to listen to it. Everything I played was almost on the fly and it worked. I was just adding things as I went along.
The final album, 1990's Look How Long, would become Loose Ends' most critically acclaimed. Its sound pre-dates the development of hip-hop soul while epitomizing the underground culture of street soul. Can you speak to where you were creatively at that time, and what influences you were pulling from? 
When we were recording the previous album, hip-hop was something I had my eyes on. I was super into records by the Jungle Brothers, Boogie Down Productions, Public Enemy, and A Tribe Called Quest. The first De La Soul album in particular was total genius to me, so I started creating beats that were very hip-hop and boom-bap inspired. 
Look How Long is branded as the fifth Loose Ends album, but it was essentially your solo album. You're even the only one on the album cover, so why wasn't it just issued as such when Jane and Steve left?
Things happened the wrong way around for that to happen. It initially seemed as if we were writing a Loose Ends record because Jane and Steve were still around. They hadn't officially departed yet, but were just missing in action. A whole team was working on it, but the only people who were missing were Jane and Steve. They did hear a few of the songs though; Steve is actually playing on "Love's Got Me," but after that he disappeared. 
When Virgin heard the record, they tried to get Jane and Steve on it. The label called them both in, and, from what I hear, those meetings didn't go so well. After that, they said all I needed to do was replace them with Linda Carriere and Sunay Suleyman on it and they would release it under the Loose Ends name. 
Why wasn't there a Carl McIntosh solo album after the group finally broke up? 
I didn't really want to go solo. I loved the Loose Ends sound and I wasn't ready to be Carl McIntosh. I hated the name anyway. That's not an artist name, so I thought why would I? Eventually, I started putting an album together with a lot of samples called Pay the Man. This was around the time when Tighten Up Vol. 1 came out in 1992.
When I delivered the album to Virgin, they told me that if there's any samples on it that I would have to pay for it. When I looked into the procedure for sample clearance, I was getting quotes like £56,000 for one track, £100,000 for another, and then £20,000 for another. 
I then tried to take the samples off of the songs, but they sounded completely different without them. By then, the songs were stale and Virgin just sat on the album*. A year later, I'd receive a letter informing me I had been dropped from the label. After that, I didn't do much, I was in a bit of depression until Pete Rock had asked for Jane and I to do a song with him.
*Pay The Man was shelved and remains unreleased.
Yes, you and Jane came together for a one-off reunion.
Jane and I reunited to do the record "Take Your Time." It almost seemed like the original Loose Ends was about to get back together. We did try. Steve even came over to America to try and work on new music, but it just wasn't the same.
While the group was active, you produced for the likes of Five Star, Phyllis Hyman, and Cheryl Lynn, but afterwards you would produce and remix tracks for artists like D'Angelo, Robert Palmer, Caron Wheeler, Beverley Knight, and Sugababes. Can you tell me about your time doing behind-the-scenes work? 
Two years after I was dropped from Virgin, I was starting to feel musical again. Ideas began flowing and I had a friend that came from America to work with me. She told me that anytime she mentioned my name to anyone in the industry, that she was told not to work with me, but she wanted to anyway. Her name was Angie Stone. After writing a few songs together, Angie then introduced me to this guy who she said reminded her of a younger version of me. He gave me his tape and it turned out to be D'Angelo's Brown Sugar. Eventually, I got a phone call one day from Trevor Nelson who was the man-about-town at the time. He was given a job at Cool Tempo, which was the U.K. label distributing D'Angelo's music, and Trevor asked me to remix "Brown Sugar" and "Cruisin'." 
The Sugababes session came about from me regularly going to Cotton Club in Tottenham where Ron Tom used to DJ. He had put together this group and said I should come down to the studio and meet them. They were around thirteen or fourteen at the time and had their school uniforms on. I remember [Mutya Buena's] voice blowing me away, I couldn't believe what was coming out of her mouth at such a young age. The song itself, "Lush Life," was completed in one day. I would feed the lyrics and melody to Mutya while she was on the microphone, and she would sing it back like she wrote it. There were no second takes with her. We didn't do much mixing on that song; it was grimy, dusty, and had a street element to it. 
I began working with Beverley after receiving a call from my manager who told me that [Beverley] wanted me to get involved on her Prodigal Sista album. I played her some beats I had already worked on, and she loved them. Beverley was a church girl, very prim and proper. She was a very hard worker who could write entire songs in a literal matter of minutes. When I see how well she's doing now, it doesn't surprise me, because of all the people I've worked with, she had the energy and vigor for it, which doesn't come naturally to everyone. She had it all from the very beginning. 
What do Loose Ends have in store for the rest of the year and beyond? New album? 
There is indeed a new album on the way. We're about seventy percent finished with it. All I can say is that if the Loose Ends sound could have been bettered, it has been bettered here. If it can happen, I want to try and work with Terri Walker, Children of Zeus, and Nia Archives too.