With the road stretched out before him in a million directions, the artist known as Boulevards—government name Jamil Rashad—has always been able to chart his direction. Although winding, Boulevards' path to funk was almost foretold, his interests from childhood arriving to a single destination that's also his origin: the Carolina mud.
"I've lived in New York, I've lived in L.A., but I keep coming back to Raleigh. There's something about the South, man—the comfort of having your family right down the street. Friends you grew up with, having a certain sense of community," Rashad says. "The food, the fried chicken, barbecue, that has a big influence on my music and just who I am as a person. The mud, the Carolina dirt, this is what I was born in."
More than just down-home whimsy, Raleigh, North Carolina, truly represents the nexus of Rashad's musical history. Rashad's father used to DJ at Shaw University's radio station, playing soul, jazz, and R&B, and there was always music in the home; his mother encouraged his artistic passions from a young age. As a teen in the late 1990s and early aughts, Rashad channeled his live-wire energy into the Triangle's prolific punk scene, the visceral energy of musicians, singers, and audiences a shock to his system. He studied illustration at University of North Carolina at Charlotte and ran collegiate track—which Rashad credits for his persistence—all the while listening to Shuggie Otis, Prince, and anything from North Carolina native George Clinton.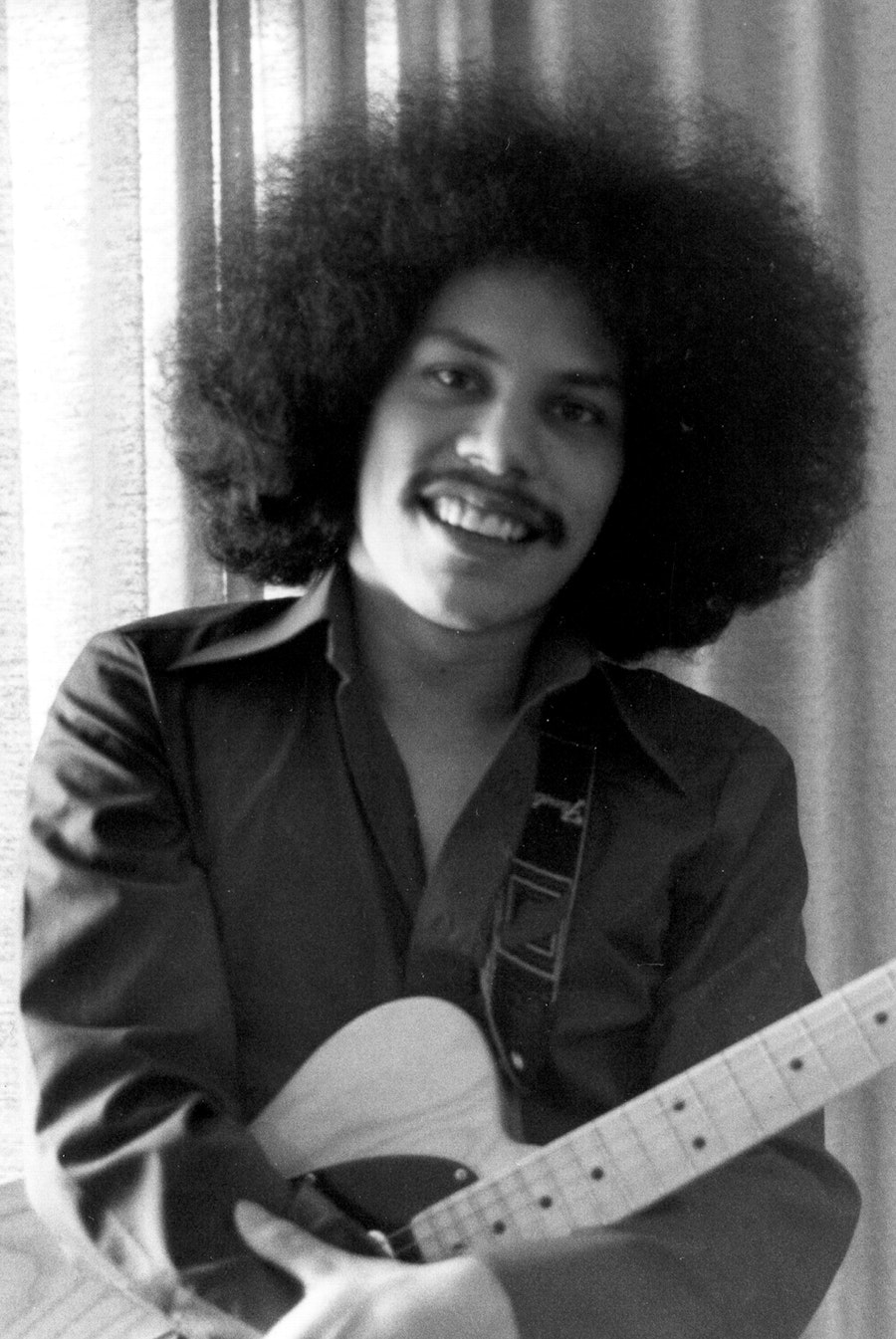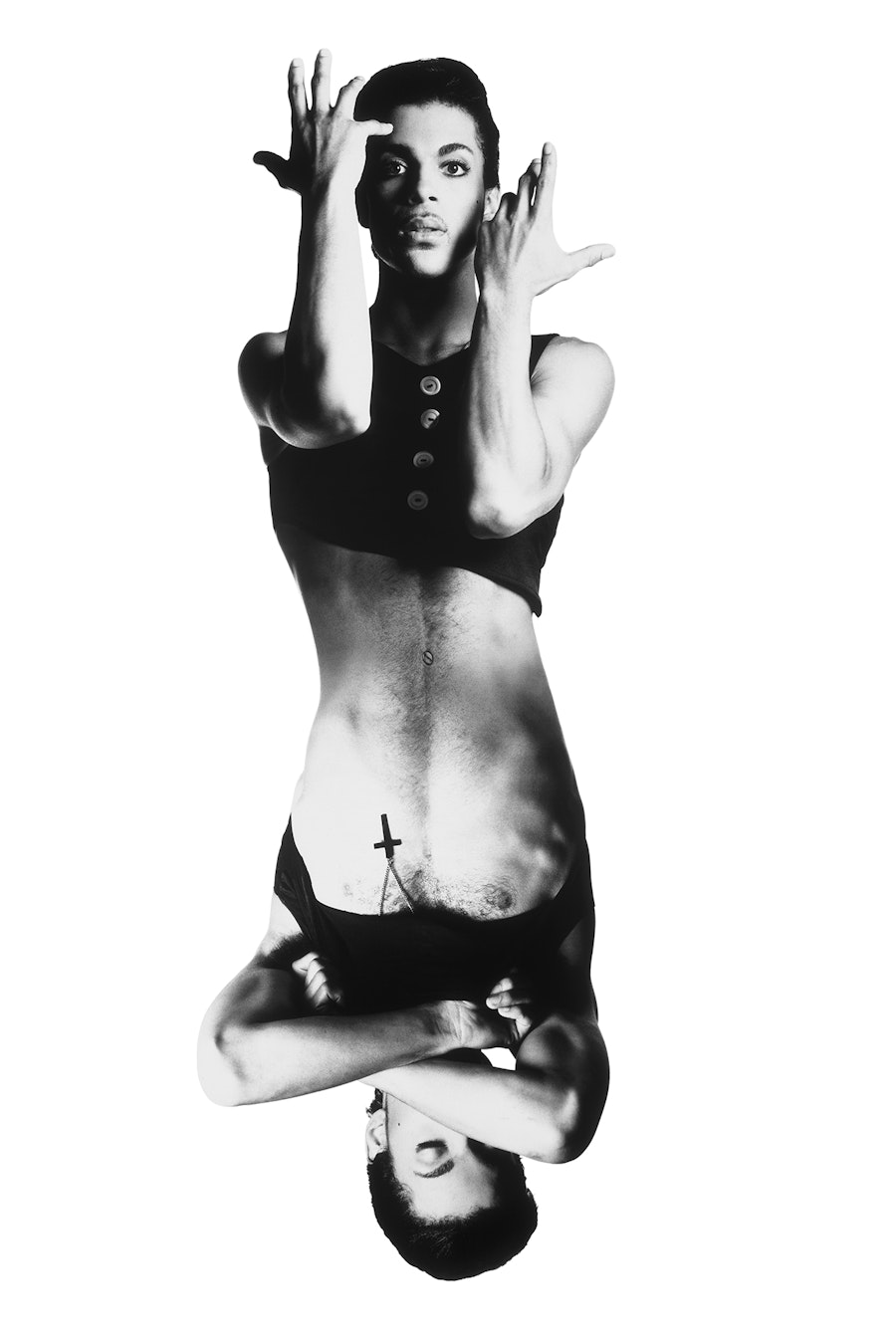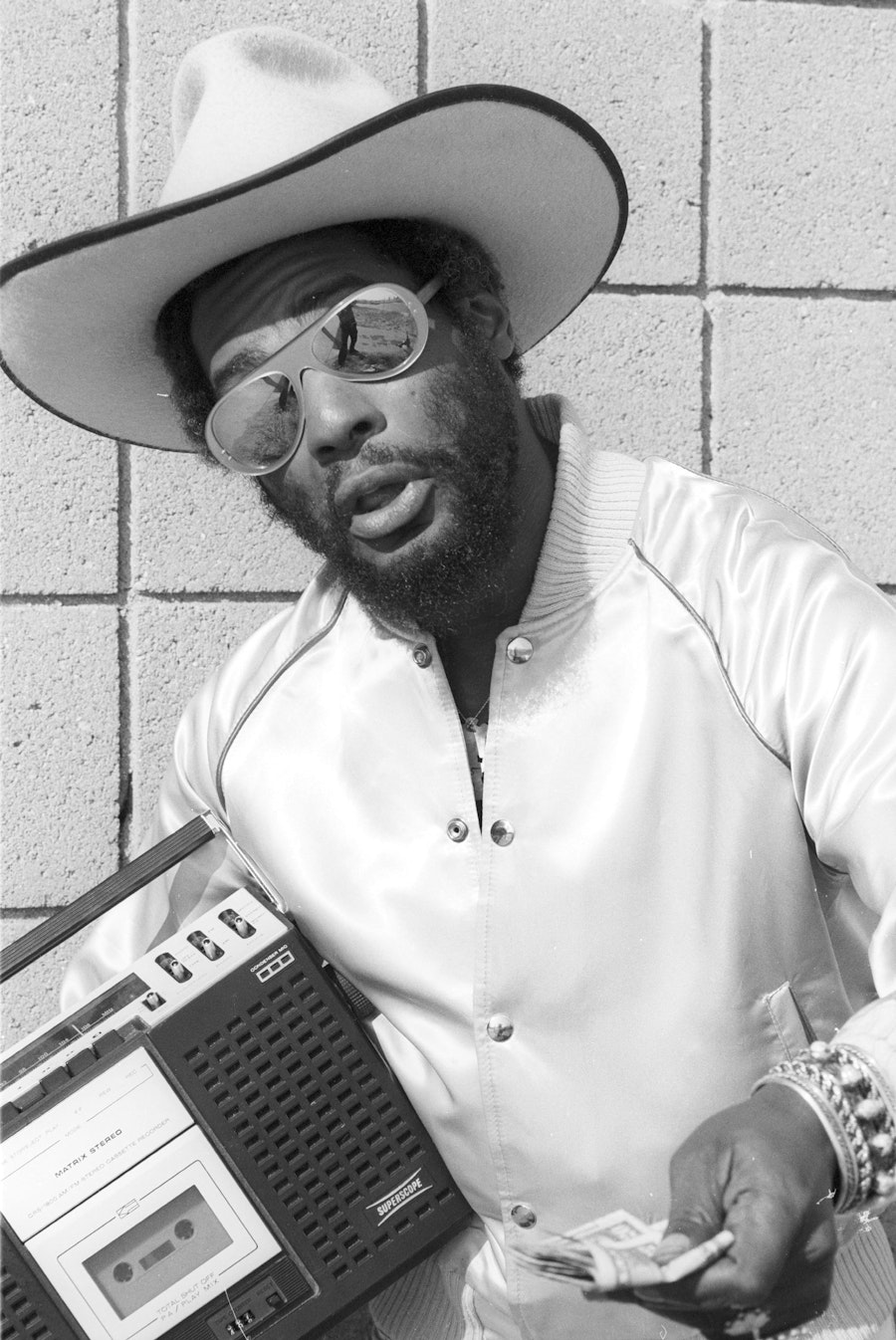 It's fitting then that Boulevards' latest, Electric Cowboy: Born in Carolina Mud (out February 11 on Normaltown Records), is the most at home the artist has sounded. Electric Cowboy is highly confessional, filled with stories of addiction, violence, systemic oppression, and professional and romantic self-sabotage. Coproduced with Blake Rhein of Durand Jones and the Indications and featuring members of Black Pumas and Twin Peaks, Boulevards' latest is gritty but still maintains a specifically funky sheen.
"Overall, it feels more like a psychedelic rock record with a soul base," says Rhein, citing a compilation of songs from Chicago label Memphix called Chains and Black Exhaust (compiled by Wax Poetics contributor Dante Carfagna) as inspiration. "Jamil also really wanted the record to sound raw and fucked-up-lo-fi, so we had to find that happy medium of fucked-up-ed-ness. I think most soul artists who utilize the lo-fi sound balance it out with a softer and smooth touch to the music. Not Jamil. He really wanted this record to be in your face."
Yet, Rashad's vocals are restrained throughout Electric Cowboy, coming through a gauzy curtain of fuzz, sex, and Southern rock on tracks like "God Bless Ya (Be Thankful)" and "Surprise," which manages a Glass Animals vibe. Rashad does his best Clinton (buoyed by a Bootsy-worthy bass line) on "How Do Ya Feel."
One of a handful of Boulevards' confessionals, "Together" is an orchestral reminiscing of Rashad's defiant past as the kid who "talked the fool, talked back to his parents, [got] kicked out of school, always having teachers call home." Although the message can be extrapolated to consider a collective togetherness, Rashad says the song "was about my vision as an addict getting older, and someone who was somewhat rebellious and kind of a lone wolf, trying to find my way." 
As the album unfolds, Boulevards leans into his rock influences, lending foreboding fuzz to tracks like "Ain't Right" and "Modern Man," which also put Rashad's vocals more present in the mix. While the bedroom funk tracks are Electric Cowboy's strongest, Rashad notes that every track was meticulously worked on to create a cohesive portrait of Boulevards today.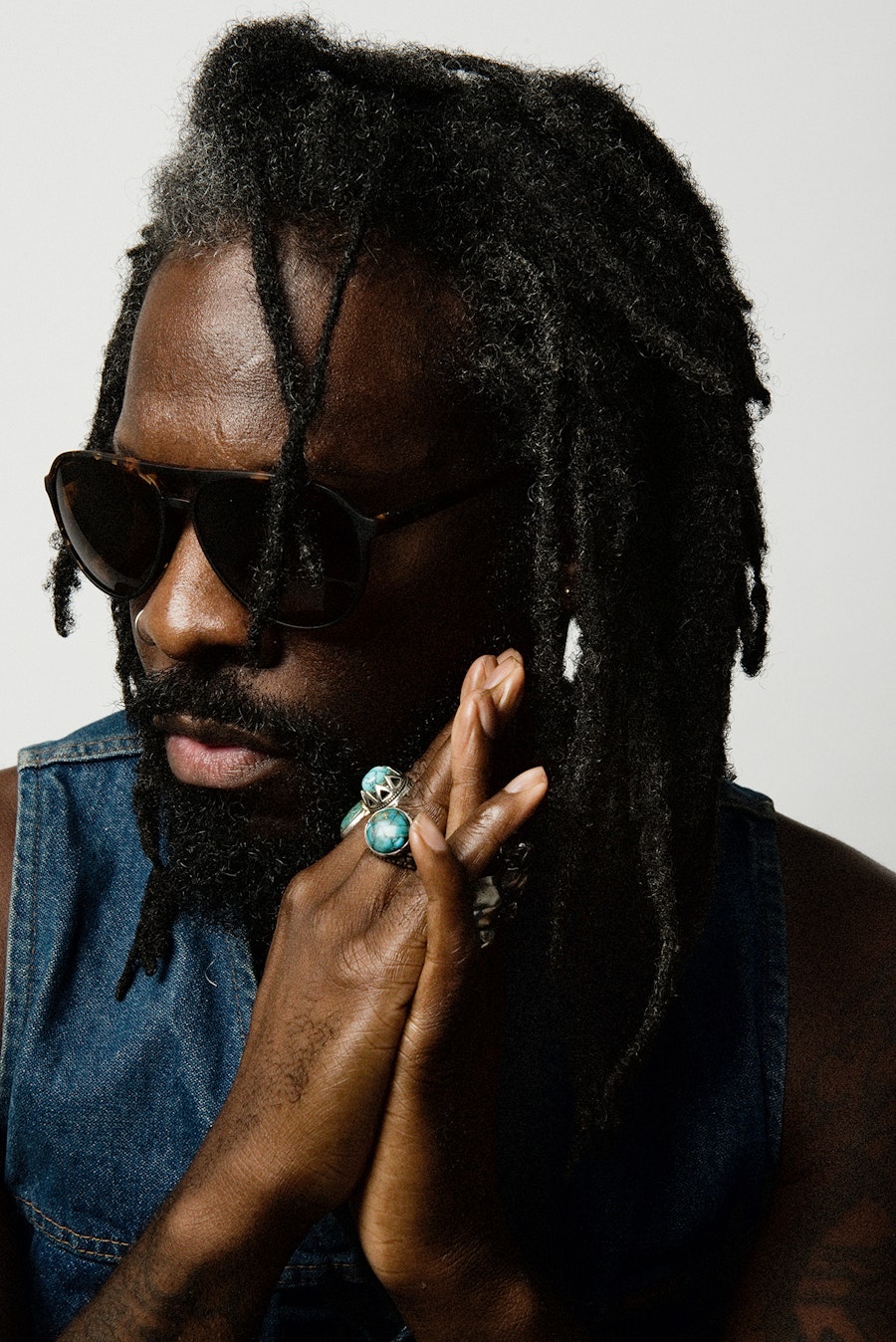 And the singer could use an updated picture, because his style has evolved. Rashad has been on the periphery of the soul/funk revival for years, making electro-funk records more fit for the hipster Bushwick and Williamsburg, Brooklyn, dance scene he was roving in the time. His debut for Brooklyn-based label Captured Tracks, 2016's Groove!, burst with punchy drum breaks and an energy Capitol Records–era George Clinton would be proud of. "When I was doing Groove!, I was partying, in the scene, in New York and in between Raleigh. That style was being glamorized, so I had to be a part of that," he says.
Rashad long idolized the stylings of Prince and Rick James, as well as "cornier" groups like S.O.S. Band and René & Angela, and per his father's direction studied those groups obsessively. Reflecting on Groove! (though Hurtown, USA, his self-released follow-up, and a third eponymous LP are in much the same vein), North Carolina alt-weekly IndyWeek posited that the singer "may be a bit too late and safe for these times…. Whether or not there's still an opportunity for this unbridled joy amid the booby-trapped tropical house and soulful sin dominating radio remains unclear." His relationship with Captured Tracks—at times home to the more in-demand Mac DeMarco and Beach Fossils—was also baked in creative differences. "Being the only one else of color [on the label] was difficult," Rashad adds.
Yet Rashad remained determined, having long ago plotted his creative trajectory to a funk sound with more live instrumentation. His 2019 album Ya Dig! was recorded in Los Angeles and laced with the funky-break style Rashad heard at Echo Park's long-running Funky Sole party. "That was a big inspiration. I'd see those guys playing those dusty, raw records [and think,] 'Let's clean it up a little bit, sharpen it up a little bit, get the right producer, and let's make a collection of dope songs.'"
Rashad was also getting sober, taking his hyper focus to new levels. He'd lock himself in a room for half the day, "e-digging" for deep cuts on YouTube and Spotify, and searching for producers for his next project. Rashad DMed Rhein on Instagram early in the pandemic and the two hit it off quickly. "Jamil was so excited to work," Rhein says. "It was really good for me to have someone else pushing me to create during that period. And he's a total music geek like me, so he would send me obscure old funk tracks and be like, 'We should make something like this.'"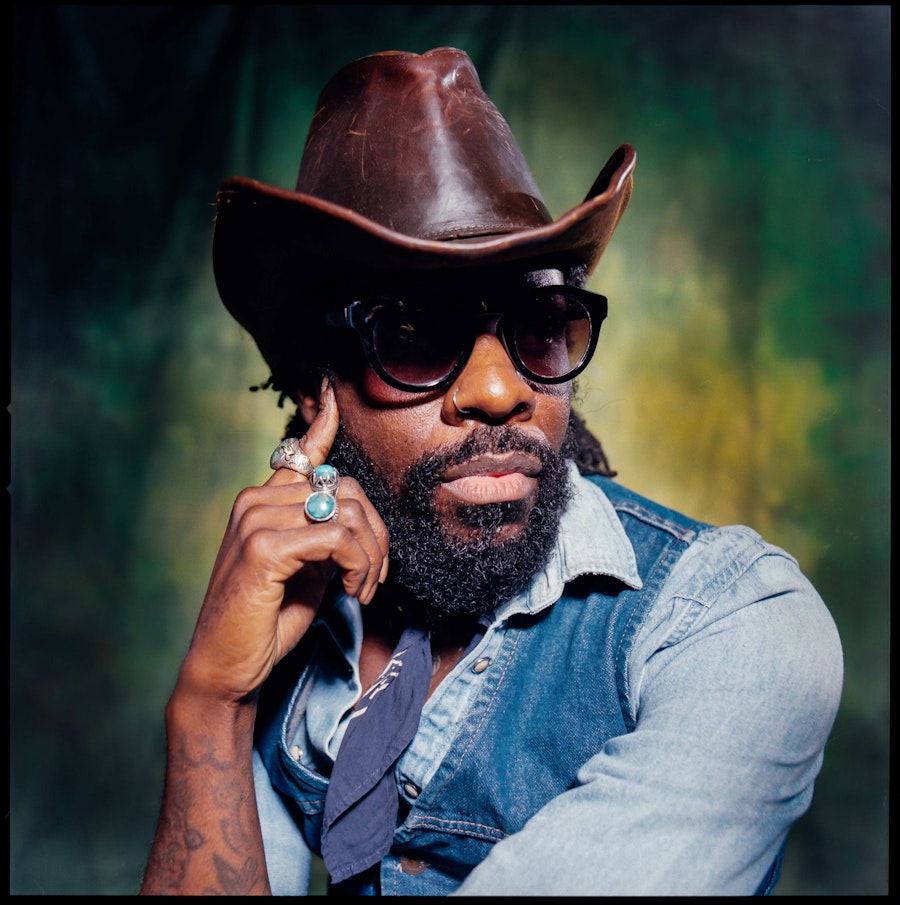 Produced by Rhein, Boulevards' 2021 EP Brother has Rashad on the precipice—slowing down for the smoother, more melodic funk that makes up the bulk of Electric Cowboy. When the two teamed up again on Boulevards' latest, Rashad's vision was truly fulfilled. It also resonated back home—Electric Cowboy was also the first record Rashad's father was excited by.
"It's kind of cute when I see him comment on Facebook, or he'll send me a text message, like, 'Oh man, this jam's smooth, brother!'" Rashad says. "My dad's very particular—he grew up on Philly soul—so for him to actually like my stuff and comment on it definitely means a lot. He didn't have that reaction to stuff before, you know?"
Parental approval notwithstanding, Rashad remains determined to stand out among his contemporaries. "I don't want to fit in with the Curtis Hardings and the Black Pumas, the Childish Gambinos of the world, the St. Paul and the Broken Bones, the Neal Francises," he says. "George Clinton, Funkadelic, Parliament, and the Brothers Johnson, Shuggie Otis, Rick James—they all do their own thing; they weren't trying to fit in. To me, that's what funk is; it's like how punk is to rebellious, white young kids. Funk is going against the grain, doing your own thing, you know; it's not having rules when it comes to music."
That almost anarchic attitude will bleed into Rashad's performance, and at Idaho's Treefort Music Festival in September 2021, Rashad certainly looked the part of Southern funk master: tight, custom denim (he once had a brand partnership with Wrangler and enjoys digging for vintage threads), dark sunglasses (always worn, regardless of weather or time of day), and a vest or shirt that usually comes off his lithe frame. Playing dance-funk from his Ya Dig! era with a three-piece band and supplemented by backing tracks, Rashad's propulsive energy was almost too big for the stage. Yet, the small and less-than-traditionally funky crowd received it, even forming a Soul Train line. 
Rashad expects that his performance will be unencumbered by the slower, bigger, grown-folks nature of Carolina Mud. Boulevards, more than anything, is an entertainer. "My shows are gonna always be, like, a lot harder. That's the punk kid in me, the hip-hop side," Rashad says. "I'm not gonna just sit up there and just look blah and boring. Shit, even Miles Davis would have blown [the hell out of his] trumpet." 
Visually, Electric Cowboy: Born in the Carolina Mud races forward—teeth bared in a Jonah Hex–meets-Boondocks defiance. "That's me on the cover," Rashad said in a release. "The Electric Cowboy, slaying anything that comes in my path. I gotta keep riding, keep trucking, keep fighting, keep pushing."