Of all Jimi Hendrix's musical partners, Billy Cox was the only one who had also heard the eerie howl of wind in the ears at twenty-five thousand feet and plummeting. He was the only one who also knew what it was like to leap from a plane and hope the parachute worked. He was the only one who was also a paratrooper in the 101st Airborne, like Hendrix, and maybe that is why they were destined to meet again.
After they met in the Army in 1961, they gigged together around the base in a band called the Casuals, but neither was cut out for that stiff military scene. Hendrix was discharged in '62 (one story goes that he pretended to be gay, another more likely one is that he broke his ankle during a jump), and he and Cox moved to Tennessee, settling in Nashville where they became the King Kasuals. Their tenure was short. By 1964, Hendrix had moved to New York and was playing with the Isley Brothers, while Cox stayed in Nashville working the chitlin circuit, playing bass on almost every session for the Nashboro/Excello label, and backing most major R&B artists of the 1960s on TV shows like Noble Blackwell's Night Train and Hoss Allen's The!!!! Beat, which were precursors to Soul Train.
Hendrix went on to international stardom but promised that someday he would send for Cox. He was good to his word. When they reunited in 1969, Hendrix became again what he always was—a badass R&B guitarist. By the time drummer Buddy Miles joined them to form Band of Gypsys in 1969, the old psychedelic sheen had rubbed off, revealing Hendrix's true roots.
Those recordings—Live at the Fillmore East and Band of Gypsys—put classic Hendrix songs like "Stone Free" in a soulful context, heightened by new explorations like "Power of Soul." In fact, they are so clearly the work of a guitarist who backed up Little Richard and the Isley Brothers, a bass player who backed up Etta James and Little Milton, and a drummer who backed up Wilson Pickett that it is surprising the word "soul" isn't mentioned with Hendrix's name more often.
Perhaps Hendrix's legacy would be different had he finished the album he was working on with Cox and drummer Mitch Mitchell before his death in 1970. Listening to those songs—"Freedom," "Izabella," "Power of Soul," "Message to Love"—makes it exceedingly clear where he was going. Funk. R&B. Soul. They ooze from the tracks, leaving the listener on the short end of one of the great what-ifs in music history.
Recently, the Hendrix family estate gained control of Hendrix's recordings and oversaw the release of Valleys of Neptune in 2010. It is a compilation of never-before-heard studio outtakes, some of them made with Cox on bass.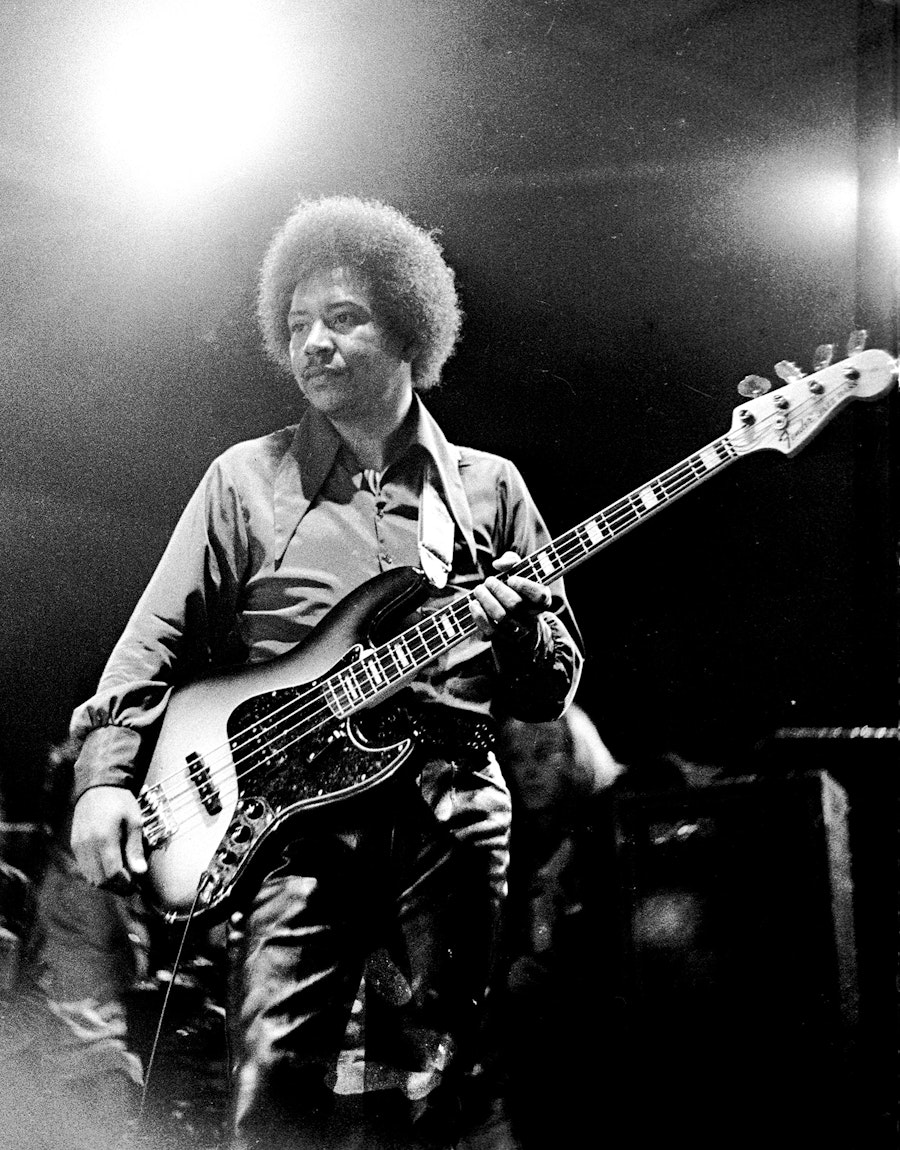 What are your earliest memories of music?
Probably listening to my mother, who was a concert pianist, playing Brahms, Mozart, Handel, Beethoven, Liszt. 
The radio station WLAC in Nashville and legendary DJ Bill "Hoss" Allen were influential as well, right?
Yeah, later on, in my teen years. My uncles played saxophone. My father taught me how to play harmonica. I was surrounded by music constantly, like we all are, from the cradle to the grave. Music is constantly around us if we are aware. I gravitated toward music, and then in my teen years, I discovered WLAC. Of course, my father was a minister and didn't like a lot of that worldly music. So I built a crystal radio set and tuned in, and the first thing I heard was [Hoss Allen saying], "I'm down for Royal Crown." Then I heard the music of the day, and I was hooked.
So you listened to it in secret because of your dad?
Yeah, I had to. It was a crystal radio set that was built with a cigar box, the end of a toilet paper roll where you wrap your wire around it, and a crystal safety pin, and a long wire that I hooked to the springs of my bed. The most expensive part of that was earphones.  You had to purchase earphones. In that day and time, two dollars was a lot of money. We got those at the Army and Navy store, and I had a way to listen to this incredible music that I gravitated to.
Obviously, you joined the Army, and that's where you met Hendrix. The story that doesn't often get told, though, is what you did in the Army. Did you ever go overseas?
I did a lot of that. I've been to Turkey and Puerto Rico and a few things. I was on a little exhibition, you know, a paratrooper for a minute or two. Then, I finally settled down, and when I settled down, that's when I walked into this club and met Jimi. That was destiny. Everyone has a destiny. It's just a matter of whether you're going to adhere to it, or if you are aware of where your destiny may lead. I had no other choice, no recourse. I accepted that, and that relationship lasted a lifetime.
Where were you the first time you played together?
At Fort Campbell, Kentucky. That's the home of the 101st Airborne. In the service club, he was practicing, and I heard it. That's where we met. He looked at me, and I looked at him and said, "Hey, man. This guy is pretty good. Let's get something together here." So we started rehearsing. 
After you left the Army, Hendrix went to New York then England and became famous, but you stayed in America and did studio work, right?
Yeah. It's a long story—I helped bail him out [when he quit the Isley Brothers in 1964], and we had this group and that group. He kept searching for his destiny. He knew it was out there, and I bailed him out; he'd come back to the group, and then he'd go somewhere else. So finally, this one time, he called me and said, "Look, this guy's going to send me to Europe and make me a star, and I told him about you." I said, "Man, I've fallen on hard times. I've got three strings on my bass and renting an amp." He said, "Okay, I'll make it, and I'll send for you." It took him almost three years to do it, but he did. He sent for me.
During that time, you were working for the Nashboro/Excello label, right?
Yeah, I had my own publishing company. I played all the bass on most of the things that were released on Excello, like Slim Harpo, Shirley Caesar, Brooklyn All-Stars, Madame Edna Gallmon Cooke, the Consolers, Professor Harold Boggs, Dewitt Johnson, Brother Joe May, Earl Gaines, Gene Allison, et cetera. That kept me going. Then I got a light reputation here and there and played on a lot of R&B sessions. I made a pretty good living at that. There was a TV show here called Night Train. We did that, and it got pretty good, so Hoss Allen—you know, Hoss Allen was my mentor, because I had respected what he was doing and appreciated him being the DJ that entered in my life through the music—so then he formed a TV show in Dallas, Texas, called The!!!! Beat. So we juggled our business between doing Night Train, and then doing one weekend out of the month to Dallas to do The!!!! Beat. And when we weren't doing anything, we always worked the chitlin circuit within a 150-mile radius of Nashville.
It's interesting, because those TV shows were kind of the precursors to Soul Train. What was that experience like? 
I had the opportunity to work behind Etta James, Little Milton, Lou Rawls, you name it. And, before we knew it, we had played behind all of the R&B artists and blues artists of that day.
You mentioned the chitlin circuit. What were those little bars like?
They were great. People really appreciated the music, because a lot of them were boroughs and areas ten or thirty miles away from the main big city. We were like big stars when we pulled up: "Oh, they're here now. Look!" We brought a gleam into a lot of people's eyes that were looking forward to something to do, something for their lives. There was a lot of excitement whenever we'd play. And you know, that terminology, "chitlin circuit," comes from, most of these clubs, on the weekend, they'd serve fish and chitlins. That was great. I enjoyed that. Didn't make a lot of money, but we got a lot of self-satisfaction from our craft.
When you joined back with Hendrix, and especially when Buddy Miles was in the group, that's when you saw—
Yeah, I'm glad you brought that up. Man, in the twentieth anniversary of Rolling Stone magazine in 1987, they [listed] the [twenty] greatest concerts ever, and the Band of Gypsys was listed [at number seven] in that. Up to this time, Band of Gypsys has never been inducted into the [Rock and Roll] Hall of Fame. Never. Not even been mentioned. Someone said we were too political or what have you. But the purpose of the Band of Gypsys was to bail Jimi Hendrix out of a $15 million lawsuit, and he didn't have any money. So Buddy Miles and I came to his rescue. That's what you do for your friends. So we did that concert, and the revenues from the concert itself, we received that. We received credit for our songs. However, the recording part was to settle the lawsuit to save Jimi from the fifteen million that he didn't have. So, we've never been inducted into the Hall of Fame, and our twenty-five years is up. I'm wondering what seems to be the problem.
Well, I think when you guys came into the group, that's when you saw that Hendrix was maybe mislabeled as psychedelic rock. It was really R&B. Listening to what you did with "Stone Free," the beat on that song—it's a soul song. Were you consciously thinking about bringing those influences out?
We all were the same age. We all came up under the same type of music. So, naturally, we would gravitate to the music that brought us from point A to point B. However, we added a little volume to it, you know. Without horns, we had to substitute our voices for the horns, we had to turn the volume up, and then we became unique. [laughs] But yeah, I'm just wondering what could be done to get us into the Hall of Fame. We should be there. And I would like to do that not only for Jimi but for Buddy himself. What a great talent. What a hell of a vocalist. What a hell of a drummer. I mean, he started at sixteen years old with Wilson Pickett. You believe that?
How did you approach the bass when playing with Hendrix?
It became an extension of the guitar.
As you started getting into the songs you were making right before he died—"Izabella," "Freedom," and those types of songs—it seems like you were getting into funk. Was that a conscious effort?
Well, not really. We were just putting together some things that we liked and that sounded good to us. That's like [it was with] the new Jimi Hendrix album, Valleys of Neptune; I'm on the first three numbers. So we were basically going back to our origins.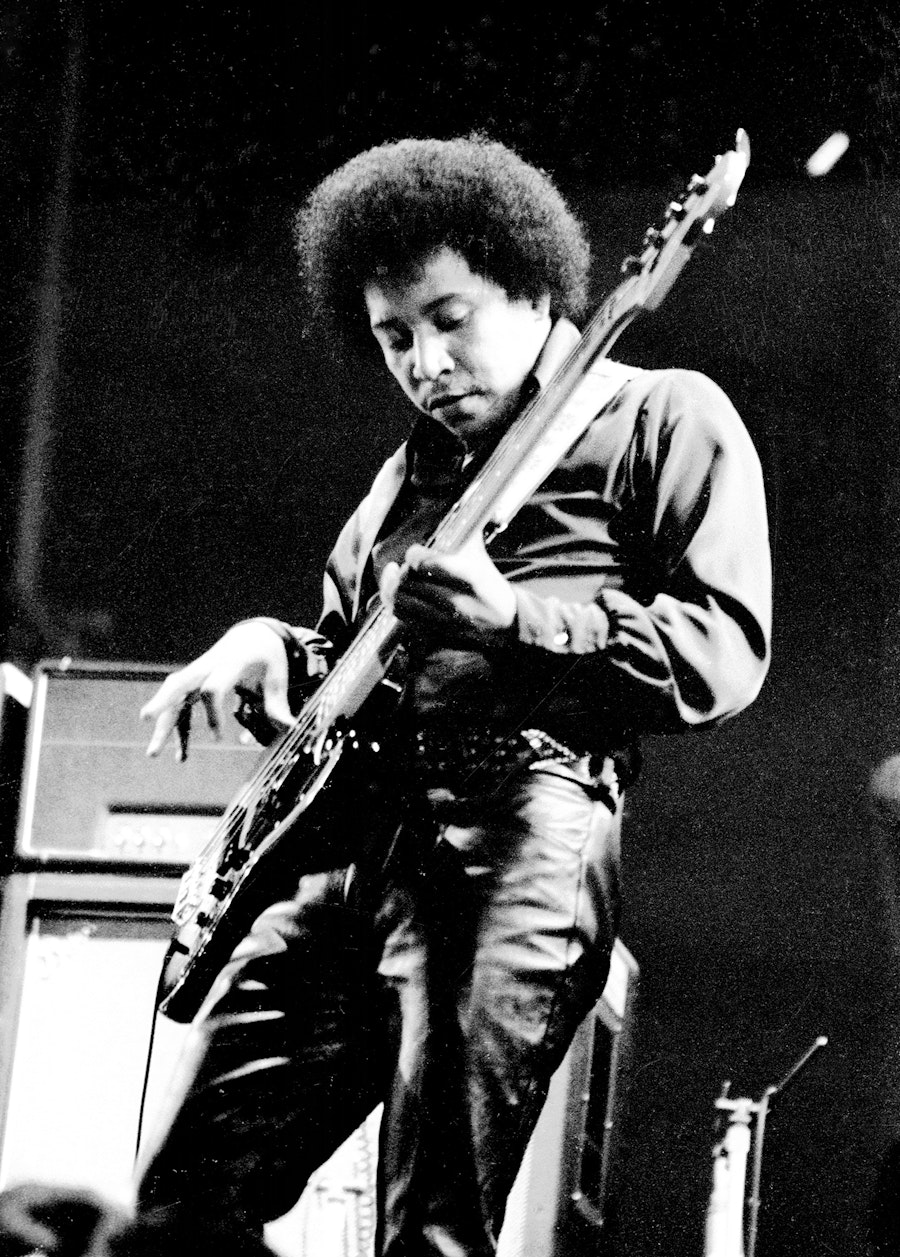 Did it have anything to do with race issues? One thing that comes up a lot with Hendrix is that White audiences tended to accept him more than Black audiences.
That's not so. What the truth is—when Jimi Hendrix came on the scene, the powers-that-be put him on FM stations only. Blacks did not have, or operate, or listen to FM stations. It's not because they didn't like him. It's because they were not exposed to him. I'm telling the truth now. Naturally, whatever you're listening to on the radio, you're going to be familiar with. So that's what happened in that situation.
That's really interesting. I've never heard that before.
Well, it's the truth. [laughs] I was there. Take my word for it.
I know he had some contact with the Black Panthers. It seems like race was something that was in his mind. Do you think the R&B sound you were going toward was an effort to appeal to a Black audience?
It's the only music we know, mister. We knew of jazz and pop, and if you listen to the music itself, you do hear elements of R&B, but you also hear elements of classical, country and western. This guy was like a sponge. You mention the Black Panthers—well, there were a lot of groups that asked for our services for concerts for benefits, and [the Panthers] just happened to be one of them. One of 150 groups that asked us to be a part of them or help them, because when people see money being generated, you know, folks come from everywhere. Sometimes, you have to pick and choose, depending on what's happening in that day and time.
To me, the most tragic thing about his death is that you can hear where he was going on posthumous albums like Valleys of Neptune, but we'll never know for sure what the finished product would have sounded like. Did you ever talk about where the music was heading?
Not really, but we knew what we were working toward. If you listen to a lot of the later music, we were listening to a lot of classical music and using a lot of classical modes here and there. But we never looked and said, "Well, we're going to do this." No, we just played what sounded good to our ears and what would fit in the musical patterns or the riffs that we were doing.
Where were you when you found out he died?
I was at home. We had just finished a European tour. I not only lost my best friend; I lost my job. I had to regroup. There's an adjustment period that has to be made to find out where you're going to go and what you're going to do next.
I just read Miles Davis's autobiography, and he talks about jamming a lot with Hendrix. 
Yeah, Miles was a great guy. 
Were you a part of those jam sessions?
Well, I went to the studio and did some stuff for him. Miles respected Jimi, and Jimi respected Miles. In fact, you'll get to that section—I don't know what chapter it is—but he says that was the best group that Hendrix had, the Band of Gypsys. And he mentioned us by name. I was proud Miles made that statement. Now, let me ask you a question. What do you think about the Band of Gypsys being inducted into the Rock and Roll Hall of Fame?
I don't believe you could find a reason not to.
Well, get on a soapbox and do what you can for us. [laughs]