The first thing that was striking about Pakistani-in-America singer/composer Arooj Aftab's performance at Brooklyn's Pioneer Works in early September, was the crowd. There was its size—a sold-out audience of more than six hundred people gathered in an out-of-the-way arts institution's warehouse-cum-performance space. Before the concert began, there was repeated chatter about how it was the biggest gathering most of the attendees had been in since the pre-pandemic before-times. There was its diversity. New York's South Asian community had long been supportive of the thirty-six-year-old Aftab's musical update on Hindustani folk and classical traditions, while her increasing involvement with the city's musical experimentalists and improvisers had opened her work to the "serious music" crowd. Yet also here were the hipsters who'd read glowing reviews of her remarkable 2021 album Vulture Prince in Pitchfork, and the music biz community—major-label A&Rs, and big-agency booking agents—elevating the night's pop-cultural energy, and, through their mere presence, redefining what a jazz singer vocalizing poems in Urdu (the official language of Pakistan) could say to mass American culture. 
That's exactly what made the crowd that gathered on that lovely late summer evening to hear Aftab and her magnificent band, embracing their beautifully complex, emotionally poignant yet extremely niche sound, not only striking but significant. Times of chaos and loss invite social evolutions, artistic advancements. This broad grasp of Arooj Aftab and Vulture Prince certainly seemed proof that, because of our shared experience around life and death, people and values once deemed to be at the edge of culture have moved closer to the center. 
Which is no less than what Aftab had long yearned to do with her music. When we meet to speak a few days after that Pioneer Works show, in a Bedford-Stuyvesant coffee shop, one thing she is assertive about is its purpose and her ambition. "I've always wanted to make music that was new, pushing the envelope, to essentially create a new genre," she says. 
This has meant internalizing and mixing all the different sounds that Aftab has experienced throughout her life. She was born in Riyadh, Saudi Arabia, but grew of age in Lahore, one of Pakistan's cultural capitals. Here, she nurtured numerous sounds and traditions, all of them deeply reliant on melody and seriousness of intent. There was South Asian classical music, longform ragas and poetic khayals, ancient expressions which she says remain "the tapestry—[legendary qawwali singer] Nusrat Fateh Ali Khan is playing in coffee shops." But there were other sounds—such as the acoustic-guitar-heavy and "vocally beautiful" folk-rock of artists like Crosby, Stills & Nash and James Taylor—that reflected the country's English-language, "post-colonial hangover." From an early age, she was consumed by it all, compounded by her teenage discovery of Billie Holiday and jazz, and the realization that both the Black American improvisational and South Asian classical traditions were "cousins," sharing modal melodic attitudes and emotional music behaviors. 
In her late teens, Aftab recorded a cover of Leonard Cohen's "Hallelujah" (learned from recordings by the late Jeff Buckley whose mid-'90s collaborations with Nusrat showed him mining similar cross-cultural exchanges). It became a viral hit, and led to her application and acceptance at Boston's Berklee College of Music.
"I needed certain tools that I would miss out on if I had stayed and studied music in Pakistan," she says when asked what drew her to the U.S. "I wanted to study audio engineering, and I wanted to study jazz. I just didn't think that I would have the focus to study classical music in Pakistan, and I didn't want to be a completely classically trained artist. I wanted the tools to innovate on those [music] schools. I really wanted to be able to write music down—because no one's listening to women in any room, especially not in music spaces, and especially at the time—to read it, write it, fully understand and organize its structure. I needed to be able to go into a studio and know what I'm talking about, to essentially produce a new sound, as opposed to relying on people to take this music in my head, and translate it. I wanted to learn theory and hang out with people, learn from them and about them and their cultures, and just jam out. So I did all of that."

By the time she arrived in New York, which she calls her "incubator," the contours of her "new sound" were taking shape. Aftab "never stopped listening" to Hindustani classical music, letting it become more ingrained and internalized. "I felt more of a responsibility to not attempt this music unless I was really doing it correctly." The myriad of global fusions adapted by what she derisively dismisses as "Buddha-Bar mix-CD" culture, and the appropriation of South Asian instrumentation by the yoga community, were her barometers of how not to mix sounds. "I was thinking about music a lot, listening to different types of melodic structures—that was the unifying thread in everything."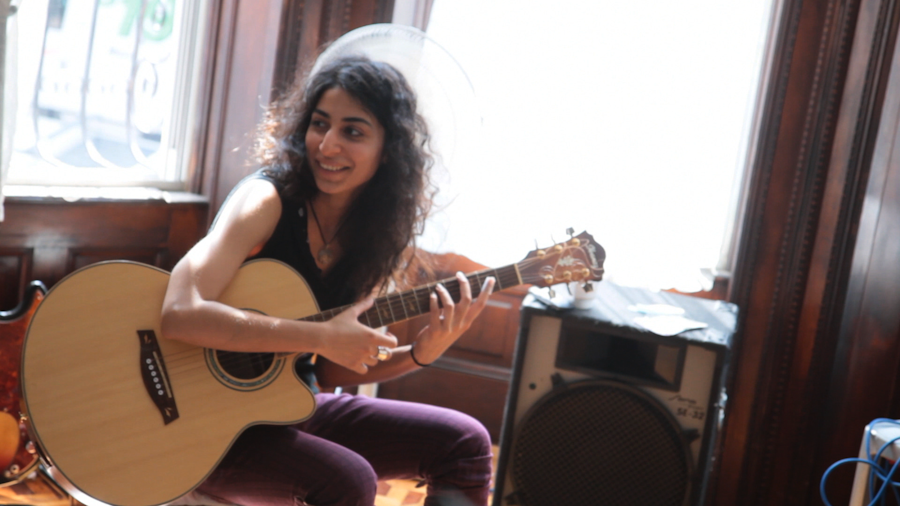 The initial version of Aftab's new sound was 2014's Bird Under Water, a mostly acoustic self-released and self-produced five-song blend of worlds, hinging on Aftab's Sufi-derived ideas around oneness. Was this a singer-songwriter record? A smoky string-jazz band? A polyglot pop-fusion experiment? The answer was all of the above: gorgeous songs with catchy, at-times-hooky melodies; textures heavily reliant on Bhrigu Sahni's steel-string guitar sounds reminiscent of American folk music and Michael Hedges; and Mario Carrillo's jazz bass; yet always led by Arooj's regal, husky tone. Yet other elements—a wooden flute, a jazzy sitar solo, an accordion seemingly taken from an old French chanson, or a snare drum line similar to a drum & bass breakbeat—were on hand to push the album beyond obvious perimeters. "I was really proud of it," she says, but knew it to be more of a starting point than an end product. 
Soon after, Aftab was looking to see where her ideas could travel next. One new musical fascination was reengaging the drone, a cornerstone element of South Asian music, through the synthesizer. "You know how people say you buy one synth module, and then suddenly you're bankrupt?" she says with a wry smile. "That was kind of happening to me." For the next couple of years, she became a kind of a gearhead, escaping her previously acoustic aesthetic, experimenting with "manipulation of voltage," plugging and unplugging synths into guitar pedals and vocal mics, then rejiggering them all. The work was a "tangent," but also "a stepping stone," which produced 2018's Siren Islands, a four-part solo synth-guitar-voice work based on Greek mythology. And helped open new sonic vistas for what her music could mutate into.
Writing Vulture Prince, the "picture started to become more and more clear," she says. Aftab's assignment was to "elevate the sound," adopting a producer's mindset in "how I wanted the sounds to complement each other." She gathered an exceptional, expansive group of musicians—including harpist Maeve Gilchrist, violinist Darian Thomas, multi-instrumentalist Petros Klampanis, Moog player Shahzad Ismaily, and guitarist Gyan Riley—and turned them into a progressive symphonic jazz unit. The songs integrated a smoky intimacy, a sentimental elegance, with borderless (almost minimalist) experimentalism. Arooj's voice remained at the center, guiding the music's focus on the deep well of human emotion, playful and luxurious. The melodies pivoted the songs even further towards "pop"—the music sounded utterly familiar, yet also without easy precedent. Arooj's words too evolved in shape and origin: some were sourced in existing verses of historically notable Asian poets (Rumi, Mirza Ghalib, Hafeez Hoshiarpuri, among others); one written by a friend who had passed away, Annie Ali Khan; all, even what she calls the "drunk" love songs, conveyed a state of relaxed melancholy, an absence of loved ones as a vague but sustained longing and sorrow that flowed and blended with the life stream. (Just as the passing of Arooj's younger brother, Maher, to whom Vulture Prince is dedicated, has synthesized forever into the emotional fabric of her life.)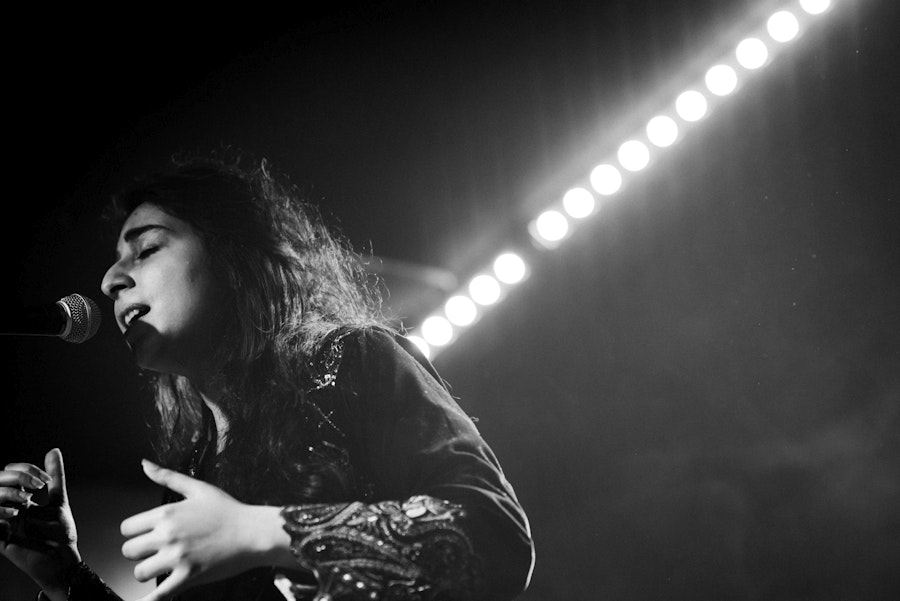 Those same players were present on that September night at Pioneer Works, and those familiar feelings of melancholy and loss, floating on beautiful sounds—at times played in unison, at times as solo improvisations—kept the audience rapt. Midway through the set, Aftab, resplendent in a knee-length, silver biker jacket, began "Last Night," the only Vulture Prince song in English (but with lyrics based on lines by the legendary Sufi bard, Jalal ad-Din Muhammad Rumi). In it, the singer is showering praise on her beloved for being "beautiful like the moon, even brighter than the sun." Aftab was commanding at the stage's center, the band a calm, precise whirlwind of sound, never loud, but deeply intense. The music veered between torch-song jazz and a kind of multicultural folky dub, with Ismaily's Moog laying down a carpet of ghostly reverberations around which Gilchrist's harp and Thomas's electric violin evoked traditional melodies born oceans away from one another. The music gave the sense that, after last night, "the beloved" was firmly gone—if they were ever here at all. The audience swayed knowingly together, integrated into the moment where darkness and light meet, all fully in it.