Presented collaboratively by JAW Family x Wax Poetics.
A solitary figure enters a silent room and takes his position in the dim light at the seat of a grand piano. The man is South African pianist and composer Abdullah Ibrahim, who, due to lockdown restrictions, is performing his eighty-sixth-birthday concert without an audience, on October 9, 2020, at Hirzinger Hall, in Riedering, Germany. The sound that emerges from his piano keys is both mournful and elevating, as if he is meditating on the space between notes. As melodies rise then fall, the continuous suite flows like a stream of consciousness of this most spiritual of Cape jazz men.
The performance was recorded by the U.K.'s Gearbox label and released as the LP Solotude in 2021. The recording is part of a deep catalog of solo piano works by Ibrahim, many under the name Dollar Brand, that stretches from Dream Time in 2019 right back to African Piano in 1969. The latter was recorded during the darkest days of apartheid, when Ibrahim's piano became a spiritual and social tool of resistance.
Ibrahim's latest series of solo piano performances, including the recent London Jazz Festival show at Barbican Hall and the upcoming J.A.W show on November 29, 2022, at Berlin's RBB Sendesaal, comes nearly eight decades since the young Dollar Brand rose to prominence among the multicultural melting pot of Cape Town's District Six.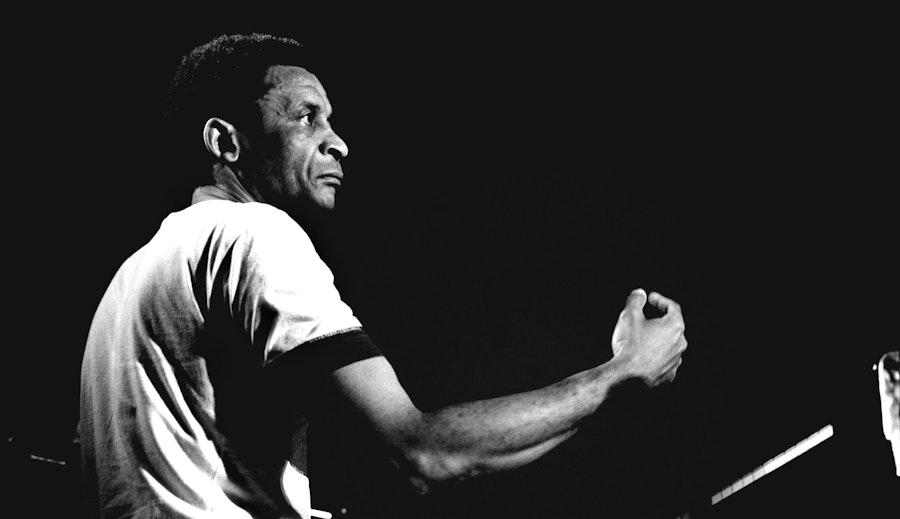 During the 1940s, District Six, like Sophiatown in Johannesburg, reverberated to the sounds of jazz. "There was a dynamic cultural explosion…[and] people adopted more and more an association with American society," photographer Jürgen Schadeberg told Gwen Ansell in her 2004 book Soweto Blues: Jazz, Popular Music, and Politics in South Africa. "We saw Louis Armstrong, Charlie Parker, Lena Horne, and so on as role models. But the other reason was political…the rejection of colonialism and the movement for the independence of Africa."  
It was into this creatively and politically volatile environment that Dollar Brand began his journey towards being South Africa's most famous pianist. ("Dollar" became his nickname due to his regular purchases of jazz LPs from African American seamen who passed through the port of Cape Town.) The music and message of the man who became Abdullah Ibrahim, during a lifelong spiritual quest, reached way beyond the townships during the struggle against apartheid. 
Born in the Kensington suburb of Cape Town in 1934 of mixed-race heritage, making him a "Coloured" person in the divisive apartheid system, Adolph Johannes Brand's earliest music memories were of both traditional African Khoisan songs and the hymns and spirituals passed down by his grandmother, a pianist for the local African Methodist Episcopalian Church (AME), and his mother who led the choir. "That's where I first learned the spirituals and the hymns and the gospel songs—the African American experience," he told Gwen Ansell in a rare interview by a man who at the age of eighty-eight prefers to let his music speak. His spiritual grounding would prove to be a formative experience for the young Brand. "That church was started in protest against racism amongst American Christians in Philadelphia, so you can understand why it was a strong social force for us too," he continued.
Growing up immersed in the modern urban environment of 1940s Cape Town, aside from the spirituals of AME, Brand was exposed to a wide spectrum of music—from marabi jazz (the original homegrown sound that grew out of the shebeens in the 1920s) and Cape Malay Muslim choirs to traditional Xhosa music and the American jazz that echoed from all the hippest bars and clubs. This mix of spiritual and secular with ancient and modern influences would be the foundation of his own playing that began at the tender age of seven when he took his first piano lessons.
By the age of fifteen, Brand had joined Cape Town group the Tuxedo Slickers, creating a similar post-marabi jazz sound as Johannesburg's better-known Jazz Maniacs (who released the first South African jazz record on a 78 rpm 10-inch shellac on the Gallo label in 1939). After learning to play all types of jazz, including the marabi that would become a key element of his sound, he formed the Dollar Brand Trio in 1958 with bassist Johnny Gertze and drummer Makaya Ntshoko. 
Both his sound and presence made him stand apart, as fellow pianist Hotep Galeta related to Gwen Ansell: "I heard about this pianist who was doing something new…. I went to a few of the places where he played and eventually there was this guy. So tall and skinny, dressed all in black with big army boots on his feet. Very silent. He just looked right through everybody; wouldn't talk. Just walked straight to the piano and sat down to play. And when he played—that was it."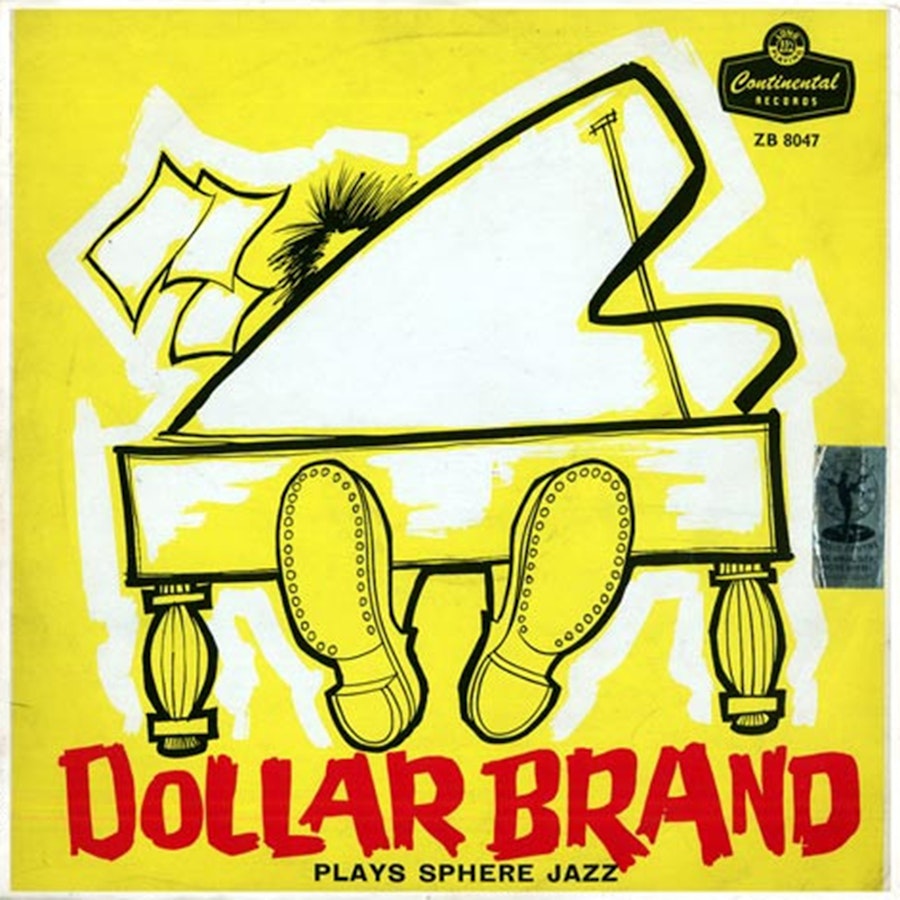 While Dollar Brand's Trio was active in the clubs, it was as a founding member of the Jazz Epistles (with Gertze and Ntshoko alongside three future legends of South African jazz, trumpeter Hugh Masekela, saxophonist Kippie Moeketsi, and trombonist Jonas Gwangwa) that he recorded the first-ever jazz album by South African musicians. "We tried to create another direction; I think of it as an ancient tradition with new relevance," Ibrahim told composer Rodney Whittenberg prior to a performance at Montgomery County Community College, Pennsylvania, in 2016. 
The modernist bebop sounds found on the Jazz Epistles' 1960 album Jazz Epistle – Verse 1 was a landmark in South African jazz that suggested an exciting future lay ahead. But dark clouds were gathering over the townships.
On March 21, 1960, sixty-nine Black South Africans were shot dead during a protest against the oppressive pass laws that were enacted to restrict the movement of Black South Africans, including limits on where they could live and work. What became known as the Sharpeville Massacre was followed by a series of clampdowns on all cultural expression. "The state's attempted silencing took four main forms," wrote Gwen Ansell in Soweto Blues. "The closing down of the last spaces for expression; the attempt to replace urban and politically aware discourses with synthetic, conservative, tribal substitutes; the creation of distraction; and—as result of all the pressures on progressive cultural life—the driving of increasing numbers of artists into exile." 
Faced with restrictions, separation, and intimidation, many artists fled the country where they would play a major role in the anti-apartheid movement. Dollar Brand's Jazz Epistle comrade Hugh Masekela moved to New York via London with other members of the Jazz Epistles after a performance of the King Kong musical. There he became a figurehead of the struggle and advocate of the ANC that had been banned in 1960 with many of its leaders, including Nelson Mandela, imprisoned. Musicians from Cape Town's multiracial free-jazz group the Blue Notes, including pianist Chris McGregor, saxophonist Dudu Pukwana, and drummer Louis Moholo, moved to London in 1965 after a concert at the Antibes Jazz Festival, France, never returning to South Africa during apartheid.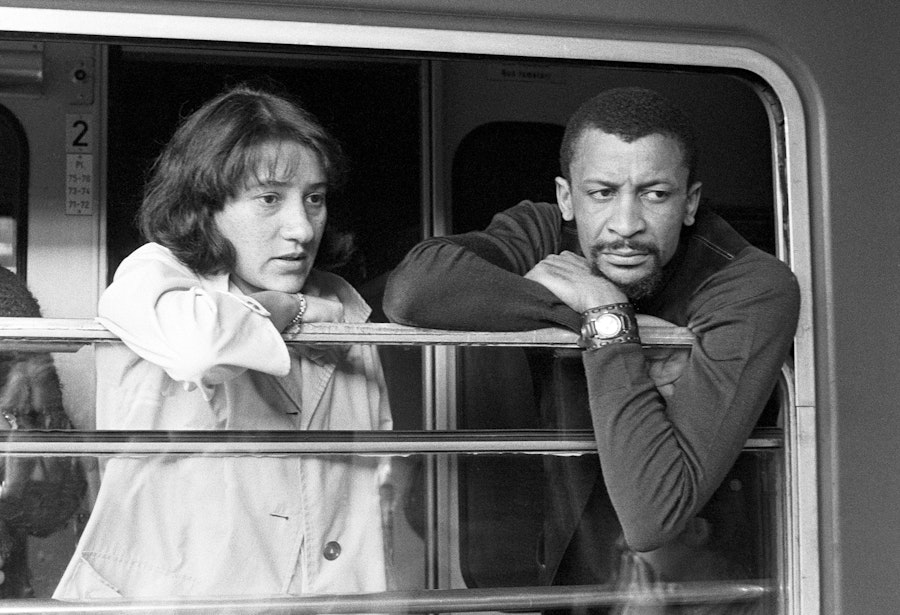 For Dollar Brand, exile also became the only way to continue making music freely. In 1962, the year Nelson Mandela was jailed, he moved to Zurich with singer Sathima Bea Benjamin, who he would marry in 1965. It was there he met the pianist who had been the biggest influence on him during his formative years. "For us in South Africa, Duke Ellington was never an American; he was just the wise old man in the village," Brand told Rodney Whittenberg. "We studied [Duke] Ellington's music and listened to his records as much as possible and tried to analyze what he was doing. So when we met him in Switzerland, it was just confirmation." 
Performing at Club Africana, in Zurich, as the Dollar Brand Trio with fellow exiles from the Jazz Epistles, bassist Johnny Gertze and Makaya Ntshoko on drums, he impressed Ellington so much that he helped negotiate a recording session with Reprise Records. What became Duke Ellington Presents the Dollar Brand Trio, released in 1964, introduced the music of Brand and Cape jazz to a new worldwide audience.
The Dollar Brand Trio played across Europe and released one more album on Fontana, Anatomy of a South African Village, featuring recordings from a concert at the Jazzhus Montmartre in Copenhagen, Denmark, on January 30, 1965. In the same year, Brand played at Newport Jazz Festival followed by shows across the States. Moving to New York with Sathima Bea Benjamin in 1965, he arrived at a pivotal time for jazz and the civil rights movement.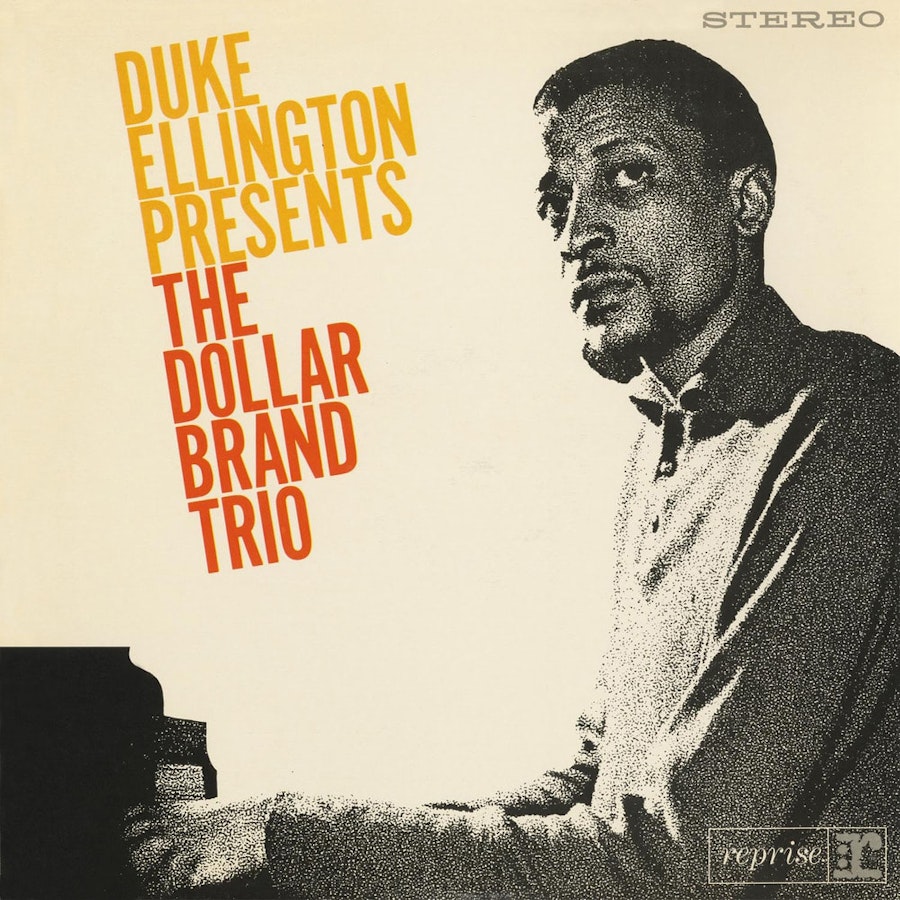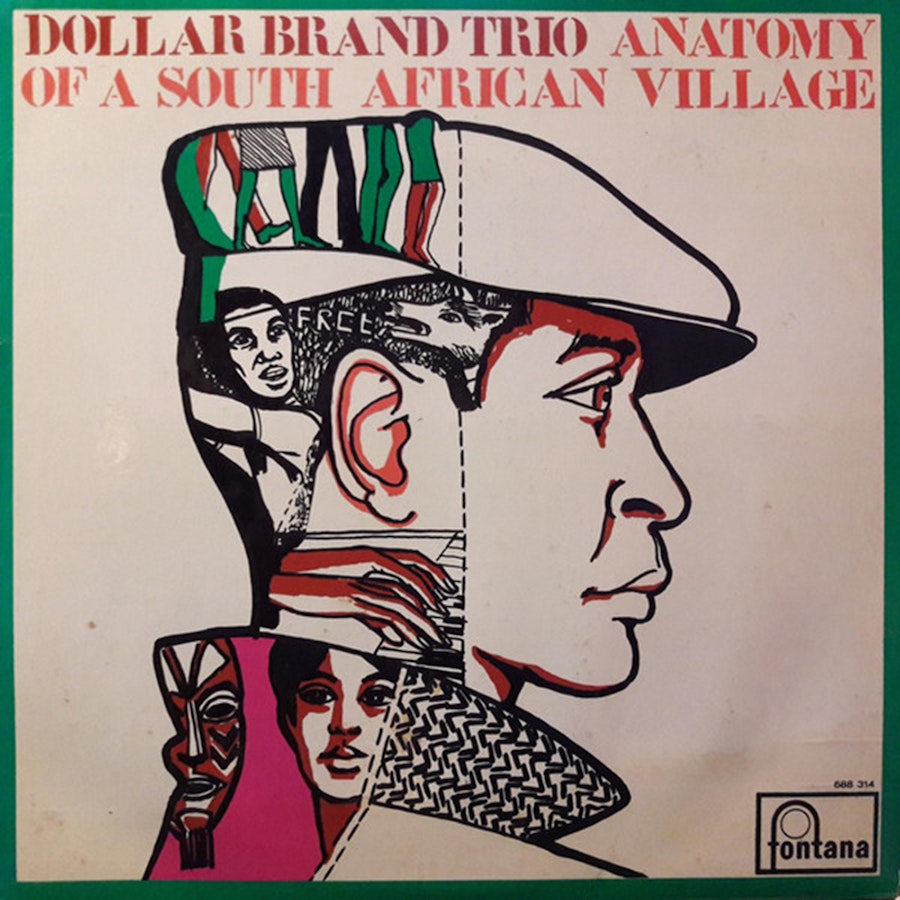 "To play jazz totally free and organic was a gesture whose time had come in the '60s. It was social and political for reasons involving race, fury, rage, peace, war, love, and freedom," wrote Thurston Moore of Sonic Youth in his influential "Top Ten from the Free Jazz Underground" for Grand Royal magazine in 1995. "This was definitely a music that was reflecting the mood of the times," says Tom Surgal who recently collaborated with Moore on the film Fire Music. "It was a music that was coming out of the civil rights movement and the Black-nationalist movement. We are also talking about the ascent of the antiwar movement. And you can hear that in the wailing saxophones and pummeling of drums." 
It was into this tumultuous environment that Brand began a new path in his musical, spiritual, and political journey. The liberating music and radical thinking of the avant-garde, with their close connections to the Black Power movement, had a profound impact on Brand who immediately connected the struggle of Black America with his people back home. Musicians he played with during this time included Ornette Coleman, Don Cherry, Archie Shepp, Pharoah Sanders, and Cecil Taylor.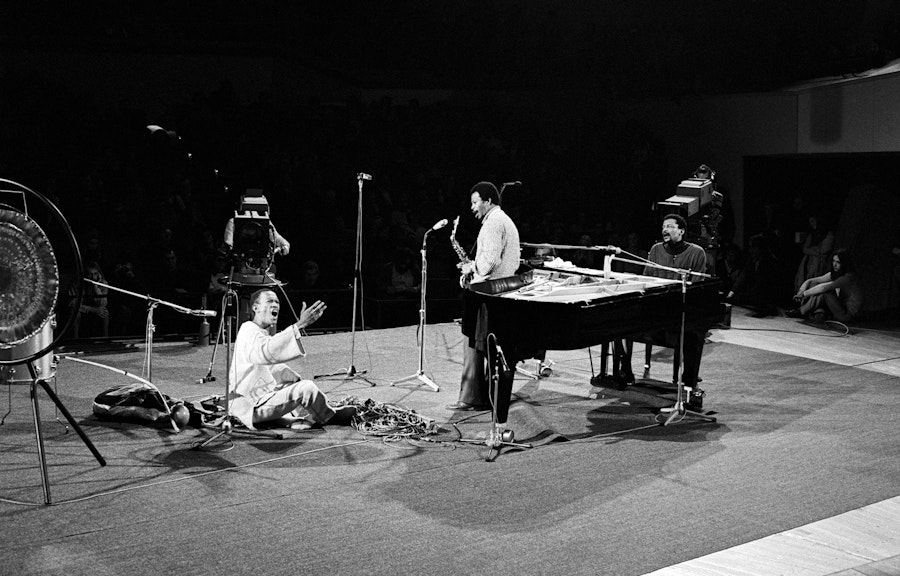 The year 1968 was to be an important juncture for Brand. Moving back to Cape Town, he converted to Islam and took on the name Abdullah Ibrahim, making the pilgrimage to Mecca in 1970. He later recalled: "I stopped smoking, I stopped drinking, found an inner peace. There is nothing really I want or need for myself now, because Allah has blessed me. My main concern is for others, for the liberation of my people, the establishment of justice. Music is just a means toward the end."
The pan-Africanism he was exposed to in New York encouraged Ibrahim to dig deeper into his own roots on a series of solo piano albums that began with the monumental African Piano.
Recorded at a live performance on October 22, 1969, at the Jazzhus Montmartre, it was released in 1970 on the Danish jazz label Spectator Records. Veering from haunting modal passages to fiery free-jazz surges on his signature numbers like "Bra Joe from Kilimanjaro," African Piano was a milestone in the solo piano playing that Ibrahim became a master of.
Reflecting on the power and lyricism of Abdullah Ibrahim's solo piano playing, John Fordham of the Guardian wrote in 2011: "He is one of jazz music's most telling exponents of the art of releasing devastating effects from simple material. His music hides orchestras in single chords, implying heat-shimmer and forest-chatter in pauses and barely struck notes, drum-choirs in sudden bursts of low-register percussive hammering."
South African artists in exile played a major role in promoting homegrown jazz, as well as spreading the anti-apartheid message. But some of the most important music during this turbulent period came from the musicians that stayed behind and the label owners who braved the authorities and evaded the censors to release their music. 
Despite the restrictions on live music, venues like the Pelican in Johannesburg and Club Galaxy in Cape Town were vital hubs where covert politics mixed with jazz. On his return to South Africa, Abdullah Ibrahim became a key figure at these venues in the early 1970s. Another space where jazz musicians gathered to exchange ideas and phone numbers was Rashid Vally's Kohinoor World of Music in the basement of a furniture store on Kort Street, Johannesburg. With many musicians hanging out at the store, it became natural for Vally to start a label. Going by the name Soultown, it debuted with the Cape jazz LP Early-Mart by drummer Gideon "Mgibe" Nxumalo, followed by a series of funk and soul 7-inches by bands such as Elations and Dynamics.
One day, Vally had an unexpected visitor. "Tall and slender in blue denims, black boots, and a satchel strapped across a broad shoulder almost reverently…greeting [me with] As-Salaam Alaikum with huge smiling eyes," Vally recalls. "This, etched in my memory, was my first encounter with Abdullah Ibrahim."
The friendship that followed led to Dollar Brand entering the studio with producer Vally in 1971 for the Soultown album Peace by Dollar Brand +2 featuring drummer Nelson Maqwaza and bassist Victor Ntoni. Another two LPs followed for Soultown, Dollar Brand + 3 and Underground in Africa, the latter recorded with heavyweights like saxophonists Robbie Jansen and Basil Coetzee.
Dollar Brand's releases on Soultown went down well in the jazz community, but Ibrahim felt the label needed a new name that captured the spiritual and social message in the music. The name he came up with, As-Shams—Arabic for the Sun (the label's alternative name)—echoed both his and Rashid Vally's shared faith and positive spirit under the dark cloud of apartheid.
The label debuted with an album from the pianist that would resonate across the world, Mannenberg – Is Where It's Happening. In the mid-1960s, the clearances of the culturally vibrant District Six in Cape Town, as part of the Group Areas Act, saw thousands of people torn away from their multicultural roots and dumped into the townships, split up along racial lines. Ibrahim's album was a dedication to the struggle of these people, who were relocated to Manenberg, a township in the Cape Flats.
Rashid Vally, who produced the record in Cape Town in 1974, recalls how the title track evolved: "I think it was on the third day of recording during a short break that Abdullah's attention was diverted to an upright piano that had drawing pins attached to the hammerheads. This piano was used to record commercial jingles; hence the almost harpsichord sound. He started playing around and called the horn players to join in, and the first strains of 'Mannenberg' began to emerge."
Fresh from the Bloem Street studio sessions that featured Robbie Jansen on alto saxophone/flute, Paul Michaels on bass, Monty Weber on drums, and Basil Coetzee on tenor saxophone/flute, Vally played an acetate of "Mannenberg" from speakers outside Kohinoor. When people rushed into the shop demanding to know what this uniquely sounding record was, he got five thousand copies pressed up as the first release on As-Shams.
Such was the demand that Vally made a distribution deal with Gallo Records and sold over forty thousand copies in just two weeks in South Africa alone. Featuring a mesmeric Cape jazz piano hook by Ibrahim and a soaring saxophone solo from Basil Coetzee, "Mannenberg" became a rallying anthem for the anti-apartheid movement.
The LP that created firm foundations for Vally's new label was the first of a series of powerful albums from Ibrahim on As-Shams in the mid-1970s. They were recorded alongside Robbie Jansen, Basil Coetzee, and other South African jazz heavyweights including bassist Sipho Gumede and tenor saxophonist Duku Makasi, a regular sideman for Brand who appeared on a string of As-Shams releases. The LPs African Herbs, Black Lightning, and Blues for a Hip King spoke loudly to the townships with their themes of Black empowerment and defiance.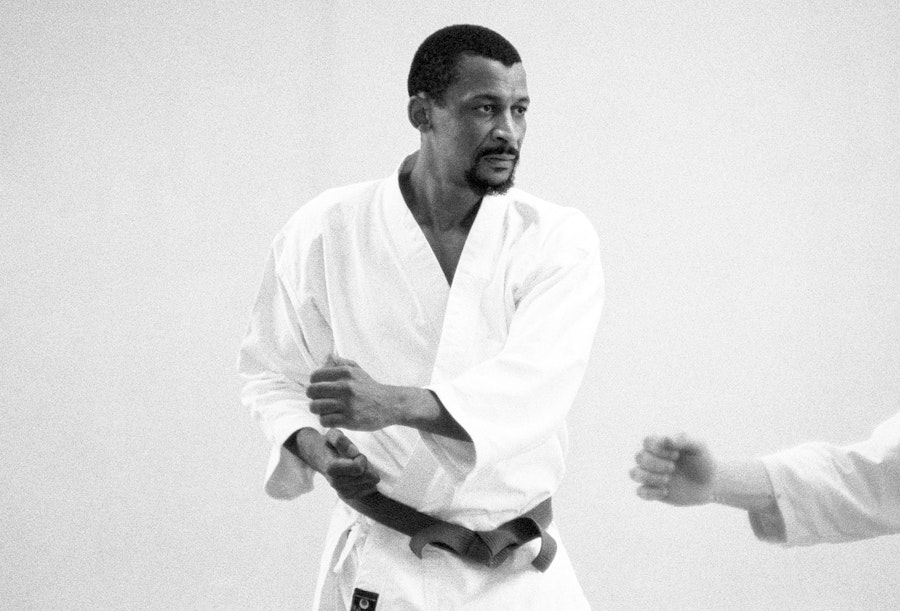 On the back of Black Lightning was a photograph by South African photojournalist Alf Kumalo of Ibrahim practicing martial arts. This came into his life in 1969 when Ibrahim met his master, the karate teacher Yukio Tonegawa, with whom he still studies today. It was the beginning of a lifelong interest in Japanese Zen philosophy and cosmology that has had a profound impact on his music. In an interview with the Japanese magazine Kyoto Journal in 2019, Ibrahim, who is now a tenth-degree black belt, explained how the two disciplines are related.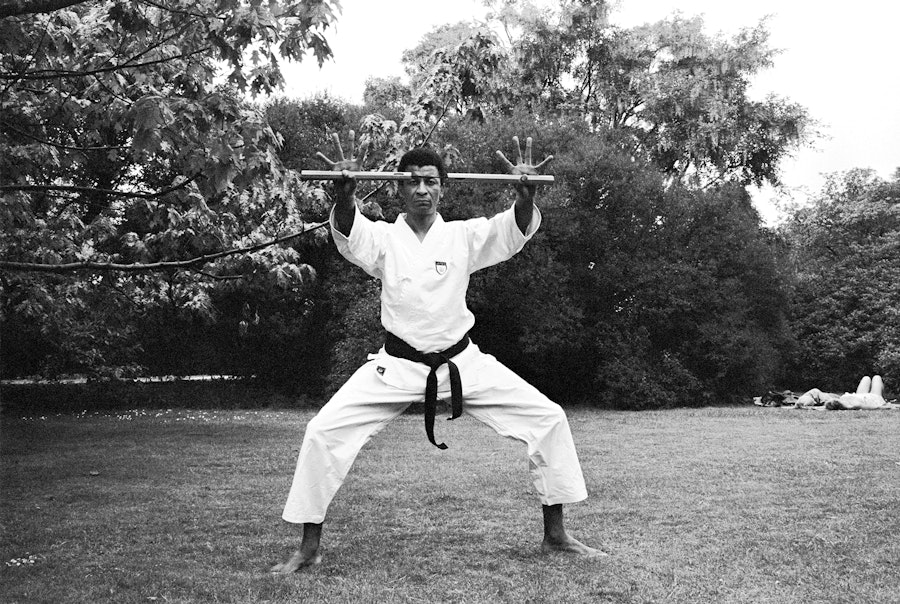 "For me, the application of the concepts of budo [Japanese martial arts] is the same as we play in jazz music," he began. "You take a song, you practice it for twenty years, turn it around and play it in all the keys with all the possibilities—what's the harmony, what's the rhythm, what's the melody?—and then when you play the song [improvised], you have this confidence. It's the same with budo. But it's not for fighting. It's just to prepare yourself for when you get in a situation where you've never been before: How do you humanly resolve that at that point in time?" 
These principles would guide his solo piano albums of this era, including one of his most powerful, African Sketchbook (also featuring Ibrahim on flute) recorded in 1973 for the Enja label out of Germany. Released with the label's distinctive minimal design and black-and-white photography, it would herald the start of a fertile partnership with Enja with a series of releases including African Space Program in 1974 with a band that featured Cecil McBee on bass and Sonny Fortune on sax.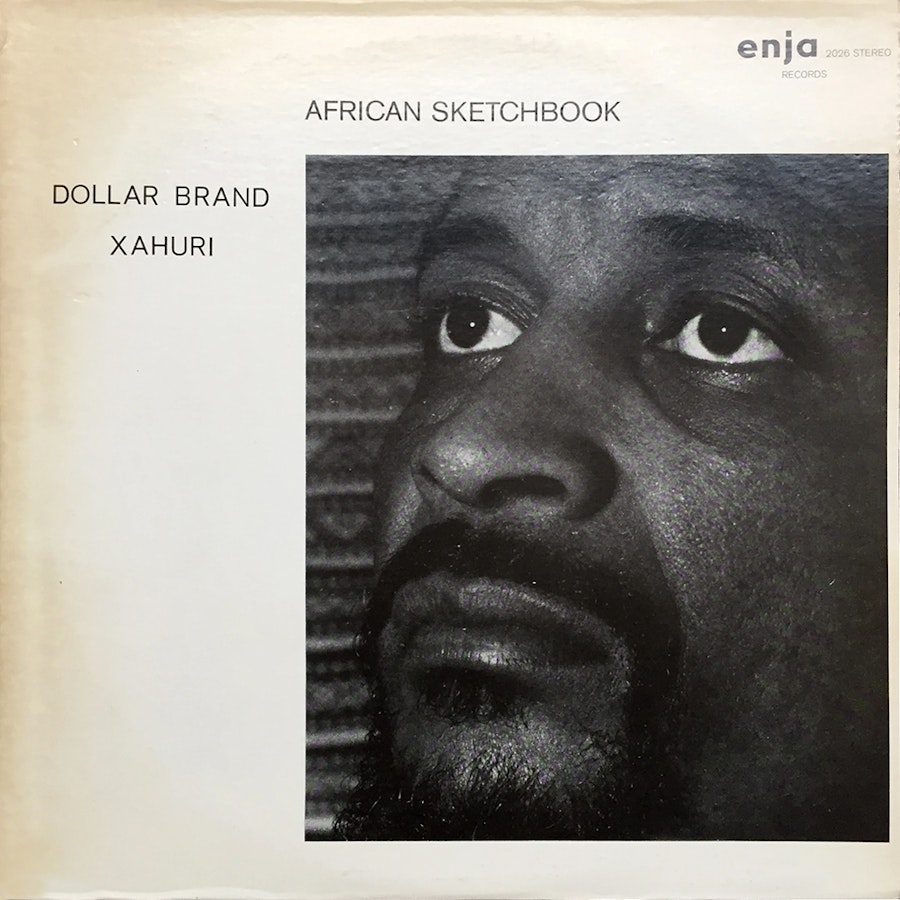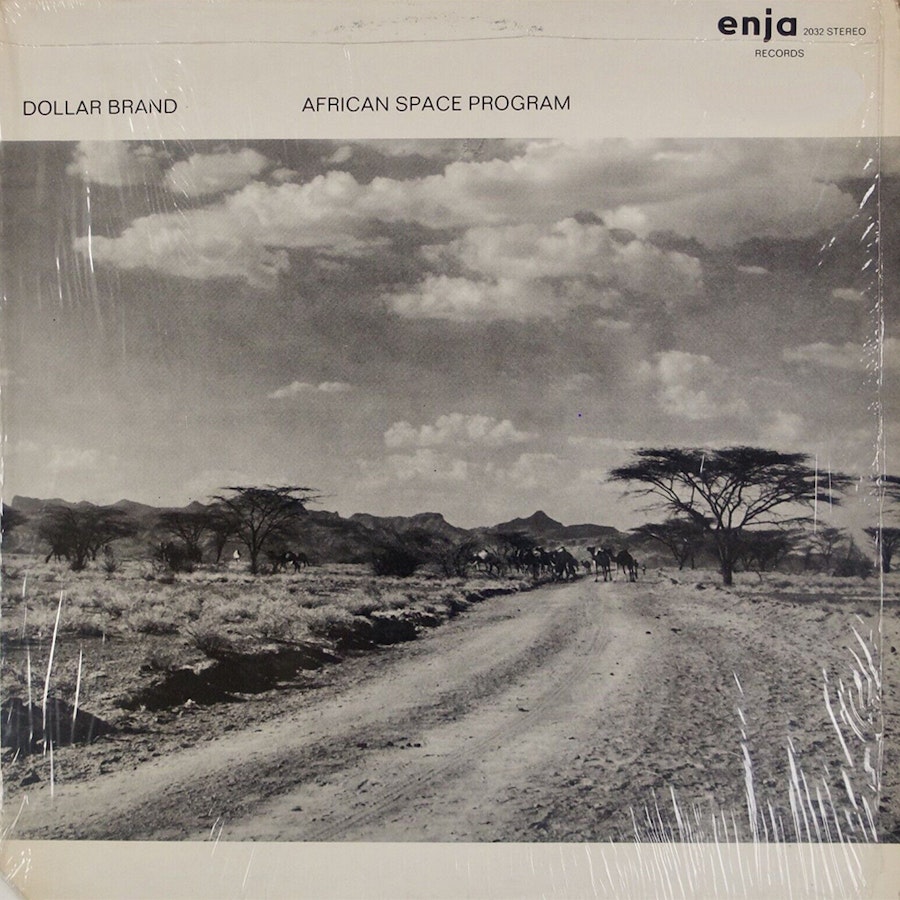 During the pianist's most prolific year-to-date, the townships finally erupted. Between ten and twenty thousand students had gathered on June 16, 1976, in peaceful protest against having to speak Afrikaans in school, only to be greeted by the live ammunition of police. In the horrific hours that followed, an estimated six to eight hundred people, many of them children, were killed. 
In the immediate aftermath of the Soweto Uprising, Ibrahim organized an illegal ANC benefit concert. Fearing the worst, with so many friends arrested, he left, once again moving to New York, with his wife Sathima Bea Benjamin and their new baby daughter (and future hip-hop artist) Jean Grae, who was born in Cape Town earlier that year.
Despite often being in exile, Ibrahim would never forget those who had made "Mannenburg" the people's unofficial national anthem. Now recording as both Dollar Brand and Abdullah Ibrahim, he released powerful dedications to his homeland throughout the 1980s, including Africa – Tears and Laughter for Inner City Records and African Dawn and South Africa for Enja Records. 
The late 1970s into the 1990s also saw Ibrahim release a string of solo piano albums for a wide range of labels, from Nisa in 1978 for the Swiss label African Violets to Desert Flowers in 1992, continuing his long-standing relationship with Enja Records. He also recorded a number of solo piano LPs live across Europe, including South African Sunshine and Matsidiso for the German label pläne.
It was an association that would continue through albums for pläne such as Piano Solo recorded in 1995 a year after he performed at Nelson Mandela's inauguration. Four years prior to that, he had returned to South Africa to record the LP Mantra Mode (on African Echoes, a short-lived sublabel of the Sun) alongside Basil Coetzee and Robbie Jansen, with Ibrahim also playing percussion as he has occasionally done throughout his vast career. It was his first recording in his homeland since 1976.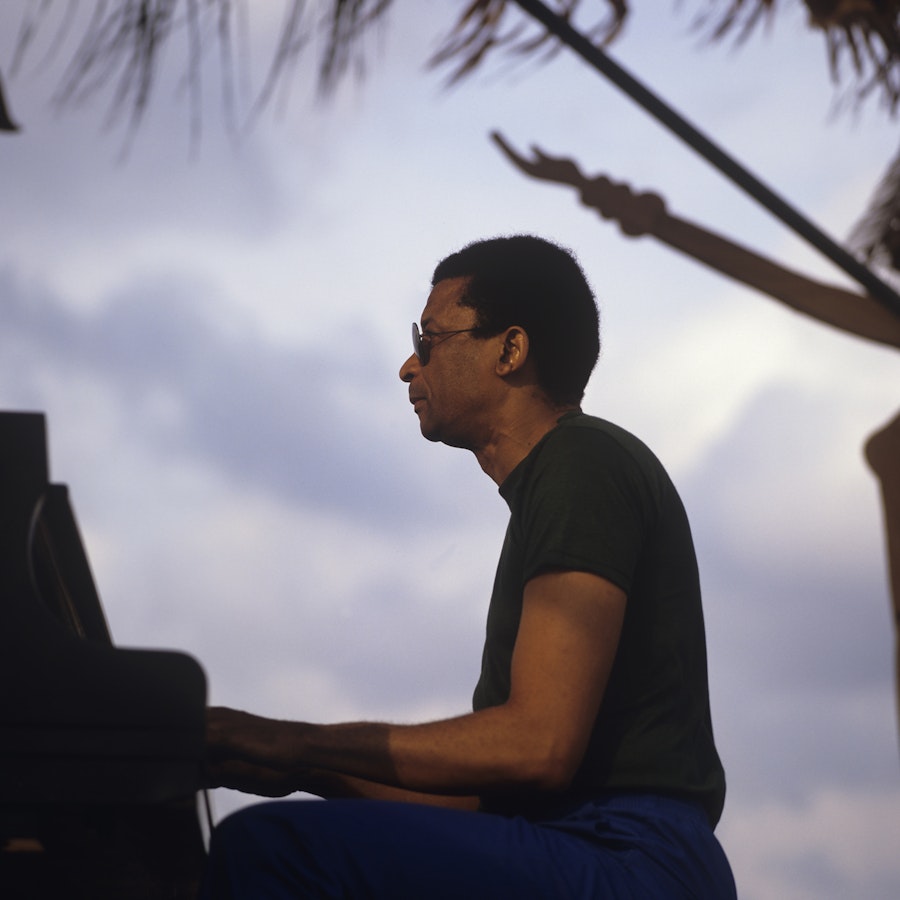 At the age of eighty-eight, he remains prolific, continuing to find inspiration in an array of new projects. These range from soundtracks for director Claire Denis to collaborations with classical orchestras such as Munich Radio Orchestra and his eighteen-piece big band, the Cape Town Jazz Orchestra, through to the foundation of his music academy, M7.
As a recording artist, he continues to straddle solo and ensemble releases, ranging from Solotude, Dreamtime, and the 2008 Senzo LP for the German Intuition label, to The Balance, recorded for Gearbox with his long-running septet Ekaya, with whom he will tour in 2023 in celebration of sixty years in exile.
But it is as a solo performer in the live setting that Ibrahim's musical storytelling of life, spirit, nature, and homeland is most profound. Performed as one continuous suite without interruption, these solo shows of compositions from over the years are profoundly moving. They are made more so by the spaces where he chooses to perform.
Whether through performances at temples in Kyoto and Shizuoka during visits to his Zen master in Japan or the acoustically pure Hirzinger Hall where his latest LP, Solotude, was recorded, his music responds to the architecture of the spaces he plays. The upcoming performance at Berlin's RBB Sendesaal, a hall with such a rich history but rarely used for live jazz performance, promises something very special. 
Although the idea of preconceived playlists is anathema to Ibrahim's fluidity in performance, his solo shows often feature numbers he composed many years ago but has kept returning to in various formats over the years. Some of those numbers to recur in his solo performances include "Blues for a Hip King," "Nisa," "Peace," "The Wedding," and his tribute to his people, "District Six." It shows an artist who continues to evolve while drawing on his deep heritage.
As he commented when he released the 2019 LP The Balance, "There's always a vision. The idea is that we reflect on the past; we know there is a future to come. But for us, the most important part is dealing with the present now. And that is the way that we play the music."